Browsing articles tagged with " despair"
Label : P-Dog Records
Review by Tony Cannella
Never judge a book by its cover or a band by their name. I was way surprised when I first listened to the 2nd album "Bitten" by New Jersey based hard rock band Spider Rockets. Odd name, I thought. With a name like that they must be some 80s style glam rock band. This is why you should never go into listening to new music with preconceived ideas – I couldn't be more wrong. Sure they add some of the best elements from 80s hard rock, combined with some modern metal riffs to create one of the more surprising albums of the year, "Bitten".
Spider Rockets comes at you straight-ahead with all the enthusiasm and swagger of punk combined with melodic hard rock which helps make the album instantly memorable. I liked the vocals of Helena Cos. She has very a rocking approach that is perfect for Spider Rockets. Continue reading »
Interview by Ed MacLaren
Plagued for years by technical issues and internal strife, it didn't look like the debut album from Russian goth metal band t.h.e. Sacrament would ever see the light of day. But good things always come to those who wait – after four years in the making, "The Sobering Cold" has arrived and it was worth every second. An impressive mix of dark melodies and rhythmic crunch, "The Sobering Cold", shows no audible sign of the pains of its creation. Femme Metal talks with vocalist LoraSS about the troubled birth of "The Sobering Cold" and how it brought t.h.e. Sacrament together closer than before. The best thing is that they have four years of material ready to record.
It was a long wait but "The Sobering Cold" is out and it's an awesome album of atmospheric gothic metal. How does it feel to finally get this material out to the fans?
We feel that we did it! Now we can say that we called it a day! We feel that we can start work on our next material which waited on this release for so much time!
It took four years for the band's original vision to come to fruition. What was the genesis of "The Sobering Cold"? What were the delays and why did they happen?
"The Sobering Cold" contains all our first songs, written until 2006. But there were several causes that delayed its release. First, some days before the album presentation the record-studio gave us a completed but very bad quality CD. Everything was damaged: the recording, mixing, mastering and most of all the input material. It meant that we had to start again from the get-go. Second, I left the band when the album was being mastered. While I was absent, t.h.e. Sacrament made its own record-studio and its engineering quality was better than the quality previous to that. That's why when I came back we started the record a third time.
You left t.h.e. Sacrament for a period but returned in time to complete the album. What changed for you and the band during the time you were gone? What brought you back again?
It seemed to me that the mutual respect re-appeared between us. It was chance to start again from the get-go. I think it was a necessary period in our lives; it gave us the possibility to value the importance of each other. I'm sure it is good.
"The Sobering Cold" sounds incredibly mature for a debut album. Did the long gestation period allow you more time to perfect the music? What did you think of the results?
Thank you! I think that it was so, we had more time for the work on our album, and above all, we had the possibility to correct our mistakes, to re-record moments that weren't liked by us. We had time to become more professional musicians so we did a more mature product.
How did the delays in writing and production impact the finished product? Did the album turn out differently in 2010 than if you had finished it back in 2007 or 2008?
Of course, the album turned out in 2010 has differences from the previous variants of that. First, is the quality of the performance, recording, mixing and mastering. Second, it contains our new view of the material, new sounds and details have appeared, I have improved my vocal parts and added backing vocals in many songs. In "The Little Kingdom" we have changed it with an invited vocalist.
How did the band develop its sound? It's a unique blend of atmospherics and aggression.
I think it's different views of our music by the musicians. It seems to me the atmospherics is the female basis in our band – until recently the key board player was Juliett. And the aggression is male.
Musically, "The Sobering Cold" is a seamless unification of atmospheric keyboards, aggressive guitar riffs with a very inventive rhythm section. Do the guys in the band come from different musical backgrounds? If so, is it a challenge to combine all these influences and stylistic differences into such a sophisticated sound?
No, the guys and one lady on keyboards either came from similar or alike musical backgrounds or our band was the first band in their life. Of course, we are all affected by our favorite bands therefore there is this a combining of all these influences and stylistic differences.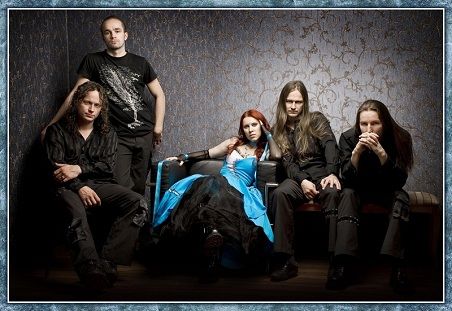 Your vocals on "The Sobering Cold" are wonderful. Your voice is clear and bright with a purity of sound that contrasts with the dark musical atmosphere. It has a sound quality that is unique among female metal vocalists. What were you trying to achieve with vocal contributions on "The Sobering Cold"?
Thank you! The most important thing for me is the emotion. I'm trying to say my thoughts by the intonation and the emotion, even maybe not by the words because there are a lot of people in Russia who don't translate the lyrics. Let it be only feelings such as melancholy, fear, uncertainty, anxiety etc. It's great because it means if I can create the mood, I can touch the soul.
"The Sobering Cold" is a great headphone album. The production is very meticulous. Tracks like the intro piece to "Falling Star" and "I've Got Only One Day" really benefit from the extra attention. How important was it to focus on the little details for this album?
You know, we never thought about it. We didn't try to focus on it is what I think we would say about considering variety, dissimilarity between songs per se. They're just different with their stylistics.
"The Little Kingdom" is a standout track on the album. It's more experimental vocally and is bolder in its arrangements and instrumentation. What were you trying to achieve with that track? Is it a bit of a taste of the direction t.h.e. Sacrament is heading on future releases?
No, it isn't so. It is just one of our songs. If you say that it's more experimental vocally, we simply invited a vocalist with clean vocals (because we haven't a clean male vocalist in our band). He, Roman Rain, is a famous musician in Russia, so it was an experiment of collaboration with a talented and original man. Also we invited Dmitry Rishko (Dominia) as violinist and keyboard player; he has an inimitable style and I think he has an influence upon this song.
The album artwork is beautiful and very striking. How does album title and cover imagery reflect the music on the album?
I tried to show despair, hopelessness, the feeling of time lost, because the majority of the album lyrics contains this subject area. Unfortunately, we often don't value our life, people who surround us – we are selfish and blind. We lose opportunities and regret it. I tried to say that the only cause of our tears is we ourselves, and if you dive into cold water in winter you may reveal that frozen water over you. Our life is in our hands, and we're responsible for our future. The album title and cover imagery is the moment of this truth.
The goth metal scene is very crowded these days. It's very hard for a new band – especially one with a female vocalist – to stand out. In the early days of the band, was there a conscious effort to try to do things differently?
We never think about it. We write music that we like; we don't think and don't know what it will be at the end. And in our early days we did that also. For us it isn't possible to push creation into narrow stylistic boundaries; we think these boundaries will deprive it of the air, the freedom. And if at some time we write a pop-rock song, we will play a pop-rock song, because the most important criterion is that our music must be liked by us!
We're starting to see more and more femme metal bands emerging from Russia. What's the scene like over there for bands like you and other metal bands featuring female vocals? Are there any stigmas or preconceived notions attached to being a female-fronted metal band or is there a lot of support for this type of metal?
I think there isn't a sharp difference between femme metal bands and bands with male vocals. Every band finds their fans, some people like the female voice, some people like the male voice. There must be different types of metal for different tastes. And the most important thing for many people is the quality of the band's material and the performance instead of the kind of vocal.
Are you going to be touring outside of Russia this summer or are you staying close to home? What we really need is a touring package of all Russian female-fronted metal bands. If you could put a tour together for t.h.e. Sacrament, who would be performing with you?
We aren't planning to tour outside or inside of Russia and some gigs this summer. There are two causes: we're working on our new release and summer is the dead season for music bands in Russia. In order to have the tour outside of Russia, we must be known to somebody in another country especially to concert agencies! I think we are only on the way to becoming a famous band and all is in the future for us. But if I'd dream of an outside tour and of the female-fronted metal bands with which we can perform, I think it would be …
(Famous) last words?
I wish for more good music.
Links
Label : Hypnotic Dirge Records
Review by Vard Aman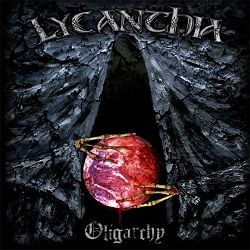 "The want to flee consumes me,
The urge to succumb eats its way,
Through a brawn weakened by seclusion"
Doom Metal is one of the most, if not the most varied and extreme forms of metal. When played badly, or is recorded badly, it can be abysmally bad (in a bad way); but when it is played well, there are few forms of music more powerful and more stirring than Doom Metal. Doom Metal is usually associated with scenarios of despair, depression, emptiness and, well, doom; but, when played well, I've always found it to be uplifting – a way to expose, revel in and release "the doom" through dramatization in a powerful extended aural climax. If you want to depress me, play me Justin Bieber, if you want to make me happy, play me some good Doom Metal. If Doom Metal conjures images of emptiness, then it's an epic; a passionate; and a dramatic emptiness, a drama that plays on, and plays out the extremes of our imaginations and our imagined (or real) fears, losses and sorrows.
Well, good Doom Metal does anyway; bad Doom Metal, it is fair to say, can often spell instant boredom. Lycanthia, fortunately, are good Doom Metal. No, they're more than that; they're VERY good Doom Metal, and that means that everything in my somewhat purple-prosy description of good Doom Metal applies to them, and in great abundance! Lycanthia are from Sydney, Australia, and formed in 1996. In 1999 they released their debut "Myriad", followed by lineup changes, an EP in 2006 called "Within the Walls", more lineup changes, and now, in 2012, their second full length, "Oligarchy". This band has staying power, and this is reflected not just in their continuing determination, but in their sound as well. Their sound is a Death Doom/Gothic Doom combo, nothing groundbreaking in that, but it's the way they play what they play that makes Lycanthia the standout band they are and "Oligarchy" the standout album it is. Take the best parts of the harsher side of My Dying Bride mixed with the best parts of "Velvet Darkness They Fear"-era Theatre of Tragedy mixed with a bit of Draconian and you have Lycanthia. Are you drooling yet? No? OK, then add not one, but two extremely talented female vocalists (Vanessa Black and Megan Tassaker – also in Avrigus) whose wistful and melodic vocals are contrasted by a male vocalist (Lee Tassaker) whose raw, plaintive growls and shrieks would make most Death/Black Doom Metal vocalists proud. Now are you drooling? Still not? OK, go and listen to some Justin Bieber then… The heaviness, the power and the emotion is almost relentless throughout "Oligarchy", further emphasized by the somber melodies. Likewise the contrast between the power of Lee's growls and the melodic vocals of Vanessa and Megan (solo and harmonizing) serve to emphasize both.
On top of that, Vanessa and Megan contrast each other vocally too, and to the music itself they add violins and keyboards respectively. Stylistically, most of the songs on "Oligarchy" are fairly similar to each other, which is a good thing when you can't get enough of this band and their musical creations. "Forgone" was the first song to be released, a single if you like. It's a good summary of what this album is about, and when you get this album you can expect much more of this. "Hair of the Beast" is somewhat different to the other tracks, and this one takes a few more listens to get into than the others, perhaps for that reason. Lyrically, Lycanthia are as good as they are musically. They have all the poetic doom, emptiness, sorrow and despair that one would expect from this kind of music, but there is an additional element: a fantasy story-telling element – most prominently highlighted by the song "Forgone" which is a tale of a young god who falls in love with a mortal, enraging the other gods who strip him of his immortality as a consequence (a Lycanthia creation that sounds like it could be based on actual mythology, and there probably are many parallels) – just when you thought it couldn't get more epic. But this is "epic" in the Doom Metal sense, so don't expect any happy stories with happy endings – expect some very powerful stuff. Highlights off the album? All of them, although "Forgone" and "Despondency in Crescendo" are particular standouts and "Time Feeds These Wounds" and "Hair of the Beast" (as I've already mentioned) take a few listens to get into. So how highly do I rate this album against the many Doom Metal albums I've heard and own? As I am writing this review, I have been listening to this album for about a week and it's still growing on me ("Forgone" since it was first released on YouTube). There have been some fantastic albums released by some fantastic bands, but if anyone breaks into my house right now (beating all my booby traps… just in case the thought crosses anyone's mind… I am a Saffer after all), holds me at gunpoint and steals my collection, Lycanthia's "Oligarchy" is the one they will have to prize out of my cold, dead hands. Or, maybe, considering that Lycanthia is not the biggest name out there they might be a bit more reluctant to fight over it and perhaps they might let me keep it… hehe, their loss if they do! But if they do take it, I'll give them these bits of advice: listen to it loud and with the lights out (seriously, try it); and if for some reason they're trying to maintain a tough-guy-who-doesn't-blub-to-music image, they might want to listen to it alone – just in case they can't handle the powerful and extended aural climax of one of best representatives and examples of one the ultimate forms of music. And then give it back, dammit!
Rating – 98/100
Tracklist
The Essential Components of Misery

Eternity…

Forgone

Ablaze the Wheel Turns

Despondency in Crescendo

Time Feeds These Wounds

Hair of the Beast

From Ancestral Lands
Line Up
Lee Tassaker – Vocals & Bass

Megan Tassaker – Vocals & Keyboards

Vanessa Black – Vocals & Violin

Stephen Mikulic – Guitars

Giovanni Gariano – Guitars

Andrew Craig – Drums
Links
MySpace * ReverbNation * Facebook * Twitter * Site
Label : Solarfall Records
Review by Andrea Disgraced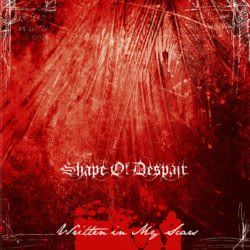 Masters of decadent funeral doom Shape of Despair are finally back after six years (not considering that sort of self-titled compilation out in 2005) of silence. Well, what we have here is "just" an EP, also a really brief one, considering the band and genre – total length is about 11 minutes for two songs, not an extreme length if you know what I mean. Moreover, it's always more difficult to judge an EP than a full-length, you don't have much to appeal to and in this case more than ever, since we have only two tracks. Coming to the music, I must say that I've been a bit personally disappointed, only hoping that this is an appetizer for a greater opus – arriving soon if possible and not in 5 years!

– which bring the band back to its throne of romantic funeral doom. Actually I say I'm a bit disappointed because all these years for two songs that, be it clear, are not bad but absolutely nothing you'll die for, seems a little poor to me. The EP kicks off with the title-track "Written in My Scars", whose soaring melodies place the song right in-between their latest two albums, without sounding too similar but letting us cast a glance in what might be the future of the band, which is a positive note in this sense. Most interesting for the readers of this webzine I guess, in this song you can hear Natalie Koskinen's usual backing vocals consisting in ooohs & aaahs that surely hel building the right atmosphere; nonetheless, don't expect to hear more female chants on this EP. Which isn't bad per se, every member of this band contributed to build a genre, and Pasi's distinctive, suffering growls are certainly able to carry the song. Only, since Natalie has a particular and cold clean voice, it wouldn't be bad to hear more from her in the future – and for those not knowing what I'm talking about, chech out her other band Depressed Mode. In this song is absoutely worth mentioning the good work done by Samu at the drums. Second track is titled "The Bliss of Sudden Loss", that nothing will add to your judgement or liking of the EP, in good or evil. But, I couldn't help noticing the initial and final riff (that accompanied by our usual and beloved SoD-keyboards bring a big smile on our doomy faces) sounds similar to the main riff of Draconian's "Scenery of Loss"… now maybe it's me who's not good at musical theory enough to judge but that's what my ears and "heart" told me.

In conclusion, I guess this is the typical fan-only release; I'm sure the band itself intended it that way. Now we're all waiting for more!
Rating – 63/100
Tracklist
Written in My Scars
The Bliss of Sudden Loss
Line Up
Pasi Koskinen – Vocals
Natalie Koskinen – Vocals
Jarno Salomaa – Guitars
Tomi Ullgren – Guitars
Sami Uusitalo – Bass
Samu Ruotsalainen – Drums
Links
Label: Musica Productions
Review by Tony Cannella
If you like female fronted symphonic metal ala Delain or Tarja era Nightwish, than Russia's Narwhal Tusk should be right up your alley. The band formed in 2006 and after releasing an EP ("Widow's Walk") in 2009 has issued their full-length debut "In Despair", and here it is. I have not heard their initial EP, but they consist of 5-songs that all appear on this debut, in re-recorded form, I imagine. Narwhal Tusk is very good at what they do and should secure a fan base in the symphonic metal genre. In singer Valentina Yastremskaya the band has a very competent front woman with an operatic style and the music has a melancholic, orchestral vibe to it, which, at times is quite beautiful. The piano/violin dominated opener "Waltz (As Autumn Falls)" serves its purpose as a useful intro track and leads into the bombastic and the up-tempo "Mourning Purple". "Everfall" is next and keeps a steady pace and features the clean male and Valentina's operatic vocals performing the song as a duet. The male vocals are very well done; the style is clean throughout and provides solid support to Valentina's operatic approach. "Nova" is next and has a very accessible quality to it; it would make a great single/video (in my opinion) if the band chooses to release one. "In Despair, Pt. 1″ is mournful and features some top-notch vocal work from Valentina. "My Angel" ventures closely into "Oceanborn" era Nightwish territory, and features a cool prog rock style keyboard bit in the middle of the track. "Walking over Waters of the Ocean" is a piano-laden ballad featuring healthy doses of orchestration. The over 7-minutes long "In Despair, Pt. 2″ wraps things up nicely. The male vocals and orchestration dominate this track. It also ends things on a rather doomy and sorrowful note. With "In Despair", Narwhal Tusk has released a very good contribution to the ever crowded symphonic metal genre. With so many bands it has become increasingly harder to stand out from the pack. Time will tell if this talented Russian band has what it takes.
Rating – 78/100
Tracklist
Waltz (As Autumn Falls)

Mourning Purple


Everfall (The Holy Gardiner of Souls)

Nova

In Despair pt.1

New Dawn, New Day

Remedy

My Angel

Walking over Waters of the Ocean

In Despair pt.2
Line Up
Valentina Yastremskaya – Vocals

Dmitry Slutsky – Guitar

Dmitry Taranov – Keyboards, vocals

Danil Tolmachyov – Bass

Dmitry Cherchesov – Drums
Links
MySpace * ReverbNation * Facebook * Twitter
6 color styles available:

Style switcher only on this demo version. Theme styles can be changed from Options page.