Browsing articles tagged with " devil"
Label : SPV/Steamhammer
Review by Tony Cannella
In 2009 after many, many years of musical inactivity, hard rock legend Lita Ford returned with "Wicked Wonderland" which was met by… derision, confusion and just plain apathy. It certainly didn't seem or feel like a Lita record which her die-hard fan base that had waited years for new music was only too eager to point out. Now, in 2012 Lita has released what many consider to be her real comeback album, "Living Like a Runaway" the cleverly titled album is a nod to her musical past with the seminal all girl group The Runaways as well as where she is headed in the future. I have to admit. When it comes to Lita I thought her first two solo albums "Out for Blood" and "Dancin' on the Edge" were her best (or at least my favorites). Even though I was not a huge fan of what came after I thought she still did some really cool songs ("Falling in and Out of Love" and "Hungry" are two of my favorites). On "Living Like a Runaway" Lita mixes the best of both worlds. She has definitely toughened up her sound compared to her last few – and the guitar sound is stellar and in-your-face, which should be no surprise considering the album was produced by Gary Hoey who is a guitar-god in his own right – he also contributes his guitar talents to the album. This is Lita doing what she does best; she still has that unique, like-able voice. Lyrically Lita has bared her soul like never before. There really is no wasted time on "Living Like a Runaway", as the heavy riffs of the opener "Branded" gets things kick started. "Hate" opens with a very dark bass line and the subject matter is heavy as well (this is as far as you can get from "Kiss Me Deadly"). The 3rd track "The Mask" is especially venomous and just a powerful song. My favorite track is the moody; emotionally heart wrenching "Asylum". "Luv 2 Hate U" starts with an acoustic intro before developing into a catchy melodic rock song. The album is completed by the Nikki Sixx (of Motley Crue fame, of course) penned "A Song to Slit Your Wrists By", which has kind of a hard rock industrial feel to it. "…Runaway" is available in a number of different limited edition formats featuring bonus tracks and different packaging, etc. Lita Ford is a survivor and the lyrics convey that perfectly, still there are moments of reflection with the lyrics that are powerful and heavy like on the ballad "Mother". "The Devil in My Head" has a great, melodic chorus that is instantly memorable. To be honest, I was really surprised at how much I liked "Living Like a Runaway". This is probably the best Lita album since "Dancin' on the Edge" – but I am sure that will be up for debate. And as for "Wicked Wonderland"? Let's just pretend that it never existed. "Living Like a Runaway" is the comeback that the fans and Lita deserve.
Rating – 95/100
Tracklist
Branded

Hate

The Mask

Living Like A Runaway

Relentless

Mother

Devil In My Head

Asylum

Luv 2 Hate U

A Song to Slit Your Wrists By
Line Up
Lita Ford – Vocals, Guitar

Gary Hoey – Guitar, Bass, Backing Vocals

Matt Scurfield – Drums
Links
MySpace * Facebook * Twitter * Site

Interview by Erwin Van Dijk
An Interview with Nera from Darzamat. Nera (real name Agnieszka Górecka) is the singer of Darzamat, a Polish symphonic death metal band. Darzamat will release their latest album, "Solfernus' Path" at the 28th of August. 2009.
Did you always want to become a singer?
Yes and no, I mean I've been singing here and there since I can remember and I knew that music would be a part of my life this or the other way. But it wasn't my big plan to sing in a band. I've always treated it as a great hobby, an escape from everyday life, a perfect way to express myself. However I am very happy I ended up doing what I do.
And to what kind of music do you listen yourself?
Well, I try not to limit myself to one and only genre. I think it is the only way to evolve and free your mind, which doesn't mean I can force myself to listening to techno.

I always pick music depending on my mood, so the range of it is quite wide: different kinds of rock and metal, ambient, smooth jazz and some classical music.
And who are your favourite bands and musicians?
At the top of my list there are Peccatum, Emperor, Ulver, Opeth, Pink Floyd, Leszek Mozdzer, Satyricon and some soundtracks like from Twin Peaks, Requiem for a dream, Dracula or Bastard.
Did you have any other bands before Darzamat and/or are you active in any other bands now besides Darzamat?
Yes, I started in a doom/gothic metal band I co-founded, but that was years ago. Now I am dedicated to Darzamat, although I have to admit I've been preparing my own project called NeraNature, which is very feminine and private piece of music.
What does the name Darzamat mean?
The name comes from Latvian mythology and it denotes garden goddess ("darzs" – "garden", "mate" – "mother"), which I really like as it seems to me very "organic", close to the nature and paganism.
And how would you describe your music?
The fact is that Darzamat's music differs a bit from album to album, but it always keeps the sound and melody characteristic of the band. I don't like talking about music, as it should be listened to.

If you would like to know what we do today, check out songs from the last albums at: www.myspace.com/darzamat
Since you cannot erase more than 40 years of communism within a few decades, what are the differences between Poland and the rest of Eastern Europe and the spoiled West Europe when it comes to metal as music and life style?
Actually, when it comes to music, the differences are pretty blurred now. Luckily we've got the borders opened and as you know thoughts fly fast

The worst situation is when it comes to economy. The good quality instruments cost a fortune in terms of Polish earnings, so lots of talented people are stopped at the very beginning of their possible career. The other problem is the lack of the social approval towards metal music. We live in a Christian country and as a consequence we've been treated as renegats and satanists. But at least we've got something to fight for (laugh).
Is there any reason why you used English versions of your names on the Darzamat MySpace?
Those are our nicknames, not real names.

Markus is the session bass player – will he go with you on tour or are you looking for some one else?
Marcus's been playing with us only for a few months and he's doing really well. We just need to get to know better one another and then the decision to have him as a permanent member will be made.
You are about to release your fifth album, "Solfernus' Path". This album will be released by Massacre Records and it will be your first concept album. Massacre Records is not the smallest label and they are the home of bands like Atargatis, Legion of the Damned, Crematory and King Diamond. Why did you choose for Massacre Records?
As far back as in the late 90′s the band was close to signing a deal with them; unfortunately it didn't come through. So, after all these years we are all the more thrilled to see that the "Solfernus' Path" ultimately led us back to Massacre Records door (laughs) and that finally we will have a chance to work together. As far as our expectations are concerned, we'd really appreciate much better promotion of our band than we experienced before. The previous companies we worked with had much, much smaller possibilities. That is why I'm positive that thanks to Massacre Records we will take a leap forward. I firmly believe that the experience which the MR staff has gained over the years will result in the chance for many more to even get a hold of Darzamat's albums. We put a lot of hope in the promotion and distribution prospects of the "Solfernus Path" album and also we are really looking forward with great curiosity to seeing the fruit of our cooperation with Massacre Records over our future albums.
Concept albums are not the easiest pieces to write. Did you plan to write a concept album from the start or did the album evolve into one while writing the songs?
We had the idea of the concept long time before the music was composed. It just needed some time to be born, some research to be done, some ideas to be put together. This time it was Flauros to take care of the whole story. I found it impossible to take part in it, as it had to be a coherent story invented by one mind.
Speaking of song writing, is this teamwork in Darzamat or is there one mastermind who writes the lyrics and music?
It is a kind of a collective work. The instrumentalist compose pieces of music, then the vocalists write lyrics. I also invent all the melodies I sing. Then me and Flauros make vocal arrangements and in the end we all take care of the songs' arrangement.
What is the story behind "Solfernus' Path"?
The story told on the album takes place in a mystic scenery as provided by Countess Josephine von Küchmeister's manor, the inspiration for which we derived from two truly fantastic places in Silesia, namely the Willa Caro in Gliwice and the palace in Plawniowice. The tale itself is set in the beginning of the 20th century. Our main hero is a young medical student who undergoes a spiritual transformation – he experiences the existence of the incorporeal world and perceives the other side. The whole story is permeated by a fairytale-like atmosphere, full of occult key concepts. Nothing is obvious, nothing is predictable. Naturally, the eponymous Solfernus is not the main hero, he's just a gray eminence. This character is respectfully lifted from a work entitled "Playing with the Devil", written by Czech dramatist Jan Drda. Still, this is just inspiration, an impulse which does not mean we take Drda's story as-is. In fact, his play is grotesque and rather humorous. Our story, on the other – left! – hand (laughs) has a totally different character, closer to horror stories of a Polish classic Stefan Grabinski than to the work of the Czech playwright.
Andy LaRocque from King Diamond (and he appeared on the Death album "Individual Thought Patterns") also has done a part for "Solfenus' Path". How was it to work with him again? Also Andy LaRocque was the producer of the Darzamat album "Transkarpatia" (2005)….
Yes, we did meet during the sessions for our previous album. We've been in touch ever since, and when another occasion for cooperation arose, we didn't hesitate for a second. Him playing a solo on a Darzamat album was a dream come true; it was really supernatural that he agreed to participate in the sessions. This is the most important album in the history of the band, and it took us a lot of work. We poured loads of energy and emotions into it, and the presence of LaRocque on this album is the crown jewel in the whole structure.
Another familiar name is Jonas Kjellgren from Scar Symmetry. Did you look for another producer this time or was it clear from the start that Jonas would be on the job again?
We were well acquainted with Jonas's previous production work: Katatonia, Sonic Syndicate, Centinex or Steel Attack, to name but a few. But it was our friend Marek Dobrowolski, drummer for One Man Army and the Undead Quartet, who recommended Jonas to us, as he had worked with him before and knows his skills and abilities first-hand. The preliminary talks with the Scar Symmetry guitar player made us feel very optimistic. Jonas mixed one song of ours and the effect was staggering. It only reinforced the idea that it had to be him. The cooperation was smooth; Jonas is very patient and listens carefully to any sort of suggestions from the band. In my view, he is presently one of the best young generation producers, in Europe anyway.
The main difference between "Solfernus' Path" and it's forerunners it the fact that "Solfernus' Path" is a concept album. Are there other differences as well when it comes to the music on the album?
I feel a completely new quality was brought in to our music. Additionally, we realized that this album was supposed to create interest in the record label circles. That's why we took extra care not only to write and record great music, but also to achieve the best possible sound. Plus, we paid a lot of attention to the visual side of the whole endeavor, working on the photos and the cover. All details of music, arrangements and the artwork were taken into consideration. I'm positive that after getting acquainted with the album, the fans are going to say that it was really worth the wait. Getting back to the music itself, this time around we started working on everything much earlier. Before entering the studio we prepared a very good demo. That allowed us to work out all the small details well before the real thing started. I admit we worked like this for the first time and we are really satisfied with such tactics. When you listen to the practically ready piece which sounds as good as it can at the preproduction stage, you can analyze the arrangements one more time and have less of a trouble imagining its final shape. Entering the studio(s), we knew exactly what we wanted and how the songs were supposed to sound. And our guidelines were simple enough: to record the most thought-out album in the history of Darzamat, on which there would be at least a couple of truly fantastic songs. I know we did just that (laughs), but that's also for the fans to decide.
Darzamat is will appear on the Metal Female Voices Fest this year. Darzamat was supposed to do a gig at this festival in 2007 but had to cancel it sadly. What can we expect?
Let's hope the best! (laugh) No, seriously- exactly because of the fact we couldn't appear there last year, we would like to double the energy for all those who expected to see us and were disappointed. We promise to do our best and additionally it will be a chance to present some stuff from the new album.
And the last question: is there anything the reader should know that I have not asked?
If there is, I believe we will have some more talk in the future.

Thank you for your time!
Thank you for your interest in Darzamat! Horns up!
Credit Photos
Photos by Sebastian Cviq
Links
MySpace * ReverbNation * Facebook * Site
Label : Crong Production
Review By Erwin Van Dijk

When you see this album for the first time you might think this is a joke. Four young blonde girls from Sweden (and a brunette with a large tattoo) dressed in leather and armed with enough fantasy weapons to film a Conan the Barbarian movie. (As a matter of fact, I've seen Hysterica twice live and this is also their stage outfit). This makes them the hottest girls on stage since Delilah and Lilith of Goddess of Desire called it a day, way back in 2005 but this an album review and not about boy fantasies.The name of the band is clearly inspired by Metallica but you might have guessed that already. Indeed, this sounds like some eighties heavy metal band. Stuff like Manowar and all those others. Maybe something like Bad Candy used to be years ago: hot girls for teenager boys who make some kind of rock. But that is the surface. Hysterica was founded by guitarist Bitchie and she has a good ear for musicians. She wanted to create an all women metal band and Hysterica was the result. And remember, all women metal bands are still scarce. Girlschool is still alive and The Donnas have their metal edge but Hysterica also shares much similarities with bands like Vixen, Doro and not to forget Lita Ford. The only other all women metal band I can think of right now in more or less the same genre and from this decennium is Crucified Barbara, also from Sweden. I had the luxury to see Hysterica twice before writing this review and these girls can actually play! More important, Hysterica brings back the fun into metal. This is not some My Dying Bride gig where you enter the venue happy and leaves depressed or some metalcore band where the moshpit always ends into a battlefield that would make the first scenes of the movie Saving Private Ryan a nice game of tag in comparison. Or, worse some "I hate myself and wants to die" emocore band. Hysterica won't win a prize for being original when you compare them to the past. But compared with the competition today this is a great album. Not necessary for people who are in the whole female fronted scene. One of the gigs I saw was at the Heavy Metal Maniacs Festival and while this is clearly no place for Epica and all those other bands with a female singer and Heavy Metal Maniacs are rather narrow minded when it comes to women on stage in metal bands Hysterica was accepted right on as a metal band (but with a better looking crew I must admit) and not because of their image. This is why Hysterica is a good band and "Metalwar" a good album. Because it is metal as it was supposed to be. If you like Warlock or Sinergy this is a safe buy. And the same goes if you like metal in general.
Rating – 85/100
Tracklist
We Are the Undertakers

Halloween

Bless the Beast

Girls Made of Heavy Metal

Louder

Metalwar

Wreck of Society

The Bitch Is Back

Devil in Me

Heavy Metal Man

Pain in The Ass
Line Up
Anni De Vil – Lead Singer

Bitchie – Guitar

RockZilla – Guitar

SatAnica – Bass

Hell'n – Drums
Links
Label: Century Media Records
Review By Tony Cannella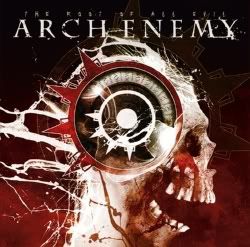 First of all, the obligatory disclaimer, this is not a release of new music by the Swedish technical thrash band Arch Enemy. Instead the band went in the studio a re-recorded some of their older classics with Angela Gossow on vocals. The band has really reached new heights of popularity since Angela joined the band in 2000 (has it really been almost a decade already?) replacing original front man Johan "Liva" Axelsson. At the time it was viewed as a risky move, replacing the popular front man with a female, but Angela quickly put those doubts to rest with her awesome vocals and the band were well on their way. As I mentioned earlier "The Root Of All Evil" is an album of Johan era tunes re-recorded with Angela Gossow on vocals and some of the bass parts have been re-worked. The opening track is the only new piece on the CD and is the intro track "The Root of All Evil" that lasts for about of minute before launching into the great track "Beast of Man". The band run through such classics as "The Immortal", "Diva Satanica", "Bury Me An Angel", 'Dead Inside", "Pilgrim" and probably the highlight of all highlights for me is the final track "Bridge of Destiny". This song incorporates all the elements that make Arch Enemy such a great band, and the guitar work of the Amott brothers is really breathtaking. One thing I have always admired about Arch Enemy is their ability to mix the most chaotic of thrash metal with melodic bits and some traditional metal parts – they maintain just the right balance to make them accessible to a wide range of metal fans while still managing to please their dedicated long time fans, that element of the band is quite obvious when listening to these great songs. The songs on "The Root of All Evil" definitely retains their ferocity and technical brilliance and Angela definitely adds her own stamp to the songs. This is an essential release for the die-hard Arch Enemy fan or if you are just a fan of technical thrash and you have not checked out this great band, this is a good place to start and see what you've been missing. Of course Arch Enemy has gone on to record some classic stuff in the post Johan era with Angela at the helm, so why re-record these legendary songs? That's a good question and open for debate, but the fact remains that Arch Enemy are a positively lethal metal band with plenty of great songs. This collection is a testament to that fact.
Rating: 85/100
Tracklist
The Root of All Evil (Intro)

Beast of Man

The Immortal

Diva Satanica

Demonic Science

Bury Me An Angel

Dead Inside

Dark Insanity

Pilgrim

Demoniality (Instrumental)

Transmigration Macabre

Silverwing

Bridge of Destiny
Line Up
Angela Gossow – Vocals

Michael Amott – Guitars

Christopher Amott – Guitars

Sharlee D'Angelo – Bass

Daniel Erlandsson – Drums
Links
Label: AFM Records
It's hard to believe that Doro celebrated her 25th year in music business last December. She has definitely been a model of perseverance and dedication throughout her career and that has continued to show on her most recent releases. With her latest output "Fear No Evil", the German metal queen shows no signs of slowing down.The opening track "The Night of the Warlock" gets things off to a rousing start, with a demonic sounding vocal intro as the track begins. Obviously, the title is a bit of a nod to her past. The song is a nice fierce way to open things and a great tempo-setter. Next is "Running from the Devil". This song has a great live feel to it and I'm sure it will go down great in a live setting. It features a great, heavy riff and a steady beat. The next track is the one that has gotten a lot of the attention. "Celebrate" features a who's who of metal legends. Floor Janssen (After Forever), Angela Gossow (Arch Enemy), the girls from Girlschool, Biff Byford (Saxon) and Liv Kristine (Leaves' Eyes) – to name but a few – all lend their immense talents to the song on the chorus. This song is indeed a celebration of the power of metal. There is no better group of people to bring that sentiment home. "Caught in a Battle" is just a pure metal track that has a truly ferocious guitar riff and just hammers through with machine gun-like precision. This is one of my favorites. After this song your going to need to catch your breath, so the next track "Herzblut" is a welcomed change of pace. It is another beautiful ballad sung in German, and it fits in their quite well with classics such as "Für Immer" and "Alles Ist Gut". "On The Run" is next and it is another powerfully heavy track that is sure to get some heads banging. Next has got be one of the most anticipated metal collaborations in quite some time. "Walking with the Angels" is a duet with Doro and Tarja Turunen and man is this just awesome. Two very different vocal styles come together to create a stirring masterpiece. The lyrics convey a positive and inspirational message. This is one of the absolute highlights. "I Lay My Head upon My Sword" has a cool vibe to it and is another favorite. "It Kills Me" and "25 Years" are two of the most different songs that Doro has ever recorded, showing that 25-years on and she is still not afraid to take chances. Fear not though, these songs are quite good and fit in well with the rest of her immense catalog of songs. The limited edition features the bonus tracks "Wildfire" and "You Won My Love" making it essential for any self respecting DORO fan. Also, the CD packaging deserves special mention. Great artwork by Geoffry Gillespie, beautiful photos and a glossy gatefold sleave makes this the complete package. As always Doro is joined by a great array of musicians: Nick Douglas (bass), Johnny Dee (drums), Joe Taylor (guitars), Oliver Palotai (guitar/keyboards) and Luca Princiotta (guitars/keyboards) all put in excellent performances. With 25 years in the books, Doro continues to make great metal music that comes from the heart. There is nothing pretencious and fake about it, she does what comes natural, as she has throughout her career. "Fear No Evil" is as solid a record as she has made in years.
Rating – 90/100
Tracklist
The Night of the Warlock

Running from the Devil
Celebrate
Caught in a Battle
Herzblut
On the Run
Walking with the Angels
I Lay My Head upon My Sword
It Kills Me
Long Lost for Love
25 Years
Wild Fire (Limited Edition Bonus Track)
You Won My Love (Limited Edition Bonus Track)
Line Up
Doro Pesch – Vocals

Joe Taylor – Guitar
Oliver Palotai – Guitar, Keyboards
Luca Princiotta – Guitar, Keyboards
Nick Douglas – Bass
Johnny Dee – Drums
Links
6 color styles available:

Style switcher only on this demo version. Theme styles can be changed from Options page.