Browsing articles tagged with " dianez"
Independent Release
Review by Tony Cannella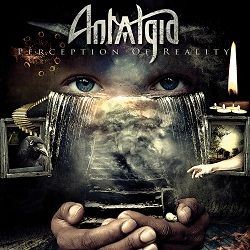 A lot of great female fronted metal bands are coming from Spain these days. With their debut full-length "Perception of Reality", the melodic hard rock/metal band Antalgia is out to take their place among Spain's best femme metal bands.
The 8-song, 47-minute disc opens with the fantastic "The Invisible Mechanism". Antalgia's use of keyboards (played by Xavi Sanchez) gives them a progressive metal influence at times. Lead vocalist Bella Dianez has got a high vocal range but is not operatic, she does have a strong voice and is definitely the focal point of the band. The next song "Realm of Pain" begins with a monstrous guitar riff and is a fast tempo song. This is one of the heavier songs, but like all of the others, Antalgia's songs are all pretty melodic and therefore can be accessible. Other highlights include: "Embrace of Death"(which begins with another huge riff), "Line of Life" and the 8-minute closing song "Memories". Guitarist Igna Jover does a great job throughout the CD and the interplay between guitars and keyboards is one the highlights of "Perception of Reality". The songs are all pretty much in the same up-tempo direction, but they all maintain a strong melodic base. Overall, I have to say that I was impressed with "Perception of Reality". Antalgia has released a strong and consistent full-length debut and proves to be a promising new voice in the realm of melodic hard rock and metal. Continue reading »
Independent Release
Review by Tony Cannella
From Spain comes the Symphonic Metal band Dandelium. Their new demo is titled "My Downfall" and puts on full display, a band that is young in age but presents their music like well seasoned vets. Throughout the course of this 3-song, 14-minute demo the listener is treated to mostly up-tempo, energetic symphonic music. The band wastes little time in getting into it with the powerful "Deceiving the Time" leading the way. "My Downfall" continues to set an energetic course. The final track is the uplifting and powerful "Stronger". The vocals of Bella Diánez really add a lot to the music with her soaring vocals and sense of melody. Dandelium are another solid band to come out of Spain. "My Downfall" is an excellent demo, which hopefully will lead to a full-length in the not-too-distant future.
Rating – 88/100
Tracklist
Deceiving the Time

My Downfall


Stronger
Line Up
Bella Diánez – Vocals

Erik Monsonís – Guitars


Alex Zamora – Guitars

Adrián Martín – Bass

Christopher Pérez – Drums
Links
6 color styles available:

Style switcher only on this demo version. Theme styles can be changed from Options page.