Browsing articles tagged with " dijk"
Live Report & Photos by Erwin van Dijk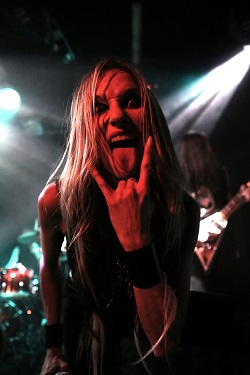 Huntress and Gold are two bands which qualify the describtion "Female Fronted Metal" but are worlds apart musicwise. The two bands did share the stage at the 013 venue in Netherlands on a hot saturday night. The 013 is one of the larger venues in the Netherlands. Bands like Therion, Kamelot and Dragonforce visited the venue in the past. In fact, Huntress was the opener for Dragonforce some time ago. The Stage1 is of course not as big as the main hall of the 013 (the Stage1 would fit on the stage of the main hall) but as Milton said it's "Better to reign in Hell than to serve in Heaven" and a headliner gig is more fun than a couple of songs in front of an audience who are waiting for the headliner. It's also the second gig for Gold at the 013. The band did a gig at the very prestigious Roadburn Festival.
Gold (from the city of Rotterdam) decribes themselves as a "comtemporary rock band that's heavy because of the songs, not the sound". The band has only time for 6 songs (see setlist) from the "Interbellum" album. Continue reading »
Interview by Erwin Van Dijk
An interview with Lotus from Sin7sinS, update Summer 2009. Last year I had an interview with Lotus, the singer of Sin7sinS. They have released three new tracks on MySpace so I thought it would be time for an update interview.
Your last two gigs were in March (in the cities of Antwerpen, Belgium and Dordrecht, Holland) What have you and the band done since then? Besides spending a lot of time in the studio

We were after those gigs very busy with writing new material and rehears this (we have a kick ass new set list!) Further as you said we spend a lot of time in recording the new songs. And we have done a new photo shoot…
You have recorded three new songs. Ronald Landa from Delain was responsible for the producing and mixing while Ad Sluyter (of Epica fame) did the mastering. How did you get in touch with these two guys Ronald Landa and Ad Sluyter and how was it to work with them?
Ronald Landa is a friend of Paul and me, we played before Delain and Sin7sinS in the same band. Ronald is very good in producing, so he wanted to help us. Ad Sluyter is a friend of Ronald and he is into the mastering…
And, did they have any influence on the sound of the new songs? This is because Delain and Epica are not exactly in the same genre as Sin7sinS.
Not really, the songs were already written before recording. But of course they did help create the sound which we were looking for.
Song by song: what can you tell us about the new songs? Music & lyrics? ("Dead World", "Eye Want All", "Insult #7″)
The new songs are louder and better then our older work. We tried to focus more on the songs as a whole. This implies that vocal work (etc etc…) follows a more natural path. Each song has a different meaning which is best hear able in the lyrics, most songs are inspired by things and events going on in our own lives.
Are these songs much different from your older work?
As an artist you naturally grow, however the songs are still in the same line as our older work. But due the fact that we have grown as a band our music has grown to.
This was not your first time in a studio. What have you done different this time?
We recorded most of it ourselves this time!
And which studio did you use this time?
We used the home studio of Ronald Landa.
Will this stay an online affair or will there be a possibility to legally download it or even a CD version?
The meaning of this promo CD, is to score a record label! We are ready for this next step! So a CD will be there when a record label signs us. The 3 new songs are listenable but you can not download them.
This is maybe a bit of topic but do blondes have more fun? Because you have changed your hairstyle since the last time I saw you on stage (at the Mix, Uithoorn).
Hahaha, no I don't think blondes have more fun. I like a change from time till time… not always the same look! But I still have as much fun as I had when I had black hair. The only good thing about it, is that my bathroom has a chance to become white again (as it was before I started painting my hair black, 2 years ago).
Links
MySpace *Facebook * Twitter * Google Plus * Site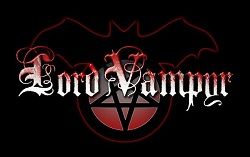 Interview by Erwin van Dijk
There are basically two branches of Black Metal: the ones with the corpse paint and great visual shows like Dimmu Borgir and Watain (but Watain is also very smelly) and the bands who compensate their lack of special effects with a cold self hatred like Skitliv and Shining. Lord Vampyr belongs to the first group. True to the genre everything seems to be shrouded in thick mists. For example, the website under construction and Myspace offers besides the names of the band members only very little info in Italian (a beautiful language but I do not speak it) but we have Wikipedia these days. Lord Vampyr (real name Alessandro Nunziati) used to be the singer of legendary Theatres des Vampires and Lord Vampyr is his solo project. This year the band has released their latest album called "Carpathian Tragedies".
Vampires seem to be very popular these days in the cinema. Do you watch those movies yourself?
Yes, but I'm not satisfied, cause all seem like a teen-movies and not a serious movies on the world of vampires.
Most of us know you as the singer from Theatres des Vampires. But have you been active in other bands before Theatres des Vampires?
Sure, my first band was Sepolcum (then called VII Arcano). Sepolcum was one of the first death metal band from Rome, then the band became more gothic style close to Tiamat, Paradise Lost, My Dying Bride.
You have been active in the music business for many years now. What are the high lights so far and what is still on your "to do" list?
If you ask me what I want to do yet, well many things. Probably put on a short project with our keyboard player, something pop-rock like 30 Seconds to Mars, The Rasmus and Muse.
As said before, you used to be the singer of Theatres des Vampires. Why did you left the band?
There were many personal problems and then on the music. Continue reading »

Interview by Erwin van Dijk
An interview with Liv Kristine from Leaves' Eyes. This interview is all dedicated to the forthcoming album "Njord".
"Njord" is the third full length Leaves' Eyes album. (the other two were "Lovelorn" and "Vinland Saga").
I am absolutely happy and satisfied with the album. We've never worked this hard before with a production, but we've reached our goal. I would even say, we even went further than we thought was possible, technically seen. It has always been important to me that our sound and art is authentic, i.e. that you can hear from the very first tunes that this is Leaves' Eyes! We also want that our audience really get the feeling of being on a wonderful journey. I feel that our music needs a special well-written and interesting concept which is just as important as the sound, and "Njord" gives you all this.
"Vinland Saga" introduced the Viking elements in Leaves'Eyes. But "Njord" also seems to have some Irish themes, like the songs "Emerald Island" and "Irish Rain" . With "Njord" comes the EP "My Destiny", which contains besides the song "My Destiny" in two versons also an acoustic version of "Scarborough Fair" and two non album tracks.
"My Destiny" is a song you can easily "tune into". It's a good way to introduce the album (out 28.08.), although you will of course have less commercial songs on the record, too. On "My Destiny" is actually an EP, for the price of a single, with four non-album tracks, and one extra album song.

"Vinland Saga" was a concept album. Is "Njord" written with the idea to tell a story or are it twelve individual songs?
The lyrics mainly deal with characters from northern mythology (e.g. "Njord", "Fröya's Theme", "Nine Wave Maidens", "Ragnarok"), or with places and historical happenings (e.g. "Scarborough Fair", "The Battle of Maldon", "Emerald Island","Irish Rain", "Les Champs de Lavande"). This is why I found it necessary to deal with all these different languages. "Vinland Saga" is based on Leif Eirikssons discovery of America, even the EP, "Legend Land", which followed soon thereafter. "Njord" has a much broader concept, travelling through history, and into Nordic mythology. It has always been important to me that our sound and art is authentic, and that our audience really get the feeling of being on a wonderful journey.The lyrics are written in 8 languages (english, middle-high german, old-english, gaelic, norwegian, icelandic, french and one "self-made" linguistic fictional phonetic sequence)… I even sat down to study a bit French to be able to write one French lyric. I did study Old-English and Middle-high German, so it was really nice to be able to use this knowledge. Gaelic is completely new to me, though, but fortunately I found a wonderful person who helped me. "Njord" is an album that demands an expansion in linguistic terms.
This is your third album. What are the differences between "Njord" and "Lovelorn" and "Vinland Saga"?
Our debut "Lovelorn" was very refreshing and a wonderful start for the band, also the press and the audience were surprised. However, you shouldn't forget that we all have a huge experience and knowledge as musicians of Atrocity and former ToT (Theatre of Tragedy) to rely on. This brings Leaves' Eyes a wide step forward, so we were really no newcomers in our genre. Moreover, I really have to say that Atrocity + Liv Kristine is a magic formula! I took my experience from my favourite ToT releases "Velvet Darkness They Fear" and "Aegis" as a basis for Leaves' Eyes music. Our second album "Vinland Saga" was a manifistation of the music of Leaves' Eyes – we had "settled" in the genre gothic metal with female vocals. "Njord" is the perfection of both our 2 former albums. Since the first demo recordings for "Njord" we have been able to achieve goals that we thought back in 2007 after the "Vinland Saga" release would be quite impossible. I am so proud of my band members – "Njord" is a dream coming true, and all the hundreds of sleepless nights were worth it. We all have developed as musicians and technicians and this is experience that is unpayable. "Njord" (producer: my husband Alexander Krull) has a power to it that even is more intense than any previous production I've been part of. Technically, we constantly have new ideas and aims. We have our own studio and therefore we have the opurtunity to specialize in technical tasks concerning album and DVD productions. "Njord" has even a more bombastic but delicate sound that "Vinland Saga", because techniques allows it. We recorded the classical parts in Minsk (Lingua Mortis, supervised by Victor Smolski), we had a complete local choir (Al Dente) singing the choir parts, moreover, a special artist playing solos on special instruments like the uillian pipe and the whistle. All this makes this album a multilayered and highly interesting experience for our listeners, for your ears, hearts and minds. If I should describe "Njord" in four words I would say bombastic, emotional, contrastive, and pure.
Where do you get the inspiration for the songs. Some sources are clear, like Ireland and the Norse mythology but what really inspires you to write a song?
It's first of all my love for my homecountry, the Norwegian Nature, history, my family, the culture – everything I grew up with! I feel that our music needs a special well-written and interesting concept, and I want to travel through time and space. For me history has always been extremely interesting, and even when I left my homecountry Norway and moved to Germany 12 years ago, I had more books about the Vikings with me than clothes and shoes. I have travelled a lot and been able to see a lot of the world. History, languages, and geography has always interested me. Thorsten is the main composer of Leaves' Eyes, he works out his ideas on his guitar. "Irish Rain", however, was an idea I had one early morning. I hurried to the studio and worked out the tunes with him. Sometimes, ideas just appear to my mind, like a complete "song".

And can you tell us something about the songs on "Njord" and "My Destiny"?
We recorded 18 (eighteen!) songs, and all of them are placed on the single "My Destiny" (out now) or the album "Njord" (out late August). Our listeners will get a lot for the money. That's a way for us saying "thankyou" to our fans and friends all over the world. To mention a few examples, "Fröya's Theme" is one of my favourites on the album, too, next to "Irish Rain". "Fröya's Theme" is about eight minutes long, it includes five languages, inclusive two "speaking" parts done by Alex and myself respectively. It tells the story about Fröya, the Goddess of sex with her extreme power of beauty. However, her lover Od leaves her as he has "wandering eyes" for other beautiful women. Fröya travels around and through the worlds in Northern Mythology to find him. Her tears are made of gold and they heavily strike the earth. This song is an epic masterpiece composed by Tosso, our guitarist.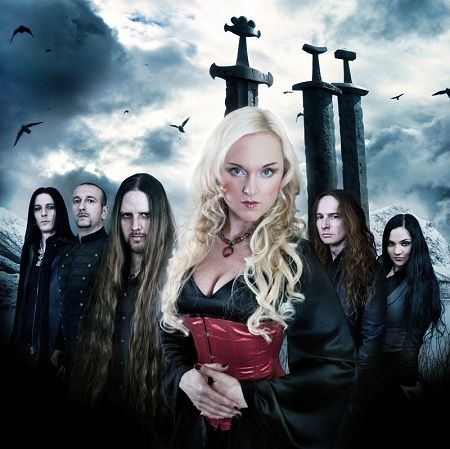 Is "Scarborough Fair" a Simon and Garfunkel cover and if it is, why did you choose this song?
I was an exchange student in the English town Scarborough, and I got very interested in their culture. This song is a folk song sung in the middle ages, also by the Vikings, on a trading market, in Scarborough. I wanted to rewrite the tune into a more heavy version and I am very happy with the result!

"Les Champs de Lavande" is a French title. Lavande means Lavender and the South of France (the Provance) is famous for its wide fields (champs) of lavender.
Can you tell us something about this song and why is it a bonus track?
As we had composed the instruments for this song, I thought about France immediately! I immediately sensed the smell of my favourite flower and scent, lavender! The Provance Lavender was famous already in the Middle Ages. I sat down and tried to put together a Franch lyric, and a friend of mine in France corrected it. This song just had to be about Lavender, and it sounds more authentic and special when it is sung in French.
While recording "Njord" you were supported by The Lingua Mortis Orchestra under the aegis of Victor Smolski and a classical choir. Most people will know Victor Smolski from his work with Rage. And this band does not exactly belongs to the same genre as Leaves'Eyes.
How did you find him and what was his influence on "Njord"?
We met Victor during a Rage/Leaves' Eyes' show in Greece in 2007. We are so happy that he liked the idea of working with us. It adds the important depth and bombastic character in our music.
The Special Edition will have a Drakkar (viking ship). What can we expect?
This is a way for us saying thank you to our fans and friends. Remember, many of them are collectors. I used to collect Madonna and Black Sabbath/Ozzy special merchendise objects.

One of the things that would make a lot of fans happy is a duet between the Espenæs sisters. (think of Beyonce and Solange Knowless doing a duet). Have you ever considered this for "Njord"?
It's not that easy since my sister moved back to Norway a couple of years ago, however, I am planning a duet on our fourth album, which will be a folk-oriented album, planned to be released in summer/fall 2010.

Do you already have some details about an upcoming tour?
Europe in November 2009, USA/Canada December 2009, then Europe and Russia in the beginning of 2010, and another long tour in the Autumn of 2010. Moreover, we have planned an acoustic tour between 28.08.-02.09 (please check the news!). We will play a capella in some of the Media Markets, for free for our fans, and we will have a lot of time to make photos with everybody, have a chat with our fans and friends and write some autographs. I enjoy acoustic tours. It's a nice way to keep up our close relationship with our audience, moreover, we are able to show that we are good musicians and can play live without a huge stage with a huge technical plan behind everything.
And which songs can we expect live?
A set-list still has to be decided on.
Although I think you will be very busy with the promotion of "Njord" this year and 2010 I would like to ask when we can expect a new Atrocity album and a new Liv Kristine solo album?
It's been 3 years since "Enter My Religion", and it's always good to gain a different aspect of your own art after some time has passed by. Right now, I am just about to finish the final recordings of my third solo album, and I see things in a new perspective now. "Enter My Religion" was an expensive production on a major label, however I made the decision in 2008 to release my third solo album on a another label, with a smaller budget, but having more freedom about the whole process, from the very first demo track, until the final master. I am very proud of "Enter My Religion", however I have developed as an artist and technician and my third album will be a huge step forward. I have put my focus on sounding just like myself, recording songs in one take, so you "get" me with everything I am, my character, my emotional level, my breathing, sometimes perhaps perfect, sometimes maybe not. I just want the audience to hear ME, not some singing lady with a pretty nice voice. I want to creep up inside your hearts and senses. I wrote all the songs together with Torsten (guit. Leaves' Eyes), all the lyrics myself, and my husband Alex is the producer of the album. Atrocity are already finishing their next Atrocity feat. Yasmin "Calling the Rain", which will be out end of 2009/beginning of 2010.
Links
MySpace * Facebook * Twitter * Site
Latest Multimedia
Interview by Erwin van Dijk

On June 1st the compilation double cd "Demonic and Divine" is released by Femme Metal Records. The cd is to support the Macmillan Cancer support and Cancer research UK. Godyva appears with the song "My Inner" on this album. Godyva is a Gothic Metal band from Bari, Italy. The band was formed in the year 2000 and has released two albums and a demo cd. Godyva's latest album was released last year and this album also includes the song "My Inner" that also will be featured on the "Demonic and Divine" album. Lady Godyva was a noble woman from England who lived a thousand years ago (c. 997 – 1067) in the city of Coventry. She is most notable for riding naked through the streets of Coventry. By doing this she gained a tax remission from the high taxation imposed by her husband Leofric, the earl of Mercia. And with success. "Godiva" or "Godgyfu" means "God Gift" in Old English. This interview is with Lady Godyva, the singer of Godyva.
For starters: what is your real name?
My real name is Cristina Argese, my surname sounds like the river Arges where Dracula's wife died, this is what the legend of Dracula tells. His wife killed herself throwing in the waters of the river Arges and subsequently the river was called the Princess River. Cool!
Did you always wanted to become a singer?
Yes! When I was a child I always dreamed to sing with David Bowie or Freddie Mercury! I wished to be their chorist on tour, hehe!
Who are your favourite singers and musicians?
My favourite singers and musicians of my childhood were the White Duke and Mr. Mercury and his band Queen as I said before; when I was a girl I loved Maria Callas, Dead Can Dance and Lisa Gerrard, Peter Murphy, The 3rd and The Mortal, Katatonia, Sarah Brightman, Sade, Kate Bush, Tori Amos, Paradise Lost, Metallica, Korn, Slayer, Queensryche and more but now in this moment of my life I'm really in love with the voice of Nevermore, Warrel Dane (his last solist album is fantastic), I like Porcupine Tree too, Avantasia, Scar Symmetry, Soilwork, In Flames, Entwine, Samael… But Paradise Lost and the voice of Nick Holmes will be forever my favourite.
And to what kind of music do you listen yourself?
Death, Thrash, Metal and Gothic Metal very often but sometimes I like to listen to ambient or new age music to relax myself.
Did you sing in any other bands before Godyva and do you any other bands right now?
Before Godyva I sang with a band called Aragon. The line-up included two singers, male and female and I used to sing like the Opera. Now I would like to dedicate myself only to my band Godyva, but maybe in the future it could be possible.
Speaking of side projects: you have recorded a song with the Thrash Metal band Methedras (also from Italy) for their latest album "Katarsis". This song is called "Nightmare". How did you got in touch with this band and what have you learned from this experience?
Methedras are friends for me. They asked me to sing on their latest album after their listening to the song I sang with Necrodeath, on their "Draculea" album. They stayed impressed and so they asked me to sing the song "Nightmare" on their new album. A link to the band.

Why did you choose Godyva as the name for the band?
I was a young girl when I decided to choose this name for my project and I remember that I was reading the story of Lady Godiva during a reading of an old book of my grandmother. I was spellbound of this heroin so brave that used her naked body to win against her unfair husband. She was the first feminist! She was a woman with no shame! She embodied Eva before the original sin. I would like to be naked all time, especially in this warm period (sometimes I really hate dresses and all accessories I must wear!) but I cannot do it, what a pity! hehehe!
How would you describe Godyva's music? Because a lot of people will assume you will sound like Lacuna Coil because Godyva is Gothic oriented with female vocals.
I think that Godyva are similar to Lacuna Coil because the female voice but there are a lot of bands in the world with a front woman that could be similar too. I like Lacuna Coil, they are a great band and I'm really happy for their worldwide success and fame, but we are different, we use to play and to compose in a personal way in my opinion. It's easy to say "You are like Lacuna Coil!" because we play metal with a front woman and we are Italian but we don't want to be a copy of an other band, we want to be Godyva and "nothing else matters"!
And what makes Godyva different compared to all the other female fronted bands in the world?
I think every voice is personal and unique in the world, also your voice is unique! It is scientifically shown that the voice is as unique as the iride of the eye and the digital imprints. And every voice has its own ability to transmit emotions, so the ear of the listener decides what it is or it is not pleasant. Also the personality of a singer and of a musician makes the difference, but i don't like to compare myself or my band to the others.
Who are the other members of Godyva?
Botyz Beezart – keyboards
Botys is the principal composer of the band, he mixes melodies of the keyboards to all guitar's riffs really in a particular and special way. Maybe it's his work the real difference in our band.
Anto – guitars
Anto is the aggressive characteristic of Godyva, he is the guitar that I have always desired to mix aggressiveness with romanticism.
Nick Barrah – bass
For a long time he does his beautiful job for this band. He is an essential musician with a great personality.
Enyo – drums
A drummer precise and progressive from years he is the rock of hour sound.
Why did Godyva choose the song "My Inner" for the "Demonic and Divine" album?
We have chosen this song because in that period we released the video of "My Inner" and we wanted to promote this song one more time in a compilation but we are sure "My Inner" is a song that younger fans appreciate and we believe in them.
And how did you (the band) got in touch with Femme Metal?
Femme Metal is a fantastic store managed by serious people that sell our cds, and so they asked me to take part to this compilation and i said "Why not?". I really hope this compilation could help this cancer research in UK.
Is song writing teamwork in Godyva or is there a mastermind behind the music?
As I said before Botys is the principal composer, so I can say that he is the mastermind about the music but also with all our help. In our latest album Anto has composed with him some songs among which "My Inner" and I have written with him "On the Floor of Ice" and "Mary in Blood". All vocals and lyrics are only my work.
Can you tell us something about the songs on "Planetarium" ?
"W.A.I.H.T.L.I.H" is the intro and it's the same music of the outro but you can listen to this intro in the opposite verse with the sound of tears that fall. Because of this you read the title like an image in the mirror. "The Ark" is The first song we have composed for this album and so we chosen it for the opening track. Instead "Innocent" is one of the two songs that sees the collaboration with Mike Tarantino (Natron). Here you can ear how the new guitarist Anto makes the difference with his style and his composition support. "Mary in Blood" is a romantic song that speaks about Maria Magdalena and her love. "Deep Inside" can be deceitful because it seems an happy song instead it speaks about one love that wants to last up to the end, together, both in the same grave. "Planetarium", it's simply the title track; we adore this song. It's the second one composed for this album and we think it is a complete and refined song. "My Inner" :I like it, I like it, I like it. The most powerful song of the album and the most appreciated by the metal kids. We released the video of this song. You can watch it on our MySpace page, YouTube official page, official website and on Rock Tv. "Black Door" also is one of the most difficult song to sing on this album. The ninth song is "On the Floor of Ice" I like to call this one "the liquid song", because it speaks of water (our life), deep blue sea (I love swimming) and ice. "No Fault" sees again for the second time Mike Tarantino as special guest! I like so much this song for that style typical of the Eighties, and we feel nostalgic for these years. Back to romaticism with "God Is Fallen" that speaks about our own fallen idol. And here we're at the end with "H.I.L.T.H.I.A.W." (outro) : a yearning and suggestive closing recited. This is an outro, but we use it as the intro for all our shows. As a treat for our fans we've decided to include a special version of "Innocence" as an acoustic version like happened the last time in "In Good & Evil".
And what is your favourite song on this album?
My favourite song on "Planetarium"? The title track! In reality I have two or three favourite songs on this album: "Planetarium", "Innocent" and "My Inner".
And what are the differences between "Planetarium" and "In Good and Evil" ?
The difference is the guitarist and obviously all guitars you can listen to. Our ex guitarist Frahn left the band some months before the recording of "Planetarium" so we chosen Anto as our new guitarist and we were sure that he would have done a good work in the studio giving more aggressive sounds to the songs of Planetarium. The other difference is that we are grown now as musicians and composers so we can offer an album more mature and enjoyable than "In Good and Evil".
What are Godyva's plans for the future?
We want to play music all over the world, there is a booking agency in USA that wants Godyva there, so I hope it could be happen very very soon. But at the same time we love our country so we will continue to show in Italy. We will be in Czech Republic on the 11th July to play on the stage of Prestenice Open Air Music Fest and the headliner of the event will be The Rasmus. We are working on new songs now but we don't want to say more about a new album now. We have to still promote "Planetarium" now.
And the last question: Is there anything the reader should know that I have not asked?
I think you have done all good questions. Thank you for this funny interview and I hope to see you again. Cheers

Links
Latest Multimedia
6 color styles available:

Style switcher only on this demo version. Theme styles can be changed from Options page.