Browsing articles tagged with " distribution"
Label: Premium Records/Soulfood Distribution/The End Records
Review by Luisa Mercier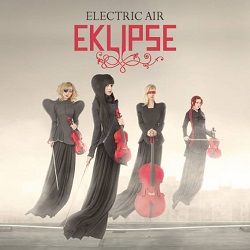 Second release for the four girls string quartet that debuted an year ago and supported Nightwish during their Euro tour. I had the chance to see them live in this occasion and really appreciated their first album, so I was really curious to hear how they evolved and what they chose to cover in this new "Electric Air". I might say that in my opinion the sound is more mature, richer and lush and the songs choice is darker, less mainstream even though the first single "Titanium" (David Guetta cover) might you think differently.
The arrangement is really baroque anyway so there is nothing of the dance original.  It is followed by a really elegant cover of Massive Attack "Teardrop" and a beautiful on of Lykke Li " I Follow Rivers". Continue reading »
The heavy, do-it-yourself, Hamburg based metal band A Million Miles are proud to announce their recent signing with German label Abandon Records for their long awaited debut album "What's Left Behind" scheduled to hit stores on April 5th, 2013 via New Music Distribution!
After 4 years of heavily touring the metal underground of Europe, A Million Miles signed a publishing deal with Enorm Music, the publishing company of Wacken/ICS in early 2012 and entered the Hammer Studios Hamburg (Gammy Ray) with Eike Freese of Dark Age to record their first full-length album.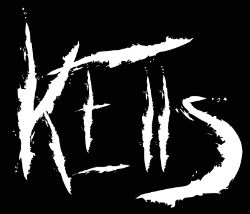 Interview by Ary R.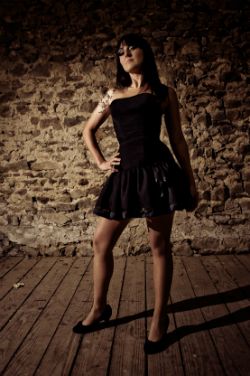 They rocked Europe last year with Leaves'Eyes and Tarja Turunen, and with Epica and ReVamp the former year as well. Now they're back on the music scene with the upcoming album, "Anachromie", that will reveal some other music features of the French rock band Kells. Just read with us what the front-woman Virginie Goncalves told to us!
Hi Virginie. Welcome to Femme Metal. How are you doing? Recently, you've released the new Kells album, "Anachromie". How are the feedbacks from your fans going?
I'm fine, thanks! "Anachromie" has been out for a month now, and it seems that both the press and the fans have praised this record. We are very happy about that because somehow we had chosen to take artistic risks, not to repeat ourselves and to renew our image, and people liked it!
I've been surprised about the title you've chosen for the album, as I've been amazed by the artwork as well. Would you like to talk about them? Who has created the cover and how was the choice for the name of the album born?
In this album, everything in the lyrics is written in a disjointed way, the space-time notion is broken, the reality mixes up with the dream, as in the surrealist genre… Globally, the lyrics are anachronistic. Also, I use many adjectives of color (ochre, silver, gold, amaranth, blue, white, black, saffron, amber, sapphire, sandy…), which gives the lyrics a very pictorial aspect. It is the mixture of these 2 concepts, the chromia and the anachronism, that gave birth to "Anachromie". The cover artwork has been made by Blackthorns Design. We appreciated what he had made for other bands, this mixture of surrealism and modernity, that's why we decided to work with him. The frontcover and the booklet are an illustration of the lyrics… the girl with her bridal veil, with all her dreams, the tortured childhood, the nightmares and the anachronism always there, with the hours of the clock, the tracklist in disorder … as in the surrealist universe, where nothing has any reasonable landmarks or points of reference.
The recording and the creation of the album have been quite challenging. How long did it take to put down all the material, to record it and to mix it properly?
We recorded this album in November 2011, more than a year ago already! We went to Mon Studio in Nancy, to work with Yann (MyPollux). We began with the recording of the drums, then the basses, the guitars, the strings, the choir, keyboards, electro music, to finally end up with the vocals, at the end of November. So it took almost one month, because we prefer taking time! Yann then attacked the mixing in December, and we eventually sent it all in New York to the Sterling Sound Studio for Ted Jensen to master it in february 2011.
Interview by Alessandra Cognetta
Anaè is the lead singer of the French metal band Adrana, a combination of progressive metal, heavy metal and classical music, enriched by a strong literary component. The mix of different influences as well as forms of art makes Adrana a unique musical experience and we're here to find more about them.
First of all, welcome and thanks for taking the time to answer our questions, Anaè. How has 2012 been for Adrana so far?
Thank you for giving us the opportunity to present our music and artistic work! I am really thrilled! The year 2012 has been fairly quiet so far. After the release of "The Ancient Realms" and the first part of the French tour we were given a little time to work on new songs, work toward a movie clip and prepare a surprise regarding our future gigs to all of our fans!
One of the things I enjoy the most about your music is the "story" (I won't dare to call it a concept because in my opinion it's far more than that) behind your whole production. Can you describe for us the main themes of Adrana's adventures?
We would like that it becomes much more than a concept. We are working on it, but we are still far from what I wish to do in terms of total art (featuring theater, music, stories, dance, and a whole fantasy world). Our music tells the adventures of the warrior princess Adrana desperate to reclaim her fallen kingdom. It contains many elements of heroic fantasy like the character's actions or places in a rather dark atmosphere, darkening progressively with each new album. Although the story revolves around a princess, this one is more gloomy and sanguine. There are many battles, betrayals, murders and unmentionable secrets that punctuate the epic story of Adrana. Adrana talks about the difficulty of bringing people together in their diversity, and the difficulty to win the trust of others. Adrana shows us that very often we find ourselves alone with our destiny. Finally, this quest leads the Princess to ask the recursive question as to whether the pursuit of a right cause, right as it is, justifies having to kill thousands of human and nonhuman creatures to get there?
We know what influenced your music, but what influenced your lyrics? How were Adrana and her Ancient Realms born?
The band name was invented, without special intention by Ludo and Maxime (guitarist and drummer, the founders of the band). They then included Grhyll, our keyboard player, and me to write the story. The first songs whose lyrics had no relationship between them (stories of vampires, putrefied nymphs, or warrior princess), have become the pillar of the epic story of Adrana. Now, Grhyll has taken charge of the story and I work exclusively on writing lyrics around the story created by Grhyll.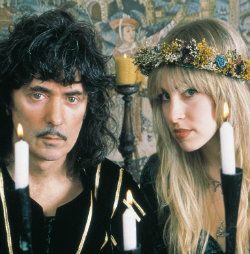 "Blackmore's Night – The Beginning" è un documentario sul primo periodo della leggendaria band Inglese. In questo ricercato box di velluto sono raccolti i primi due album dei Blackmore's Night "Shadow of The Moon" e "Under A Violet Moon" insieme ad una raccolta di rare riprese fatte nel backstage durante i primi tour "Live In Germany 1997-1998″ e "Under A Violet Moon – Castle Tour 2000″ arricchite dalle interviste con Ritchie Blackmore e Candice Night. Blackmore's Night "The Beginning" è davvero un'uscita speciale non solo per fans o collezionisti ma per tutti gli amanti della musica scritta con il cuore.
Il Box uscirà il 7 Dicembre in Italia su UDR MUSIC / EMI DISTRIBUTION
Contenuto del box :
DVD 1: "Blackmore's Night – Shadow Of The Moon – Live In Germany 1997-1998″
DVD 2: "Blackmore's Night – Under A Violet Moon Castle Tour 2000″
CD1: "Shadow Of The Moon" album
CD2: "Under A Violet Moon" album
DVD 1: "Blackmore's Night – Shadow Of The Moon – Live In Germany 1997-1998″
Shadow Of The Moon
The Clock Ticks On Play
Minstrel Play
Minstrel Hall
St. Theresa
Under A Violet Moon
Magical World
No Second Chance
16th Century
Greensleeves
Renaissance Faire
Writing On The Wall
Mond
Tanz
Be Mine Tonight
Memmingen
Black Night
Man On The Silver Mountain
Still I'm Sad Maybe Next Time
DVD 2: "Blackmore's Night – Under A Violet Moon Castle Tour 2000″

Written In The Stars
Morning Star
Renaissance
Faire Fires At Midnight (Midnight Acoustic Performance)
Possum Goes To Prague
Under A Violet Moon
Spanish Nights (I Remember It Well)
Past Time With Good Company
Wind In The Willows
March
The Heroes Home
Gone With The Wind
Fires At Midnight
Now And Then Durch Den Wald Zum Bach Haus
CD1: "Shadow Of The Moon" album

Shadow Of The Moon
The Clock Ticks On Be Mine
Tonight
Play Minstrel Play
Ocean Gypsy
Minstrel Hall
Magical World
Writing On The Wall
Renaissance Faire
Memmingen
No Second Chance
Mond Tanz
Spirit Of The Sea
Greensleeves
Wish You Were Here
Possum's Last Dance
CD2: "Under A Violet Moon" album

Under A Violet Moon
Castles And Dreams
Past Time With Good Company
Morning Star
Avalon
Possum Goes To Prague
Wind In The Willows
Gone With The Wind
Beyond The Sunset
March
The Heroes Home
Spanish Nights (I Remember It Well)
Catherine Howard's Fate
Fool's Gold
Durch den Wald Zum Bach Haus
Now And Then
Self Portrait
6 color styles available:

Style switcher only on this demo version. Theme styles can be changed from Options page.