Browsing articles tagged with " draconian"
Interview by Vard Aman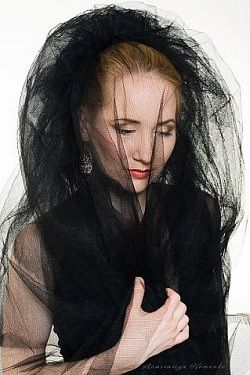 Vocalist, Olga Salikhova, has over the years become a familiar name and face (and voice) in Russian Female-fronted Metal, having fronted bands such as Slavery, Oktagon and Luna Aeterna. Currently, she is singing for one of the pioneering bands of Russian-based Doom Metal, Voiceless Void, as well as her own project, Core. I caught up with her for a chat about her musical career to date.
Hi Olga! Welcome to Femme Metal Webzine. So, to start off with: when did you start singing?
When I was a little girl my granny used to take me a long way to our summer cottage on a bike on the rear seat, and I used to sing all the way to entertain both of us. Later when I was 7 I went to music school and joined a choir, and I liked being part of it.
Did you have any special training?
Yes, I did! When I was a teenager, I felt a great desire to get a Grammy and to conquer the world, and I was quite sure it won't take me more than, say, 5 years, so I started attending some weekend classes at a musical studio. There I experienced my first individual vocal classes. After that all my training was mostly with different private vocal coaches.
What was your first band?
I was 17 then, it was a very nice band called Slavery, they lived in a different city in the Moscow Region, so I had to commute to our rehearsals twice a week and my parents had to meet me really late at night coming back. Slavery was kind of melodic power metal with dark lyrics and kind of gothic image. They were really nice guys and the founders of the band are still my friends.  There are only a couple of live audio recordings from our gigs and a demo. Unfortunately, even though they existed for 10 years, they didn't release any albums, even after I left the band.
According to Metal Archives, Slavery split up for the second time in 2010. When was the first time? Was that also when you left?
No, when I left the band, they found another female leader, also named Olga (Mashkina), also a blonde, there were kind jokes about that in the group and among our fans that the band attracts such front girls. I know after Olga Mashkina they had another blonde singer, Nastya. I actually don't know much about their first splitting-up, I know about the second one in 2010, I was involved then.
How were you involved?
I took a break in my musical career after I left Luna Aeterna. I didn't sing at all for about 4 or 5 years. I communicated with my ex-music colleagues very seldom, only occasionally. Then one day I met with the bass-player of Slavery, Irina, and she suggested that I join them again because their singer, Nastya, was leaving the band for personal reasons. I agreed with enthusiasm, we started rehearsing together, it all was nice and we were discussing recording an album, but after a month of rehearsals the guys decided that they felt exhausted and lacked creative inspiration and new ideas for our music. That's how we split up, basically.
Label : BadMoonMan Music
Review by Vard Aman
Aut Mori are from the city of Yaroslavl, about 250km North East of Moscow, and were formed in 2009 by three ex-members of Doom Metal band Auto-de-Fe (other ex-Auto-de-Fe members spawned the band Sea of Despair). Aut Mori play a style of atmospheric Gothic Doom Metal, similar in a lot of ways to Auto-de-Fe, but with a very strong Draconian influence. Actually, to best describe Aut Mori's sound on "Первая Слёза Осени" think of a Russian version of a more atmospheric and symphonic Draconian but with less oomph (something along the lines of "She Dies"). It sounds like a promising prospect, doesn't it? Well, it is! Also, while I have your attention regarding Draconian, I should just mention that the guest drummer on "Первая Слёза Осени" is none other than Draconian's Jerry Torstensson, who was also responsible for the mastering of the album; and the guest violinist, Olof Göthlin, was also responsible for the violins on "A Rose for the Apocalypse".
Label : Hypnotic Dirge Records
Review by Vard Aman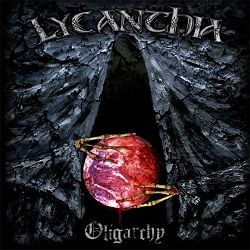 "The want to flee consumes me,
The urge to succumb eats its way,
Through a brawn weakened by seclusion"
Doom Metal is one of the most, if not the most varied and extreme forms of metal. When played badly, or is recorded badly, it can be abysmally bad (in a bad way); but when it is played well, there are few forms of music more powerful and more stirring than Doom Metal. Doom Metal is usually associated with scenarios of despair, depression, emptiness and, well, doom; but, when played well, I've always found it to be uplifting – a way to expose, revel in and release "the doom" through dramatization in a powerful extended aural climax. If you want to depress me, play me Justin Bieber, if you want to make me happy, play me some good Doom Metal. If Doom Metal conjures images of emptiness, then it's an epic; a passionate; and a dramatic emptiness, a drama that plays on, and plays out the extremes of our imaginations and our imagined (or real) fears, losses and sorrows.
Well, good Doom Metal does anyway; bad Doom Metal, it is fair to say, can often spell instant boredom. Lycanthia, fortunately, are good Doom Metal. No, they're more than that; they're VERY good Doom Metal, and that means that everything in my somewhat purple-prosy description of good Doom Metal applies to them, and in great abundance! Lycanthia are from Sydney, Australia, and formed in 1996. In 1999 they released their debut "Myriad", followed by lineup changes, an EP in 2006 called "Within the Walls", more lineup changes, and now, in 2012, their second full length, "Oligarchy". This band has staying power, and this is reflected not just in their continuing determination, but in their sound as well. Their sound is a Death Doom/Gothic Doom combo, nothing groundbreaking in that, but it's the way they play what they play that makes Lycanthia the standout band they are and "Oligarchy" the standout album it is. Take the best parts of the harsher side of My Dying Bride mixed with the best parts of "Velvet Darkness They Fear"-era Theatre of Tragedy mixed with a bit of Draconian and you have Lycanthia. Are you drooling yet? No? OK, then add not one, but two extremely talented female vocalists (Vanessa Black and Megan Tassaker – also in Avrigus) whose wistful and melodic vocals are contrasted by a male vocalist (Lee Tassaker) whose raw, plaintive growls and shrieks would make most Death/Black Doom Metal vocalists proud. Now are you drooling? Still not? OK, go and listen to some Justin Bieber then… The heaviness, the power and the emotion is almost relentless throughout "Oligarchy", further emphasized by the somber melodies. Likewise the contrast between the power of Lee's growls and the melodic vocals of Vanessa and Megan (solo and harmonizing) serve to emphasize both.
On top of that, Vanessa and Megan contrast each other vocally too, and to the music itself they add violins and keyboards respectively. Stylistically, most of the songs on "Oligarchy" are fairly similar to each other, which is a good thing when you can't get enough of this band and their musical creations. "Forgone" was the first song to be released, a single if you like. It's a good summary of what this album is about, and when you get this album you can expect much more of this. "Hair of the Beast" is somewhat different to the other tracks, and this one takes a few more listens to get into than the others, perhaps for that reason. Lyrically, Lycanthia are as good as they are musically. They have all the poetic doom, emptiness, sorrow and despair that one would expect from this kind of music, but there is an additional element: a fantasy story-telling element – most prominently highlighted by the song "Forgone" which is a tale of a young god who falls in love with a mortal, enraging the other gods who strip him of his immortality as a consequence (a Lycanthia creation that sounds like it could be based on actual mythology, and there probably are many parallels) – just when you thought it couldn't get more epic. But this is "epic" in the Doom Metal sense, so don't expect any happy stories with happy endings – expect some very powerful stuff. Highlights off the album? All of them, although "Forgone" and "Despondency in Crescendo" are particular standouts and "Time Feeds These Wounds" and "Hair of the Beast" (as I've already mentioned) take a few listens to get into. So how highly do I rate this album against the many Doom Metal albums I've heard and own? As I am writing this review, I have been listening to this album for about a week and it's still growing on me ("Forgone" since it was first released on YouTube). There have been some fantastic albums released by some fantastic bands, but if anyone breaks into my house right now (beating all my booby traps… just in case the thought crosses anyone's mind… I am a Saffer after all), holds me at gunpoint and steals my collection, Lycanthia's "Oligarchy" is the one they will have to prize out of my cold, dead hands. Or, maybe, considering that Lycanthia is not the biggest name out there they might be a bit more reluctant to fight over it and perhaps they might let me keep it… hehe, their loss if they do! But if they do take it, I'll give them these bits of advice: listen to it loud and with the lights out (seriously, try it); and if for some reason they're trying to maintain a tough-guy-who-doesn't-blub-to-music image, they might want to listen to it alone – just in case they can't handle the powerful and extended aural climax of one of best representatives and examples of one the ultimate forms of music. And then give it back, dammit!
Rating – 98/100
Tracklist
The Essential Components of Misery

Eternity…

Forgone

Ablaze the Wheel Turns

Despondency in Crescendo

Time Feeds These Wounds

Hair of the Beast

From Ancestral Lands
Line Up
Lee Tassaker – Vocals & Bass

Megan Tassaker – Vocals & Keyboards

Vanessa Black – Vocals & Violin

Stephen Mikulic – Guitars

Giovanni Gariano – Guitars

Andrew Craig – Drums
Links
MySpace * ReverbNation * Facebook * Twitter * Site
Interview by Vard Aman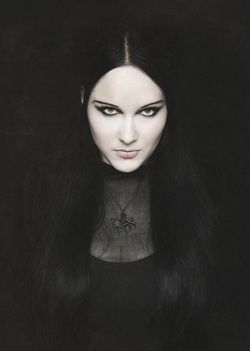 Over the years Draconian has become a household name in (Gothic) Doom Metal circles, so I'll skip any long introductory monologues here and move right on to late 2011 when vocalist and Draconian icon, Lisa Johansson left the band. It's always a difficult time, not to mention a speculative time for fans when a vocalist of Lisa's popularity leaves a band of Draconian's popularity. What would happen? Would they change their sound? (Speculation in that department driven further by the Nightwish/Tristania episodes). And most importantly; who would they replace her with (if they replaced her at all) and would she be as good? Let me just say here to all those who are understandably upset by Lisa's departure from the band that she is still there and always will be, gracing your speakers and headphones every time you listen to a Draconian album up to and including "A Rose for the Apocalypse". But most of all, I'd like to say trust Draconian, they're Doomsters who believe in the Doom they create, and trust Draconian to find the best singer for the job! And I can say with total confidence that they have done just that! How? Well, several years ago, I had the pleasure of discovering a band in my home town of Cape Town called Inferium whose vocalist, Heike Langhans (Heike van Dominic), possessed one of the most haunting and beautifully melancholic and sombre voices I'd ever heard – the kind of voice that could get all the hair on one's arms standing straight up (further confirmed when I heard her solo project, Lorelei). With so versatile and melancholic a voice, Heike's was a voice made for a good Doom Metal band, a voice that belonged in a good Doom Metal band, and any good Doom Metal band who made use of her voice would become even better (you'll see…). Cape Town, unfortunately, is not a place that is well known for such bands: sea, sun, wind, mountains, scenery, nature, shooting people – yes, Doom Metal – no… well, at least not yet. But Sweden is home to one of the best and most iconic Doom Metal bands of all time, and in late 2011 their vocalist left and…. why am I still talking? Draconian's new vocalist, Heike Langhans, will tell you the rest.
First of all, welcome to Femme Metal Webzine. If I had met you on the streets of Cape Town just over a year ago and told that within a year you would become the new vocalist of Draconian, how insane would you have thought I was?
I would have laughed and told you to stop your medication immediately. Considering how long I've been listening to Draconian and how high an opinion I have of them, I could only have dreamt of something like that happening in my lifetime.
So, how did it happen?
After hearing the news that Lisa had left, I went online and starting moaning about it like I'm sure most fans did. Some of my friends urged me to audition – should the band have been auditioning singers at all. I just assumed they'd find someone in good ol' Scandinavia – where musicians grow on trees. Some weeks later I received a link on my page (from you), sharing the update that Draconian will be accepting applications and auditioning singers to take the role of female vocalist. At that point I wasn't too excited, as I'm quite rational about such things and could see all the fan suggestions and singers throwing themselves at the opportunity. I asked if there was some deadline to it, as I was planning on moving to Europe anyway that year. I later received a message from Daniel Arvidsson, saying that I should send an application with some material. I will admit, I got a few flutters then, but still just kept it to myself and quietly sent off my application. He got back to me and said he liked it and forwarded it to the band. Not long after, Anders contacted me and asked if I could come for an audition. In February, I was off to Sweden for a week only to audition. We did some recordings of songs from the latest album and rehearsed some old songs too. Things went well on all accounts, but me being a little self-critical, I kept thinking I could have done better. I was the first to audition, so in my mind I did not know if that would've been an advantage or disadvantage. After my lovely week in Sweden, I (miserably) returned home and hoped for the best. I kept in contact with Anders very regularly to keep me from dying with anticipation. I think the wait would have killed me otherwise. At that point, I still felt like I was in a dream and kept thinking: "Wait. Did I just go to Sweden to audition for one of my favorite bands???" Eventually, I got the news that they would like me to join Draconian, but that there were obvious concerns regarding the relocation. These days it's just not easy with all the rules and borders of our world. I wasn't going to give up and set to work on the paperwork and visa applications. It was tough as hell and expensive, but I am 100% driven and given my disregard for certain authorities, I wouldn't dare let it intimidate me or get me down. I jumped through the fiery hoops, did the paperwork and in May I was off to Sweden. I'm still having my tribulations with migration boards and paperwork as it is, but I'll do it for the rest of my life if I have to. The music and the people are worth it. The doom is worth it.
What was it like meeting Draconian for the first time?
In my mind I was nervous about the idea at first – especially meeting the talented Johan Ericson. I'll admit, I've been a huge fan of Doom:vs and greatly admired his writing and creativity. I'm not really a nervous person at all, so I knew it would be fine. I was amazed at how well I got along with them and how easily I fit in. I suppose it's because of the general sense of humor and attitudes of Scandinavians. I've always related to it a lot better that that of my home country, so I felt right at home and very comfortable. The social dynamic of the band is very important in Draconian too, so I was pleased to be able to just be myself and not worry too much about those socially awkward situations a lot of us fear when meeting new people.
And Lisa?
I went with Fredrik to Lisa's flower shop before the audition. She was as pleasant and friendly as I expected her to be and just down to earth. My kind of person. We bantered a while and joked around about the big knife she was using to do the flower arrangements with. It was nice to hear that she seems content and comfortable in her life now as a mother.
How has the response from Draconian's fans been so far?
They have been absolutely sweet and amazing. I never expected such a warm welcome and such lovely responses. I was prepared for the onslaught and the angry fan mob, but I have been overwhelmed with love and good energy. It really makes all this so much more real to me and it makes everything worth fighting for. It re-installs a lot of hope in me too when it comes to people. I've dealt with a lot of attitudes from some people back home, so having the rest of the world respond so lovingly, has really brought a sense of peace to my heart.
Being a South African myself and having travelled a bit I can imagine the reaction of a lot of fans (and others) is going to be something along the lines of "What? You're from AFRICA!?" How do you react to that?
The funniest thing I get asked is why I'm white. I think the media has really put a certain idea in the minds of people in the rest of the world, so I don't blame the little bit of innocent ignorance I've encountered. I usually take the opportunity to explain how things really work and that SOUTH Africa isn't really the same as the rest of Africa. At the end of the day I'm just happy to prove that the world we live in is really smaller than we think and the only thing keeping us all apart is paperwork, money and silly governments.
Was it quite a culture shock moving from South Africa to Sweden?
For me personally – no. I knew what to expect in a way as I've been interested in Scandinavia from a young age. I could immediately sum up what was better and what was lacking. Everything is Sweden works and flows incredibly well. Generally speaking – Service is good;people are sweet, peaceful, intelligent and helpful. That being said, I won't deny that South Africans have a fiery social forwardness and I won't find anywhere else in the world. I'd definitely want to visit my hometown, but personally, I know my head and heart is in the North. Indefinitely.
Hur väl talar du Svenska?
Not too much just yet. I will be going for Swedish lessons as soon as I am part of the system, but I can understand a lot of Swedish already in reading and general talking. My Afrikaans (Dutch) and German background helps a lot in understanding Swedish. Some of the words are virtually the same, but just spelled and pronounced a little different. I'm picking it up quite fast actually.
Another question that I've no doubt some fans will ask: How do you pronounce Heike Langhans?
In the German way. That's the best answer I can give. People in South Africa have been pronouncing my name wrong all along and I've gotten used to it. It's actually pronounced something like 'hey-keh', but have mostly been pronounced 'high-kuh'. It's all the same to me really. Though I think the way Swedish/Finnish people say it is very sweet. It makes me smile. 'Langhans' is tricky. Back home English people get it terribly wrong and Afrikaans people tend to get it right, since it sounds dutch to them. It's pronounced 'lung(organ)-huns (like guns)' I suppose. That's the closest I think I can explain. Just ask your nearest German.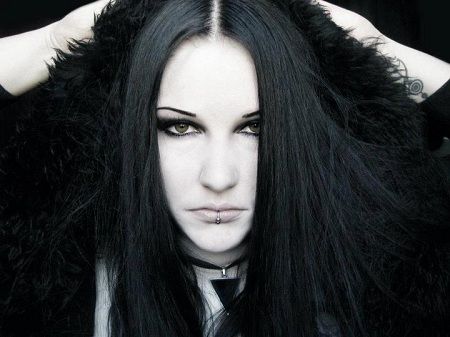 Let's go back all the way to the beginning. When and how did you first get involved with music and singing?
Singing came first. I was in school choirs since the age of 8, but got pretty sick of singing in a group, so I left that behind and started doing my own thing. I played piano occasionally, but mostly played the classical guitar. It helped a lot in my writing and I had a need for doing everything myself and not letting other people get involved. I used to sing with my dad when he played guitar at social gatherings and that's when I realized I might just have something going. I only joined my first band when I was about 15. We were all girls and good friends. It was mainly a fun holiday thing, so I kept doing music on my own until I joined a proper band when I was 19. Through it all I just kept doing my own thing on the side to stay focused and as an outlet for my frustrations with the world and my surroundings. I'm now 24 and finally feel like it's paid off.
When did you get involved with metal?
I started off soft like most young kids I'm sure. My father has excellent taste in music and I used to ninja his Pink Floyd and Meat Loaf CDs and listen to them on repeat in my room while singing along . VH1 also played good stuff like Black Sabbath back then and it just appealed to me. That was a solid foundation "rock" wise . Later, my older and way cool surfer cousin came to live with us and he introduced me to Metallica. That opened up a whole new door and I "taped" whatever metal I could find onto VHS or cassette and saved my money to buy the CDs. By the time I was 16, I had been consuming incredible amounts of metal from all sub-genres and eventually grew into what suited me best emotionally – Gothic, Symphonic & Doom metal. I only got into Black Metal a bit later when I was 20, but I was put off by all the politics and opinions. I think I enjoy Black Metal a lot more now that I've been able to make up my own mind and have spent some time researching the greats – without the input of the "elitist" forum junkies and haters.
Inferium was the first time I heard you. Tell us the Inferium story.
It was merely a case of a friend saying to me: "Hey, this guy I know has an instrumental band and I think they might want a female singer".I agreed to an audition and it just all casually came together. They were the only guys I knew doing Symphonic Metal and I liked it. We had a bit of a Nightwish/Within Temptation thing going. The band had so much potential and we were doing quite well, but we had a lot of issues with finding time and money to record and push it further. I eventually outgrew my "operatic" female vocal style and half the band were gamer nerds anyway (myself included), so we just called it quits. We were all friends, so there were no hard feelings. We were totally laid-back about the whole thing. I'll always remember and enjoy my time in Inferium and I'll forever be sad about the stellar songs that were to come, but it's a sweet memory.
How would you describe the Metal scene in Cape Town, and in South Africa in general, particularly Doom Metal?
Despite what most South Africans make themselves believe, Cape Town actually has a great metal scene and more bands than you might think. I can count on one hand the amount of friends I have there who ISN'T a musician. It's a very creative and beautiful town. Most musicians there, however, feel that the scene or industry is lacking and that support isn't high, but I could easily point the blame at our social/political structure for that. If I look at the Cape Town/Johannesburg size ratio, I can say with confidence that Cape Town has a lot more to offer. The scene there is almost removed from the rest of the country and they're totally on their own mission. Johannesburg has some stand out talent too, but I personally find that they follow more or less the same trends in terms of metal genres. Of course if you had to say that to someone living in Johannesburg, they would disagree, but I've been living in both cities and can see the bigger picture quite clearly. I also know more than a hand-full of Doom Metal fans in Cape Town. We've even made a League of Doom – an appreciation group where they have meetings and do doom covers together. Sort of like an "all-star" doom tribute show effort. It's small, but it's meaningful. Any doom fan would understand.
What attracts you to Doom Metal, both as a musician and as a fan?
Firstly, the emotional aspect. There's a certain sense of beauty in sadness that I feel is more true to one's soul than anything else. I love slow and melancholic music. It brings my inner suffering to the surface and Doom Metal makes me feel like it's okay to be an emotional being that suffers in this strange world. Secondly, I love melody. I can't listen to anything that doesn't have melody and I've found some of the most beautifully written melodies in doom. Some metal fans just don't see how much darker and heavier Doom Metal is. It certainly triggers a lot more in me personally.
Do you think that someone from South Africa singing for one of the best and biggest Doom Metal bands around will help to change the perception of Doom Metal in South Africa and perhaps inspire some good Doom Metal bands?
I certainly hope it will. I grew so tired of explaining to some people what this "slow and depressing" stuff is and why it's better than the Death Core crap they listen to. Though I mostly believe that doom is a mindset too. If they're too easily amused and think that all metal should merely be the soundtrack to drinking beer and "being hardcore and different", then I'm afraid they'll never get it. That being said, I have a great feeling we'll see some Doom Metal bands coming from SA in the future. It's a genre that has gotten little attention, but I know a decent amount of people with the skill and souls to pull it off.
Tell us more about Lorelei.
That would be my solo project – a melancholic electronic side project I've been doing on my own for years. The name Lorelei has almost acted as an alter ego in a sense. A friend once told me that my music made his mood change so much that he could easily give in to the thoughts of leaving the world entirely. It scared me, but at the same time I realized that the level of emotion it brings is something magical. The songs are raw and unpolished, but I prefer it that way. It's a "spur-of-the-moment" type project, where I just pour my heart into a song, record it and then struggle to touch it again. I've said many times that I will never be able to sing these songs live, simply because I'll be too emotional. It's hard for me to wear my heart on my sleeve sometimes, so music is the only way. Lorelei is definitely my outlet and it's quite revealing in many ways. Many people think me intimidating and secretive, but I'm more of an open book than what they care to realize.
Are there any plans and material for new Draconian album, or is it too early to talk about that yet?
We're working on new music at the moment. Throwing ideas back and forth. Anders started writing lyrics some time ago as well. At the moment, we're focused on rehearsing and getting back on stage again, everything will come together in time. It's too soon to say much about it, but a new album is definitely in the making.
And that first big show/tour?
That I can't say too much about unfortunately. There are offers for some really nice shows/tours that I'm quite excited about, but nothing can be said before contracts are signed and things are perfectly in place.
Outside of singing, what do you do/like to do?
I spend a great amount of time doing art. Mostly digital and editing, but some days I just don't want to deal with technology and I draw and do ideas for illustrations by hand. I used to paint a lot, but that hobby became a little expensive. Much the same with photography. I spend more time creating art with other people's photography than my own. I've gotten quite cocky with the sewing machine too lately. I think I'm just fed up with clothes I buy in the shops and start altering them to my taste. It's a very therapeutic hobby, I must say. I also love gaming (RPG's). I'm a total gamer-nerd chick and definitely not ashamed of it. I don't have as much time lately to play but once I'm fed up with being social again – I'll get right back into it.
Well, I think you can guess which band's next album I'll be looking forward to the most… by a country mile! Thanks for chatting with us!
It's been great and thanks for the opportunity. Luckily for you, I like to talk a lot. I did my best not to make some lame nerdy jokes!
Links
Draconian : MySpace * Facebook * Twitter * Site
Heike Langhans : Facebook * Twitter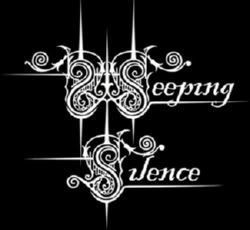 Interview by Scott Johnson
Doom metal, the side of music that expresses the deepest of human sadness and despair. We all have been there and we all can relate to these feelings. What better way to express this side of the human heart than to incorporate these feelings with the powerful driving rhythms of metal. Since the mid- 90′s Weeping Silence has been showing us how doom metal should be done. The driving heavy guitar riffs mixed with the ghost-like vocals and keyboards set the mood for anyone who has suffered from the pain of loss and hopelessness. I had the pleasure of talking to Rachel Grech of Weeping Silence. Join me now as we enter the Theatre of Life.
Hello Rachel, it is so very nice to have you here at Femme Metal Webzine today. First of all I would like to say thank you for your time and it is my honour to have this chance to talk to you. So if someone walked up to you and said I really like Weeping Silence but I don't know anything about them what would you say. How would you describe the music of Weeping Silence and what would you tell them about your music?
First of all thank you so much for this interview Scott! It's a pleasure. Well, if someone came up to me and said that they really liked Weeping Silence it would be awesome! Let me tell you a little about us. There are seven of us in the band; Angelo on drums, Sean on bass, Manuel and Mario on guitars, Alison on keyboards, Joseph on growls and myself vocals. Although the band started off playing mainly atmospheric doom metal, our style has now evolved into what could be described as atmospheric, gothic metal with doom influences.
What subjects does Weeping Silence as a band like to write songs about?
Well, up until recently I wrote most of the lyrics. I think I tend to write about feelings that are most predominant at the time. The experiences one passes through in life are reflected lyrically. Hopefully, this is also something that others can relate to.
Do you think it is a challenge to write songs of such great sadness and hurting and do you ever have a hard time singing them on stage? I have often wondered how a singer could sing songs about very personal topics and not revisit the pain from those moments and it would be hard to sing them live.
Music is such a wonderful means of expression and I find it is a coping mechanism which helps you deal with sad experiences and things in life which are not easy to comprehend. With regards to singing them on stage, yes, you do revisit the pain however this brings out more emotion. Dealing with these emotions helps you grow stronger too. Perhaps this I can explain better with "Tell Me Why" from our album "End of an Era". On the other hand, "Theatre of Life" is more up-tempo and lends itself well to live performance. The new material is more aggressive than "Theatre of Life". Joe joined the band on vocals too, so I'm not alone up front anymore.
So how many albums does Weeping Silence have?
There was a demo EP way back before we became a FFM band. Then the first album was "End of an Era" followed by "Theatre of Life". There is another album in the making too!
Can you tell us about the new material that Weeping Silence started recording this year?
Well, the new songs have more of a doom inclination and are more aggressive. Joe joined as growler and this gave us the opportunity to compose songs that allow for interaction between lyrical characters. The music has grown more dynamic I think and we are moving forward into the style with a more contemporary feel. We're pleased that Anders Jacobsson of Draconian will feature as guest vocalist on two songs also. The album is being produced by Brett Caldas-Lima of Tower Studios (France).
Is there a title for the new album?
Well there is a draft title, which is not official. We wish to listen to the album after the mastering process before deciding on a definite title.
I read that there will be the use of male backing vocals. Are they clean vocals or growls?
Joe's a growler. He sings on all the eight songs that will feature on the upcoming album. There will also be an intro to the album that I only sing on. Anders features as growler on the songs "Love Lies Bleeding" and "The Search Within".
What made Weeping Silence choose the doom metal style of metal?
Doom metal has an emotional aspect that differs from many other styles of metal. The lyrical experience hits to the core of human nature and gives space for hope too. The band members are also into all sorts of doom styles and therefore it was evident that the doom style would infiltrate into the musical compositions.
Who are your music influences and what kind of music do you listen too? What could we find on you MP3 player?
Ah, this is hard. Many of the guys listen to Opeth, Draconian, Anathema, Katatonia and so many others. I like listening to all melodic female metal bands. At present I have Within Temptation, Paradise Lost, Therion, Ozzy and Adele amongst others on my Mp4.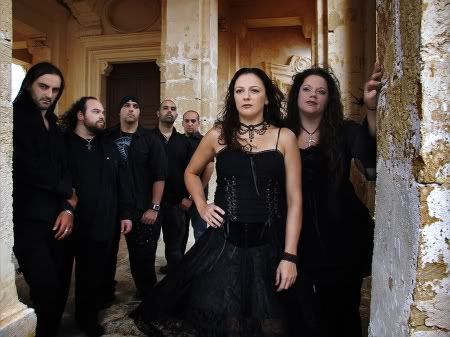 Did you grow up around music? When did you start singing?
Well, my parents were into Pink Floyd and a lot of other classic rock, we always had music playing at home. I remember singing to "All About Eve" over and over again! My brother introduced me to metal and we used to club together and buy albums such as Queensryche, Yngwie Malmsteen, Joe Satriani, Doro and others. Sadly he passed away in 2001 and our album 'End of an Era' is dedicated to him.
Where did you have your training?
I was always singing at home but I started singing in public later in life. I never had any formal training however I've picked up things along the way from various choirs etc.
Do you think it makes a difference being a male or female in the music business? What has been your experience?
Hmm, I suppose it does. Some people just do not consider female fronted bands but then on the other hand you get support from female oriented organisations such as this one. I was the first metal female vocalist in Malta and it was quite daunting in the beginning. Although I get so much support from all the other members and we work together well as a team.
What advise would you give to a female musician that is just starting out in the music business?
Don't be afraid to get out there. Work hard but most importantly remember to enjoy every bit
Can you tell us some of the places that Weeping Silence has played shows at?
We have played mostly local concerts and festivals, including the Extreme Metal Assault in 2011 and the Malta Doom Metal Fest some years ago. This summer we played with The Shiver from Italy too. We have also played gigs in Manchester, Birmingham and Bradford. Appearances are planned for 2012 in Italy and Ukraine's Doom Over Kiev Festival too … … hopefully others.
What are some of your favourite memories while being in Weeping Silence? Do you have any good road trip stories for us?
Oh my goodness! Yes, there are quite a few but most are too embarrassing to talk about here!!
Do you think it is hard being on the road with a bunch of stinky males? Does it help you to have Alison as a travelling companion?
Ah, it's not that bad, I think I must have built up an immunity by being stuck in our rehearsal room (which is not that large) during the sweltering hot summer months. And it's great to have Alison for some female back-up!
Is there a tour planned yet or is it still to early to say?
It is too early to talk about tours for 2012. However, there are a few dates being planned in Italy for sure, which might take the form of a mini-tour… we'll see! We'd love to play in Germany and The Netherlands, so hopefully we will make our way there someday soon!!
Ok, so looking through the eyes of a most passionate fan of metal, what would you say your greatest fan moment has been so far? Who are some of your personal music heroes that you have met?
Well it was awesome to see Paradise Lost here this summer as I am a big fan. Also we played with To-Mera in the UK. My personal music heroes are Sharon Den Adel, Simone Simons, Sarah Jezebel Deva to name a few, but sadly I have yet to meet any of them. Perhaps my luck will change. You never know eh?!
And one last question for you. This is a fun one. Ok so if Weeping Silence were a comic book, what would the title be??
Well we're too many people to be a comic book. I think we're more of a film-compatible bunch. So, I'll challenge you on the comic book parody and say "What Dreams May Come" the 1998 Robin Williams film based on the novel. Yeah I guess that film sums us up well. We have worked so hard for so long and we were always pushed by a wish to do something worth a listen in the metal scene.
I have really enjoyed our time together and before we close, do you have anything that you would like to add?
Thank you so much for this opportunity Scott, I hope you and the readers of Femme Metal Webzine will enjoy listening to our music. Please visit our websites/pages and leave some feedback, we would love to hear from you! Look out for our next release and of course. Stay metal!!
Links
MySpace * ReverbNation * Facebook * Site
6 color styles available:

Style switcher only on this demo version. Theme styles can be changed from Options page.