Browsing articles tagged with " druidi"
Interview by Robin Stryker
Femme Metal spoke with Leeni-Maria Hovila, frontwoman of Finnish extreme fantasy metal band, Kivimetsän Druidi, six months ago. Since that time, the band has completed a massive North American tour and released its sophomore album, "Betrayal, Justice, Revenge" (Century Media 2010). We are delighted to chat with Leeni-Maria again and get caught up on Kivimetsän Druidi's whirlwind of activity.Hello, Leeni-Maria! We're glad you could join us today.
First things first, please tell us about Kivimetsän Druidi's new album, "Betrayal, Justice, Revenge".
"Betrayal" is our second album — the first in which I have made most of the lyrics, and the first in which we have tracks composed also by our drummer Atte and lead guitarist Rinksa.
If you had to describe the new album's sound in three words, what would they be?
Massive, symphonic, complex.
The title, "Betrayal, Justice, Revenge", has a nice ring to it. Where does the name come from?
It is simply a summary of the things and ideas happening on this album.
From earlier interviews, it sounds as though the band was not completely satisfied with its debut album, "Shadowheart". How much of the harder, more aggressive sound on the new album comes from a natural evolution in Kivimetsän Druidi's music, versus lessons learned from the first album?
The compositions are all natural evolution which was not even as fast as it would seem by listening to these two albums. All the elements of the tracks on "Betrayal" were already present in the few new songs of "Shadowheart", but most "Shadowheart" tracks were both very old and some very new material which sound quite different from one another. On the other hand, the harder, more aggressive sound in general is all about making "Betrayal" sounding how we wished "Shadowheart" would, so that was about a lesson learned.
As I understand it, you are a classically trained soprano. Did you ever consider pursuing a career in opera, instead of metal?
I don't have a great desire for that. The opera world seems a rigid place to me, also I do not have such a big voice. If I do classic genre and I do study it at the present, I am a lied-oriented performer, that is an other-than-opera- kind of classic vocal style. I see myself in the future as a performing cross-over soprano artist, who is most probably chronically broke.
Would you introduce your bandmates, and tell us what you like best about each person?
Joni Koskinen is something of a leader amongst us, if at all it can be said that we have one. I like and sometimes even envy his confidence. He is one of the two of our main composers, who used to do all of the lyrics in the past. He is a founding member and does the growls as well as rhythm guitar. Antti Koskinen, the former's little brother, is our keyboardist and the other main composer. Antti is also a founding member, is somewhat multi-talented, and is very much self-educated as a musician. He is very empathic. Rinksa, our lead guitarist, is also a founding member, although the original idea of Druidi was Joni's and Antti's. But Rinksa has been aboard from the very beginning. He is quiet and conscientious. Simo-Pekka, our bassist, is big and reliable and older than his young years would say. He is always sensible, speaks the utter unquestionable truth, and others never have to worry for him. But, if he gets hungry and there's no food around, you'd better come up with some. Quick! Atte, our drummer, is as far as I remember the last line-up change before myself. He is very good in his area, and the only member besides myself who has at least some classic studies. He used to play the faggot – hold on, I have to check if that, in fact, is how it is written … err, no. I meant to say fagotto. Or bassoon, my dictionary seems to claim they mean the same. Atte is funny. The joker of the band. And open-minded.
"Shadowheart" was inspired by a fantasy story that Joni has been working on. What is the inspiration for "Betrayal, Justice, Revenge"?
I think it still is the same story actually, regardless of the fact that most lyrics are mine or even the fact that most stories of those lyrics I had thought about well before I joined the band. I simply decided — when Joni said I should try writing lyrics and I decided I should try using my old ideas — that fine, now all these things are going to happen in the world he made to happen and that's it. And the truth is that in those stories, both the ones Joni wrote and the ones I'd had in my head before, some very basic things always remain the same. It is the nature of stories regarding where and when they happen. The same things, the same big truths always are the ones that people write stories about or fight wars over. Love. Honour. Justice. Betrayal. Ideals, be they false or true. Religion is the only "big thing" we haven't touched and have no desire of doing so in the future, but I think that if you take religion down to the little pieces to find what it has eaten, what you will find are all those smaller things I already pointed out and some more of their kind. Like pride. Fear. Especially fear.
You wrote many of the lyrics for "Betrayal, Justice, Revenge". Does singing your own lyrics feel different than singing lyrics written by someone else?
Yep. I sometimes feel pretty stupid about them, and this time I can only blame myself.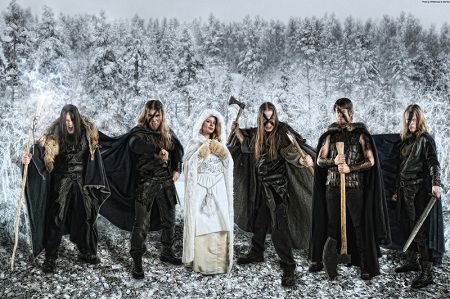 Are you a fan of fantasy? If so, what is your favourite work of fantasy?
Indeed I am. From the works of Tolkien, I prefer "The Silmarillion". The first books I ever read from the genre were the first "Dragonlance" trilogy. Perhaps my all time favourite is Orson Scott Card's strange little one-of-a-kind story "Hart's Hope".
Is "Betrayal, Justice, Revenge" mainly for fantasy fans, or does it have broader themes with universal appeal?
All the themes in our fantasy, as well as fantasy stories in general, are ultimately universal. They are always about the same things which make people move: love, ambition, ideals — betrayal, justice, revenge. Among others.
If you could select any Kivimetsän Druidi song for a soundtrack, which song would you choose and which movie would you put it in?
"Desolation: White Wolf" would be my pick — actually, we made a video for that one lately. Hasn't been published yet. Don't know about the movie, though … maybe it hasn't been made yet. Maybe we should make it. A full-length Kivimetsän Druidi fantasy adventure.
Most of the songs on "Shadowheart" are in Finnish, while most of the songs on "Betrayal, Justice, Revenge" are in English. Was the language switch intentional or happenstance?
Happenstance, actually. I sort of regret that, and hope to make more Finnish ones on the Number Three, whenever that may happen.
In November 2009, Kivimetsän Druidi performed at the Heathenfest Tour in North America, playing 20 different cities and covering 15.000 kilometres in the nightliner. What stands out in your mind from the tour?
Hollywood Boulevard. Giant turkey legs. Helmuth of Belphegor making me drink whiskey. Hilly views. Ridiculously good-looking night liners. Sushi places in NYC. A university campus cafe in Cleveland. Being slightly afraid at Detroit.
When you have a hectic tour schedule far from home, do you do anything special to make sure you stay sane and healthy?
Stay in my bunk whenever I feel bored. Go for a walk outside the bus when possible. Alone! Always, always have good and reliable ear plugs which damp out as much of surrounding noise — preferably talk — as possible. I can't always go for a longer run, sometimes I just jump or run on spot in the backstage or the hall before audience is let in. I go out, if only around the corner, to get a cup of coffee and look and listen to the local people.
Just reading about Kivimetsän Druidi's schedule in 2009 – a Russian mini-tour, writing songs for the new album, recording, going on the North American tour, and back into the studio to finish recording – exhausts me. Were you able to relax some after all that?
We did a little too much relaxing in the summer when we were supposed to be writing songs — or at least I did a little too much "relaxing" when I was supposed to be writing lyrics — so we ended up having to hurry in the studio, again. But it was not too stressing. It's not that all the band activity was overwhelming. It is this stupid thing called "normal life" like going to school, having to work alongside the school, paying the bills, having at least some hobbies and getting to see friends that makes things difficult.
What are the band's plans for the remainder of 2010?
Promoting "Betrayal, Justice, Revenge", doing as many shows as we can, perhaps getting to make a tour later in the autumn, also we have already lightly touched the idea of the Number Three Album if and whether there's going to be one. So writing new songs.
Thank you for taking the time to chat with us, Leeni-Maria. Do you have any parting words for your fans at Femme Metal?
Beware of fragile old bearded guys in strange looking clothes. They are bound to be wizards or something of the kind. Do not piss them off. Come check us out live. Get the new album, it really rocks. Rock 'n Troll.
Links
MySpace * Facebook * Twitter * Site
Latest Multimedia
Interview by Marc "Peston" Sels

Kivimetsän Druidi is a Finnish band that plays folk/gothic metal. The name means The Druid of the Stone Forest. In 2008 Leeni-Maria Hovila (ex-Exsecratus) joined the band and they recorded their first full cd, "Shadowheart". At this moment (November 2009) the band is on tour in the States and Canada, together with Eluveitie (Swiss), Belphegor (Austria), Alestorm(UK) and Vreid (Norway). Normally the new cd will be released in April by Century media. I had a short interview with the beautiful lead vocalist Leeni-Maria.
Hello Leeni-Maria. How is the American Tour going?
So far so good. We seem to have been a success allthough we had to make several shows without Joni – he's got the swine flu or something. Since we have been selling an increasing number of CD's and shirts regardless of his absence, he has said something on the lines that he's "never coming back, you guys do just fine without me. I'm going to be your manager or something". D, not likely, heh. OK. He'll be back on stage in San Antonio.
Can you tell us how you became the singer of Kivimetsän Druidi?
They called me. I was currently the vocalist of Exsecratus and Kivimetsän Druidi's manager had made a review of exce's first album so when Druidi wound up needing a new female lead, they basically called me at work. This was, I recall, spring 2008.
The first cd was mostly in Finnish. Don't you fear this may be an obstacle for fans outside Finland ?
So, one would think but no one has ever actually bothered to tell us so. It doesn't seem to be any problem to anyone. Record company has said nothing on the matter, quite the contrary. I remember them being supportive about the matter. Fans mostly come to tell us that they've self-studying Finnish to understand the lyrics first hand.
I saw you at the Metal Female Voices Fest this year and I found Kivimetsän Druidi one of the most impressive bands of the festival. How did you experienced it?
MFVF was certainly one of the biggest and best organized festivals we have ever been toand it felt like the perfect audience to us although we felt we were definitely heavier and more extreme than most acts there. And Brussels was a great city – we had a day off there afterwards because of flight arrangements.
A whole lot of bands are from Finland. Is there a reasonable explanation for it?
It has to be that dark nordic mentality.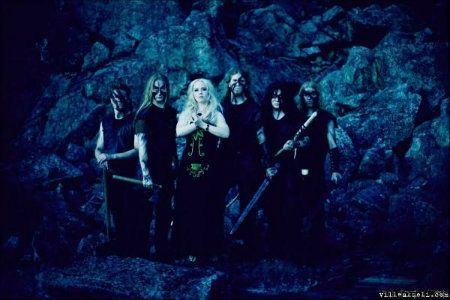 In your bio you mention Floor Jansen as one of your influences. What is your favorite cd of After Forever, and why?
"Invisible Circles", which is a great performance of switching between the styles.
Women are more and more placed as the face of a band. Doesn't that divert from the music?
It depends what they're there for. It depends on whether they go there to divert from the music or make it. There's nothing wrong with having a great rack and a pretty face. You still don't have to sell with them.
Can you tell us someting about the upcoming album, or is it top secret?
Well, it's going to better than the first.There's going to be songs composed and lyrics written by more members of the band than before. It's going to have so much variety it's actually a little horrifying. It's hopefully going to be out sometime late next spring, I think in April. It's going to kick ass!
Do you prefer to sing live on stage, or recording songs in the studio?
Augh!! Sometimes I hate them both, other times I love them. They are so different situations with such different sides that you really can't even compare.
At last, what are the plans for 2008?
Release the album. Promote the album like our lives depend on it. Tourish-kinda-things would be nice. Another Europe, maybe? Start making new songs for so far hypothetical number three, early enough so we won't be slightly buggered with it, as usual.
Thanx, and give my regards to Santa Claus!!!
I'll tell him to be nice to you this year. All the best, Leeni-Maria.
Latest Multimedia
Links
MySpace * Facebook * Twitter * Site
Label : Femme Metal Records
Review by Tony Cannella
In the realm of female fronted metal bands, there are so many great artists to choose from. Now, here in all its Femme Metal glory is a compilation released by Femme Metal records. "Beauty and Brutality" features 31-songs and over 2-hours worth of music, spread out over 2-discs from some of the best female fronted bands found anywhere. This collection also proves to be a useful resource and an education for anyone who is a fan of this genre of metal. The Femme Metal landscape is so vast and features so many bands of different shapes, sizes and styles, this compilation makes that fact all the more apparent. Disc 1 opens with the strong track, "Head Up High" from Floor Jansen's new project ReVamp. This is just an excellent way to begin things. From there the CD flows nicely as some well known, and not so well known bands are showcased, as well as many different styles. It is hard to pick out what made the biggest impression on me, because each band offers something memorable. But some of my favorites were Exilia, Dama, Magion, The Mary Major and Asrai. Infinite Tales ratchets up the heaviness on the brutal "Running Away". That is followed by the melodicism of One Without. Disc 2 begins with "Unleashed" from Epica's great latest offering, "Design Your Universe". Deadmanswake is next with the aggressive, "Back to Blood". The different styles are once again showcased with bands like Vanity Ink, Seven Kingdoms, Diva Suicide, Solsikk, Virus IV and A New Dawn. The fact is, there is so much music on these two CDs that it would take forever to go through track-by-track, so I apologize to any band that I left out. Suffice it to say, there is so much diversity on this compilation that even the most jaded of music fans should find something that pleases them. In the end, "Beauty and Brutality" features a worthy cross section of some truly great and underappreciated bands. This compilation succeeds in every way, but the coolest thing about collections such as this is the ability to find new bands which you might never have been exposed to. Proceeds go towards aiding Cancer research in the U.K., so it's all for a good cause as well.
Rating – 95/100
Tracklist
CD 1
"Head Up High" – ReVamp

"No Tears for You" – Exilia

"Rainy Roads" – Dama

"War of Hearts" – Magion

"A Vide" – Soulmaker

"Morning Sickness" – The Mary Major

"Longing For Serenity" – Disdained

"Stay With Me" – Asrai

"Lost Inside" – Crownless

"Shapeless" – Re-Vision

"Running Away" – Infinite Tales

"Withered Serenade" – One Without

"Shine" – Aperion

"Thoughts" – Reactive Black

"Elysium" – Apparition

"Gates of Damnation" – Triaxis
CD 2
"Unleashed" – Epica

"Back to Blood" – Deadmanswake

"Spell the Party" – Vanity Ink

"Somewhere Far Away" – Seven Kingdoms

"Crystals" – Diva Suicide

"Butterfly in Your Hand" – Exoterik

"My Cold One" – Özge Özkan

"Jaassa Varttunut" – Kivimetsän Druidi

"Frightening Lanes" – Virus IV

"Volatile Territory"- Solsikk

"Absence of Light" – Dimlight

"Doom Revail" – Raven Tide

"Masque of the Red Death" –

A New Dawn

"Inner Guillotine" –

VelvetSeal

"Destined" – Ex Libris
Label : Century Media Records
Review by Tony Cannella
Finland's Kivimetsän Druidi have described their music as extreme fantasy metal. After listening to their newest release "Betrayal, Justice, Revenge" (awesome title, in my opinion), that is indeed a fitting description. The band include two lead singers with Leeni Maria on female vocals and Joni taking command of the growling, male vocal parts. The 9-songs and 45-minutes worth of music contained here feature some big, bombastic, slightly orchestral music, mixed quite nicely with symphonic power metal, Folk and even some elements of Thrash metal, which is never a bad thing. The CD begins with the melancholy timber of the opening piano intro "Lament for the Fallen" which leads into the absolutely crushing track "Aesis Lilim". Next the band tear into one of the best tracks on the CD "Seawitch and the Sorcerer". Other highlights include: "The Visitor", "Chant of the Winged One" and the final track "Desolation: White Wolf" quickly became another favorite. "Betrayal, Justice, Revenge" is loaded with some truly powerful guitar riffs and the duel vocals are well done and play a huge part in making this CD so enjoyable.Another thing I really liked about "Betrayal, Justice, Revenge" is the bands ability to be melodic at times while being aggressive at others.I have to say that it is always cool when a band that you're not at all familiar with turns out to be a powerful and impressive entity – such is the case with Kivimetsän Druidi. There are a lot of interesting, heavy and even some surprising not so heavy moments (such as the piano intro) on "Betrayal, Justice, Revenge". This Finnish band are really a force that I am sure will be reckoned with.
Rating – 88/100
Tracklist
Lament for the Fallen
Aesis Lilim
Seawitch and the Sorcerer
The Visitor
Manalan Vartija
Tuoppein'nostelulaulu
Chant of the Winged One
Of Betrayal
Desolation: White Wolf
Line Up
Leeni-Maria Hovila – Vocals
Joni Koskinen – Growling Vocals & Guitar
Antti Rinkinen – Guitar
Antti Koskinen – Keyboards & Backing Vocals
Simo Lehtonen – Bass & Backing Vocals
Atte Marttinen – Drums & Backing Vocals
Links
6 color styles available:

Style switcher only on this demo version. Theme styles can be changed from Options page.