Browsing articles tagged with " drums"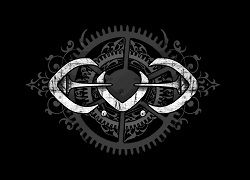 Interview by Matteo Bussotti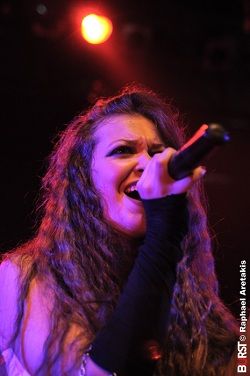 It is quite an unusual thing to have a band from Greece, but, let me say this: if all the bands from Greece are like E.V.E, I'll certainly listen to more Greek music from now on! E.V.E.'s lyrics are really deep and beautiful, and their sound is unique, special. Their goal is to share a message, a vision about contemporary world. We asked their singer and founder, Vicky, what's the idea at the base of this band, and what Greece has to offer to the world's musical landscape. Needless to say, her answers were complete, meaningful, and really interesting to read.
So, let's start this interview!
Hello Vicky, and welcome to Femme Metal! We are very proud of having you here! First of all: you started the E.V.E. project with the intention of speaking about modern society, people and their interactions, don't you? Why did you feel this need? Can you recall a moment, an event which triggered your determination to create E.V.E.?
Hello Matteo, thank you for the interview. I'm more than happy to answer your questions. The whole idea regarding the main concept of E.V.E. was something that progressed throughout the last 3-4 years. Why modern society and human interactions, you ask? Simply because the need to write about every intriguing event that I've witnessed is like an instinct to me. Especially, during the latest happenings in Greece, and many other countries as well. It's not easy to turn your back on them and pretend that we live in fairytale world.
I think that your band's name is a very peculiar one! Equations Vanquish Equality…what is the story behind that? Were there maybe some other names that you had to choose from?
Good question. To tell you the truth I was trying to find a proper name for the project for over a year. It's difficult to reflect your music's content in just 2-3 words. In the end, I decided that I'd prefer a one-word abbreviation as its name. So once the word EVE came to mind, almost instantly the 3 words "Equations Vanquish Equality" completed the puzzle.
As for what they stand for, it is indeed peculiar and complex. For me, the word "Equations" is connected to technological and scientific progress. Without mathematical equations none of these would have been achieved. The following words, "Vanquish Equality" describe the other side of the matter: even though progress is greatly valued the means in which it's acquired sometimes damage humanity itself, bringing an imbalance to the world. Overall though, I really think that it's a personal matter seeing that many people have given me their own valid interpretation. Continue reading »
Interview by Alessandra Cognetta
Anaè is the lead singer of the French metal band Adrana, a combination of progressive metal, heavy metal and classical music, enriched by a strong literary component. The mix of different influences as well as forms of art makes Adrana a unique musical experience and we're here to find more about them.
First of all, welcome and thanks for taking the time to answer our questions, Anaè. How has 2012 been for Adrana so far?
Thank you for giving us the opportunity to present our music and artistic work! I am really thrilled! The year 2012 has been fairly quiet so far. After the release of "The Ancient Realms" and the first part of the French tour we were given a little time to work on new songs, work toward a movie clip and prepare a surprise regarding our future gigs to all of our fans!
One of the things I enjoy the most about your music is the "story" (I won't dare to call it a concept because in my opinion it's far more than that) behind your whole production. Can you describe for us the main themes of Adrana's adventures?
We would like that it becomes much more than a concept. We are working on it, but we are still far from what I wish to do in terms of total art (featuring theater, music, stories, dance, and a whole fantasy world). Our music tells the adventures of the warrior princess Adrana desperate to reclaim her fallen kingdom. It contains many elements of heroic fantasy like the character's actions or places in a rather dark atmosphere, darkening progressively with each new album. Although the story revolves around a princess, this one is more gloomy and sanguine. There are many battles, betrayals, murders and unmentionable secrets that punctuate the epic story of Adrana. Adrana talks about the difficulty of bringing people together in their diversity, and the difficulty to win the trust of others. Adrana shows us that very often we find ourselves alone with our destiny. Finally, this quest leads the Princess to ask the recursive question as to whether the pursuit of a right cause, right as it is, justifies having to kill thousands of human and nonhuman creatures to get there?
We know what influenced your music, but what influenced your lyrics? How were Adrana and her Ancient Realms born?
The band name was invented, without special intention by Ludo and Maxime (guitarist and drummer, the founders of the band). They then included Grhyll, our keyboard player, and me to write the story. The first songs whose lyrics had no relationship between them (stories of vampires, putrefied nymphs, or warrior princess), have become the pillar of the epic story of Adrana. Now, Grhyll has taken charge of the story and I work exclusively on writing lyrics around the story created by Grhyll.
Interview by Ary R.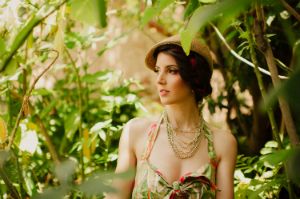 Some of you know this band thanks to Ryan Folden's work, After Midnight, some other got in touch with these guys on the occasion of the Dark Adrenaline tour by Italian act Lacuna Coil. Who are we talking about? The answer is here: American band THIS IS SHE, that in this 2012 enter the music scene with a well-respected EP, "Nobody Is Ok". As soon as the tour came to an end, I had the pleasure to exchange some chats with the sweet Alana Grace, that revealed something about this European tour and about the new goals of the band. This week Femme Metal hosts an interview with This Is She and we have the pleasure to talk with the singer Alana Grace.
Hi Alana, welcome on our website. How are you doing?
I'm doing great! I'm happy to be back from tour and relax into the holiday season. It's my favorite time of the year, and I'll get to see my family soon so it's a good time.
This Is She is an American music reality that slowly tries to introduce itself in Europe in the proper way. Would you like to share something about the band biography or about your musical careeer?
I met Christian and Ryan back in 2009 when I toured with the Vans Warped Tour. They were out with their band After Midnight Project at the time, and we all bonded together throughout the summer. Both bands had their ups and downs and in 2011 I think we were all ready to try something new for a change. I had an idea for an electronic rock band, and I was looking for players right as After Midnight Project decided to take a hiatus. So we hopped in the studio together and wrote for a few months before starting to play live. Finally we released our first EP in July of this year and have been trying to promote it ever since.
You've ended up the European tour recently, This is She was chosen as the support act for the Italian band Lacuna Coil. How would you describe this experience?
It was an incredible experience for us to go on tour with Lacuna Coil. They are so good live it was a little intimidating at first, but they were very nice to us and we became easy friends. I would say the crowds were awesome for us. They have a really dedicated fanbase who generally had checked us out before coming to the shows. It was so much fun to see some people were already familiar with our songs, and it really made us feel at home with their fans.
Interview by Miriam C.
For the second time in this webzine we give space to the Italian progressive power metal band Lunocode promoting their latest work "Celestial Harmonies". This time the questions have been replied by drummer Perseo Mazzoni and singer Daphne Romano. Just a curious info – this interview was scheduled to be face to face but 'cause of the bad weather our editor Alessandra didn't make to be at the location by the way at the end it come out a real nice, as always.
Hi Perseo and Daphne, welcome to Femme Metal Webzine and how are you??
Perseo: Fine thanks, a bit tired but happy. The last two weeks have been great with two concerts, the first in acoustic, at Teatro di Anghiari with the show "C'è Vita intelligente sulla Terra?" (Is there intelligent life on Earth?) togheter with Francesco Cecconi and the last, just two days ago, in Rome, with Ivory Moon and Blind Horizon. We discovered that our acoustic side works very well and playing in a theater is something very special, something magic.
Daphne: Yes, two different and exciting gigs. The acoustic set in particular: I have to admit that it's been really thrilling.
Well, first of all, do you mind give us more insights about your biography?
Perseo: Lunocode formed in 2004 under the name "Anima". We played mainly cover for about 2 years and had another singer. Then we started writing new material and in 2006 we released the demo "Birth". The demo went well and we continued writing new material. At the end of 2010 we gained a contract with Spider Rock Promotion and in January 2011 we released the EP "Last Day of the Earth" that also went very very well. At the end of 2010 our previous singer left the band and we found Daphne. After releasing "Last Day" we continued writing and in January 2012 we released our debut album, titled "Celestial Harmonies". And here we are.
According the site, the band's name "lunocode" is a wordplay between Lunokhod and the english word Code. From where did you get it?
Perseo: I was watching a documentary about this Russian rover sent on the moon. It's been the first radio controlled rover to be sent on another planet. I thought it was very interesting and I proposed this name to the band. Giordano came out with the wordplay and everybody liked it so we took it as the new band name.
In your discography we can count the demo "Birth", the "Last Day of the Earth" EP and your debut "Celestial Harmonies". As I remember "Last Day of the Earth" EP was a stand-alone piece of concept. This time with "Celestial Harmonies", as your label states "It's a moving journey thru the Cosmos with the purpuose to search the origins and life's origins" although you declare that the album is not a proper concept. Can you tell us more about the album's lyrics?
Perseo: "Celestial Harmonies" is not a concept in the sense that we're not telling a single story that starts on a song and continues through the other songs of the album like a concept album usually do. "Celestial Harmonies" has a fil rouge, a loose connection between every song, but it's not a concept. Every song tells something about humankind, the cosmos, life or nature and things like that so, in a sense, is a trip through cosmos, a voyage by which we can explore the meaning of life, the universe, the pain and the joy of being alive.
"The Origins of Matter and Life" is a suite long almost 30 minutes. What insight can give us about it and also are the suite's lyrics a concept ?
Perseo: "The Origins of Matter and Life" is actually a story which develops through the songs "On Matter and Mind", "High", "The Cosmic Architect", "Tree of Life", "Crossing the Line" and "Albert II". Is a fictional story about a character (at the very end his identity will be revealed) who starts thinking and, by this act, gives birth to a universe in which he finds himself in. He then starts exploring this new world and he asks himself questions about what's happening all around him and even to himself. Following this questioning the story of this suite unfolds till the end when a dramatic turn of events occur. I prefer not to explain all the details of this story, as I think everyone, if interested, has to discover the message by himself.
For what I get the album was mastered by Ronan Chris Murphy, that has worked with legends like King Crimson, Steve Morse and Ulver. When and how you have contacted him and why work specifically with him?
Perseo: I followed him on internet, on his YouTube channel, on his Facebook and as I think he is a great engineer and producer, I asked him if he was interested in working with us. This was happening in 2010, during the "Last Day of the Earth" mixing sessions. He said yes and I sent him all the audio bounces. As I find myself very confortable working with him, I contacted him again in 2011 and asked him to master "Celestial Harmonies". Again, he said yes and I sent all the material. He made a great work and he was surprised about the songs quality and the big step forward we made in songwriting during the last year. Working with him has been so great!
"Celestial Harmonies"'s cover transmit a feeling of peace. Do you mind explain the meaning's cover building into your personal opinion about it?
Perseo: I too think so and this sense of peace was one of the goals I wanted to achieve with this cover I developed. The airplane you can see on the cover has a particular meaning to me, as actually is a wheater vane my grandfather has built. The cover is in fact a photo and not a computer generated image.
What are the band's influences?
Perseo: I think we are working hard to find and extract our real self so for sure there are influences but I think they are becoming more unconscious day after day. If I had to name just one band, I would name Anathema.
What difference you can see between the debut EP "Last Day of the Earth" and "Celestial Harmonies" in matter of musical style and lyrics? Do you feel more mature?
Perseo: There are big differences but, at the same time, the differences are not so big. In both albums the writing style of the lyrics remains the same, maybe in "Celestial Harmonies" our acoustic side is more prominent, but even in "Last Day of the Earth" there is a completely acoustic song called "Invisible Tears". Maybe in "Last Day of the Earth" the songs sounded more heavy but even in "Celestial Harmonies" we have heavier songs, like "The Cosmic Architect" or "Sin Cara". I think "Celestial Harmonies" is a more mature work, and a natural evolution from "Last Day of the Earth".
Daphne, what are is your musical background? Did you ever do any vocal training?
Daphne: I like different kinds of music like rock, metal and electronic. About my influences, I can say Freddie Mercury, Anneke van Giersbergen and Lisa Gerrard have always been a great inspiration for me. Today I found with Lunocode some new colours in my voice and in my soul that I've never suspected to have. I think I'm evolving…but, who doesn't? I studied opera singing for 1 year, years ago. Now I'm studying modern singing with a great Italian singer. I think singing is a vast world where you can always discover something new: I'm curious, I have a thirst for knowledge and I think exploring the voice potentialities is one of the most stimulating and satisfying elements of singing.
What we can expect next? I read in the website an East European tour with Theatres des Vampires…
Perseo: Yes, we've been on tour with TDV and JTR Sickert and it's been a great adventure and a great experience for the whole band. They are smart and nice people and we enjoyed very much visiting East Europe and Turkey! Then, two weeks ago, as I already said, a dream came true for me, to play with Lunocode in a real theater, in acoustic. We played 10 songs in Teatro di Anghiari (Tuscany, Italy) for about an hour of show. We re-arranged some songs from "Celestial Harmonies" and "Last Day of the Earth" in acoustic and we even played "The Origins of Matter and Life" from start to end! The show has been recorded so maybe we will use those recordings in the future! Other plans for the future? We have some ideas to record a new album, you will hear from us soon!
Daphne: Yes it's been amazing and crazy sometimes! Cool musicians and stuff, great audience, life on the road and foreign countries.
Well, Perseo and Daphne, I really thank you for this interview, I hope you like it! Please greet our readers (and your fans) freely! Thanks again!
Perseo: Thank you for your time, hope to see you at our shows! If you want, you can buy our cds at www.lunocode.com or follow us at www.facebook.com/LunocodeFan
Daphne: Thanks to you and all the readers of Femme Metal Webzine! See you soon!
Links
MySpace * ReverbNation * Facebook * Google Plus * Twitter * Site
16 Aprile, Milano
AVANTASIA, ovvero la band fondata da Tobias Sammet di Edguy, pubblicheranno il nuovo album "The Mystery Of Time" il prossimo marzo che vedrà come ospiti anche Bruce Kulick (ex-chitarrista di Kiss) e Russell Gilbrook (batterista di Uriah Heep): le premesse quindi sono ottime! La formazione tedesca ha già programmato il tour promozionale di "The Mystery Of Time" che passerà anche dall'Italia per un'unica data che si terrà all'Alcatraz di Milano il 16 aprile.
ATTENZIONE: lo show avrà molti special guests e durerà fra le due e le tre ore…si tratterà un vero e proprio spettacolo. Rimanete sintonizzati perché a breve annunceremo tutta la line up che salirà sul palco di AVANTASIA…
Apertura porte: ore 18.30
Inizio concerto: ore 20.45
Prezzo del biglietto in prevendita: €30,00 + diritti di prevendita
Prezzo del biglietto in cassa la sera dello show: €35,00 euro
Biglietti in vendita su www.ticketone.it e www.livenation.it a partire dalle ore 10.00 di lunedì 17 dicembre.
6 color styles available:

Style switcher only on this demo version. Theme styles can be changed from Options page.