Browsing articles tagged with " duo"
Independent Release
Review by Tony Cannella
The band Hitherside formed in 2011 and features American vocalist Jennifer Summer and Belgian multi instrumentalist Sam Oerlemans. They have just released their self-titled EP which features 6-songs and over 25-minutes worth of infectiously melodic alternative metal. The songs are well written, performed and crafted.
The forceful opening riff leads into the cool first song, "Insignificant Other". The next track, "Eventide" begins with an acoustic intro as the song gradually picks up in tempo, but remains a middle-paced song with a psychedelic vibe. "Detrimental" picks up the tempo quite a bit and is helped by a relentless guitar riff and a melodic groove – making this my favorite song. Continue reading »
Label : Spider Rock Promotions
Review by Tony Cannella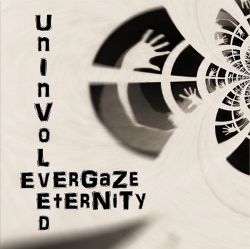 Italy's Symphonic/Gothic metal duo Evergaze Eternity began in 2007. In 2009 they released their "Incompatible Existences" demo. This brings us to 2011 and their full-length debut "Uninvolved". The band is led by two main members. Valeria Salerno on vocals and Giovanni Ferranti on synths comprise the duo that makes up Evergaze Eternity. Some guest musicians were included to help round out the band on "Uninvolved". From the very outset, "Uninvolved" is fueled by heavy guitar riffs and pounding rhythms, with the high-pitched vocals of Valeria Salerno leading the charge. The opening trio of "No Regrets", "Insane" and "Crumbling" starts "Uninvolved" off with a good shot of adrenaline. For "In a Corner", Evergaze Eternity is joined by Eldritch front man Terence Holler. This is one of the highlights and the song has a bit of a "Countdown to Extinction" era Megadeth vibe. Another highlight is a surprising cover of the Madonna song "Live to Tell". As one would expect, this is a totally metalized version of this song that bears little resemblance to the original. The song is hallmarked by some plodding Black Sabbath style guitar riffs and some cool Type O Negative-ish keyboard parts. Evergaze Eternity has totally made this song their own and it blows away the original (in my opinion). Other significant moments include: "In Vain", "Memories" and "Still Waiting". My one complaint – and this is just my opinion – is that perhaps, just maybe the songs are all in a similar vein and there is no real variety throughout. Again, that is just my opinion and fans may love the barrage of heavy riffs contained on "Uninvolved". One thing is for sure, there is no lack of energy and enthusiasm displayed by Evergaze Eternity. This band from Italy I am sure will be heard from in the future and prove they have a lot to offer the metal community.
Rating – 73/100
Tracklist
No Regrets
Insane
Crumbling
In a Corner (feat. Terence Holler of Eldritch)
In Vain
Live to Tell (Madonna cover)
The Hive
Memories
Still Waiting
Uninvolved
Line Up
Valeria Salerno – Lead and Backing Vocals
Giovanni Ferranti – Synths, FX, Programming
Marco Ribecai – All guitars and Bass (except "Memories") & Additional FX and programming (Additional Musician)
Lorenzo Carpita – Bass on "Memories" (Additional Musician)
Dave Simeone – Drums and percussions (Additional Musician)
Links
MySpace * ReverbNation * Facebook * Twitter
Independent Release
Review by Luisa Mercier
ElfenWald are an Italian duo who delivers us a very interesting self-released debut album. "Part I" blends industrial, ambient and neoclassical music with the dark and beautiful voice of Prinzessin Simhild. Though self-produced, the record does not suffer many flaws and it seems to be well crafted in every detail. The songs shift from German to English and Italian language with an equally effective result. For instance, "Wo Ist Meine Welt" is more industrial-oriented while "Gelide Notti" is closer to neoclassical style with its keyboards and strings, creating a Romantic atmosphere. "Darkness" is a soaring, creepy track, mostly instrumental and only graced by some vocalization of Prinzessin Simhild. "Alone" is the longest song on the album and during its seven minuts it explores various musical landscapes: from neoclassical, to dark cabaret, to a gloomy industrial sound. "Lilith (The Garden of the Damned)" closes "Part I" and it's a track which showcases a fearsome atmosphere with some choruses all over which surround the beautiful voice of Simhild. Being self-produced, this album is overall a very good release and I hope they'll soon find a label for their following works!
Rating – 80/100
Tracklist
Intro

Wo ist meine Welt

Gelida notte

Darkness

Alone


Lilith (The Garden of the Damned)
Line Up
Prinzessin Simhild – Vocals

Erik Der Rote – Keybooards & synths
Links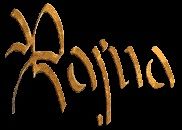 Interview by NocturnalConcerto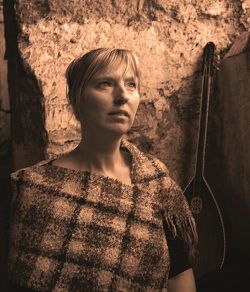 Are you ready to join the world of Rajna? They will brought yuo to unknows and mystical worlds, made of new feelings. I'm really proud to unveiled one of the interviews (I hope a long series!) where I'll present new particular acts of the ambient scene. Franch Ambient duo Rajna are publishing albums since 1998 and their peculiarity is playing and collecting instruments for all the parts of the world. But let's give the word to Jeanne, the singer of the duo.
First of all welcome Jeanne, how are you and thanks for accept my interview! For all the people out there that loves ambient/ethereal music can you summarize Rajna's history band?
Rajna was born in 1998, after an encounter with another musician playing the yang T'chin called Gérard Chambellant. Our passion for music and for collecting various ethnic instruments was a common point and this was the beginning of our history. We began the project in 1998 and our first album, "Ishati", was released on the label Prikosnovenie. Then, we changed label and worked with Holy Records. Our second album, "Yahili" and third album "The Heady Wine of Praise" were made also with Gérard Chambellant. They were mostly based on Indian and Tibetan music. We released "The Door of Serenity", a very appreciated album among our fans. And then, we released "Hidden Temple", after a journey we had made in Egypt. Then, we released "Black Tears" :an anthology dedicated to our first 4 albums + unreleased tracks. Our our royalties went for building a school in Tibet. Then, we released "Otherwise" which was rather different from all we had ever done before. It was essentially based on guitars and the mood was more occidental. Then,we released "Duality", a transition album between "Otherwise" and the ancient albums of Rajna. Then, we released "Offering": it was our last album on Equilibrium Music. It is our most acclaimed album and includes very strong and emotive songs.
Well, after this introduction we can start to ask you some questions about "Offering", your latest album out on Equilibrium Music. How's born and when you written the first lyric for this album?
The only tracks with texts are "Neverland" and "Quiet Hour".The second text has been written by C.J. Dennis and arranged by Aret Madilian from Deleyaman. For the other tracks, I do not sing "real" words, just an imaginative language, as does Lisa Gerrard from Dead Can Dance.
If we compare "Duality" to "Offering" what are the main differences that come into your mind?
"Duality" was much more inde-pop with an electronic touch but with "Offering" we have abandonned electronics to give place to much more organic, acoustic instruments. Concerning the voice, there were moree texts and "real" lyrics on "Duality" that on "Offering".
The previous album was published by Holy Records, why you have changed label?
We wanted a new start and after so many albums on Holy Records, we needed to see something new. "Offering" is like a renewal.
Rajna is well-known for use Ethic instruments in their albums, doing some research I've found that particularly you use two instruments called Santoor and Yang T'chin, can you give some infos or curiosity about these instruments and what is the emotion that Fabrice feel when he plays them?
Fabrice plays the santour and the Yang T'Chin from the beginning of Rajna. We bought our santour in Istambul and it comes from Iran. It's a very nice instrument made of 95 strings. We bought our Yang'T'Chin in China. The sound is different from the santour. We also have an Indian santour and another one that comes from Switzeland. They all sound different. Fabrice loves playing the Iranian santour for its particular sound.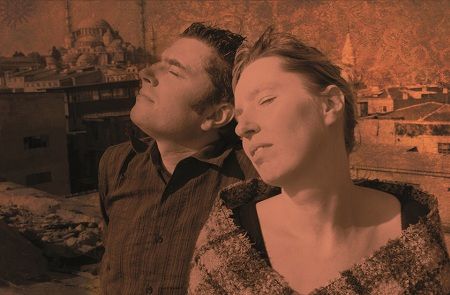 Listening to the album, I notice an important fact: you sing something that is close to a vocalize. Are lyrics written in an unknown language or are totally invented by you? In the ambient scene we aren't aware of this since someone called Lisa Gerrard use this "method" in the Dead Can Dance albums..
As I told you in a previous question,I do not use a real language. It's something as Lisa does: it's the same method Lisa uses. You are totally right!

We already know that your primary influences are Dead Can Dance and [quoting from Equilibrium Press Release] "the mysteries of the Orient and a true passion for travelling and collecting instruments from all parts of the World". Now I ask you what is the Middle East mystery that fascinates you and your favourite Ethnic instrument?
Our favourite Ethnic instrument is definitely the Santour, especially the Iranian one. We are fascinated by the culture and music of these Middle Eastern countries. We travelled a lot in thses countries and brought back many Ethnic instruments from these countries, especially when we were in Istanbul which is a fantastic and incredible city, full of mysteries and history.
Who's Cléomene that you sing on the song "The Dance of Cléomene"? And what are the meaning of this titles : "Eleusis", "Illa Saldé", "Epidauros"?
Some of the titles are pure invention. They sound nice to me and I like the sound that they have and they make me travel when I think of them. Cléomene was the king of Sparta, Eleusis was an antique Greek city, Epidauros was an antique theater in Greece, Illa Saldé is pure invention.
If I'm not wrong Rajna's music was featured into a French TV documentary called "A la recherche du tombeau de Jésus", what was talking about this documentary and how happened that the TV used your music?
Yes, you are right. One of our fans has contacted us and told us that he had heard a few minutes from "Hidden Temple" into the French documentary "A la recherche du tombeau de Jésus". So we contacted the TV broadcast and they told us it was right. They had decided to use a few minutes of our music because one of the person working for this programm knew us already and loved our work, so we have been chosen for this documentary. It was very good for us !!

Now talking about live gigs, in your idea what would be the ideal place for playing a Rajna gig? And you have any gigs going on?
The best place for a Rajna gig is in a church.The sound and the atmosphere that comes from the place is perfect for us. We have played lastly in Nijmegen church, in Holland in May 2010. We have no live shows in preparation for the moment.
So now I ask you this question, mainly my webzine promote metal bands, so really distant from your music genre but in some ways close in matter of ideas. If you should advice 5 ambient album to a beginner, in your opinion what they are?
My top 5 would be :
Alio Die – "Aura Seminalis" – The best minimal music

David Sylvian – "Camphor" – Rather experimental album

TUU – "All our ancestors" – Very good ethnic ambient music

Brian Eno & Peter Schwaum – "Drawn from life" – Very good ambient trip hop music

Stephan Micus – "To the evening child" – Very good peaceful music with an ethnic touch



Well, Jeanne thatnks so really much for replying at my questions hope you like them!
I hope you'll enjoy my interview. Thank you for promoting our music. All the best, Jeanne
Links
Label : Alfa Matrix
Review by Luisa Mercier
After several years, the Belgian duo Aiboforcen finally releases their 5th studio album. In "Dédale" various genres of electronic music are explored: you can find harsh industrial beats but also some synthpop, trip-hop and EBM. The elements of the different styles are mixed quite well and the vocals of Ayria contribute to make everything flow together. The overall mood is quite dark and gloomy, disturbing; but now and then there is a ray of light for example "Time & Space" is a nice catchy electro pop song. There are also some guests vocalists on the album. Laether S. lends "Poem of Life" a hard industrial sound, the same happens with amGod in the song "Parasthesia". While on the U2 cover of "New Year's Day" we find Ayria who graces the song with her light, soaring vocals. Last but not the least, Donna of Ego Likeness on "The World Below", which sounds much more grounded than the other songs on the album. Overall, it's a very solid release and can also be considered a nice starting point to check the band back catalogue.
Rating – 80/100
Tracklist
Dédale

Everything Gets Sacrificed (feat. Ayria)

Shadows

Time & Space

Light

Poem Of Life (feat. Leaether Strip)

Sordide Sentimental

Lhassa

The World Below (feat. Ego Likeness)

New Year´s Day (feat. Ayria)

Crysis

Mass

Rhythm Of Light (feat. Diffuzion)

Parasthesia (feat. amGod)


Méandres
Line Up
Benoît Blanchart – Music, Synths & Sampling

Séba Dolimont – Lyrics, Vocals & Sampling
Links
6 color styles available:

Style switcher only on this demo version. Theme styles can be changed from Options page.