Browsing articles tagged with " dvd"
Interview  by Alessandra Cognetta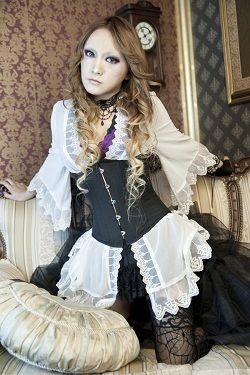 It may not seem so, but the Japanese metal scene is active and ever growing. We are thus very pleased to feature Ancient Myth here for the first time. The female-fronted band from Tōkyō has already released two full-length albums, "Astrolable in Your Heart" (2010) and "Akashic" (2012), various demos and singles and a live DVD. Michal, the lead vocalist, kindly gave us a bit of insight on the band and the current situation of female-fronted metal in Japan.
Hello and welcome, Michal! We're really glad to have you here, since you are the first Japanese artist we have the pleasure of interviewing for the Webzine. Let's start by getting to know you better: "who" is Ancient Myth and how was the band formed?
Thank you for giving me an opportunity to do an interview with you, and I'm truly glad of the fact that I'm the first Japanese artist for your Webzine. Ancient Myth was formed by Mittu, the original Drummer (as the leader) in his school days. I heard the original members of the band were all his classmates in his music college.
Your latest full-length album, "Akashic", was released on 2/24/2012. How did the production go and what has been the feedback from your fans so far?
In October 2011, Puzzy (Keyboards) joined the band, and then we soon went into the studio. We had to get the recordings finished to catch the deadline for the release, so we didn't have enough time to sleep every day and night, for a couple of months but I felt I lived a full life during that time! Some fans say "Akashic" is a crowning work but I'm sure that we can create more splendid ones in future.
What does the word "Akashic" mean and why did you choose it as your album's title?
The title "Akashic" was named after the concept of "Akashic Records", which means all the knowledge and the experienced history of human souls' activities are recorded in the cosmos. Ancient Myth is a band with a long history, but we have led a tough life, like several member changes and recessions. In the present, the past & the future, all the issues on our destiny are parts of the records of the big cosmos. We have to accept all the things in our past and future and keep making our steps forward, if anything is/has happened on us. Because the things are all decided, as "Akashic Records". Continue reading »
The recordings of the studio album "Alchemy" have been officially completed and we can now confirm that the double album will be released on March, 4th in Europe and April, 9th in USA. This release will, however, be preceded by the world premiere of "Alchemy" show at the famous Wyspianski Theatre in Katowice, Poland on February 22, 2013, where it will be recorded for the purposes of a DVD to be released by Metal Mind Productions later next year. We can also reveal that the album will be available for purchase at the Theatre prior to the official release date.
And today you can listen to the first promo track taken from the "Alchemy" album. "Street Fight" is available to stream at the official Metal Mind Productions' channel on YouTube in THIS location.

Interview by Miriam C.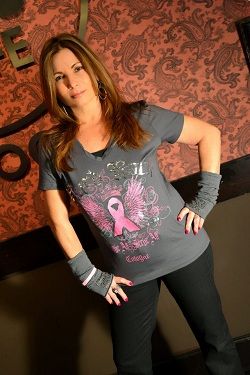 If metal impersonate as a queen the German Doro, instead in the melodic rock/AOR territory the true deal is the US Robin Beck. Known for the uber huge hit single "First Time" in 1988 born from a jingle of a Cola Cola commercial, after 6-years-break from the last album "Livin' on a Dream", Robin do her comeback with her 9th album "The Great Escape" on her own imprint, Her Majesty's Music Room. Want to know more? Continue to read this extensive interview…
Hi Robin, first of all thanks so much for accepting this interview! For me is a real pleasure to host and promote you in my webzine and I thank you for finding time out of your busy schedule to reply this humble questions.
Thank you Miriam I am happy to.
On your official biography, you stated that since you're a little child you wanted to be an artist and when you were 10 yrs old you have written your first lyric. Now, being passed so much time, did still keep it and what you think about it?
This is not a secret lyric. It's a childhood song about love of course… "Key to My Heart" Sort of a country song. I think it was pretty good for a kid.
Despite the fact that you are world famous singer, during your break for raise your daughter Olivia, you have still recorded album as a background singer. From this experience what you have learnt? Any good memory to share with us about that period?
I don't have anything but good memories… and still more coming. My daughter is the light of my life! You do learn from being a mother how to be a parent from your children. If they are happy… then you've done a good job… so I give myself a gold star. I will also say that from having Olivia that I became more conscience of how important school really is… this something I took for granted while I was growing up. I hated school but it's the most important part of our lives to begin with.
Let me get you to the early times of your career, at that time what were your favourite musical acts and are your musical tastes changed now?
Ha… Janis Joplin, Joe Cocker, Aerosmith, Queen, the Beatles, Stevie Nicks, Carol King, Crosby, Stills, Nash, Taylor and Reeves and the Supremes. Just to mention a few.
Your debut top hit single "First Time" in 1988 was a spin off for a Coca Cola commercial, how you got involved in it? Also the video clip was different in EU and in the US, why?
I was chosen to sing "First Time" the jingle… then the song was written and it just flew high by popular demand first in the U.K. – They then did an American Version since Americans don't speak English I guess! LOL It was perfect the way it was first created… then we simply rocked it out for the simple reason that I was noted as rock artist and that's the way they envisioned it for the States.
How was the genesis of your last album "The Great Escape", when you have started to nail down the first lyric?
Hummm… really don't remember specifically. It just came when it came… and out popped the entire album. We worked for about 5 months straight on it.
Your latest studio album was 2006′s "Livin' on a Dream" (now I'm excluding the re-release of "Trouble or Nothing"), why it passed so much time since then?
I was putting together my own label and time was just flying by. I was also managing a band at that time and devoted a lot of attention to them.
How's born the partnership with Tommy Denander and James Christian (that's your husband)?
I met Tommy during a "Radio Active" invite to sing a song… and from there it was a relationship of 3. Me, James and Tommy. We are all very tight. James my husband is in House of Lords. He might be the best producer I've ever worked with. Not just because he's my husband, but because he really gets me and knows better what I can do than even I do sometimes… it's great to have these 2 men by my side.
What's your personal meaning and what do you want to express with the title album "The Great Escape"? Or it's simply related to a lyric present in the album?
For me it's meaning was simply to take a break from life and listen to some great music. But the song is literally about getting away or escaping the trappings of a bad relationship. The title of the album really has nothing to do with the song I'm afraid. I kept it because I just loved the image I had created in my own head. When I'm listening to music that I love… all my cares vanish. That's what I want for my fans.
Two songs that totally hit me are "The One" and "Don't Think He's Ever Coming Home". What are the subject of this lyrics?
You hit the nail on the head with these two songs Ms. Miriam. "The One" is clearly about the love of my life and how to let him in on it. "Don't Think He's Ever Coming Home", is a whole other story… this is an unhappy ending for a girl who tries to keep a man that truly wants to be with his intended. Some girls are just lying to themselves and this song spells it out for them in a most unforgiving light.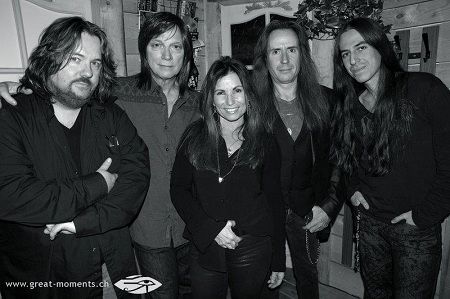 On "That All Depends" you sing with Joe Lynn Turner, how do you feel to realize such a dream? How was standing literally (and singing) beside him?
Ha… that's funny… I've known Joe Lynn Turner and have sung with him for years and years… you'd think I'd be immune'd by now … but he's dreamboat. I've always loved his voice and his way. I can't say enough nice things about Joe Lynn Turner. It was great that he took the time to do this with me. Hopefully we will do another song together in the future.
In February 2009 you founded your label Her Majesty's Music Room, why? I mean you haven't no more faith in the labels?
Yep! That's it in a nutshell. It's a smaller system but much more satisfying. I mean really… working with a label can make you or break you… but working with my own label makes me happy.
The re-recorded release of "Trouble or Nothing" include 4 bonus tracks. If I got it right the songs are original from that session and why at the time weren't included into the album?
No no no…. these songs were not from that time period. They were fresh newly written for the re release of "Trouble or Nothing".
In the 80′s MTV was the leader in broadcasting and promoting AOR bands/singer like you now after 20 years or so we find that internet, with its connections of webzine and sites dedicated to music, is taking the lead. What do you miss of the 80′s from this point of view? And also how much do feel confortable this all this new technology? Have you already notice any pros and cons for your activity?
It's great… no matter what this is how we evolved. For me it's wonderful. I have much more exposure… sometime not the exposure that you want but as they say… all press is good for the artist… good or bad.
Watching your long, stellar career what it is missing is a full concert DVD. Any plans to record it?
Yes… we almost did it at Firefest. But I'm looking to do something that spans my career, not just a rock concert. This takes time but I can assure you not too much longer.
Finally your EU fans have the chance to meet you during your upcoming "Here Comes Trouble Tour" made of 10 dates running thru Germany, UK, Switzerland and Austria. Any project for a full European tour?
I am trying to put that together already. It was only the beginning to start this year after so many years of being missing from the touring circuit. It will take some more time to build up the audience awareness… let's start here. Tell everyone to keep an eye on www.robinbeckrocks.com for coming tour dates in 2013 and Facebook as well.
After this EU tour, what are your next plans and if yes, are you involved in other musical related stuff?
I am in the middle of making a new album right now. We are also discussing new tour for 2013.
Olivia, your daughter is following your artistic footprints, would you mind present her and her songs?
She's amazing and living her dream right now as an actress… but this girl has pipes and she can do anything she wants to. I would be proud to see her live her life and use her talents to make her own dreams a reality.
I've a just a little curiosity to fullfil, you know I'm from Italy and time ago you have recorded a duet with Pupo (that's a real famous songwriter/singer here). Do you mind tell me how's born this collaboration? To me, discovering this was such strange because Pupo doesn't really represent the attitude of a rock star.
Well there's not that much to tell… he reached out to me to do a duet with him and I did. It was fun… and Olivia was only 10 months old at the time so she was in my arms the whole time I was with Pupo singing.
Well, Robin, we're at the end. I really thank you for your time. Please greet your fans and our readers as you like. Really thanks, Miriam.
Please come visit me at my website www.robinbeckrocks.com and on Facebook. I would love to see you there. If I'm in your area please come out and say hello. Watch my website for any details in the coming months. All my love.
Links
Interview by Gaia Stella Rotondi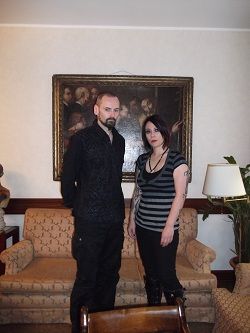 We have met vocalist and mastermind Aaron Stainthorpe and bassist Lena Abé from UK doomsters My Dying Bride for get the latest updates and info about their twelfth album out on Peaceville "A Map of All Failures". Be enchanted and be doomed by this symphony….
Welcome guys how are you doing?
Very well, thank you very much, good to be here.
You are here in Milan to talk about and promote your new album. It is produced by Peaceville Records and it will be in stores on October 15th. It is named "A Map of All Our Failures". Would you like to tell us something about this album?
Aaron: Yeah, it's brilliant. It's um, it's been a while since we did a full studio album, because last the last project was all classical music and then the last thing an EP. So it has been a while since we did a full rock studio album. Three years I think. So that is I think a good evolution from the previous album, we are older now and I think we are wiser, I would like to think we are wiser and better songwriters. I think the more you work on something, the better it should be. We've been working on this stuff for a long time. So in theory, with those mathematics the album should be the best one we've ever done. And all new bands who have a new record say their new album is the best they've ever done. And it's true, this is what you've just achieved, so you're very proud of it, it's like it's you just had a baby, the greatest thing ever. And so, it is wonderful. We've worked hard on it; you can tell its My Dying Bride still, we're not trying to write something completely out of our style. It's recognizable as My Dying Bride, but still fresh enough to be interesting, new and exciting for the fans. So if you've liked anything we've done the past there's pretty much a good chance you're going to love this.
Lena: Some people give us feedback and that it's quite reminiscent of the early works as well. People who like the early work are probably going to like this.
I know that there will be a special edition with CD and DVD and also a double vinyl edition. So what is the reason for this release?
Aaron: It's the record label I guess. Vinyl despite it being not very popular is popular enough for the record label to still do it. They wouldn't do it if they couldn't sell. And I love that as well and I don't even have a record player but I love vinyl because…. Especially gatefold, this thing is huge you don't even see these anymore. It's like an antique but it's a lovely thing to have because we've worked hard on the artwork, photography and the lyrics. So I think if you buy something even a CD, it's something you're hard earned money is well spent on. It's a good piece of rock. I think downloading it, you're missing out. You really are missing out. If you're buying something, have it, don't have it digital, have it in your hands because you can see and appreciate the work we've put into it. And special editions are great. I think special editions are for the diehard fans. They always want a little bit extra. And I was the same when I was younger. I would collect picture disks of Iron Maiden, any weird shit. I loved all that. I would spend all my money on this stuff, box sets. I loved it. And so we do a similar sort of thing. And so the special edition has nine songs instead of eight and will come with a DVD. Which for the first time ever in our history we are showing people behind the scenes of My Dying Bride what goes on the tour bus, how boring it is on tour. You know some live stuff, interviews with all the members of the band. Explaining how we feel on tour. We've never normally done that, we've been a very private band. We sit in the background quietly. When we do an album we talk about it and then disappear again but I think for the DVD we just said let's shout about what we do and then people will see and they'll think it's actually quite boring. The DVD is just a little history of what we do. And the vinyl is great but I'm not gonna play it because I have nothing to play on.
A few days ago, we were given a chance to download the single "Kneel till Doomsday" off the new album for free. Can you tell us something about this song?
Lena: A good general vibe of a whole album, it starts off with slow riffs, it comes back down again, it goes back up and comes back down. It's a good representation of the whole album in general. You've got death metal and a bit of doom metal in there. It's good representative of what "A Map of All Our Failures" is all about.
Aaron: Some of the songs have a specific feel and if you choose an unusual sounding track for download, people assume the whole album is like that. You need a track that has the good spread of what My Dying Bride is about to give people the chance to know that it contains all kinds of stuff. So that is why that one was chosen.
The artwork for this album is very dark. It represents a women sitting on a bed and in a white sheet, with a veil covering her face. Would you like to talk about the album concept and tell us who created this artwork?
Aaron: The album cover was created by a guy called Rhett Podersoo who did the previous albums artwork, "For Lies I Sire". He's quite a visionary guy. I like his work a lot. I gave him the lyrics for the actual track "A Map of All Our Failings" and I explained to him what I wanted and when he came up with a concept, with the idea of my concept, I thought, "Ja that works", because in the lyrics of that song, it's about someone who's just completely alone and in complete and utter silence they have absolutely nothing, nothing at all. The only thing they can sense is their breathing. There's just nothing else there. And there is just a bed and a chair and the chair is just there for when death comes. And it's just terribly tragic. It's a very lonely song. I so I was explaining this to Rhett and I said I want complete misery. I don't want sparks and blood and guts and mayhem. I want loneliness and inspired death looking image, but it works like that. His artwork is throughout the whole CD. Every single page in the CD booklet, an image related to the words. It's not just random artwork, it's all been really well thought out. We worked long and hard for a few months to make sure each image, even though it's covered with lyrics, each image has the feeling of that track. Again that's something you'll miss if you download it. So for the full package, buy it kids!
You're going to be on a European tour in December and you are going to come back here to Italy for two days. What do you think of the Italian audience?
Aaron: They're alright (LAUGHS)
Lena: I've only played there once before at the Frozen Rock Festival. I think it was 2007 so it's been a five years since we came here. I believe the band has played there before, a few years ago? I have some really good memories of playing there.
Aaron: The Italian fans have been backing us back from the demo, a long time ago. You kids weren't even born then. You don't even know what a demo tape is. We've had letters from Italians before the Internet even, when people use to write to us with a pen. They've backed as for years, so every opportunity we get when we on the road, includes Italy, to say thank you.
How is your relation with fans in general? Are there chances to meet them, maybe after your shows?
Aaron: We have lots of time before the show because after the show we're too drunk. Before the show we always agree to do what we call "meet and greet". We always agree to do these things at our own shows because these people have payed for your records, they've bought your things with their hard earned money and it's rude to not say thank you. So playing live for them isn't enough, it's important to meet them. And every time anybody says there's these lines of people outside, they want an autograph, we go outside and sign their autographs because it's important. And they love it as well. The jam their faces between us and we have a photo. It's a special moment. It's easy for a band to do; I don't know why other bands don't like to meet with fans. The fans, without them, there is no band.
Lena: I was in America in January and there was this guy and we had a really good chat and he came from Australia to America just to come see us. He wasn't so bothered about any of the other bands. When people start doing that, why wouldn't you want partisan and say thank you? That kind of dedication means quite a lot to us.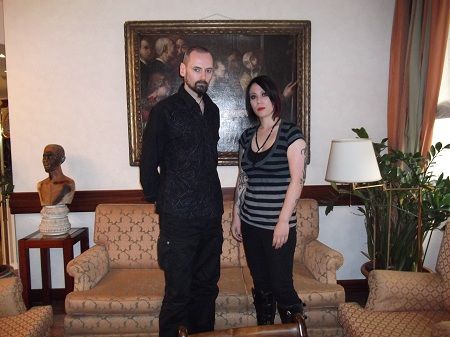 What do you think about British and International gothic scene of this day?
Aaron: Um, I'm only aware of the scene when we perform live because I don't really stay up to date with what's happening in the scene. Because the scene is quite split because we're sort of Doom gothic death metal, it's almost three genres stuck together, that's what we do. So there doesn't appear to be single website dedicated to that kind, or even a single festival. We play metal festivals, extreme metal festivals, gothic festivals, we play lots of different sorts of festivals. We have quite a broad appeal. So it's hard to see what the scene is like because we're seeing different scenes at different times. We still get messages from young upcoming bands who are actually saying thank you for the influence, we love My Dying Bride, and we've created a band because we love you guys. And that's wonderful. That's quite a big thing. We see loads of bands who have mentioned us as an inspirational force. We've done some good old festivals, which are attended really well, despite it being no money in the world at the moment. Some festivals that we've played, particularly Graspop in Belgium, have thousands and thousands of people there. So it's wonderful. We span different genres, so it's hard to see if one is more potent than the other.
How often and how much have you changed since the beginning? What do think of these changes in your 23 years of career?
Aaron: Well, I've got older but I've got wiser? Importantly, we're all going to get older but some people don't get wiser. I don't know? I still like the same sort of subjects that I sang about in the early days. f you picked up our first album and the new album and looked at the song titles and the lyrics, you would see similar themes because those are the things I find interesting. I'm not going to start singing about something I know very little about because it would be pointless. I sing about the things I understand and the things I am comfortable with. And so those subjects have spanned all of our albums. But I think the vocals have developed for sure because in the early days there was a lot of shouting and some clear vocals that weren't great. But that's what I did when I was younger. I was a shit singer and I can hear it. When I listen to the early records I think; "He was a young boy back then". I can't play an instrument, so I have to develop vocals and you get older you feel more, brave. You want to experiment more. So now, on the new album, there's screaming, shouting, whispering, spoken word, all sorts of harmonics going on. And so that's completely different from the first album. Something's don't change much and other things develop and evolve as we get older because it's such a long period of time, 23 years now. Changes are nice and steady, it's not suddenly; "What's going on now?". It's slow evolution and that's a nice way of doing it, I think.
A question about your voice actually. Your voice has its own style. It is clear especially in the later works. What is a change made that you haven't planned. How and why were you moved to follow such a personal approach?
Aaron: Well, again, it's all about experimenting and about expanding. If you're good at something you want to be better at it. And I'm not different, these people that play instruments, they are getting better and better at it. A bit more flashy and stylish on stage. They're looking cool. I am thinking "I have to expand". I am not going to stand there doing nothing. I am going to elaborate and gesture like performers do. Again, it's the braver thing, as you get older you don't care so much about the image. You think I am going to sing this! I don't care about Death metal songs. I am going to sing because it's a good lyric on a nice piece of music, no point doing a death metal vocal just for it. So I much more open to performing vocals in a more appropriate style for each song. And to keep a good variety keeps in interesting not only for the fans, for me as well. I don't want to do the same thing over and over again.
Do you have any artists you look to for inspiration?
Aaron: No, not really. I did in the early days. Not from a vocal point of view. I did in the early days. In the early days, influences were from bands like Celtic Frost and Candlemass. But even not from a vocal point of view. I like Nick Cave. Nick Cave and the Bad Seeds was a great band. I like Swans, Michael Gire has a great voice. They would the closest thing I could associate with an influence.
The band has gone through lineup changes. The arrival and departure of Katie Stone and who has been replaced by Shaun MacGowen. How did you find Shaun?
Lena: When Katie left it was quite sudden. It was about 4 weeks to our next gig. And our tour manager had a feeling that she was not quite committed. We asked her, "What's going on?". She said she wanted to leave and work on her career. She a student psychologist. So that was it and she left. My friend Shaun, he is a big My Dying Bride fan, he plays violins and keyboards. We all got together at our rehearsal studio. We auditioned him and he was fantastic. That was it really.
The music industry convention suggests problems in terms of dealing with business detracting from the musical side. How do you manage to keep working ahead after seeing what could be the pitfalls that the business has to offer through the years?
Aaron: It is difficult. It's a juggling act. A balancing act. When My Dying Bride formed, it was just a band. A bit of fun. Now it's a business, we pay VAT. All that shit. And we've never had a manager, myself and Andrew manage the band. We have an accountant, because our math is terrible. It is boring. Sometimes our accountant will ring us and say "Ok guys, come to the office. Let's look at some figures". And it's so dull; I didn't form a band to band to do this shit. This is what we are paying you to do. I don't want to see any good news or bad news, I don't care if we are making money or losing money. This is boring! So Andrew would normally deal with statistics. And will try and concentrate on the more visual side of things. The T-shirt designs, that's more my thing. I work with the artists to come up with the album covers. But it's hard and sometimes you do see problems in the business. We've shit that goes on you wouldn't believe! And you just think, "This is a criminal business we're in". But you just gloss over it and think "but well that doesn't matter" because we've got the good stuff, the songwriting. So if you're having problems in the office, get out the office and write the songs, because that's where the front of your business is, that's where the passion is. Someone else can do all the calculations later. Let's concentrate on the artistic side of things. They clash sometimes but we try and keep them apart.
Lena: The thing that keeps us going as well, is that we are not constantly touring. So we are not constantly feeling that kind of business pressure. Almost like a part time kind of band, if that makes sense. A lot of bands they do many concerts a year. We're not really under that much pressure. That keeps are more focused and enthusiastic about what we do. We will never turn up at a show looking tired and not bothered. We are totally focused on one event and that particular moment in time, we are there do that job.
Thank you very much for being here. Would you like to tell us anything else?
Aaron: Pleasure.
Aaron: Well actually, next year there is an EP coming out as well, because we wrote and recorded 13 songs. So after the special edition, there's 4 more songs. So the record label would like to do an EP. So in maybe March/April next year an EP with 4 brand new My Dying Bride tracks on it. More stuff to come yet!
Thanks for the good news.
Aaron: Thank you very much!
Credit Photos
Photos by Erika Cremonesi
Links
MySpace * Facebook * Twitter * Site

Interview by Si Smith
Born on the streets of St Petersburg in 2007, this gothic incarnation of Russian musicality flies a unique flag amongst many of its fellow compatriates. With much Russian metal tending towards the folk and doom metal genres, it's is refreshing to hear a gothic (?) band originating from this musically fertile area. Although as previously mentioned in a previous review, their music is slightly more up-beat than the average gothic release so we should not be hasty in pigeonholing these guys at all. Let us allow vocalist Tatiana and bassist Yaroslav to represent the band and explain for themselves….
First of all thanks so much for talking to us at Femme Metal and welcome from all at the webzine.
Yaroslav: Hi, thanks, delighted again for our conversation, already a lot of time has passed since our last interview, and a lot has changed.
So guys, your first release upon the music scene was the first EP "Breathe Again" which you put up on the internet for free download. How did you feel about the final product you had released at that time?
Yaroslav: No we did not have to release, we rerecorded in another studio and added
a different song. Now for the past times we look at it as an original stage of our development, many come to know us solely due to the EP.
I understand that you worked quite hard after this on promotion of your material, from radio airplay to interviews and 'zine reviews. How difficult was it to promote other people's interest in your work?
Yaroslav: We sent many copies of our EP to various journals, fanzines, Internet radio and concert agencies. But because of the quality of its implementation we did not get the result we wanted. In general, I must say that in Russia things are not predictable; because of this it is very difficult, and sometimes do not understand how to promote the group.
Tatiana: I guess it is always hard to introduce new things to the public. That`s why Yaroslav always does all things, connected with promotion.
Quite early on in your musical career you got to play alongside bands such as Amorphis and Norther. How do you prepare yourselves for playing alongside such heavyweight names?!
Yaroslav: Not to say that we are very prepared, it was a higher stage of our development. We opened their Russian tour. After that there were more performances throughout the year with Reflexion, Lovex and Throes of Dawn (also a group from Finland).
Your first EP rolled off the press in 2010, containing mainly the material from the first two EPs. Did the tracks change much over time as you prepared them for the new release? Or were they very much in their original form?
Yaroslav : All the songs from the first two EPs were rer-ecorded again in the studio, we worked on the first album with the sound produced, so the sound was different and much higher. Therefore, it received high praise from beating rated in one magazine even better at the time than the Leaves Eyes' album. But I must say that our very first songs were sometimes naive, a kind of attempt at writing.
"Lateless" seems to have been a great success (our reviewer gave it 83/100). Did it open any specific doors for you? What was the initial reaction from fans and press?Yaroslav: As I wrote in the last response, it made a good impression. It showed that Russia can make a quality album, if you do everything right. Last time we interviewed you Nataly was singing with the band. How did the change to Tatiana take place? Yaroslav : Everything happened very smoothly, we knew that Nataly was to leave us because of her career at work, she moved to another city. Therefore, we started looking for her replacement. And with the new singer Tatiana, we recorded a single "Discover" and our last EP "Bless from the Heaven".
Tatiana, you now have to sing the songs Nataly sang as well as the new material. How has it been for you? What is your background in the singing world?
Tatiana:
First it was a little bit strange – I never sang this type of song, besides Nataly`s voice is quite different from mine. Some of her parts I had to change. The new material is much easier for me. As for background I always liked absolutely different types of music. But I
think that such persons as Tarja from Nightwish and Doro Pesch at influenced my way of singing and acting on the stage.
Musically all your music seems to feature a very solid guitar sound matched to memorable rhythms and thought-provoking lyrics. Apart from you two, how do the other members of the band contribute to the overall sound of Lateless?
Yaroslav:
Each team member contributes to the sound of the group in the arrangement of the song. However, I am the main author of the music, I must say that on our second album we are currently working on new material, the songs will be different, as in sound and in style. Just watch out for our friends.
Tatiana:
All the members of Lateless work together to reach the best sound that we can. All musicians create their parts by themselves.

The EP begins with a quite heavy guitar riff and a melancholy song topic "Grief and Ashes". Does this represent any particular event in your lives, or are they just great lyrical subjects?

Yaroslav:
The text of this song I wrote about 2 years ago, when I arrived in the deepest depression, it was a cold winter night, empty subway cars and empty, deserted street, unless of course you know what I'm talking about.
On "Of Your Memory" there is a great balance between the singing and growling vocals, with Tatiana's singing often echoed or completed by the growls. How do you two work together as vocalists? How do you go about writing the complementary vocal lines?
Yaroslav:
Growling on this song appeared quite by chance, we recorded it in the studio, and then tried to joke extreme vocals. And we liked the idea and we left it, it was good.
Tatiana:
Honestly, this idea about two vocals in one song appeared from the joke. Suddenly, Yaroslav's vocals we found to be totally suitable in this song. We were just surprised, but glad, because it sounds really awesome!) Another surprise for me was the really good efficiency of his work, he did only two or three takes before the final version. I was very glad because we
work really hard and it made the sound of the songs really good. Honestly, I`m very proud of myself too because we recorded vocals in a freezing cold studio and I thought that the low
temperature would make my voice sound worse than it is.
It is clear from the lyrics of all the songs on the EP that the themes of death and the afterlife are the prominent ones. How do the band members feel about these almost spiritual topics? Have you any strong views on these phenomena?
Yaroslav:
All songs on the EP, except for "Grief and Ashes" belong to our former vocalist Nataly, so you should ask her. We gave her a free hand in writing lyrics and trusted her 100 percent. For us, there is practically no taboo subjects in the lyrics, exceptions only fascism, satanism and other brightly expressed religious themes.
Tatiana:
As for me, I believe in the existence of afterlife. I think my point of view helps me to feel the sense of this song from my heart.
It seems from your various posts on the internet and other interviews that you are very passionate about your music. For each of you, what are the things that make you happy and what are the things that annoy you the most in your lives?
Yaroslav:
I live music, 24 hours; I'm a fan of music. I am constantly thinking of something to play on the guitar. I like to invent songs, beautiful melodies. I do not need much personally. A quiet warm evening in the company of close friends at the lake and a couple of bottles
of whiskey is good.
Tatiana:
Of cause, music makes my life really better and colorful. Music and love… the only things I`m living for today. As for annoying things they are typical for all people at my age – it`s exams and people`s misunderstandings.
Last time we spoke to you the future was quite "foggy" apart from a few major concerts. Has the future cleared at all for you? Do you have any visions for where Lateless will go next?
Yaroslav:
Now comes the summer, and we're in a small way inaccessible to fans. Since the last interview was a lot of concerts we went to a mini tour in support of the album. Attended transfer on television. Shooting the bonus DVD for our EP "Bless from the Heaven". We now plan to proceed to the shooting of our first music video. The song is in Russian, it is called
"Fly Away".

Tatiana:
We have a lot of plans, you know. The big dream of mine is to create a big album with a lots of songs, and I hope that soon my dreams will come true.
Finally may I thank you for your commitment to continue making music, and ask you if there is any message you would like to leave with our readers at Femme Metal?
Yaroslav:
Thanks for your support, it is always a pleasure to communicate with Femme
Metal. I think you give good support to really cool bands. I want to wish that you develop further, I want to have to see you in Russia; I think you're here to see prices show many how to work.
Tatiana:
I would like to wish all metal-lovers new absolutely different and interesting music from their favorite bands, stay with us, guys!
Thanks again and all success to the new EP!
Yaroslav:
Thanx, STAY ROCK!!!
Links
Latest Multimedia
6 color styles available:

Style switcher only on this demo version. Theme styles can be changed from Options page.