Browsing articles tagged with " eden"
Interview by Miriam C.
Transcription by Robin Stryker
This was my second phoner interview that I've made in my life, this time I was more calm and relaxed. Enjoy this funny interview (sometimes during the interview she has got line telephone problems and I was going to repeat the questions) with a kind and relaxed Jonsu, vocalist and violinist from rock all female band Indica.
Let's start, "A Way Away" is coming in the stores the 25th June on Nuclear Blast. Why choose this label? I mean Nuclear Blast isn't the typical label that sign rock melodic bands.
When we were touring with Nightwish, Nuclear Blast was the label that was interested to do the English album, and they had showed some passion towards our music. I loved the way they worked and how they put their whole soul and heart to it. So it made us be sure that it is the perfect label for us. Also I have to say that it was a good thing that Tuomas told me before – you know Tuomas [keyboardist] from Nightwish, they have been with Nuclear Blast for many many years – and he told me that "I have no bad words to say about that company". So it was a good recommendation.
Obvious question, how's born the collaboration between Nightwish mastermind Tuomas Holompainen?
It was great. The first thing I did with them was "Erämaan Viimeinen" (The Last of the Wilds), one of their songs. After one of our shows, Tuomas came to ask me if I would like to sing that song, and he said he has been a fan of our band since it started. And I said like "yeah, yeah, let's try it". It went well and then they asked later if we would come on the Scandinavian tour. I think Tuomas and the whole band is great. Tuomas is a really talented musician and composer, so it was great to work with him. And later, of course, to do albums with him. Also on "A Way Away", he wrote lyrics to one song, "Precious Dark".
I found a bit strange to publish an entire album with translated lyrics in English, when take for example such metal acts like Ensiferum, Korpiklaani,they publish without problems album in Finnish language. Why take this decision?
Why did we do an English album? When we started about nine years ago, we did songs in English and in Finnish, but then we had to choose one language. Finnish sounds more natural, but we knew that someday we probably will do anyway an English album. When we started touring abroad, the fans started to request if we could do some songs that they would understand too. There was only really crappy YouTube versions they could listen to. So that was the main reason why we did it now. I think it was a big challenge for us, too, because we have seen every single corner of Finland and every single club, and we have been working there and touring there and doing albums like "Ikuinen Virta" in 2004. So it was a big challenge for us, and also really interesting to see new places and meet new people. Also with the language, I would say that the English language is maybe, when sung, it sounds more beautiful and it's flowing totally differently. Maybe Finnish is more exotic, but anyway the music sounds totally different, so we found it really interesting.
Your last album was called "Valoissa", right? And if I'm not wrong the English translation is "light".
Yes, you can say "in the light". In the song, we are really talking about like traffic lights. It is a little bit ironic text about "what if I die in the traffic light" and you can't just mourn. Don't be sad.
Are "Valoissa" and "A Way Away" titles connected?
"Valoissa" and "A Way Away" … no, there are a couple of songs from the "Valoissa" album in "A Way Away", but otherwise those albums aren't alike. Those aren't connected anyhow.
If I ask you to define Indica's music style what do you reply?
It's a funny question because, as a composer, it's really hard for me to describe the music because somehow I think it's impossible to describe music in words. But, I can say what other people have told. So, some people – like all reporters in Finland – call it like mystic-romantic pop rock, and it was funny how it started. One reporter just said like, "oh, this sounds like mystic-romantic" and suddenly all the reporters were writing it's mystic-romantic. Yeah, one interviewer also said, "it sounds like Disney on acid." (laughs) I think it was a funny description. I'm sure there is some films, movie soundtracks and a lot of movie composers.
On 30th April you've published out the videoclip "In Passing", what is the story behind the video and how was work with Patric Ullaeus Team?
Yeah, in Sweden in Gothenburg. You are talking probably of the "In Passing" video. The story behind the song is that it is kind of a letter from an older sister who is dead to her little sister, and she is trying to encourage her and telling her that "you must go on with your life and move on". It was great to work with Revolver Team, and Patrick Ullaeus I think did a great job. We shot it two videos in Gothenburg. "Islands of Light" I think it isn't published yet, but it will come out soon I guess.
Watching your promo shoots I was astonished about your dresses. Who's the creator of it?
Sometimes we are using different kinds of designers, but there is one Finnish, Anne-Mari Pahkala, who has done many of our dresses. Some dresses we are found from our grandmas' closets or somewhere, like anywhere where we go. But Anne-Mari Pahkala is a girl with whom we have worked the most.
Before "In Passing" video there was another one video called "Snakes and Arrows", I've seen it, have you shooted it in Tokyo?
We had one. It was kind of, you know, zero budget. We deal with just one friend's photographer wanted to do one because he wanted to do some photo shootings there, and we had a show in Tokyo. We spent there a week, so we were shooting the video at the same time. But it was a great experience. I really liked Tokyo, but I couldn't believe that I would live there.
Which is your favourite song from "A Way Away" and why?
My favourite song from the album is, I guess, the ending track "Eerie Eden" … "As If" is also one of my favourite tracks. I always fell in love with the slow songs, so that is why maybe "Eerie Eden" and "Children of Frost" and "A Way Away" are one of my favourites. The girls are always angry to me because I always try to do a slow album where there is only slow songs on there like that. "You are killing the audience! They will fall asleep". (laughs) So, it's good that we have different opinions in our band too, because otherwise it would be only 10 slow songs on the album.
I know that's very very early to talk about that but are you working for the next album with brand new songs?
Composing is my lifestyle, and I'm all the time composing something. But we really haven't sat down yet with the band and talked about what we are going to do, what kind of direction we are going to go in. Maybe after this album comes out, we can sit down and talk about that with the people that we work with and do some planning.
What are the next band planes?
In the near future we are going … tomorrow [the interview was done on the 20 May 2010] we are in Italy doing something and going to Rome, then we go to Leipzig to do one gothic festival and then I go back to Finland to do some TV programmes. Then we are playing in Rock am Ring and Rock im Park (it's in Germany).
It's a very famous festival, with groups from every genre, and MTV is there.
It will be interesting and I think they said that they are shooting the show too. So we are doing some festivals in summer, but mainly touring will start in the autumn. Then the plan is to tour pretty much before Christmas and go around Europe. Let's see, I have a meeting with my gig agents next weekend, then they tell us some ideas.
Italy is in your plans?
Yeah, I'm sure Italy will be on the list. But really, I would love to, I'm waiting to come back to Italy. These days we are doing some acoustic performances in the radios but to do a real live show because I think Italian audiences are great. They are so free and open.
Greet our fans freely!! And thanks!
Thank you very much for the interview! It was really nice to talk with you, and I hope to see you somewhere.
Kiitos! [Finnish word for thanks]
Oh, you know it! Great.
Links
MySpace * Facebook * Twitter * Site
Latest Multimedia
Label : Lycan Records
Review by Tony Cannella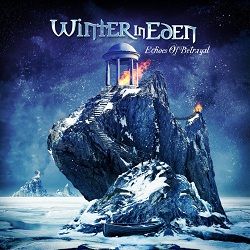 Winter in Eden is a female fronted Gothic/Symphonic Metal from the UK. The band formed around 2007, released their debut EP "At the Edge of the World" in 2009 and followed that up with their full-length debut "Awakening" in 2010 and that brings us to the present and their newest release "Echoes of Betrayal". So here we are again and Winter in Eden is proving to be one of the best bands in a crowded Symphonic metal field and "Echoes of Betrayal" should only strengthen their position. It is true that the Symphonic metal genre has become a very saturated (some would say over saturated) form of metal. There are still a lot of good bands coming up playing this style of music and Winter in Eden is a perfect example. The band has maintained that big orchestral sound and on their new album Winter in Eden has progressed all the way around as songwriters. The material bears that out – and they don't go overboard with the symphonic thing, the songs still features plenty of heavy riffs and the orchestration is used where needed. Like on their debut, lead vocalist Vicky Johnson's vocals are solid and clean if a little understated – not that that is a bad thing, she definitely is not of the operatic variety – she just has a very classy voice that goes hand-in-hand with the classy music that is being performed by the excellent musicians that makes up Winter in Eden. Musically and lyrically there is a definite maturity and confidence that comes with "Echoes of Betrayal". The opening classical intro starts off "For the Few", which is a solid opener. You just have to love Vicky's vocals and sometimes it is refreshing to hear this kind of music played without the obligatory opera vocalist (not that there's anything wrong with that). After the intro, the crunchy stop-start guitar riffs come in. "Possession" is next and is more of an up-tempo in-your-face song and definitely one of my favorites. "Awakening" ended with "The Awakening Chapters: I & II", on "EOB", Winter in Eden continues this with "The Awakening: Chapters III (Regret), IV (Torment) & V (Descension)". These songs are as good as it gets and perhaps the crowning jewel in WIE's repertoire. Other highlights include: "Trapped", "Lie What We Leave Behind", "Lies", "Suffer in Silence" and "Stone Cold" I can't really say if I like "Echoes of Betrayal" more or less than Winter in Eden's debut. It is quite simply just as solid as "Awakening" and a strong continuation on what they began."Echoes of Betrayal" is a very good album and one that the band should be proud of.
Rating – 85/100
Tracklist
For the Few

Possession

The Awakening: Chapter III – Regret

The Awakening: Chapter IV – Torment

The Awakening: Chapter V – Descension

Trapped

Lies

Suffer in Silence

Eyes of a Child

What We Leave Behind

Stone Cold

The Secret Room
Line Up
Vicky Johnson – Vocals
Sam Cull – Guitars

Steve Johnson – Keyboards

Ian Heddle – Bass

Steve Hauxwell – Drums
Links
MySpace * Facebook * Twitter * Site
Interview by Si Smith
Intro by Miriam C.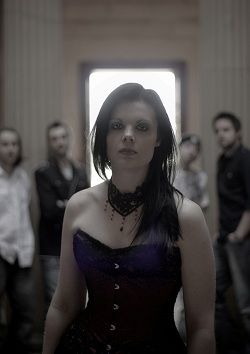 It's time again to give space to the British symphonic rock band Winter in Eden, after the 2010 debut "Awakening" it's time to talk about "Echoes of Betrayal", the new album out on Lycan Records, so we took the occasion to ask some questions to Vicky Johnson, their singer. Let's see what she tell about this second platter and some band novelties.
First of all thank you for doing this interview and a big welcome to Femme Metal Webzine.
My pleasure! Thank you for asking me!
We don't get that many gothic metal bands hitting the limelight from England – is there much of a gothic metal scene there?
We get described in lots of different ways, as we are at the softer end of many categories, so I feel that it would be unfair to comment about the whole of the gothic metal scene in general. But, from my experience, it is difficult for artists like us in England. It is an underground scene really….
The title Winter in Eden sounds like it should be self-explanatory. Could you tell us a little about the concept for the band and the band name?
The idea behind the name is to reflect the music; light and dark, orchestra with rock, masculine and feminine. Essentially, contrasts!
Your first full-length album "Awakening" was released in 2010 – how was this received by the press and the public?
It was received extremely well by the press and the public, which we were overwhelmed about.
Has your approach to recording changed much since the first album?
Yes, hugely… Steve (Johnson, my husband) has started to use real orchestra samples (on the keyboard tracks) and writes parts for many different instruments now, so there is a much denser sound. Also, we all feel much more comfortable, so we say what we feel and are not afraid to experiment a bit more. I guess we are starting to find our sound, and although the actual process is the same, we have paid closer attention to the orchestration in the mix.
Your voice fits the genre so well. Tell us a little about your singing experience.
Thank you! I guess I began singing when I started playing the piano; when I was 5 years old? I wasn't keen on playing the classical pieces I was supposed to be practicing, so I started to write my own songs and sang to them. I sang at school and church but never had any formal training as such. It was really when I went to secondary school that it became more serious for me. I wrote my own song as part of a music project and sang it to get the idea across. I was then asked to play keyboards in the school band that Steve was in, back then. I sang along to one of the songs….. Then stopped playing keyboards and became the second singer in that band. I was 12 at this point and we played everywhere from shopping centres to care homes. When I left school, Steve and I played as a duo and worked full time for a few years as musicians. We didn't do it all the time – we didn't really do anything musically for a few years, until the predecessor to W.I.E. got going at least, but it was a great grounding!
Has the band's line-up changed much since the early days?
Only slightly… Wayne, our original drummer, sadly had to leave earlier this year, due to illness. We are very lucky to have Steve Hauxwell join us now, as our new drummer. That is the only change in the line up.
Let's talk about the new album. After the orchestral intro the first song begins very boldly with a solid rocking sound. "For the Few" is an excellent opener. What does it feel like for you to sing a Winter in Eden song like this?
Thank you! I really enjoy singing this song and love the way it kicks in after the gentle start. I love to sing all our songs, of course. But, because I am one of the songwriters and the main lyricist, I already have a huge connection with each song. I guess only I really know the true meaning behind each word that I write, so it can be very emotional if it is a personal subject. It does give you a real kick when a song goes down well and you receive positive feedback, especially when people identify with the songs. "For the Few" is about the Battle of Britain and one of our fans even made a video to reflect the lyrics to it….! It never ceases to amaze me what loyal fans will do for you.
One of the highlights of the album is the "Awakening parts III, IV, V" sequence. As the Awakening saga began on the last album with parts I and II, could you tell us more about the story?
"The Awakening" is the story of a woman being abused and how this has affected the rest of her life. She simply cannot escape from it. Although there is hope, from the end of Chapter 1 and 2, that she can finally move forward and start again, the hope disappears in Chapter 3, as she has done something that she deeply regrets. It is kept open as to what she has done and that was deliberate.In Chapter 4 she cannot live with the guilt and commits suicide. Chapter 5 is the time to reflect, with the idea that she may finally be at peace. However, the track is called "Descension", so it is not clear if she is going to heaven or hell!
Many of the lyrics on the album seem to come from a dark or melancholy place. Where do you find your inspirations?
I find inspiration everywhere! It can be a personal experience, something I have seen, someone else's experience, a documentary, a film or pure fantasy. However, it's not necessarily a reflection of my personality. I find writing lyrics gives me the opportunity to air thoughts, concerns and frustrations that I otherwise would not be able to air, so I guess it is a good stress release for me? It helps my daily life remain positive!
You must have been very happy to receive a 9.5/10 for that first album review! And to get onto Classic Rock's Track of the Day is a great achievement too. If there was anything you would like to achieve with this album, what would it be?
Yes, we are very happy with the review and getting "Track Of The Day", especially with "Lies", which is slightly different in style from the other songs that we have written. Our continuing aim is to increase our profile and ultimately make this a full time concern. At the moment, playing in Europe is our next big goal.
I see you are signed up for the Whitby Vampire Ball!! That will be a blast. Have you plans for festivals and/or a tour to support the album? If so, what can we expect from a Winter in Eden performance?
We are very excited about that gig! We played a few dates earlier in the year to support the album release and have a few more dates planned later this year as well. As for festivals, we just played the Cambridge Rock Festival again, on the Classic Rock Society stage as main support to Kyrbgrinder, and it was a fantastic show with great support!! Really enjoyable!
Apart from the singing, are there any other sides to Vicky Johnson that we would not otherwise hear about? Do tell!
Where to start! I do like to keep a lot of my personal life private, but I guess a few people are starting to find out that I am a solicitor. People never expect that, so I usually get an interesting reaction!
Anyway, thanks so much for giving this interview. We wish the band all success in the future.
Thank you very much for your support!
Links
MySpace * ReverbNation * Facebook * Twitter * Site
Latest Multimedia
Interview by Roberta Ilaria Rossi
Pythia is one of the most famous British metal band and they come back in this 2012 with a new record for Golden Axe Records, called "The Serpent's Curse". We had the chance to exchange some little words with the amazing vocalist Emily Alice Ovenden and that's what she said to us!
Hi Emily, welcome to Femme Metal. Your new album, "The Serpent's Curse", will be released very soon. Would you like to share something with us?
"The Serpent's Curse" is brilliant! Buy it if you haven't yet!
In December, you released the single "Betray My Heart" and you also did a video clip for it. Why have you chosen this single to launch this new album?
We just felt it was the most immediate track and a good taster for the rest of the album. While I think there's plenty of variety on the album, this was as representative of the album as a whole as any of the songs on there. It was definitely a good choice as it's proved to be a big hit with fans live.
After the video, you streamed two more songs: "Just a Lie" e "Heartless", both taken from the new record. What can you tell us about those?
Those again felt like some of the catchier tracks on the album and seemed the right choice to get out there. They were our choices for tracks for the Rock Band game and as they were being made available that way, it made sense to stream them. They're also two of the fastest songs we've ever written so should be a challenge for people to perfect on Rock Band.
The album will be out on Feb 27th, via Golden Axe Records, who previously have released your debut album, "Beneath the Veiled Embrace". Have you had the chance to see (and to read) something from the critics and the press itself? If so, what was their reaction?
We've seen a number of reviews and so far the feedback has been overwhelmingly positive. Thankfully, most of the critics seem to be getting what the band is all about and enjoying how catchy some of it is but also finding out the layering and subtlety that we've put into the song writing. I'm also glad to read a lot of good feedback on my lyrics which I really put a lot into on this album and it's the best compliment to hear that people are really latching on to that.
Do you think that this album will be appreciated by Pythia fans?
We hope so! At this point, the album has now been released and it sounds as though the fans are really digging it. Without wishing to blow our own trumpet, I've heard nothing but positive feedback from the existing fans. And I think we've also picked up a few more fans since the album's release, which is just fantastic.
The artwork immediately caught my attention. Who created it?
It was done by a very well-known British artist called Brian Froud. I'm really lucky to have known Brian for a long time, since I was very young in fact and he was really up for doing the cover for us. He came up with a fantastic idea straight off the bat and was really open to our suggestions, leading to the final artwork we used on the album. I should also mention Gurdish Haugsdal who came up with the sleeve and inlay design, using Brian's artwork. Again, Gurdish did an amazing job of bringing our ideas to life so the end result was exactly what we were hoping for.
Where did the idea for the album title "The Serpent's Curse" come from?
It's a reference to the snake in the Garden of Eden, as well as retaining the serpentine theme of the name Pythia. One of the recurring themes of the lyrics on the album is the stand-off between Darwinism and the idea of Creation, so I suppose it's almost posed as a question to the listener – you decide!
If you were to define this new output with a word or an adjective, or even "a feeling", which word would you use to describe it ?
Metal!
Having given the album a quick, I felt I could hear it being influence by the Nightwish album "Oceanborn" album, mainly on the track "Cry of Our Nation". It seems like that maybe because of the keyboards who seem very "symphonic-oriented" or perhaps it is due to the hard and powerful guitars. Do you personally agree with this statement?
I don't think it's directly influenced, as none of us really listen to Nightwish or certainly haven't for a long time. As a metal band with a female singer we have unavoidably drawn those comparisons to Nightwish, so I guess we're closer to that earlier period of the band that was a bit thrashier – or so I've been told! I think if anything, we probably drew from the same influences that Nightwish did, so possibly that's why there are parallels.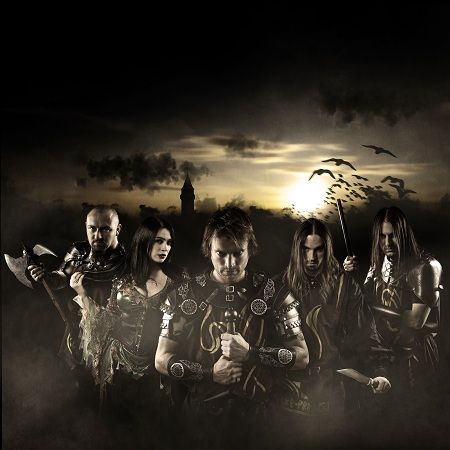 The record is quite multifaceted and quite catchy, sometimes it sounds like symphonic metal, but the thing that impressed me the most was the lyrical side of it. I know that write most of the lyrics for Pythia. What can you tell us about them? How's writing process been, where did the inspiration to write such lyrics come from?
I wrote all the lyrics and it's great to hear that they've come across well and people are enjoying them! I put quite a lot into them emotionally and in some ways it was almost a channelling process and I went to some very personal places with the lyrics. Really it all comes from my own experiences in life, love, relationships etc. As I mentioned before, there are also some philosophical questions in there, but again they come from my own personal perspective and view on the world.
Pythia is considered a metal band, even if I think personally that you're more gothic-classical oriented. Do you agree with this?
I think we are definitely a metal band at our core. The drums and guitars are unmistakably metal, particularly on the new album and I think it's something we're unashamedly proud of. As for the gothic and classical influences, those are also really important parts of our sound, but I think those are more closely tied to metal than a lot of people think. If someone like Beethoven had been alive today, I think he probably would have been writing metal as there are a lot of similarities in the virtuosity of the musicianship and the complexity and layering of the composition. As a lifelong fan of gothic literature, I think the gothic influence is also valid as I think, even sub-consciously, it influences my melodies and lyrics, at least.
Emily, I know that you also sing in Mediæval Bæbes and Celtic Legend. How do you manage to reconcile all your work commitments?
I only sleep 30 minutes a night! My secret is out! Seriously, it is hard work, particularly with now being a mother, but I think if you have the passion and enthusiasm for things, which I certainly do, then you make it all work and fit together. There's also the thing at the back of my mind that my voice isn't going to last forever so I want to make the most of it while I can!
You use an operatic singing style. What kind of vocal training did you have?
I started singing at a very early age and was very fortunate to go to a specialist music school when I was a teenager.
I know that this year you will play in London and as well as in Cardiff, along with Serenity. What do you think of this Austrian band?
They're a great bunch of guys and are deservedly making a name for themselves in Europe and over hear. Hopefully these shows should help them raise their profile further. I think what they're doing is very accessible but subtly different to a lot of 'power metal bands' in that they have a higher level of musicianship and a complexity in their songs that gives them an extra depth. A couple of the guys in Serenity actually collaborated with the Pythia boys on a charity concert in memory of Marc Dyos' brother Vincent, who sadly passed away in 2009.
What is your own relationship with the music you make and the stage?
As I mentioned before, I put a lot of personal emotion and energy into the lyrics, so I think I have a very close relationship with my music. As for the stage, it's really important to me to be able to perform my music as, while I think you can get a lot from listening on a CD or digital copy, you can only really feel the true energy of the music if you get to see it performed live.
I know that in 2010 you also played in Belgium, for an important festival called Metal Female Voices Fest, that has the only purpose to promote fronted female metal bands. Would you like to share something about this experience with us? How was it for you playing live in front of so many people that were coming for you from all over the world?
It was incredible! A really great experience and one that I hope we can repeat at some point in the future. It's a really well organised and put together festival and deservedly attracts a big, international crowd. It was amazing being able to interact with people from all over as well as share the stage with some great bands.
What do you think of fronted female metal genre? Is there any artist or band you like the most?
Apart from Pythia? Seriously, I don't really see it as a genre, as most of the bands that are classified as female-fronted metal sound completely different to each other. Aesthetically they may have similarities, but sonically Nightwish sound to me really different to Leaves' Eyes or Stream of Passion. And then I think we sound totally different to, say, Unexpected. I think the good thing about it being considered a genre is that it means people get to hear all sorts of different styles without maybe realising it. Hopefully they then go out and check out other bands in that genre, female-fronted or otherwise.
Your album will be released in Europe very soon. Is there something you would like to do after the promotion for the new record? Any hidden fantasy or dream?
Plenty of hidden fantasies, though none I'm going to share here

I'm hoping we get the chance to do more shows in Europe and spread the name around more. We've got a distribution deal in Japan so it would be dream come true if we got the chance to play out there at some point.
Are you going to go on a European tour soon? What future is in store for Pythia?
There are some things in the pipeline, but nothing that we can announce yet. Watch this space!
Thanks so much for the nice chat, Emily. Good luck with the band! Anything you'd like to say to your fans and our FM readers?
Check out "The Serpent's Curse" if you haven't already! See you on the road in the not too distant future…
Links
MySpace * ReverbNation * Facebook * Twitter * Site
Latest Multimedia
Independent Release
Review by Tony Cannella
Winter in Eden are a Gothic/Symphonic metal band from the UK. They released their debut EP, "At the Edge of the World" in 2009. Only three songs appeared on that disc and all three can be found on their just released full-length debut, "Awakening". The first thing that really impressed me about Winter in Eden, is their big symphonic metal sound that is prevalent on "Awakening". Also it is the excellent songwriting and musicianship that the band displays. The lead vocals performed by Vicky Johnson are quite impressive as well. Her vocals are clean sounding, but not operatic, yet she still exhibits a power, grace and range to her voice that really helps drive the songs. From the opening, pumping track "Oblivion" to the complex and conceptual closing duo of "The Awakening Chapter One: Introspection" and "The Awakening Chapter Two: Unspoken", there is a lot to keep the listener entertained. Other highlights include: "Inside", "Fate Will Oblige", "Stolen Fairytale", the Celtic tinged instrumental "Windelfell" and my favorite, "Alighieri". What you get on "Awakening" is 52-minutes worth of high quality and high caliber melodic metal. Fans of Within Temptation, After Forever and Sinergy should grow to love Winter in Eden. It is surprising to me that Winter in Eden have not been scooped up by some label yet. After listening to "Awakening", I'm sure it is only a matter of time.
Rating – 85/100
Tracklist
Oblivion

Inside

Fate Will Oblige

Stolen Fairytale

Aragon

Ruled by Fear

Frustrated Dreamer

At the Edge of the World

Cry

Windelfell

Alighieri

The Awakening Chapter One: Introspection

The Awakening Chapter Two: Unspoken
Line Up
Vicky Johnson– Vocals

Sam Cull – Guitars

Steve Johnson – Keyboards

Ian Heddle – Bass

Wayne McAloon – Drums
Links
6 color styles available:

Style switcher only on this demo version. Theme styles can be changed from Options page.