Browsing articles tagged with " eighth"
Label : Mascot Records/earMusic
Review by Davide Torresan
I confess that I knew nothing of Beth Hart, until yesterday. Bad, very bad. Searching for a bit of information about this singer, with surprise I found a very good voice, and a genre that I never thought that I would have liked. Yes, because Beth's songs are truly unique and original. During her musical career she was good enough to surround herself with talented musicians to match her lyrics at times painful, sometimes happy and carefree. They perfectly describe her life, her personal experiences, both positive and negative, suggesting all with influences that range from pop to rock to jazz and blues. Fame and success came thanks to the smash-hit "LA Song (Out of This Town)" which aired during Episode 17 of the 10th and final season of the telefilm Beverly Hills, 90210. In 1999, her career was stopped by drug addiction and an unmedicated bipolar disorder. As a result of this bad period, redemption came, thanks to a new love, and of course her music . A live DVD, some albums, and the collaborations with famous artists such as Slash, in the beautiful "Mother Mary", and with famous guitarist and rock/blues singer Joe Bonamassa in the album "Don't Explain" in 2011, have contributed to spread her charismatic voice and her talent as a musician in the whole world. "Bang Bang Boom Boom" is her eighth album and gives us a broad overview of her potential. Piano, guitar and drums accompany her voice, at times soothing, as in the song that gives the title to the album, other stronger, as in "Caught Out in the Rain", which shows off her versatile voice, a voice very strong and powerful. It's definitely worth mentioning the work of guitar and Beth's keyboard that "lull" the listener languidly. The atmosphere is that of a dark, gloomy room, at the bar, with a glass of whiskey in front of us. The melodies of songs like "Better Man" or "Swing My Thing Back Around" with its jazzy rhythm are easy to listen to and addictive. "Spirit of God", with its easy-going rhythm is definitely the best track of the lot, to which is impossible to stay indifferent. Every time I listen to it, I am not able to stand still on the chair, moving my head to the music. The gospel insert is very nice. But there also some sweet and quiet songs like "Everyday With You" and "There in Your Heart", in which Beth clearly speaks of love. It' a new subject for her, as in previous albums she had never written about it. They are hymns to love. I can recomend you to take a look at the video of "Bang Bang Boom Boom" to realize the enormous work behind this album. A work full of shades and colors, sad and lively. Those of the life of Beth Hart.
Rating – 80/100
Tracklist
Baddest Blues

Bang Bang Boom Boom

Better Man

Caught Out in the Rain

Swing My Thing Back Around

With You Everyday

Thru the Window of My Mind

Spirit of God

9. There in Your Heart

The Ugliest House On the Block

Everything Must Change
Line Up
Beth Hart – Vocals, background vocals, keys & acoustic guitar

Jon Nichols – Electric & acoustic guitars & background vocals

Tom Lily – Electric & acoustic bass guitars & background vocals

Todd Wolf – Drums & percussion
Links
MySpace * Facebook * Twitter * Site
Label : SPV/Steamhammer
Review by Tony Cannella
In 2009 after many, many years of musical inactivity, hard rock legend Lita Ford returned with "Wicked Wonderland" which was met by… derision, confusion and just plain apathy. It certainly didn't seem or feel like a Lita record which her die-hard fan base that had waited years for new music was only too eager to point out. Now, in 2012 Lita has released what many consider to be her real comeback album, "Living Like a Runaway" the cleverly titled album is a nod to her musical past with the seminal all girl group The Runaways as well as where she is headed in the future. I have to admit. When it comes to Lita I thought her first two solo albums "Out for Blood" and "Dancin' on the Edge" were her best (or at least my favorites). Even though I was not a huge fan of what came after I thought she still did some really cool songs ("Falling in and Out of Love" and "Hungry" are two of my favorites). On "Living Like a Runaway" Lita mixes the best of both worlds. She has definitely toughened up her sound compared to her last few – and the guitar sound is stellar and in-your-face, which should be no surprise considering the album was produced by Gary Hoey who is a guitar-god in his own right – he also contributes his guitar talents to the album. This is Lita doing what she does best; she still has that unique, like-able voice. Lyrically Lita has bared her soul like never before. There really is no wasted time on "Living Like a Runaway", as the heavy riffs of the opener "Branded" gets things kick started. "Hate" opens with a very dark bass line and the subject matter is heavy as well (this is as far as you can get from "Kiss Me Deadly"). The 3rd track "The Mask" is especially venomous and just a powerful song. My favorite track is the moody; emotionally heart wrenching "Asylum". "Luv 2 Hate U" starts with an acoustic intro before developing into a catchy melodic rock song. The album is completed by the Nikki Sixx (of Motley Crue fame, of course) penned "A Song to Slit Your Wrists By", which has kind of a hard rock industrial feel to it. "…Runaway" is available in a number of different limited edition formats featuring bonus tracks and different packaging, etc. Lita Ford is a survivor and the lyrics convey that perfectly, still there are moments of reflection with the lyrics that are powerful and heavy like on the ballad "Mother". "The Devil in My Head" has a great, melodic chorus that is instantly memorable. To be honest, I was really surprised at how much I liked "Living Like a Runaway". This is probably the best Lita album since "Dancin' on the Edge" – but I am sure that will be up for debate. And as for "Wicked Wonderland"? Let's just pretend that it never existed. "Living Like a Runaway" is the comeback that the fans and Lita deserve.
Rating – 95/100
Tracklist
Branded

Hate

The Mask

Living Like A Runaway

Relentless

Mother

Devil In My Head

Asylum

Luv 2 Hate U

A Song to Slit Your Wrists By
Line Up
Lita Ford – Vocals, Guitar

Gary Hoey – Guitar, Bass, Backing Vocals

Matt Scurfield – Drums
Links
MySpace * Facebook * Twitter * Site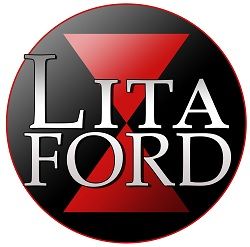 Interview by Tony Cannella
Lita Ford has built up an impressive body of work throughout her career which began almost 40 years ago with the seminal all female band The Runaways. With her latest album "Living Like a Runaway" she just may have recorded the finest work of her career. If it is not her best, it is certainly her most personal and aggressive. We recently caught up with Lita prior to her sound check on the Def Leppard/Poison tour – which she is opening. Here is what she had to say…
The new album, "Living Like a Runaway" is amazing. It's like a classic Lita album. How would you describe it to anyone who hasn't heard it yet?
You're definitely right, it is a classic Lita album, thank god for that. It is aggressive, it is emotional. It has some great guitar riffs on it; I love the dueling guitars, the harmony guitar parts. The lyrics are insane, they're so good, I don't want to blow smoke up my own ass but it is a killer album, probably the best one I've done yet.
I agree. I think this one of the best albums of the year so far and I think these are some of the best lyrics you've ever written.
Awesome. Awesome. Thank you. Yes, I really think so too. You know we really had God watching over us. I'm not religious but we really did have god watching over us on this record. Everything came together in the most mysterious way. It was almost like it was handed to us – the songs, the lyrics, the title, the guitar riffs, the arrangements – everything came together in such an incredible way. We really focused very hard on this record – when I say we, I mean me and Gary Hoey – we really focused on this record and we never lost focus until after the album artwork was done, we kept focus right through until the artwork was finished. We wanted to tie the artwork into the album and the emotion behind the album. I didn't wanted to put some polished, sexy, beautiful album cover on this record because the album tells a story of a journey, a journey through life and we wanted to give that impression with the railroad tracks. The people who decide to download the album, it's kind of a drag because the packaging is amazing, it has all the lyrics in it, it has some beautiful photographs, even my own handwriting where I actually wrote the lyrics and then scribbled them out. We took the lyrics from the recording sessions and we used them in the album artwork – it's pretty cool – it really is my handwriting those are the actual lyrics from when we were writing the album.
How did you choose Gary Hoey as producer and what did you like about working with him?
Well, the one thing I liked about Gary is he's a guitar player and when he first called me and offered me his studio, the fact that he is a guitar player came to mind. I knew he would be able to relate to me on that level, whereas a lot of the other record producers I've used in the past aren't guitar players. They might be able to strum a few chords, but that's the extent of it, I mean Gary Hoey's a monster on guitar and I thought "Wow, how cool would that be ?". He also has an incredible voice so he can help with background vocals; he sang lead on "Luv 2 Hate U", the male voice is Gary (on that song). I just love his voice. He's just incredible behind the equipment – pro tools. It's his studio, he knows how to run it, and he put his all into this record, this is his record, it's his baby. I just respect him so much as a producer, a guitar player and as an artist. We're approximately the same age and we've both been through a lot in our lives and I think we were able to relate to each other's feelings and we were able to take those feelings and incorporate them into this record.
Getting back to the lyrics. They are more personal than you've done in the past, was it difficult to open up as much as you did or was it cathartic?
It was absolutely therapeutic for me to be able to just sing my heart out, literally. I think it is also something lyrically that can be applied to anybody; I'm sure a lot of people have gone through hell in their lives, whether it's coming home from work, having a bad day and hating your boss or something so simple as homework – or your teachers at school. I had a chat with a girl on Facebook – maybe 14 or 15 years old – and she told me she was in school and she was listening to my CD and the teachers had told her to turn off that devil music – and she said "bite me". So they took her to the principal's office and they expelled her from school, so I'm thinking somebody like her, she can relate to "Living Like a Runaway" on her level as a teenage girl going through school, there's stuff in there for everybody on this record lyrically.
Where did the title "Living Like a Runaway" come from and why did you choose that as a title?
That came from my songwriting partner Michael Dan Ehmig – he's a lyricist – lyrics are his specialty. The hardest part of writing a song – I think – is the lyrics, anybody can put together a guitar riff, but it's really the lyrics that make it come to life and the melody and the hook, the phrasing. He came up with "Lita you're really living like a runaway" because I just ran away from home, I just filed for divorce – In order for me to escape my current relationship I had to run away from home. He said to me "you're living like a runaway" and I thought, 'oh my god, what a great song title', so we stuck with it and used it – it definitely works. So when I wrote this song I went through the decades of my life, starting with The Runaways, until today, you know, fans like you, people that make my dreams come true. It's kind of cool.
Are you happy with the critical response you've received for "Living Like a Runaway"?
Oh yeah, it's been amazing. It's been really wonderful. The press in Europe rates you on a scale, like some magazines are 1-10, some from 1-100, they vary. Say if its 1-10, my rating has been like 9 – one point away from 100%, which to me is fucking awesome.
You are currently on tour with Def Leppard and Poison. How's that been going?
It's eventful (laughs). Definitely eventful. Def Leppard has a very, very huge stage set and in front of them is Poison's stage set and in front of Poison is us, so Def Leppard pretty much takes up the bulk of the stage and doesn't leave us a whole lot of room. These venues that we're playing, they're amphitheaters and sports arenas, so there is a time curfew on them, so you have to be on stage at a certain minute and you have to be off stage by a certain minute, if you don't, it bleeds into – it's like the domino effect – it can roll down into Poison's set, which rolls down into Def Leppard's set and if Def Leppard comes off stage any later than 11:00 they start getting fined $1,000 dollars a minute, so if they go five minutes over their time that's five grand that gets taken out of their paycheck. We actually go on early so we can get more time to play so it doesn't interfere with Def Leppard's set, I would hate for that to happen because of me, so we go on early. It's really eventful. It's a challenge, you try to give it all you got, you kick ass with the bare essentials and we do.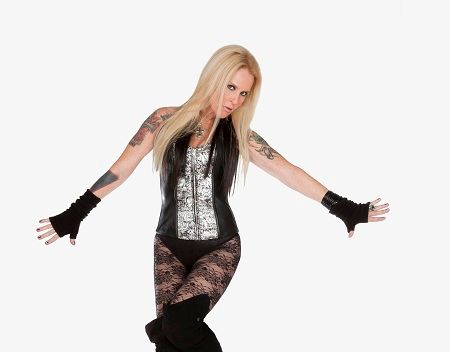 How have the fans been responding to the band on this tour?
Fucking awesome. Really fucking awesome. They're so happy to have their Lita back and it shows. The set starts off with people scrambling like crazy to get to their seats and by the end of the show we've got everybody standing up with their hands in the air. It's really been great. I'll come off stage and run into one of the Poison guys and I'll say, "well they're warmed up, they're ready for you" (laughs). It's been great.
Who is in your touring band?
I've got Mitch Perry on guitar. Mitch has played with Edgar Winter, Asia, he's played with Cher, Heaven and he's played with everybody. I've got Scott Coogan on drums. Scott Coogan has played in Ace Frehley's band, He was in The Brides of Destruction with Nikki Sixx and he was in Lynch Mob. I've got Marty O'Brian on Bass. Marty has done three Ozzfests. You've got to find somebody who has been onstage in these arenas, because these arena shows are a lot different than club dates; they're a whole different animal. Marty is just a monster on bass, which is what I wanted. I didn't want some foofy little bass player, I really wanted a heavy hitter on bass and Marty is. I've got a great band. We left the keyboard player at home on this tour; we wanted to limit the keyboards. Mitch actually plays "Kiss Me Deadly" on guitar, because it has a keyboard intro and there is a little bit of keyboards on "Close My Forever" on the album, but Mitch doubles me on guitar, so it works great.
What are your plans following this tour?
We're going to do some club dates. We are going to record a live album during those club dates. We are going to do the Monsters of Rock cruise in March. We've got some dates coming up here and there, and we're just waiting for after the holidays and hopefully we'll hit Europe.
I'm sure the fans in Europe will be happy to hear that.
I get asked on a daily basis. I think we'll be going to Europe. We do have a couple of shows booked over there already but I think we'll probably end up doing a full blown tour over there.
Are you already working on new music or is it too early to think about?
I actually have been. Since "Living Like a Runaway" took me so long to write, it took me a year to write "Living Like a Runaway". I remember when my flight landed at Gary's, I landed with the first snow fall of the year, it actually started snowing when the plane was coming down and when I finished the album it was the last snow fall of the following year. It took me almost one year to the day – maybe a little longer, so I'm planning on this next album probably taking me a year. I've started it already; I actually started a song with Phil Collen from Def Leppard which is pretty fuckin' rocking. I've got a few ideas; this is going to be a tough album to follow up.
I agree, this is a great album. How do you follow this one?
With great difficulty (laughs)? It got to be correct; it's got to be the right record, to follow this one up.
How does it feel to be back on stage after being away for so long?
Fucking awesome!
Thank you Lita for taking the time for this interview. To wrap things up is there anything you would like to add to this interview?
I've just got to say that it's great to be back. It's great that people are digging to the new CD so much, I'm so happy for that. I hope everyone missed me as much as I missed them.
Links
MySpace * Facebook * Twitter * Site
Label : Pias Recording
Review by Alessandro Narcissus
Dead Can Dance. Does Lisa Gerrard and Brendan Perry's iconic musical creature really need an introduction? Well, perhaps it does, as many of the people who may love their music or any of the genres that originated from their wake were barely kids or not even born during the heyday of one of the most established and respected acts of the Ethereal scene. Dead Can Dance were formed by partners Lisa Gerrard and Brendan Perry in Melbourne, Australia, in 1981. Soon they moved to London, when they got signed by an alternative label and released an EP and their debut full length to great critical acclaim. In the following two decades, not only did Dead Can Dance become a legend in the Ethereal scene releasing a total of seven full-lengths which are nowadays widely regarded as classics, one studio EP, an official live album, an incalculable amount of b-sided and live-only tracks, achieving fame both in Europe and in the Unites States and having several songs featured in movie soundtracks, but they also indirectly contributed to the birth of the Gothic Metal genre itself through the early work of The Gathering, who openly cited them among their greatest influences. Now, after a brief reunion tour in 2005 and the release of five live EPs as an appetiser in the past months, Gerrard and Perry finally felt ready to get back to writing together new music for Dead Can Dance, and subsequently released their come-back full length, "Anastasis" – which fittingly means "rebirth" – after sixteen years from their previous studio album. Now, let's get it clear from the beginning: you can put perfection into music, but putting it into words in a review is a much tougher work. No review will ever live up to the true artistic value of "Anastasis", as this album is nothing short of the high standards of any past Dead Can Dance "classic" release. It's a highly inspired and emotional album, a collection of eight diverse and outstanding tracks that make up an incredible experience when listened together as a whole. Generally speaking, the album is incredibly sophisticated, even if compared to the band's past recordings. It remains true and coherent to their past and priceless heritage drawing widely from it, but is a contemporary work which gives room to the artistic maturity Gerrard and Perry achieved while working separately. Balance is the keyword of this recording: nothing is overdone and every single note of each instrument is put in the right place for the right reason, to provide an experience that will delight both the artistic and sensitive side of the listener. Indeed, what immediately catches the ear is the sense of general harmony and unity of the record, in which each track has its own individuality but, at the same time, works perfectly as a piece of a greater experience. The orchestra – a typically western element – may be identified as the guiding thread of the oriental-sounding album. There are more orchestral parts than in the past and they are used differently in that the ensemble plays an active role in the most exotic soundscapes: instead of only providing a lush background for the ethnic instruments, it often accompanies them and plays along on the oriental or tribal melodies. Ideally, this interpretation of southern and eastern sounds with typical western instruments epitomises the idea of mingling different cultural influences into something new, which has always been the main standpoint of Dead Can Dance and is done at its finest in this album. This sense of harmony is also given by the balance between the two composers' efforts. Even in this, "Anastasis" sounds much more cohesive than most the past Dead Can Dance albums, in particular those released after Gerrard and Perry's domestic break up – namely "Into The Labyrinth" (1993), "Spiritchaser" (1996), and most notably their live effort "Towards The Within" (1994), in which their stylistic differences were most evident and at times even clashing. Whilst Gerrard's and Perry's own, peculiar approaches to writing music for their creature is still recognizable and the most familiar listeners can guess from the first notes of each song who's going to sing, the passage from Perry's trademark art-rock songwriting and Gerrard's ethnic fascinations is much smoother than in the past, enhancing the sense of cohesion and harmony of the record as a whole. Indeed, the soundscapes evoked by the album can be perceived as the narration of a conceptual journey throughout the Mediterranean basin: the listener gets to ideally meet different cultures within the same voyage, each one adding it's peculiar flavour to a bigger, all-compassing experience which is – or, if you will, being a piece of one, big colourful mosaic. The orchestra is the narrator who filters the experiences, and the other instruments and styles are the characters met during the journey we're told about. In this sense, the title "Anastasis" does not only refer to the band's rebirth after a 16-year split, but also to a more spiritual kind of rebirth the listener would experience through an enriching journey in the cradle of our culture. It's really hard to name some highlights from the album without ending up with a detailed and exhaustive track-by-track review, as each song is spectacular in its way. But how not to mention, for instance, "Amnesia", chosen as the promotional single out the album, which perfectly represents the blending of exotic rhythms with Perry's typically western songwriting? Or Gerrard's remarkable performance in the most ethnic tracks such as "Anabasis", "Agape" or "Kiko", which showcase the aforementioned union of traditional instruments and tribal percussions with the orchestra, as a background for Gerrard's trademark vocalizations and folkloric techniques? "Children of the Sun" and "All In Good Time" represent the perfect opening and closing tracks respectively, the former being some kind of "rite of passage" somehow reminiscent of past songs (in particular Perry's from "Aion") reworked in the current, mature style of the duo, and the latter providing a relaxing outro as remarkable as "How Fortunate the Man With None" from "Into the Labyrinth". And finally, the two absolute masterpieces of the album, "Opium" and "Return of the She-King". The first is a highly emotional blend of ethnic rhythm patterns with breath-taking string melodies and Perry's melancholic lyrics and vocals bound to put a tear in many listener's eyes; the second is a wonderful, solemn track with distinct influences from the British Isles – at times it almost sounds as if a traditional Irish melody were played by Scottish bagpipes – in which Gerrard's glossolalia vocals unite with Perry's in what can be considered as the two vocalist's best duet ever. "Anastasis" is clearly not just a typical come-back album that is made just to exploit the fans' nostalgia or the hype for an iconic band's reunion. It clearly shows Gerrard and Perry's need to go back to their roots and write music together, and to do so at the right time and without a hurry, resulting in a fresh and genuine work, not at all anachronistic. It's a perfect introduction for the new generations to the priceless work of this duo, as well as the perfect reward fans could hope for after 16 years of silence. "All in Good Time", they say, and this is undoubtfully the good time and best way for Dead Can Dance to come back.
Rating – 100/100
Tracklist
Children of the Sun
Anabasis
Agape
Amnesia
Kiko
Opium
Return of the She-King
All in Good Time
Line Up
Lisa Gerrard
Brendan Perry
Links
Label : Psychonaut Records
Review by Luisa Mercier
The Gathering is a band that has got all of the fans quite used to change, evolution from album to album and "Disclosure" makes no exception. After the atmospheric, liquid sounds in "Home", the catchy, classy rock of "The West Pole" (and the introduction of new singer Silje Wergeland), the Dutch combo is back with an eerie, downtempo, psychedelic record that reminded me of Slowdive and all that music populating the lands of electronic/darkwave/ambient. Guitars have not been forgotten, but they have no a major role in the album. "Disclosure" is opened by "Paper Waves", a mid-tempo in which electronic and rock mingle creating a lush sound and Silje's vocals are soft, emotional, a bit melancholic, though not sad. The already known "Meltdown" follows. The opening always reminds me of Muse and alternative/indie rock in general. Male vocals appear (courtesy of ) and the song goes on til it becomes more uptempo and in it has that progressive feeling to it without sounding boring. Silje is fascinating in the bridge, only backed by electronica and a few instruments. And here you are one of my favourite: "Paralyzed" opened by strings and electronic plus sexy Silje. It is a slow, sweet ballad where synths cradle us as sea waves, soft, hypnotic, absolutely oustanding. "Heroes for Ghosts" was releases more than a year ago with a nice video, so most of us already knows the song by heart. It is a long piece where Silje's vocals shine, especially in the chorus, the music is more an accompaniment, never too intrusive. "Gemini I" is maybe the rockiest of all the songs, the riffs recall those of older works such as "Nighttime Birds" as long as the overall atmosphere. A track that nostalgic fans will appreciate. Back to atmospheric sound in "Missing Season", another slow song full of melancholic longing but with a pinch of hope. "I Can See Four Miles" is another beautiful highlight (well, the whole album is full of stars, these just stand out a little bit more). As "Paralyzed", the song is eerie, embraces the listener til half when it becomes more rock, well more post-rock maybe, with strings in the background. The songs finishes after this long instrumental that is connected to "Gemini II". Unlike part I, this second section is slow-paced, quiet with a strange final part where far away sounds echo, like pipes in the wind. What can I say more? The Gathering never made an album that was similar to the previous one, they always try different things and manage to stay interesting, never boring and catchy. Another masterpiece.
Rating – 90/100
Tracklist
Paper Waves

Meltdown

Paralyzed

Heroes for Ghosts

Gemini I

Missing Seasons

I Can See Four Miles

Gemini II
Line Up
Silje Wergeland – Vocals, lyrics & piano

Frank Boeijen – Vocals & keyboards

Renè Rutten – Guitars

Marjolein Koojiman – Bass

Hans Rutten – Drums
Links
6 color styles available:

Style switcher only on this demo version. Theme styles can be changed from Options page.