Browsing articles tagged with " electric"
Label: Spinefarm Records
Review by Tony Cannella
Spiders are a hard rock band from Sweden. On their second album "Shake Electric" the band combines elements of 70's influenced classic rock, blues and even a punk rock swagger.
The pounding rhythm of "Mad Dog" starts us off with a bang. "Shake Electric" is next and is just a straight forward heavy guitar rock tune. Other highlights include: "Bleeding Heart", "Back on the Streets", the punkish "Control" and the bluesy Janis Joplin-esq "Hard Times". Vocalist Ann-Sofie Hoyles has a ton of charisma behind the mic. The guitar riffs are huge and definitely showcases their affinity for 70's hard rock. Continue reading »
Interview by Miriam C.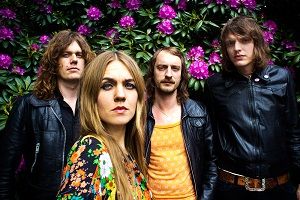 Lately, there are a few many current music realities that are trying to revive a musical genre that to some people is still interesting, the rock music, that allowed KISS, Lynyrd Skynyrd and The Doors to become famous. Spiders is the latest band in being successful in this hard task. Recently arrived on the shelves, "Shake Electric" embodies perfectly the spirit of the '70s that now is almost lost. On the occasion of the release of this brand new album, I had the pleasure of meeting the lovely Ann Sofie in the backstage of the Mostovna venue in Nova Gorica (Slovenia), where the band has had the opportunity to share the stage with Vidunder and Horisont. Continue reading »
Interview by Tony Cannella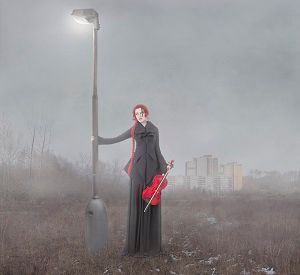 Eklipse
hail from Germany and are an all female String quartet – what a concept. They recently made their American live debut on tour with Kamelot and Delain. I was interested to see how the band would go over with a metal crowd and I got to experience firsthand the enthusiasm that the band generated with their live performance – in fact they went over incredibly well. With their sophomore release "Electric Air" out now, Viola (who also plays Viola) was kind enough to answer some questions for us.
Please introduce the band members?
It's Miss E. on violin, Viola on the Viola, Helena on the Cello and Scarlett on Violin. Continue reading »
Label: Premium Records/Soulfood Distribution/The End Records
Review by Luisa Mercier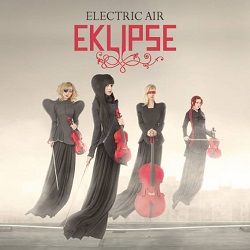 Second release for the four girls string quartet that debuted an year ago and supported Nightwish during their Euro tour. I had the chance to see them live in this occasion and really appreciated their first album, so I was really curious to hear how they evolved and what they chose to cover in this new "Electric Air". I might say that in my opinion the sound is more mature, richer and lush and the songs choice is darker, less mainstream even though the first single "Titanium" (David Guetta cover) might you think differently.
The arrangement is really baroque anyway so there is nothing of the dance original.  It is followed by a really elegant cover of Massive Attack "Teardrop" and a beautiful on of Lykke Li " I Follow Rivers". Continue reading »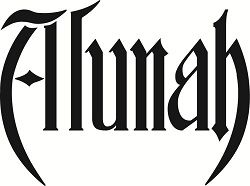 Interview by Alessandra Cognetta
Soph Day is the lead singer and guitarist for the English doom metallers Alunah. With two albums released and an upcoming European tour in 2013 we took the chance to have a nice chat with her about the band, the music, vinyl vs digital and more. If you're into doom, check out their work ("White Hoarhound" is already out and is getting a special vinyl edition very soon!), you definitely won't be disappointed.
Hello and welcome to Femme Metal, Soph!  It's a pleasure to have you here and feature Alunah on the 'zine. Let's start off with the big news: you recently signed with no other than Napalm Records / Spinning Goblin Productions! A limited edition vinyl is going to be released in mid January. So, how did you guys get to such an important deal and what was the reaction to the news?
Hello guys, thanks for having me! Yeah we're very happy to be working with Austrian label Napalm Records and their sub company Spinning Goblin Productions. The label is very important in terms of metal, and more recently in terms of stoner and doom metal with the likes of artists such as Monster Magnet, Brant Bjork, Karma to Burn and Candlemass. It's because of these artists that we came to be familiar with the label, and sitting amongst our musical inspirations is a dream come true. We released our debut album "Call of Avernus" on Catacomb Records which is run by myself and our guitarist Dave – so self-released really. "White Hoarhound", our second album was released on PsycheDOOMelic Records, another well respected Austrian label which we are proud to be a part of. Napalm Records will be releasing "White Hoarhound" on limited edition green vinyl and white vinyl, we basically sent it over to them for consideration and they got in touch, we couldn't be happier. Our PR Company Platinum PR also did an amazing job in getting us European press, which helped our profile over there greatly. The vinyl will be released on 25th January 2013, and pre-orders are available now from the label.
Music has evolved greatly throughout the years, and technological innovation definitely played a big role in the process. We've seen devices come and go in the blink of an eye. But vinyls seem to be willing to survive the change. Why is that? What is, in your opinion, their value and what do you think about digital music and the billion formats that are currently available?
You get a completely different listening experience with vinyl than you do with any other kind of format. I'm a graphic designer so being able to see the artwork up close is important for me. I remember when I was 14 years old listening to my mom's copy of Electric Light Orchestra's "Out of the Blue" for the first time. Staring into the amazing spaceship artwork and hearing this (for me) new sound blew me away, it gave me a whole new musical experience. In the 60s, especially with psychedelic bands such as The Grateful Dead and 13th Floor Elevators, the artwork was such an important part of the music, and that's been passed onto the stoner, doom and psychedelic scenes. It's definitely something we try to do with Alunah – make the artwork part of the music. With vinyl, the complete package is a piece of art, from the artwork and the way the sleeve folds out, to the colour of the vinyl and the warm sound and crackle of the music itself – it's precious and means different things to different people. Also, my heart is rooted in the 60′s and the 70′s, so for me, my favourite albums of all time were meant for listening to on vinyl, and this is how they are best listened to. The first bands I heard on vinyl were Deep Purple, Electric Light Orchestra and T-Rex, I'm not sure I would feel the same about those recordings now if I had first heard them on mp3. However, if you live a life of convenience where you require music on the go as opposed to sitting down and drinking it all in, then digital music is great! I don't actually own an mp3 player, but I have a Spotify account and racks upon racks of CDs. If I come across a great band or musician through Spotify, I'll buy their album, and I've found so many bands this way. I would never choose to download the album and listen to it on an mp3 player, but I suppose if I had to take public transport or work outside etc. then I definitely would. Nowadays people have more choice as to how they listen to music, and that can only be a good thing, you can wake with music, spend all day with music and go to sleep with music… what's better than that? Continue reading »
6 color styles available:

Style switcher only on this demo version. Theme styles can be changed from Options page.