Browsing articles tagged with " electro"
Label: Mute Records
Review by Luisa Mercier
Last release by Carter Tutti (name that hides Chris Carter and Cosey Fanni Tutti) dates back to 2007. "Feral Vapours of the Silver Ether" was a moving record which had a true spiritual equilibrium. New "Transverse" is a real intellectual chaos, liquid, magmatic. It is really a material full of vibes because it was recorded live at the Short Circuit Festival in May 2011 where Cosey and Tutti were supported by Nik Colk Void (Factory Floor vocalist and noise maker). Even though it is a live recording, the quality of the sound is perfect, you would hardly say that it was performed in an open space apart from the audience cheering at the end of some tracks. Two out of three members in this record are female but this is not an overwhelming presence: vocals are just minimal, they are reduced to nothing, they are not a dominant component.  Continue reading »
Label : Alfa Matrix
Review by Davide Torresan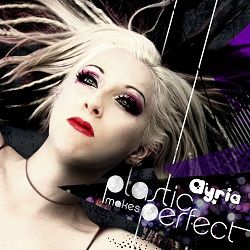 Ayria is back! After the release of the EP "Plastic and Broken" we are all invited to return on the dancefloor with her new album: "Plastic Makes Perfect". The Canadian queen of EBM returns to entertain us with her danceable songs. This time the thing that struck me most was the mood of some songs. For example the single "Hunger" is perfect when you're angry with the entire world. Instead "Friends and Enemies" has a catchy rhythm which fits perfectly as the background of a club. In short, from these simply words you understand that there's no space for sadness. Although Ayria tried different styles with her voice, in her world only one thing exists: the desire to entertain the listeners. This CD is available not only in the normal CD format but also in other two versions. There is a deluxe carton box edition and another one for free if you buy the limited edition. Both of them contains several remixes that will delight the lovers of industrial and electro-pop. Continue reading »
Label: Alfa Matrix
Review by Davide Torresan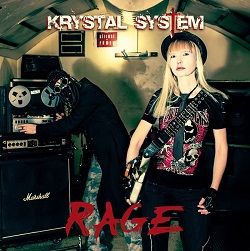 Krystal System reached the fateful goal of the 3rd album. After "Underground" and "Nuclear", the French duo formed by Bonnie and Seven presents us their musical proposal with the new "Rage". Compared to the previous work, this couple of musicians decided to not change the sound but to increase their music power. I try to explain it. If in "Nuclear" sometimes you had the impression to find some boring moments, on "Rage" you'll change your mind. The music is fuller and robust, you'll find more guitar riffs and the voices are more aggressive in some songs like "Paradise" and "Heroes". Indeed Seven's vocals now and then remembered me the ones of Marilyn Manson and Peter Tägtgren of the industrial metal band Pain. Continue reading »
Label : Alfa Matrix
Review by Luisa Mercier
The Belgian act Psy'aviah releases its fourth record and they once more deliver us their eclectic style, blending laid-back moody piano songs, upbeat techno-rave, dark elektro and female fronted EBM-pop.  As you might have thought, the album is quite varied.  The highlight is definetely "Ok", a moody piano-based song which has been also chosen to shot an emotional video. You may find it on YouTube. The following "Nouveau Quiche" features two guests, MC Dééjoohcéé and Thomas C Beerten, who lend to the song an electro-rap feeling.
The other collaborations are found on "Deep Dark Desire" (feat. The Swedish singer Kari Berg) who graces the track with dark, melodic vocals and on the closing song "Home", featuring Lis van De Akker. You can also find more up-beat moments as in "Human Garbage" or the virulent "Virtual Gods" which offer some techno moments. Continue reading »
Label : Alfa Matrix
Review by Luisa Mercier
The US-based industrial band Neikka RPM is back with its third release. "Chain Letters" is definetely an up-tempo record in which the industrial is mixed with club beats. The groove can be found in every second of it and the enigmatic vocals of Dominique make everything sexier.
Just listen to "Kingdom of Fire" to catch a glimpse of what previously said. Female vocals intertwine with male ones creating a cold, epic song. The whole album is a long, distorted journey through deep bass-lines and bewitching vocal lines.
At about half of the album you will find a reloaded version of "Here's Your Revolution", a real hit, uplifting. "Chain Letters" is a collection of short songs that all together will create an hypnotic walk trough dance grooves ( "Sum Corvus") and creepy moments ("No One Is Beautiful"). A little bit different than the rest is "I Feel Your Pain", which is more dreamy, ambient, without losing their dark feeling. A perfect way to close "Chain Letters", an album which can be compared to a night tour in a contemporary city: full of lights, different colors, but with a gloominess, a basic darkness which cannot be ignored. Continue reading »
6 color styles available:

Style switcher only on this demo version. Theme styles can be changed from Options page.