Browsing articles tagged with " electronic"
Label : Electronic Art Metal
Review by Luisa Mercier
Dol Theeta is another project by Thanasis Lightbridge, who is the leader of another electronic metal band, Dol Ammad. This project is more focused on keyboards and synth that the other one and as the title suggests, the record tells about space landscapes, space stories. Electronica meets metal and the mood is quite the right one as in "Silver Air". The soprano Kortessa is in charge of vocals and her vocal lines are light as air, really beautiful and fitting the whole atmosphere of the album. "Nighttime" has an Eastern feeling, really sensual and feminine. Metal is not that present, but really I do not miss guitars at all since the influences are a lot: from Pink Floyd to gothic to ambient and chill-out music.  Continue reading »
Label : Alfa Matrix
Review by Davide Torresan
Born in 2006, the Italian Helalyn Flowers reach the goal of the 3rd album after a couple of nice works like "A Voluntary Coincidence" and "Stitches of Eden". This duo of musicians is formed by Nøemi Aurøra and Max, and they propose a rather original sound that mixes industrial, rock, an abundant use of electronics and the beautiful voice of the singer Nøemi.
"White Me In Black Me Out", like the title suggests, shows us the two faces of a medal: one white, calm and melodic, and another one, black, dark and chaotic with its guitar riffs and some overwhelming refrains that will punch you brutally in the face. Continue reading »
Label : Cherrytree Records/Island Records/Universal
Review by Jesse StClaire
In today's pop music, the bass is down low, the tempo is fast and the vocals are processed to elaborate extremes. With this environment, a slower, smoldering album like "Devotion" by Jessie Ware truly stands out and shine. "Devotion" for the most part, has a very stripped down production to let Jessie's haunting voice shine through. The vast majority of the album are reserved mid-tempo songs with hauntingly beautiful vocals. The best example of this are the three kick-off singles, "Running", "110" and "Wildest Moments". They give a very clear glimpse at the album without revealing the true beauty hidden within it.
Another major theme on the album are songs with a 90's retrovibe. Most noticeably "Swan Song", "Sweet Talk" and the title-track. Continue reading »

Interview by Alessandra Cognetta
In this interview we get to know a bit more about Trude Eidtang and her newest project When Mary. Their first album, "7SUMMERS7WINTERS" has been released a couple of months ago and it is a well-crafted, passionate work with lots of interesting elements and some of the most original vocals you're going to listen to this year. Trude gave us some really detailed insight on the album and on herself as a musician and as a person. We also get to know a few pros and cons of Norwegian culture and history and discuss songwriting, yoga and folk instruments. But enough with the blabbering, scroll down and read (and listen, too)!
Hello and welcome to Femme Metal, Trude! How are you and how's it going for When Mary? Continue reading »
Label : Tôt ou Tard
Review by Davide Torresan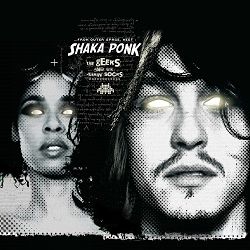 I thought I listened to a lot of strange songs in my life though I'm still young, but I was wrong: I missed Shaka Ponk. The first thing I did when I knew that I was going to review their 3rd album was to listen to something on YouTube. You know, it's not nice to judge someone by only one song and especially from the first thing that came out. There is always the risk of having a bad first impression which cannot describe the true skills of a group. Anyway, I typed the band name and I choosed to view the video of "Let's Bang", which is, as I discovered later, the first song of "The Geeks and the Jerkin' Socks". Well, I think it's the craziest video I have ever seen in my whole life: there is a male and a female singer, and all the members of the band dance naked with only some flashing words that cover their nudities. And then hippos and monkeys in cartoon version that interact with them and a live recording of a concert with the stage dives of the male singer. Continue reading »
6 color styles available:

Style switcher only on this demo version. Theme styles can be changed from Options page.