Browsing articles tagged with " elizabeth"
Interview by Si Smith
From the retro feel of Girlschool to the heavier riffage of Kittie, all-girl bands are slowly becoming more prevalent in the metal scene. More and more we are seeing the aggressive side of metal being represented with vocalists like Angela Gossow and Morgan Lander flying the flag for feminine brutality. Crashing into the scene like a juggernaut come Frantic Amber, a true international phenomena with members from Sweden, Norway, Denmark and Japan. Vocalist Elizabeth took some time off screaming at the mike to tell Femme Metal more about the band…..
Firstly I would like to welcome you to the Femme Metal webzine and thank you for speaking with us about the band.
Thank you, it's my pleasure!
Casting your mind back to 2008, how did the band start and how did your involvement with the band begin?
Well Frantic Amber was a project Mary started in 2008 and went from project to band march 2010 where we completed the full line-up. I joined forces with Mary in fall 2010 where we recorded the first demos of "Bloodlust" and "Unbreakable". With the new demos we started looking for new band members and I must say that I feel lucky to be in Frantic Amber with these wonderful girls!
The encyclopedia tells me that "Amber warning lights provide effective illumination in the darkness, and are known for providing bright, powerful beams that are still easy on the eyes". The similarities speak for themselves! If you could convey a message to the world through Frantic Amber, what would it be?
Be yourself! Don't let anyone tell you that you can't do something, because you can! You can do whatever you put your mind to!
You describe your music as "Brutal female metal from Sweden". Is being an all-girl band important to you and your mission?
Yes, no boys allowed! *laughs* Well it's what we decided to do at the beginning of Frantic Amber and we just have so much fun together! We want to be an inspiration for other girls to play heavier music.
Ok, before we get on to the serious stuff I have to ask: you have just come back from Russia – how did the gigs go out there? Please tell us some stories!!
There seems to be much vodka and "Red Devil" involved…..It went really great!! We loved Russia and the fans there where totally and wonderfully crazy!*laughs* Yes Russians love their vodka and are very keen to toast! Sandra especially enjoyed the Red Devil drinks and it even matched her hair

I don't drink much or often but I did get to party a bit on the last day after all the gigs and it was so much fun!
You guys seemed to get on well with your tourmates Hysterica. Is this a relationship that will continue in the future? Are there any other bands you have enjoyed playing alongside?
Yes, definitely! They are our sisters in metal and we really had fun together! We will of course continue our friendship and we hope to stir up more trouble in the future!
On your band page Emlee is listed as drummer – yet we see you borrowing drummers for your live gigs – what is the deal with the drummer situation?
Emlee left Frantic Amber so the seat of the drummer is vacant at the moment. We work with live and session drummers now to gain experience and keep on gigging. It's been great to work with both Jocke Wallgren (Valkyria) and Erik Röjås (Decadence, Netherbird) while looking for our match in a girl drummer!
The EP now out is entitled "Wrath of Judgement" .Do you remember the first song the band ever wrote and worked on? How did the process develop until the finished song?
Yes of course! The first song ever to be made in Frantic Amber was "Bloodlust" and was also the first lyrics I wrote for the band. This was the track that Mary sent me to audition in the first place. I remember I was impressed by the musical skills so I was really nervous when I met her and the former bassist to show my work. The first edition of "Bloodlust" was mostly clean vocals with only a little bit of growl so Mary asked me if I could do it only with growl vocals instead and I was very doubtful at first! But I then went home to research growling and started experimenting with my voice and then "Bloodlust" became what it is today. I'm still continuing to develop my vocal technique and I'm proud to see that we are all evolving together as musicians, as friends and as a band. Since we became a full line-up the music now gets written faster than ever. Someone comes with a riff or an idea and then it gets worked on. Sometimes it's even a full song. We all give each other feedback and continue to work with the track until we feels it's done and then I get it to write the lyrics. I write from my own personal experiences, feelings, thoughts, themes and stuff that comes to my mind. – Therefore our songs are very close to my heart and on stage the feelings just wash me over! Once I've finished the lyrics I bring them to the band, do a fun mini performance and they give their feedback. So as you can see we all pitch in, we all give constructive feedback so we can get better. The track is officially done when we all are satisfied with the outcome!
Immediately in the first track (also the title track) it is clear that Frantic Amber is no "ordinary" metal phenomena. "I do what I want…..I make my own way…I will not change". These are very self-empowering lyrics. As singer do you always feel this way when you get on stage and sing the lyrics? How would you like to affect those who listen to your music?
Off stage, no I don't always feel that way but when I go on stage I become what I sing. I project the feelings I had when I wrote the song and I stand behind every word. I would like the listener to gain strength from "Wrath of Judgement" and understand that it's ok to just be yourself. Growing up I had a hard time finding my place and I'm still all confused and young but I never want to be anyone else but rather get to know myself and discover who I am. I would like to inspire people to stop caring about what everybody else thinks and stop just doing whatever is expected of you. Be yourself and keep growing as a human being finding your own way in life.
On all tracks of the EP I must say that you manage to sound brutal yet also understandable! It is rare to find a brutal vocalist with such a clear diction, it is great to be able to hear and understand what is being sung. And you sing it with such passion! Did you have any musical training? Are there any particular exercises you do to keep your voice able to produce the sounds you need?
Thank you! That really means so much to me!! Well I have a history of music mostly in classical and jazz. When I lived back home in Denmark I was a part of the local music schools "talent-program" where I had piano as my major and the saxophone as my minor instrument. Later I also took some singing lessons but I continued to develop on my own. My growling is self taught though. I've been singing my whole life naturally just because I love it but when I got more into metal I started experimenting more with my voice and that's where I found my growl. I still have fun finding new ways to sing and will probably never stop evolving my skills. To keep up my growl it's important that I practise and keep getting stronger because it takes a lot of physical endurance and strength to use vocals like this. Support and correct placement of the voice box is crucial to not getting hurt. I enjoy to do Melissa Cross's warm ups and making up my own stuff as I go along.
In "The Awakening" you sing "There's something inside of me raging to get out" – what is it inside of you that drives you to sing and/or write the way that you do? Do you ever want to sing a nice gentle ballad about love and peace?
Sometimes there are just too many feelings going on inside of me and it really feels like they are raging and I don't know where to place them or what to do about them. In "The Awakening" I describe them as a beast because it feels like it is clawing and ripping me apart. As you may guess these feelings are not of the positive kind but filled with rage, hatred and aggression. *laughs* Sure! I would love to sing a nice ballad, there are always two sides of a person and even I have a soft and nice little girl somewhere in there as well! Though I don't know if it would suit with ballads about love and peace but that's why I make a lot of music on my own as solo projects. I have a very broad spectre in music and like everything from classical to the hardest black metal! In my opinion there are two kinds of music: Good music and bad music, period! So for me it doesn't matter which genre it is but rather how good it is!
The final song on the EP is "Doomed to Walk this Earth" which seems to be brimming with social and political comment. Would you like to take us through the rationale behind this song?
This song is based on the theme of war. It's everywhere, has always been there and will probably continue to exist as long as humans roam this planet. I don't know why is has to be like this and I don't like that people get hurt and killed for stupid reasons as politics, money or power! Of course world peace would be nice but also very unrealistic so as I express in the lyrics of "Eternal War", pointless bloodshed is always going to be here but that doesn't mean that I like it!
As well as producing quality metal, your mission statement includes the vision of "building an army". You certainly seemed to get lots of positive comments from your Russian gigs in your guestbook! How have listeners been responding to the music in general? What is the best way for fans to communicate with Frantic Amber?
We create music and want to share it with the world and hopefully inspire some along the way! We are all very grateful for all the loving support we've been getting and it really warms my heart when people come up to me after a show with big excited eyes expressing their appreciation. I think the best way would be to come to one of our concerts! – From home the fans can also find us on Facebook and MySpace.
Finally, what is the next stage for Frantic Amber? Now Russia is conquered, have you any plans on how to conquer the rest of the world?
Oh yes! We will continue on our path to world domination! *laughs* We plan to play live around Stockholm in April, record our next demo/EP in May and then see what happens during the summertime. We are all hungry for development and we intend to keep up our tempo! Hopefully there will soon be more international tours to come!
Thank you so much for talking to us at Femme Metal, Elizabeth, we wish Frantic Amber great success in their attempts at world domination!! Any last words?
You are very welcome and thank you!I would also like to thank all of our fans out there for the amazing support and I want each and every one of you to know that you are highly appreciated and I hope to see more new faces in the crowd! Stay metal!
Links
MySpace * ReverbNation * Facebook * Twitter * Site
Latest Multimedia
Interview by Miriam C.
And today with us we have Elizabeth Blackwell introducing us the witch trio Castle. Don't what is it? Just continue to read the interview and you'll know more about their new album "Blacklands"!
Hi Elizabeth first of all, thanks for replying at this interview. Would you mind presenting the band with some biography?
The band started with Mat on his own. I know he worked on the songs for the first album for a few years and tried to put a band together to play live without success. When I met Mat about three years ago and heard some of his demos I was knocked out! He may have even set the project aside at that point but at my urging we started to work on putting vocal melodies to what was mainly instrumental music. Shortly after Mat contacted an old friend from Toronto and we recorded our first record never having played live.
What's the genesis of your second album "Blacklands"? For what I know it was composed in neither six months, right?
The second album was written in period of four months. Mat spent his days working on the demos and pre-production for recording. As he wrote I began to work on vocal melodies and collaborate with him on the lyrics. We were very deliberate on the time table of the albums creation. We wanted it to be alive and have a raw feeling to it, which really captured the essence of the music.
The album title is "Blacklands", quoting the title in your opinion what are (or where are) the black lands and specifically what you wanted to express with such title?
The Blacklands are a place of void of all spiritual movement and a place that exists on the in between. We felt the music was, as a whole, a description of the space and the emotions felt when entering this place. All the songs are used to paint a vivid picture of this barren existence.
Instead talking of the artwork, we have this queen and the baby near her sitting on a sort of throne but it's all really confused like was a nebula near the explosion (ok, now I'm letting go too much my imagination).. doing a step back, can do you describe the cover? Also who's the author? And how, in some ways, is related to the lyrics inside?
The cover art was done by Russian Artist Denis Forkus. We contacted him to create a piece for us and we were fortunate to get him interested in the project. He drew inspiration from listening to our music and reading our lyrics. The picture is actually a sacrificial offering on the witches' Sabat and the things she uses to draw power. He was inspired from his own research and more specifically Goya's black paintings.
Since I haven't the chance to interview you during the "In Witch Order" promo, can you tell us more about its genesis? It took, for what I know, like 5 years, right?
Mat had worked on and off for a period of over four years. The sound developed over time and he had no deliberate intentions while writing. It wasn't until we met that he decided to move forward with a professional recording.
Talking about the "In Witch Order" art, we have this simply this lawn where some sheep are staying there and on their back there are some rocks lying in distance and on the right side a castle wall. I would add that's pretty genial, sounds anachronistic but genial. Again what was the target? What you wanted to express?
From what Mat told me, he had that photo from the very beginning of his song writing for the first record and in a way that photo captured the spell of the record.
Maybe I'm doing a difficult questions since for the artists all their songs are like their babies, but you, as the singer and the bassist, where do you feel that you have improved in this second album compared to "In Witch Order", your first album ?
The feeling I get when listening to this album is energetic, I feel like it takes me to an amazing place. It was not written with a theme but since it was created during a short time there is a underlying feeling that runs through the albums sound. I would say that my singing style is definitely more realized and confident in this album and it complements the music and adversely the music compliments my voice.
Doing some steps back, how you get in contact with Van Records? Your label seems quite interested to promote doom metal acts, if you count that it has The Devil's Blood in its roster…
I wouldn't say that Van records targets Doom metal nor would I say our sound is entirely doom. I think Van Records have great taste in high quality music and because of this has some great diversity in the labels roster.
In a musical panorama where a lot of female doom metal/proto doom singers are nowadays coming out, you stand out for your vocal abrasiveness and spit-in-your-face attitude. It's maybe the thrash influence or its your natural way to do?
I am happy to stand apart from other female fronted acts, and hopefully other musicians as well. My style is completely natural and holds absolutely no fronts, how I act and how I sing comes from deep within myself. If I come across rough and harsh I can admit that as a woman in the metal world I have learned that it is best to face forward with no fear, so I am not afraid to snarl time to time.
Mat, in various interview, uses the terms "witch thrash" and "power trio", mind giving us your point of view?
We are a three piece and our sound, live, is very big, we have orchestrated our songs to fill the room completely which gives us the powerful effect. "Witch thrash" describes our style and how we play live where we evoke a menacing and wild feeling.
While writing this interview, I'm also listening/watching to your brand new promo video "Blacklands". Did you have fun shooting it? Can you share with us some details? Also what you can say about the first one "Descent of Man" taken from "In Witch Order"?
"Blacklands" was filmed with Toronto based director Jaan Silmburg of Pistoltrixx. We enjoy working with him and love his filming and editing style. He also directed the "Decent of Man" video, which turned our amazing. We are currently in preproduction for two more videos to be released in the coming summer months. Making videos is a fun way to share and express our music, and it is always a great experience.
Flash question: do you like more the CD format or the vinyl format? And why?
I enjoy vinyl and the ritual in which you listen and flip records; there is something very kinaesthetically pleasing about it. However, I do travel a lot and Vinyl is the less practical listening medium so I take pleasure in the convenience of CD's.
Well, Liz, we're at the end, what are the next Castle projects? I hope a live album too..
A live album in definitely in the works for us. Aside from that a North American tour and an EP are due out in time for the coming fall season!
Please feel free to greet our readers and fans as you want at Femme Metal Webzine. Thanks again for this interview, I hope you like it.
I would just like to say thank you for this opportunity to talk about Castle's music and art and like metal, stay hard!!
Credit Photos
Elizabeth Blackwell photo by cloakture.com in Tilburg, NL
Band Logo by Eric Haines Photography
Links
MySpace * ReverbNation * Facebook * Twitter * Site
Latest Multimedia
Label : Vàn Records
Review by Luisa Mercier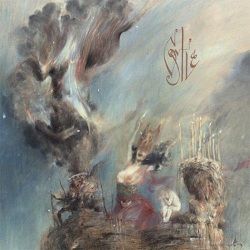 After the highly praised debut "In Witch Order", Castle are back after only a year with "Blacklands". The vocalist Elizabeth was and still is impressive with her gloomy, raspy voice, perfect for this kind of music, but, of course it is the whole band that is really convincing. Without too many pretenses, the band managed to create some of the heavier doom metal out there. There are no embellishments in these riffs, which seem to get more fluid and encompassing as the album goes on; and Elizabeth not only contributes with vocals, but also with her powerful bass. Castle manages to draw a thin line between traditional and doom metal. The lyrics are smart texts about the dark sides of life, forcing the listeners to think about it. Definitely "Blacklands" is one of the best albumns released in contemporary doom metal, one which mixes old classics and more modern myths, so if you are a fan of the genre, please take a listen.
Rating – 70/100
Tracklist
Ever Hunter

Corpse Candles

Storm Below the Mountain

Blacklands

Curses of the Priests

Venus Pentagram

Alcatraz

Dying Breed
Line Up
Elizabeth Blackwell – Vocals & bass

Mat Davis – Vocals & guitar

Al McCartney – Drums
Links
MySpace * ReverbNation * Facebook * Twitter * Site
Label : Sire/Warner Music
Review by Luisa Mercier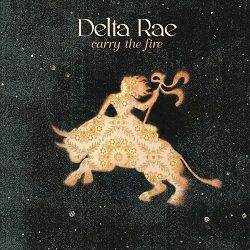 I have to admit I am not that much into this kind of American blues/folk tinged rock, so I approached this record being a little bit cold. Gladly I had to change my mind quite soon, since the first track. "Holding on to Good" where the soaring female vocals and keyboards instantly captured my attention. The song is sweet, epic and slowly builds up its mood with guitars and drums til the catchy chorus. The strings in the instrumental break are just emotional as well the keyboards. The following "Is Anybody Out There" is much more rockish and groovy, sung by a warm, soft male voice, while girls are to be found in background choirs. Once again the instrumental break captured me. These guys know how to create an emotional atmosphere, for sure. "Morning Comes" is the typical American acoustic ballad at the beginning which becomes more uptempo after a few seconds. It could make a perfect second single. Another slow tempo song is "If I Loved You" where female vocals are back behind the mic. Beautiful as the previous ones, it has a distinctive country influence. First single was the short "Bottom of The River". The southern influence is very apparent and brings me back to "Gone with the Wind" mood. Lovely really. "Country House" is another delicate, romantic song with acoustic guitars, strings, keyboards and soft male vocals. Trumpets open "Surrounded" before a nice piano and vocalisings start a melody that reminded me of old Coldplay before bursting out into rock. "Dance in the Graveyards" is once again a folk tinged rock song lively and uptempo, while "Fire" has in the vocals a bit of the Southern melancholy mixed with anger. One of the highlights of the record according to me. Another ballad is "Forgive the Children We Once Were", full of pathos and emotions. Piano and female voice for "Unlike Any Other", another ballad, maybe more traditional than the previous ones. Closing song is "Hey Hey Hey", which is quite fun and soulful. Perfect closure for an adorable album. If you are a fan of typical Southern rock this record is perfect for you, but it can appeal you even if you are part of a more mainstream audience.
Rating – 80/100
Tracklist
Holding on to Good

Is There Anyone Out There

Morning Comes

If I Loved You

Bottom of the River

Country House

Surrounded

Dance in the Graveyards

Fire

Forgive the Children We Once Were

Unlike Any Other

Hey Hey Hey
Line Up
Ian Hölljes – Vocals & guitar

Eric Hölljes – Vocals, keyboards & guitar

Brittany Hölljes – Vocals & percussion

Elizabeth Hopkins – Vocals & percussion

Grant Emerson – Bass

Mike McKee – Drums
Links
Independent Release
Review by Tony Cannella
From California come the Gothic, Progressive Metallists Phavian. The band formed in 2005 and in 2009, they released their debut album "Kiena". Their new EP is out now and goes by the title of "Foreword" and although I never actually heard their debut – thus, I have nothing to compare this to – I like what I have heard throughout the 33-minutes worth of playing time on "Foreword", it makes me curious about their earlier material. The EP opens with "Feldgrau". This is a pretty good, thumping opener and one that highlights the top notch musicianship – particular Elizabeth Matson's strong vocals – that Phavian is capable of. Next is the intricate and epic 12-minute "Watersong". This is a great progressive rock track that offers the listener some twists and turns; tempo, mood and style changes and definitely keeps the listener on their toes. This also is my favorite track. Despite clocking in at 12-minutes long, it never gets boring and is just an all around testament to the bands talent as musicians and songwriters. After the musical gymnastics of the previous tune the next one "Green Iris" gets back to basics before the final track "Acolyte" shows the band returning to their epic style, by closing things out with this monster 10-minute number. Phavian is planning to unleash their 2nd full-length album called "Meridian I" in the not too distant future. Until that happens, "Foreword" would be a pretty good starting point to becoming familiar with this band. If you feel like you want to check out this interesting band, the EP is available for free download at their official web site.
Rating – 85/100
Tracklist
Feldgrau

Watersong

Green Iris

Acolyte
Line Up
Elizabeth Matson – Vocals & Keyboards

Puyan Hassani – Acoustic & Electric Guitars

Jason Lobell – Bass

Patrick Hassani – Drums & Keyboards
Links
6 color styles available:

Style switcher only on this demo version. Theme styles can be changed from Options page.