Browsing articles tagged with " EP"
Label: Century Media Records
Review by Alysha Hayden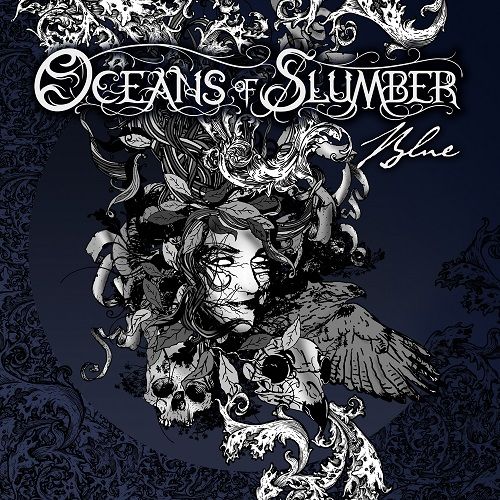 Oceans of Slumber are a progressive metal band based out of Houston, Texas in the US. Comprising of Cammie Gilbert on vocals, Dobber Beverly on drums, Anthony Contreras on guitar, Sean Gary also plucking those guitar strings, Keegan Kelly on bass and lastly Uaeb Yelsaeb on the synthesizers. The "Blue" EP opens with Candlesmass's cover "Solitude" where Cammie's voice absolutely gives this song the hauntingly beautiful lyrics the spine tingling emotion they needed. Instantly her voice reminded me of the talented Florence Welch from Florence and the Machine. They kicked this track up a notch and dare I say, made it better. OoS couldn't have made a better selection for the opening of this record. Next they pay respect to metal legends, Led Zeppelin with a cover of the iconic "Kashmir" giving us a luscious taste of Cammie's range while they make the song their own.  Continue reading »
Label: Napalm Records
Review by Warren Mayocchi
Three new songs, two cover songs and two re-recorded Xandria songs. "Fire & Ashes" is the new EP from Xandria and it really surprised me! This is the second album that the band has delivered with Dianne van Giersbergen as the band's lead vocalist. On the previous album – "Sacrificium" – Dianne was definitely great, but on "Fire & Ashes" her vocals shine brilliantly. This EP contains symphonic metal at its best. The album opens with the three new songs. "Voyage of the Fallen" is backed with prominent drums and guitars. It is the lead vocal and choir that give the song an epic symphonic effect – I love the arrangement. "Unembraced" follows and it is another awesome track, still with the excellent drums and guitars, but with symphonic elements in the music. Continue reading »
Interview by Peach Galea
Kobra and the Lotus is a Canadian heavy metal band formed in 2009 by lead vocalist and songwriter Kobra Paige and  we have been lucky enough to catch the Priestess herself for an interview here at Femme Metal Webzine during their recent UK tour and ask about their upcoming EP "Words of the Prophet" . On top of this I'd would like to thank Kobra for taking the time out of your busy schedule for this interview. I have been a fan of Kobra and the Lotus for a few years and would like to congratulate her on the art and professionalism shown within each album to date.
Let's start with a few questions about your latest video for "Black Velvet". What lead you to make the decision to do a cover of Alannah Myles classic song "Black Velvet"?
Well, Alannah Myles has been a very big mentor. In my life actually, I played a Beatles tribute with her when I was 19 and she was very encouraging. I love her stuff, I love what she did in her heyday especially and I loved "Black Velvet", I was a huge fan of it. When we mixed the first album she called me in the studio just to say "Hey, carry the torch well for the next generation". I really appreciated it, I think she is underrated and I really wanted to bring her around again to the world. Continue reading »
Interview by Miriam C.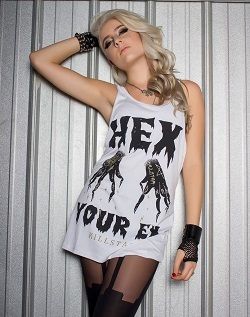 Los Angeles based singer Diamante, despite her young age, shows the power and grit of an experienced artist. It would be strange to you but Diamante, aside of a huge PR machine, has completely self-released her new debut EP called "Dirty Blonde" so we caught up the girl herself, just back from her successful Revolver's "Hottest Chicks In Hard Rock" tour. 
Hi Diamante, first of all, how are you and thank you for this special interview, we know that you are very busy promoting your new upcoming debut EP "Dirty Blonde". How life is treating you nowadays?
Life has been rad! I just returned from tour about a week ago and I've been soaking in as much of Hollywood as I can before I leave. It's been great seeing everyone and being able to rest, but I am excited to go back out on the road again. Continue reading »
Label: Crysella Records
Review by Mimi Robins
Here we're introducing  mysterious band called Asylum Escape. Sketchy are the info avalaible about this band that has just released their debut EP "Even If I'm Broken" whose it begins with an echoing choir, which I love. It lends mystery to the rest of the album and sets a good precedent, I think. Deda Von Miseria's vocals seem really quiet to me, especially in the first few tracks, an interesting contrast from the instruments, which seem to take up more focus. "Even If I'm Broken" has elements of it that remind me of classic Evanescence (think "My Immortal"). The chorus is quite catchy, and stayed with me for a few days after my first listen through. I really liked the different instruments I was able to hear separately throughout the EP – it's something I don't usually remark right away, but here I took notice immediately. Continue reading »
6 color styles available:

Style switcher only on this demo version. Theme styles can be changed from Options page.