Browsing articles tagged with " epica"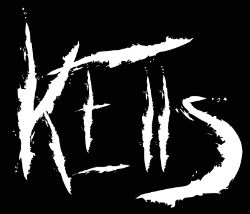 Interview by Ary R.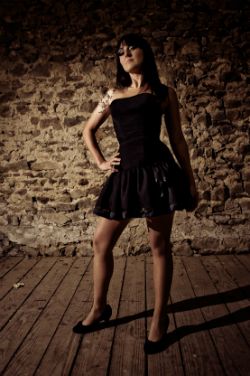 They rocked Europe last year with Leaves'Eyes and Tarja Turunen, and with Epica and ReVamp the former year as well. Now they're back on the music scene with the upcoming album, "Anachromie", that will reveal some other music features of the French rock band Kells. Just read with us what the front-woman Virginie Goncalves told to us!
Hi Virginie. Welcome to Femme Metal. How are you doing? Recently, you've released the new Kells album, "Anachromie". How are the feedbacks from your fans going?
I'm fine, thanks! "Anachromie" has been out for a month now, and it seems that both the press and the fans have praised this record. We are very happy about that because somehow we had chosen to take artistic risks, not to repeat ourselves and to renew our image, and people liked it!
I've been surprised about the title you've chosen for the album, as I've been amazed by the artwork as well. Would you like to talk about them? Who has created the cover and how was the choice for the name of the album born?
In this album, everything in the lyrics is written in a disjointed way, the space-time notion is broken, the reality mixes up with the dream, as in the surrealist genre… Globally, the lyrics are anachronistic. Also, I use many adjectives of color (ochre, silver, gold, amaranth, blue, white, black, saffron, amber, sapphire, sandy…), which gives the lyrics a very pictorial aspect. It is the mixture of these 2 concepts, the chromia and the anachronism, that gave birth to "Anachromie". The cover artwork has been made by Blackthorns Design. We appreciated what he had made for other bands, this mixture of surrealism and modernity, that's why we decided to work with him. The frontcover and the booklet are an illustration of the lyrics… the girl with her bridal veil, with all her dreams, the tortured childhood, the nightmares and the anachronism always there, with the hours of the clock, the tracklist in disorder … as in the surrealist universe, where nothing has any reasonable landmarks or points of reference.
The recording and the creation of the album have been quite challenging. How long did it take to put down all the material, to record it and to mix it properly?
We recorded this album in November 2011, more than a year ago already! We went to Mon Studio in Nancy, to work with Yann (MyPollux). We began with the recording of the drums, then the basses, the guitars, the strings, the choir, keyboards, electro music, to finally end up with the vocals, at the end of November. So it took almost one month, because we prefer taking time! Yann then attacked the mixing in December, and we eventually sent it all in New York to the Sterling Sound Studio for Ted Jensen to master it in february 2011.
Interview by Erwin Van Dijk
An interview with Lotus from Sin7sinS, update Summer 2009. Last year I had an interview with Lotus, the singer of Sin7sinS. They have released three new tracks on MySpace so I thought it would be time for an update interview.
Your last two gigs were in March (in the cities of Antwerpen, Belgium and Dordrecht, Holland) What have you and the band done since then? Besides spending a lot of time in the studio

We were after those gigs very busy with writing new material and rehears this (we have a kick ass new set list!) Further as you said we spend a lot of time in recording the new songs. And we have done a new photo shoot…
You have recorded three new songs. Ronald Landa from Delain was responsible for the producing and mixing while Ad Sluyter (of Epica fame) did the mastering. How did you get in touch with these two guys Ronald Landa and Ad Sluyter and how was it to work with them?
Ronald Landa is a friend of Paul and me, we played before Delain and Sin7sinS in the same band. Ronald is very good in producing, so he wanted to help us. Ad Sluyter is a friend of Ronald and he is into the mastering…
And, did they have any influence on the sound of the new songs? This is because Delain and Epica are not exactly in the same genre as Sin7sinS.
Not really, the songs were already written before recording. But of course they did help create the sound which we were looking for.
Song by song: what can you tell us about the new songs? Music & lyrics? ("Dead World", "Eye Want All", "Insult #7″)
The new songs are louder and better then our older work. We tried to focus more on the songs as a whole. This implies that vocal work (etc etc…) follows a more natural path. Each song has a different meaning which is best hear able in the lyrics, most songs are inspired by things and events going on in our own lives.
Are these songs much different from your older work?
As an artist you naturally grow, however the songs are still in the same line as our older work. But due the fact that we have grown as a band our music has grown to.
This was not your first time in a studio. What have you done different this time?
We recorded most of it ourselves this time!
And which studio did you use this time?
We used the home studio of Ronald Landa.
Will this stay an online affair or will there be a possibility to legally download it or even a CD version?
The meaning of this promo CD, is to score a record label! We are ready for this next step! So a CD will be there when a record label signs us. The 3 new songs are listenable but you can not download them.
This is maybe a bit of topic but do blondes have more fun? Because you have changed your hairstyle since the last time I saw you on stage (at the Mix, Uithoorn).
Hahaha, no I don't think blondes have more fun. I like a change from time till time… not always the same look! But I still have as much fun as I had when I had black hair. The only good thing about it, is that my bathroom has a chance to become white again (as it was before I started painting my hair black, 2 years ago).
Links
MySpace *Facebook * Twitter * Google Plus * Site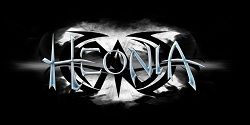 Interview by Lindz Riot
Progressive metal has finally started to emerge to the forefront for metal the past few years and finally from Lille, France we have Heonia! Breaking away from traditional metal and band styles, Marieke and Thomas wanted to create something new for metal without borders. Their debut release "Winsome Scar" is piece of mind for the metal head who is searching for something new and abstract while it sticks to strong metal roots. We are here with their powerful singer Marieke to hear Heonia's story.

I've listened to your newest release "Winsome Scar" and it's great stuff! It's very different from most metal but in a good way. How did Heonia come to be?

Thomas and I were in a band playing only covers before. When the band ended, we decided to create a new band playing its own songs and then, Heonia was born. The other members arrived from February to July 2006. And Cléo, our former bass guitar player, was the last one. In June 2009, Cléo quit the band and Christophe became the bass player of Heonia.

So how did you and Thomas come to agree on your sound and style? What is it like when you two write together? I think the style and sound of Heonia came quite naturally. This was the music we wanted to play. I'm not saying it has always been easy, each of us had to make concessions as, for example, Thomas is far more influenced by progressive metal than me but most of the time, our inspirations are the same. We don't really write together. We don't really write together. In general, one member of the band (more often Thomas) comes with an idea for a song and everyone works on it until we arrive to an almost definitive version. Then I start to write the lyrics that the music inspires me. For example, when I listened to the musical parts of "The Chase", I had immediately the feeling of someone running to save his life. From this came the idea of the lyrics of "The Chase". At the same time, I try to put the words on the music with the help of Damien and Thomas.

What was the whole experience of recording "Winsome Scar" like? Could you give us some background on the process and experience in the studio for Heonia?
The recording of "Winsome Scar" is one of my best memories with Heonia. And I think it's the same for all of us. Is there something better for an amateur musician to live like a professional during two weeks? During this period, I had only to think about how I will pass emotions through the lyrics of Heonia's songs. It was a really exciting period although it was quite hard because we had only two weeks to record the entire album.
So we recorded "Winsome Scar" in July 2009 at the studio Hangar à Son in the North of France. Then, during more than two months, we worked with Bertrand Charlet, the sound engineer, on the sound of the album and the mixing. In February, we went to l'Autre Studio near Paris to master the songs. Finally, we worked on the artwork with a professional from Evilcampbell.com. It has been a long process but each part was very exciting and interesting!
And what has your response been like so far to releasing the album? What have friends, family, and fans said?

We have had only good responses to "Winsome Scar" from friends, family and fans so far. We know that our songs are not perfect, it's a first album but people seem to appreciate our music and that's what is important. A surprising thing for us is that there is not only one song people prefer to the others. Some prefer "Broken Toys", for others it's "The Chase" or even "Mirror of Life".
So being from Lille, France, what is it like to live there? What is the music scene like?
The music scene and even more so the Metal scene is really active in the North of France even if the number of places where we can play is quite low.There are a lot of Female fronted Metal bands in Lille and we appreciate that the atmosphere between the bands is really good. I think we have played with almost all the Female fronted Metal bands of Lille and it has always been a great experience. We have a lot of fun together.
That's so awesome to hear! So from the time you began performing in 2007 how would you say Heonia's live performance has changed from then to now?

I think everybody is feeling better and better on stage. Sharing our music with people who came to see us is becoming easier as our number of shows grows. We feel free on stage so we can deliver a lot more energy and people seem to receive it well!
I noticed you have listed Heonia similar to Opeth and Epica on some websites. Have these band's styles really influenced Heonia?
The bands we have listed influence more or less Heonia. The members of the band have a wide range of influences and we can find them in a sense in Heonia. I think, musically, the biggest influence is Progressive Metal, so yeah, bands like Opeth… Concerning Epica, actually we are inspired by this kind of epic songs even if it's really tiny in our music. For my way of singing, I'm more influenced by bands like Lacuna Coil…
So for you Marieke, when did you become a singer and what is your musical background?

I started playing music at the age of 12 or 13 with clarinet so nothing really Metal!
With my Nirvana years I tried to learn guitar but I was not very good… At the same time, I've always sung in my bathroom, in my room… When I was 19, some friends of mine who were in a pop-rock band proposed me to become their second guitar player and to add some voices on their compositions. I was really, really shy and it was difficult for me to sing in public. But after some months, I became more confident and I was more the singer of the band than one of the guitar players…When this great experience ended, I decided to really learn singing and that's how I became a singer.
Where you in any previous bands before Heonia? What was it like?
As I said, I began in a pop-rock band of friends named BOD. We were playing covers of Placebo, Radiohead, Muse and some original songs too. It was really a funny period, we were really good friends with the same passion for music. After that, I tried several bands but we were not on the same wavelength. Then I found Chimeria, a cover band of Progressive Metal in which Thomas was the lead guitar player. We played together one year. When we decided to split off, as Thomas and I wanted to play our own compositions, we decided to create Heonia.

Who are some of your favourite singers and bands?
Wow! There's a lot! I will only site a few!
My favourite Metal singers are Cristina Scabbia (Lacuna Coil), Alissa White-Gluz (The Agonist), Serj Tankian (SOAD), Robb Flynn (Machine Head), Mikael Åkerfeldt (Opeth)…My favourite bands are Lacuna Coil, System of a down, Machine Head, To-Mera and also Diablo Swing Orchestra, The Agonist, Dirty Little Rabbits, Opeth… And for non-Metal Bands: Portishead, Björk…
Wicked! I like the added Trip hop element. Do you have any hobbies or side projects that you do either than music?

Actually, I'm finishing my PhD in Finance. I hope it will be my last year so I don't have much time for other projects. I play keys in a new death metal band with Thomas and Damien. I hope also to be part of a doom project this year but it's not sure at the moment.
Very cool! What is next for Heonia in 2011? What are some of your hopes for the future of the band?
In 2011, our aim is to promote "Winsome Scar" on stage perhaps in some music festivals we hope. We will also work on new songs, more powerful I think. We want to see a lot of head banging during our future shows!!! Our hope is to find a label or a distributor for "Winsome Star" in the future and to continue playing our own music on stage!
Well thanks for your time to do this interview Marieke! It was a pleasure and wishing you and Heonia all the best for 2011 and beyond.
Thanks a lot for this interview, I hope my English is not too bad… And thanks a lot for your support and for supporting Female fronted Metal scene!
Links
Label : Frontiers Records
Review by Tony Cannella
Until recently, Amanda Somerville has been most notable for her work with Epica and Avantasia, but in the last few years she has released a solo album ("Windows"), an album with ex-Helloween singer Michael Kiske, and now her new melodic metal project Trillium. The debut from Trillium is called "Alloy", and is another great showcase for Amanda's beautiful vocals, but she also shows different sides to her vocals and music that she has not shown on previous albums. First thing is that Trillium is a melodic metal masterpiece, lyrically and vocally Amanda displays anger and an attitude, but also vulnerability throughout "Alloy". Some of the lyrics have an edge to them and the vocals follow suit. "Alloy" opens with the aggressive "Machine Gun" which is about as subtle as a machine gun. "Coward" follows and is rightfully the first video from "Alloy". "Purge" is next and opens with rapid fire guitar riffs and I would love to see this be the next video – my favorite song, without a doubt. Amanda is joined by a wide array of musicians. Sascha Paeth handled the production duties as well as guitar, bass, keyboards and he also co-wrote many of the songs with Amanda. Another big name is guest is Jorn Lande who adds his distinctive vocals to "Scream It" on a duet with Amanda. This song lulls you into a false sense of serenity before the song picks up the tempo and Jorn and Amanda work well together. Other highlights include: the moody, tempo changing "Utter Descension", "Bow to the Ego" and "Path of Least Resistance", but I could mention every song, I don't think there is a weak moment on "Alloy". It is one of those rare albums that starts off strong, finishes strong and everything in between is just as strong. With 2011 coming to a close, I suspect that "Alloy" will be at the top of many yearend lists. In a word – and I don't mean to oversimplify things - "Alloy" is awesome and one of the best albums I have heard all year. Amanda Somerville is fast becoming one of my favorite singers and I can't wait to hear what she does next.
Rating – 100/100
Tracklist
Machine Gun

Coward

Purge

Utter Descension

Bow to the Ego

Mistaken

Scream It

Justifiable Casualty

Path of Least Resistance

Into The Dissonance

Slow It Down

Love Is An Illusion
Line Up
Amanda Somerville – Lead Vocals

Sascha Paeth – Guitar, Keyboards & Drums

Olaf Reitmeier – Acoustic Guitars

Sander Gommans – Guitars

Michael Rodenberg – Arrangements and Keyboards

Simon Oberender – Keyboards

Robert Hunecke – Drums
Links
MySpace * ReverbNation * Facebook * Twitter * Site
Interview by Ary G.& Anna Fortini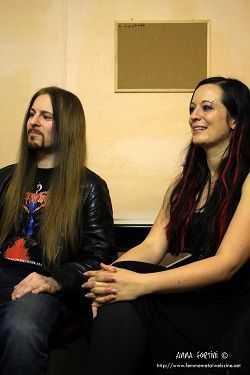 On the occasion of the two new italian dates that see Xandria as the opener act for the new Epica tour, Femme Metal had the pleasure to have a great chat with Manuela and Marco in Milan, that kindly talked about the new record, "Neverworld's End", about the influence they've taken from Nightwish, the life on the road with the colleagues Epica and Stream of Passion and a possible of a new music direction.
Ok. We are here with Xandria, with Marco and Manu. Welcome to Femme Metal.net!
Marco: Hello!
Manuela: Hello!
How are you doing guys?
Marco: Oh great!
Manuela: I'm fine, grazie!
So, yesterday you've been in Rome for the very first time. How was to visit a city that you've never seen before?
Manuela: Well, actually we didn't visit the city, but I could tell you about the concert: it was really amazing! The people were really great and we really had fun on stage, so it was great to be there, really…
Marco: The location was about 40 km far from the city center of Rome, so unfortunately we had no chance to see all the famous things in Rome…
What about the weather?
Marco: April weather! Ehehe! Rain, shine, rain, shine…
What could you tell about the lyrics, instead? Today you are here in Milan again, after having been here for Out of the Dark Fest. How is going? How do you feel like coming here again in Italy, for the second time this year?
Manuela: I like it very much

because concerts in Italy have always been great, also for me in the past I've been here with Haggard already, so I know we can expect a big concert.
This tour is the first one that doesn't see Nils unfortunately, because he had been injured after some dates you had with Epica and now you have a replacement, that is Fabio D'Amore from Serenity. What did cause this choice and how have you decided to take Fabio in your crew?
Marco: We have joined Out of the Dark Fest with Serenity, the main band with Fabio, it was one of the five bands we have been on tour, we were in the same tour bus, we were friends, so he was the first one we thought of when we were searching for a replacement.
Manuela: He is a very good bass player and he has a great personality, we like him very much. Nils is recovering, but he will be with us as soon as possible…
We want to wish Nils a good recovery, we wish him to get well soon!
Marco & Manuela: Oh, thank you

So, as I said, you'll be in Milan tonight. So, will we expect some surprises tonight from you guys?
Marco: We'll play the songs from our new album, some songs because we have only 35 minutes, as we're the opening act, but it's the first time we'll play some of the new songs of the album for this tour, it's a great thing for us because we're also fond of the new material, all the years we've been really looking forward to play that stuff, because we knew that it would have been working, it would be great fun to play live, as we've seen in these last 2 days it's really the case and so I think it will be great tonight.
This tour sees you with Epica and Stream of Passion. It started a week ago or so, but I discovered that some dates were already sold out, so what's the feeling of discovering that "your dates" are sold out?
Marco & Manuela: Ehehe!
Marco: Of course, it's Epica sold out shows, but we are amazed of possibility to get new fans, we hope to get new fans on this tour

Last month you've released "Neverworld's End", after five years of silence. How've been the feedbacks so far from the media and the fans? Are you happy about the result?
Manuela: Well, until now it has been really positive and we got very good reactions and responses to the album. Of course there is someone that says "We want Lisa back!", but it's always like that when singer is changed, but most of the people accepted me as the singer now, so I'm really happy about this…
I see that daily you receive lots of compliments on your Facebook profile and Facebook page, so are you happy to be so accepted in the band from all the foreign and European fans of course?
Manuela: Yes, of course I am! I am really thankful for it. It puts me a big smile on my face when I see all the comments on Facebook, this gives me strength to go on, I know that I am on the right path, that we are on the right path with what we do, so it's very nice to have such good fans!
Marco: It's the best choice we could ever do with Manuela, really…
Manuela: Oh, thanks you

Marco: I think all those five years of silence you've mentioned it was all good worth, we followed ourselves again for the future, a new musical path, we wanted to do more heavy, more symphonic, more bombastic. The new album is the more ambitious we've ever done and we also have the best singer we could ever find for this album, I think it's the strongest incarnation of Xandria.
Yeah, I agree

Marco: We really feel like that. We feel like being reborn, it's a really good feeling!
What about you? Are you happy about what you wrote in this album? Because I know that you write and wrote most of the lyrics for Xandria, so what about this result?
Marco: Yeah! It really turned all the way I wanted from the beginning, I wanted this symphonic, this more epic style for the very beginning, when we were thinking about the album, we wanted to be like that from the very beginning.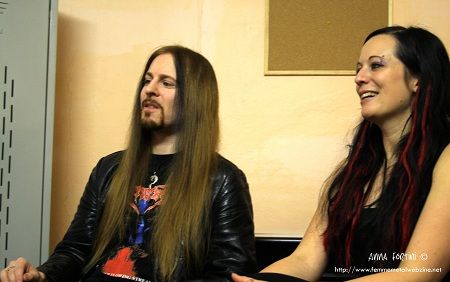 Now Xandria is more metal-oriented than before. In the last album called "Salomé", if I'm right, it was more gothic-oriented, it was less metal than this one. This is more symphonic. What do you feel like writing some new stuff? Do you feel yourselves more mature in this new record?
Marco:Yeah, definitely! As a songwriter, I've been able to do things that I've never been able to do before, and I've always been fan of more complex, more heavy stuff, because also the new songs are a bit more sophisticated and complex and this was a challenge for me as a songwriter, I always need new challenges, something that pushes me forward.
Where do you get the inspiration when you write something for Xandria?
Marco: It comes every day from somewhere

While driving the car from my home to the studio, where we recorded the vocals in Munich with Manuela… or on long travels or even here on tour and that comes the inspiration…
So you're definitely happy of having written this new record, that fans really appreciate for what I've seen but my attention was catched up by a song called "A Thousand Letters". What can you tell us about this song?
Manuela: For me it's a very personal song, because I wrote the lyrics for it. The lyrics are about my grandparents, it's inspired by what my grandfather and my grandmother told about the War and about their love. I've read a diary of my grandfather and it touches me very deeply and after their death, it was easily for me to overcome this sadness about their death and I wanted to write something for them and about their love. It's about their love and the 2nd World War and it has a positive end, because they meet again after the end of the war. In reality, it was the same so… It made me very happy that this song has finally made it on the album.
Concerning "Neverworld's End", I've read some reviews on the web and I've seen that so many reviewers told that you are a "clone" of old Nightwish. How do you react to this statement?
Marco: Well, I think that they think this album reminds something of the old Nightwish but I really don't like the word "cloneW because most of the people see that it's not about doing the same stuff again, but understanding what they did and appreciate it, taking it as an "influence" and making your own stuff with that.
Was you inspired maybe by from old Nightwish era somehow?
Marco: Honestly, I am a real fan of Nightwish, yeah… that's right! I love all their material, even the last two albums! Yeah.
What do you think about "Imaginaerum"? Random question…
Marco: It's different from what I expected! When they told all the people that it would have been a real soundtrack thing, I expected more soundtrack and not so much rock songs, it was a bit surprising for me but I like it

Usually when you get some criticism, from the media or fans, even if they are positive or negative, how do you react? Do you feel yourselves offended or do you think "Ok, it's a constructive sentence, it's a constructive critique, so I have to accept it"?
Manuela: Well, I try to take the good things out of the comments, I separate the critique, I mean I take the rights ones and I put away the bad ones, what I mean is: there are some comments that are sometimes very mean. I don't care about those! I just try to take the good things

Marco: You have to push them away, sometimes it's just a matter of tastes, you know! If someone say "Oh it's too much bombastic!", it's more cheesy, sometimes for some people, I just say "OK, this is not the music you like, it's ok for us". We can't include everything that comes from somewhere, because it would be something that doesn't please everyone. We want to make music we feel, it's all from our heart, it the people like it, it's ok, if the people don't like it, it's ok also!
Manuela: Yeah! Everybody has different tastes! That's okay

When a band changes her own vocalist, every single fan always dares to compare the single member, the female singer and so on. So has it never happened to hear maybe some fans saying "We want Lisa back" or "We want Kerstin" back or some evil things like that?
Manuela: Yes, of course, but that's okay for me, because you know, we have very different voices and some like Lisa's voice better, some like mine better, so it's ok. I was prepared for that, because of the things I saw going on in Nightwish, for what concerned Anette and Tarja and so on and so I've thought "ok, it might be some people say that", but it really didn't touch me, I just focus on people that really like me and love me and appreciate me.
As you said, you're on tour with Epica and Stream of Passion. Have you had the chance to get in touch with the girls or the boys?
Manuela: Well, of course we had the chance to get in touch a lot with Stream of Passion because they are in the same bus with us, so it's really great, they're really great guys and a great girl and we had lots of fun together…
What about Epica?
Manuela: Well, not so much but we still have some talks here and there and had fun of course.
Marco: We're just not in the same bus, so we always meet occasionally. We have different date schedules on the show dates, so sometimes we meet and they are great people too!
What do you think of Simone Simons as a vocalist or as a person?
Manuela: I think she's a very, very great vocalist, I adore her voice very much, and well she is a very beautiful person.
Marco: And she knows how to handle a metal audience, it's really cool.
What about Marcela?
Manuela: She is a really ground to Earth person! I love her personality a lot, she's a very interesting person! I like her very much!
Okay. Tonight you will play here at Alcatraz venue and I assume you'll play also some old songs. What could we expect?
Marco: We will play "Ravenheart", eheheh. You know, we have only 6 songs, we're the opening act so it's a short time for us to play . We really want to present our new album to the people, because it's the new Xandria! We want to leave the past behind because of course it still belongs to us, there are still some songs we like to play, but the time is very short on stage on this tour. We chose just one of the old song and the rest is new, in order to know the new Xandria.
Ok. This question is for Manuela only. I've seen some videos on Youtube from Marcela practicing some famous opera by Puccini and some other famous composer. The same did once Simone Simons from Epica so what about you? Will we ever hear you singing and playing something from any famous composer?
Manuela: Perhaps. I don't know yet. I focus now on my metal things but next I'm going into a Celtic project, so I don't know what to expect now, but this is going on. Perhaps you will hear some classical stuff in the future, but nothing is planned yet.
Ok. Thank you for the interview. Would you like to say something to our readers and your fans of course?
Marco: Thanks for your support, Femme Metal! It's really great. Thanks to all of your visitors for supporting us and coming for the show, it would be great to meet you in our shows.
Manuela: Thank you very much for accepting the new album so much and for accepting me, as the new singer. I'm very happy about the new response, so thank you for your support!
Credit Photos
Photos by Anna Fortini
Links
MySpace * Facebook * Twitter * Site
Latest Multimedia
6 color styles available:

Style switcher only on this demo version. Theme styles can be changed from Options page.