Browsing articles tagged with " espeneas"
Interview by Erwin Van Dijk
Since the bio on the Midnattsol website (www.midnattsol.com) is writen in German, can you tell us something about the band?
Everything started some years ago, in 2002, when I moved from my hometown Norway to Germany because of different reasons, e.g. my longing for my sister and for learning more about the German culture and language. I was at a new stage in life, wanted to bring the little melodies keep circling around in my head to grow up to real songs by instruments as well. The coincidence was that I told my friends and family about my wishes for founding a band, about the same time Chris H. told about his wishes for founding a band too. So thanks to nice friends, we met in a metal-disco in the nearby of Stuttgart and talked about our plans and wishes. And luckily, we had some of the same ideas. From that point on, things went very fast. Chris talked with some of the earlier members of their Ex-Band Penetralia, Chris M. and Daniel F., and they were curious about finding out what this was. Chris contacted Birgit and we saw that we functions well together as a band, and with this formation we started to make some songs. The writing process went very fast, it was like the ideas popped out of us, it was a great time. But it didn`t stop there, it was only the beginning: in a very short time we made a demo, Daniel D. became a member of the band, we got a record deal with Napalm Records and then it just went up the hill, hehe.
About how you describe your music: what are the differences between the 'Nordic Folk Metal' you make and all the other folk metal bands like Korpiklaani, Battlelore and Cruachan?
Cool questions! And great bands indeed! I think that the main difference lays on the main focus; after my opinion Midnattsol has its main focus on metal with folk elements, while the other bands have the main focus on folk, which means that our music is quite heavy and dark. They use real folk instruments as well, which make a big difference for the sound, while the folk elements in our music mainly appears in the melodies, in our concept and in the lyrics. We also stress the word Nordic folk metal and use Norwegian titles and lyrics. So I think that are the main differences, but of course, that is only my opinion.
What made you decide to become a singer? And, who are your big influences?
It is difficult to say why I started with it, but I think I can say that it is my love for music and the great thing by coping with my thoughts and experiences. I use the writing and the lyrics for dealing with all these things, it gives me so much. I started as a little child singing, writing lyrics and stories and making songs, so I sang and made music almost my whole life, but not in a professional way. When I became a teenager I slowly started to get the feeling of founding my own band and when I was 18 I felt ready for it. But I have to say that my aim was never to be a famous singer, earning a lot of money or getting much attention. I work over 100% as a teacher, what I absolutely love, I have two studies, so I don't try to live from the music, even if I had the chance, I can`t stand the thought of letting money decide which kind of music and lyrics I should make and write, how I should sing, how I should dress, I want to do my thing, just as Midnattsol as a band want. Big musical influences are Anathema, Amorphis, Dead Can Dance, Paradise Lost and Norwegian folk music.
You are Liv Kristine's sister. She is very famous in the Gothic scene for her work in Theatre of Tragedy, Atrocity, her own band Leaves' Eyes and numerous guest apperances. Like on Cradle of Filth's "Nymphetamine". Does that make things more difficult for you? People will always compare you with your sister?
I would have lied if I said that I never would have thought about it, in the beginning I got totally shocked, everywhere you can read about the comparison between us. In the beginning I felt a bit sad as well, because people didn't see me as the person I was, only as a sister and I thought that people wouldn't take me and Midnattsol serious for what we really are. But luckily, I saw after I while that it has much more positive effect than negative. My sister is well known in this business and is touring a lot, so through her a lot of people got to know about us, with other words, for the promotion it opened many doors. And of course, it is positive to have the connections, through her I have since I was a teenager the chance to meet great people in the music business. So I think all in all you can say that it was much more positive than negative for Midnattsol. On the other hand, we hadn't come where we are now, if we wouldn't work hard every day, burning for what we are doing and having that quality of the music, lyrics, artwork and so on. It is so difficult to get a good record deal today, it is definitely not enough just to have the same last name as a well-known person, it is the whole package that you have to deliver. Additionally I have to say that I have grown a lot since then and I seldom read what people write about me. I think positive and try to enjoy life as good as possible and I am proud to have such a lovely sister!
Can you tell something about the other members of Midnattsol?
Yes, love to, Daniel D., who plays the guitar, acoustic guitar and also sang on our bonus track October is just exploding of great music ideas and melodies, I love to sit together with him and do some improvisations for new songs. He is also taking care of the organization of transport when we are on the road. Daniel F. is our keyboarder and at the same time he is taking care of the organization of our homepage and myspace. He always wants to try different things out and has a lot of creative ideas; Christian H. is playing the guitar and acoustic guitar and mouth harmonica and is also doing a lot of managing and is taking care of the financial stuff in the band, he knows the music business very well and has good connections. Chris M. is playing the drums and knows a lot about graphic design and does a lot of planning and organization of the concerts and the merchandise. Birgit plays the bass and acoustic bass and is helping Chris with the concerts and me with some interviews.
The lyrics of your last album "Where Twilight Dwells" are partly written in English and partly in your own language. Can you tell us what made you decide to do this?
I have to say that my feelings of the individual songs play an important role for the chosen language, and as on the debut, the languages I sing in is English and Norwegian. I can't really describe why I do it, it is like you indicate just a feeling that I get when I write a text for a certain song. It comes some text lines in my head and then I often can't change it, I just have to continue. It has a lot do with intuition, it has to fit with the atmosphere. When I sing in Norwegian, it is very personal for me, it is more close because it is my mother tongue. I also sometimes combine it with songs with folk elements, it fits well together, like perhaps "En Natt I Nord". It wouldn't give the same feeling in another language. But at the same time Norwegian is very difficult to sing, and English gives me more opportunities to experiments with words, because English has enormously more words than Norwegian.
Can you tell us how you get the inspiration for a song?
My main inspiration is the mystic and wonderful Nordic nature and the nature creatures in the Norwegian tales. In this clean untouched nature I feel real, I feel alive, I feel that everything flows. The sight of beautiful waterfalls, deep dark green woods, powerful waves of the ocean makes my thoughts escape from this industrial material focused society in kind of another world where these things don't matter. So the wonderful nature inspires me a lot, and direct description of the nature like e.g. the northern light, magical rivers of powerful winter landscapes, you can especially find in the songs "En Natt I Nord", "River of Virgin Soil", "Wintertime" and "Northern Light", and in the rest of the songs you can find it more indirect. But not only the nature inspires me, a great part of the influences are my thoughts, experiences, happenings in life like and feelings like frustration, loneliness, anger, sadness, but also happiness, hope and love. With other words, the music and the lyrics come from deep within, it's real, it comes from my soul.
You where responsible for the lyrics on "Where Twilight Dwells". How does the band Midnattsol write the music. Is it teamwork or is there a mastermind behind the writing process?
Yes, you are right and I have written all the lyrics for "Nordlys" as well, besides the lyrics for the song "October" on the limited edition, Christian H. wrote that one. The writing process of Midnattsol is really a big teamwork, we don't have a leader or a mastermind that is doing everything or deciding everything. Every band member has the right to say his/her opinion and we always discuss about things together. It takes much time and sometimes nerves, hehe, but it can also be very interesting, all the ideas, we can be pretty creative together! This way of thinking is also very important for us as a band, every individual is important and has something to say. We also don`t keep songs on the records that one member wouldn't like. So then everybody can identify with our songs 100%, that is a great thing. Mostly someone has a melody or a special idea, each member give their special part to their music, we are reviewing it, we make some changes, new ideas and then the lyrics are written and sometimes vice versa.
Midnattsol means Midnight Sun. What does "Nordlys" mean in English?
"Nordlys" means the northern light in English and is for me to be seen as a perfect symbol for the beautiful but mystical site of the nordic nature, which is a great inspiration for both the music and the lyrics of Midnattsol. This light shows the real beauty of the world, far away from material and industrial things, which only take us further away from the real meaning of life after my opinion. At the same time, the northern light, which appears because of the energetic connection between two extreme poles, the sun and the earth (like you see on the cover, Birgit and I are symbolizing these two poles and the connection between them) stands for diversity, it is made of two extreme poles, and stands as a symbol for treasuring different sites of life, both rain and sunshine. Like I sing in the song "Wintertime": "How could I ever recognize the light, without dark clouds?." Everything in the nature is special and beautiful in their way and shouldn't be seen as negative. The title is also strongly connected with the musical site of the album; the songs are diverse like the northern light as well, they content beautiful and melancholic melodies with inspiration of the folk, but at the same time complex song structures, heavy guitars and loud drums with a lot of double bass are central elements in the music. So the title was chosen because of its perfect fitting to the music and the lyrics on the new album, but also to the general band concept and style. So every element on "Nordlys", from the title to the layout and so on, is strongly connected, like a whole package, so to say.
And, can you tell us something about the new album. What are the differences between "Nordlys" and "Where Twilight Dwells" and about the songs.
You know, it is really interesting to hear about all the different opinions about the differences, some are like the night and day, so I don't think there is a 100% answer, it has a lot to do with personal opinions, which are great, because it would be quite boring if everybody would think the same. We in Midnattsol actually think that "Nordlys" is heavier and darker than the debut which I think is connected with the fact that we developed a lot as musicians in these three years. When we started to make the new songs we noticed that we could play and sing more complex and diverse stuff, it was a fantastic feeling, just looking how the band had grown. We wanted to create something new, and the result is what you hear on the new album, there are some differences; more quality and variability from both the vocals and the instruments, more details and extras, which you perhaps don't notice after only one time listening, more guitar melodies, more complex drums and bass and keys, the vocals have more volume and a lot of different matters to sing are used. Additionally I think the song structure is more progressive than before and the sound is more natural and warm. But even though there are differences, there is a strong the red line to the debut, e.g. the folk inspired melancholic melodies.
Like "Where Twilight Dwells", "Nordlys" is recorded the Mastersound Studio (www.mastersoundstudio.de) by Alex Krull. Was the whole recording process easier this time?
I have to add some information here. We decided to let different kind of studios with different producers give their best to our new album, so besides the recording of my vocals by Alex Krull at the Mastersound Studio in Fellbach in Germany, the recording of the instruments took place at the Studio E in Mellrichstadt in Germany by the producer Markus Stock. Tue Madsen at the Antfarm Studio in Aarhus in Denmark was responsible for the mix and last but not least the well-known Mika Jussila at the Finnvox Studio in Finland did the mastering. So which you understand, we had a lot of great and professional producers with a lot of experience to give their best into the new album, which we all think they did in such a great way, we can`t describe how satisfied we are! And yes, I think it was much easier this time, I grew a lot during these three years, both musically and personal. I got a lot more experience after recording the first record, you have to remember that Midnattsol is my first real band, before that I only sang and made music on my own. So I feel that after these important experiences, I am on a totally different level now and everything is easier.
"Nordlys" will be released at 28th march in Europe and 1st in North America. The first tour dates of 2008 are Metal Female Voices Fest (18th of October at the Oktoberhallen in Wieze, Belgium) and Summer Breeze Festival (14.08 – 16.08, Germany) MVFV will be the third time in Belgium. Any plans for a tour in Europe and/or North America?
Right now we are in the planning phase regarding live activities, so I can't say so much about it yet, unfortunatly. But we will come with more information on the new homepage which we just have put online, so you can keep yourself updated there! See you on the road!
And the last question, are there things the reader should know that I haven't asked?
I want to use the opportunity to thank all the fantastic people out there for the amazing support!! I hope you like the new album, we are so excited about your reactions! Take good care of yourself and have a great new metal year!
And the question from Lithium that won the competition on Femme Metal Forum… What are your thoughts concerning the recent popularity of female-fronted metalcore (The Agonist, In This Moment)? Do you feel that this poses a threat to more-traditional bands such as yours?
Wow, congratulation to you Lithium, how nice of you to ask me that question, it is a really good one! Actually, I never feel threatened in any way, no matter which band. I think that these are great bands and it would be so boring if every band would sound the same, I think it cool with variety. I can't speak for the other bands, but I have to say additionally that we in Midnattsol do our thing independent of what people think or say, we don't try to be fashion or something like that, we do what we always wanted to do and what we burn for, and the listeners decide whether they want to listen to us or not. And fortunately until now I have to say that most of the reactions and response were in fact not only good, but overwhelming, which of course we are very grateful for. We just hope that the music of Midnattsol can give the listeners something special like its giving us and the future will show what will happen.
Links
MySpace * ReverbNation * Facebook * Twitter * Site
Label : Napalm Records
Review by Tony Cannella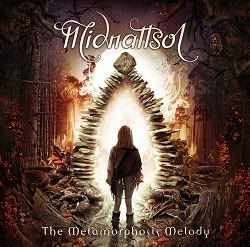 The German Melodic/Folk Metal band Midnattsol, has already made quite a good impression on their first two albums, "Where Twilight Dwells" and "Nordlys", now on the ever important 3rd album "The Metamorphosis Melody" the band has combined the best elements of their first two albums, whilst still blazing a path to the future. After the brief intro "Alu", Midnattsol gets things rolling with the opening title track, "The Metamorphosis Melody" as lead vocalist Carmen Elise Espenaes turns in a stunning performance throughout the CD. Of course, comparisons will always be made to her older sister Liv Kristine of Leaves' Eyes, which is unfair as they have totally different singing styles. The heavy opening riff of the next track "Spellbound" begins this excellent song that is sprinkled with symphonic elements and maintains a steady, hard driving performance throughout. Other highlights include: "The Tide", "A Poet's Prayer", "Forlorn", "My Re-Creation" and the beautiful ballad "Goodbye". The limited edition features the bonus track "A Predator's Prey" and also comes with a bonus DVD featuring 52-minutes of Midnattsol live at the 2009 Metal Female Voices Fest in Wieze, Belgium. Midnattsol are a band that is increasingly coming into their prime as a major force in the world of Symphonic Folk Metal. "The Metamorphosis Melody" is an album that showcases the ever growing confidence and assuredness of this excellent band.
Rating – 90/100
Tracklist
Alu

The Metamorphosis Melody

Spellbound

The Tide

A Poets Prayer

Forlorn

Kong Valemons Kamp

Goodbye

Forvandlingen

Motets Makt

My Re-Creation

A Predator's Prey (Bonus Track)
Line Up
Carmen Elise Espenaes – Vocals

Daniel Droste – Guitar

Alex Kautz – Guitar & Acoustic Guitar

Daniel Fischer – Keyboards

Birgit Ollbrunner – Bass, Acoustic Bass & Mouth Harp

Christopher Merzinsky – Drums
Links
MySpace * ReverbNation * Facebook * Twitter * Site
Label : Metal Mind Productions
Review By Tony Cannella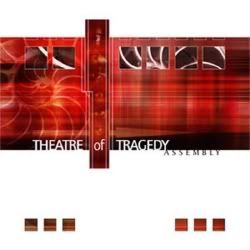 The Polish label Metal Mind have re-issued two of the more interesting albums from Norwegian metallers Theatre of Tragedy. "Musique" and "Assembly" are the last two CDs that the band recorded with current Leaves' Eyes singer Liv Kristine and they also saw the band abandoning their gothic metal sound for a more industrial/electro pop direction. The second of those releases is "Assembly" – which was originally released in 2002. This re-issue features the full CD along with 3 unreleased tracks. The CD begins with the up-tempo robotic number "Automatic Lover". The vocals are mostly handled by Liv on this one and she employs a different style than what we are used to. Raymond Rohonyi joins in for the chorus. The guitars are more pronounced and heavier than on "Musique". As I said this is the second album of their electro pop phase, so the shock should be worn off. A solid opener, for sure and a good way to get things started. "Universal Race" is next and it is a fast, bouncy, up-tempo track and once again the guitars are more noticeable. Track 3, "Episode" begins with one of the heavier guitar riffs that can be heard on either of these two CDs, before settling into a comfortable groove. "Play" and "Superdrive" are two more strong tracks. "Let You Down" is next and it is perhaps the best song on this CD. If I remember correctly, the band made a video out of it and it is a solid choice. Other key songs are: "Starlit", "Envision" and "Liquid Man". A cover of the Supremes song "You Keep Me Hangin' On" is the first of the three bonus tracks, I'm more familiar with the Kim Wilde version that came out in the 80′s, so this was a bit of a surprise to hear this, but it is still quite good. The final two tracks are re-mixes of "Let You Down" and "Motion". The version of "Let You Down" in particular is quite good and it is interesting to hear a bit of a different take on the song. The guitars are brought out more on this version and it is 3-minutes longer than the original version. In my opinion, "Assembly" is the better of the two releases. The band seem much more confident in finding their way with the new musical direction and the songs are more guitar driven, diversified and melodic. It has been a while since I listened to these CDs, but with the passage of time I have come to realize that these CDs are not bad at all. One of the more interesting things is the vocals of Liv Kristine as she proves that she can do more than the soprano thing and she pulls it off quite well. Whatever you think about the new direction ToT adopted for these two albums, you have to give them credit for trying something a little bit different and doing a pretty good job at it as well. "Musique" and "Assembly" remain two of the more fascinating albums in the catalog of Theatre of Tragedy.
Rating – 75/100
Tracklist
Automatic Lover

Universal Race

Episode

Play

Superdrive

Let You Down

Starlit

Envision

Flickerlight

Liquid Man

Motion

You Keep Me Hangin' On (Bonus Track)

Let You Down (Remix) (Bonus Track)

Motion (Funker Vogt Remix) (Bonus Track)
Line Up
Raymond István Rohonyi – Vocals

Liv Kristine Espenæs – Vocals

Vegard T. Thorsen – Guitar

Frank Claussen – Guitar

Lorentz Aspen – Keyboards

Hein Frode Hansen – Drums
Links
Label : Metal Mind Productions
Review by Tony Cannella
Norway's Theatre of Tragedy were undeniable leaders in the female fronted metal movement and one of the first bands of note to incorporate beauty and the beast style male/female vocals. They also served as an introduction to many (myself included) to that genre of metal. They released their fantastic self-titled debut in 1995 then something strange happened. In the year 2000 the band's musical style changed radically, from the dark, gothic metal that the band had been known for to a more industrial/electronic sound. The band's first foray into this musical realm was 2000′s "Musique" and it has been re-issued by the Polish label Metal Mind Productions with three bonus tracks. It is time to go back to revisit this bizarre chapter in the history of the mighty Theatre of Tragedy.Right away you knew that this would be different from most Theatre of Tragedy releases judging by the album cover and song titles, and we were right. The opening track "Machine" is an appropriate introduction to the bands new style. Gone are the death grunts provided by Raymond I. Rohonyi as he employs a new style that ties right in with the electronica vibe. This song has an infectiously catchy chorus and melody and is a huge highlight. "City Of Light" is next and it opens with a simple yet catchy guitar riff and the vocals between Raymond and Liv Kristine are split pretty evenly here. "Fragment" has a dark eerie vibe to it and it one of the best that this CD has to offer. Other highlights include: "Musique", "Commute", "Radio", "Reverie", "The New Man" and the track that was made into a video "Image". The three bonus tracks are quite worthwhile as well. The first song of the three is called "Quirk" and it is the original version of the song that would later become "Image". This version is not as up-tempo as the final version of the song and it has a darker and heavier vibe. After that there are two unreleased mixes of "Radio" and "Reverie". The songs on "Musique" are quite shorter than the ones the band had written on previous albums. These songs are all in the 3-4 minute range and are designed to have immediate impact, which they do for the most part.This album was a huge disappointment to many ToT fans, but it is actually pretty good. Okay, maybe it doesn't compare to their classic material ("Velvet Darkness They Fear" anyone?), but it was a bold step from a band who had to know that there would be a backlash. Now, after living with this for almost 10-years I can take it for what it is, a radical departure from a band who are not afraid to take chances. The band have since returned somewhat to their old style of music with a new female singer and former female singer Liv Kristine is enjoying worldwide success with Leaves' Eyes. So the story has a happy ending after all.
Rating – 70/100
Tracklist
Machine

City of Light

Fragment

Musique

Commute

Radio

Image

Crash/Concrete

Retrospect

Reverie

Космическая Эра (Space Age)

The New Man
Line Up
Raymond I. Rohonyi – Voice

Liv Kristine Espenæs – Voice

Frank Claussen – Guitars

Lorentz Aspen – Synthesizer

Eirik T. Saltrø – Bass

Hein Frode Hansen – Drums
Links
Label : Napalm Records
Review By Erwin Van Dijk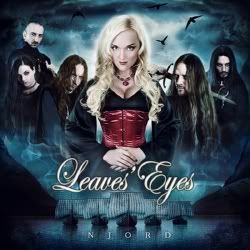 "Njord" is the new album from Leaves'Eyes, one of the most successful female fronted bands in Europe. In short, Leaves' Eyes is the sum of ex Theatre of Tragedy singer Liv Kristine and the German band Atrocity. She also has a sister, Carmen Elise who sings in German based folk metal band Midnattsol. Well, they are family after all. I did an interview with Liv Kristine some time ago, just before the release of "Njord". "Njord" is the logic next step from "Vinland Saga", their last album but with more choirs and more bombastic music. If you are a fan then you can buy/download this album without doubt. The limited edition will feature a model of a Viking boat (a Drakkar), follow here the Liv Kristine's comment about the Drakkar: "This is a way for us saying thank you to our fans and friends. Remember, many of them are collectors. I used to collect Madonna and Black Sabbath/Ozzy special merchendise objects". A highlight for me is the Simon & Garfunkel cover (I never imaged to feature those two in a metal review!). The song gives room to Liv's beautiful voice without being masked with all the goth bombast. Overall quality of the songs is high but it lacks the spontaneous feeling "Lovelorn" – the debut album – had. Thorsten Bauer, the guitar player and mastermind behind the music did a good job composing the songs and husband and supplier of the grunt vocals on the album Alex Krull did a solid job recording and mixing "Njord" at the Mastersound Studio – which is Liv and Alex' own studio. This album is for a romantic evening with your girlfriend in a log cabin somewhere deep in the forests of Norway. And do not forget to bring some good wine and fire wood.
Rating – 85/100
Tracklist
Njord

My Destiny


Emerald Island

Dagon

Take the Devil in Me

Scarborough Fair (Simon and Garfunkel cover)

Through Our Veins

Irish Rain

Northbound

Ragnarock

Morgenland

The Holy Bond

Frøya's Theme
Line Up
Liv Kristine Espenæs Krull – Vocals & Bass

Alexander Krull – Vocals, Keyboards, Programming

Thorsten Bauer – Guitars


Mathias Röderer – Guitars

Alla Fedynitch – Bass

Seven Antonopolous – Drums
Links
6 color styles available:

Style switcher only on this demo version. Theme styles can be changed from Options page.