Browsing articles tagged with " espoo"
Interview by Miriam C.
Transcription by Robin Stryker
This was my second phoner interview that I've made in my life, this time I was more calm and relaxed. Enjoy this funny interview (sometimes during the interview she has got line telephone problems and I was going to repeat the questions) with a kind and relaxed Jonsu, vocalist and violinist from rock all female band Indica.
Let's start, "A Way Away" is coming in the stores the 25th June on Nuclear Blast. Why choose this label? I mean Nuclear Blast isn't the typical label that sign rock melodic bands.
When we were touring with Nightwish, Nuclear Blast was the label that was interested to do the English album, and they had showed some passion towards our music. I loved the way they worked and how they put their whole soul and heart to it. So it made us be sure that it is the perfect label for us. Also I have to say that it was a good thing that Tuomas told me before – you know Tuomas [keyboardist] from Nightwish, they have been with Nuclear Blast for many many years – and he told me that "I have no bad words to say about that company". So it was a good recommendation.
Obvious question, how's born the collaboration between Nightwish mastermind Tuomas Holompainen?
It was great. The first thing I did with them was "Erämaan Viimeinen" (The Last of the Wilds), one of their songs. After one of our shows, Tuomas came to ask me if I would like to sing that song, and he said he has been a fan of our band since it started. And I said like "yeah, yeah, let's try it". It went well and then they asked later if we would come on the Scandinavian tour. I think Tuomas and the whole band is great. Tuomas is a really talented musician and composer, so it was great to work with him. And later, of course, to do albums with him. Also on "A Way Away", he wrote lyrics to one song, "Precious Dark".
I found a bit strange to publish an entire album with translated lyrics in English, when take for example such metal acts like Ensiferum, Korpiklaani,they publish without problems album in Finnish language. Why take this decision?
Why did we do an English album? When we started about nine years ago, we did songs in English and in Finnish, but then we had to choose one language. Finnish sounds more natural, but we knew that someday we probably will do anyway an English album. When we started touring abroad, the fans started to request if we could do some songs that they would understand too. There was only really crappy YouTube versions they could listen to. So that was the main reason why we did it now. I think it was a big challenge for us, too, because we have seen every single corner of Finland and every single club, and we have been working there and touring there and doing albums like "Ikuinen Virta" in 2004. So it was a big challenge for us, and also really interesting to see new places and meet new people. Also with the language, I would say that the English language is maybe, when sung, it sounds more beautiful and it's flowing totally differently. Maybe Finnish is more exotic, but anyway the music sounds totally different, so we found it really interesting.
Your last album was called "Valoissa", right? And if I'm not wrong the English translation is "light".
Yes, you can say "in the light". In the song, we are really talking about like traffic lights. It is a little bit ironic text about "what if I die in the traffic light" and you can't just mourn. Don't be sad.
Are "Valoissa" and "A Way Away" titles connected?
"Valoissa" and "A Way Away" … no, there are a couple of songs from the "Valoissa" album in "A Way Away", but otherwise those albums aren't alike. Those aren't connected anyhow.
If I ask you to define Indica's music style what do you reply?
It's a funny question because, as a composer, it's really hard for me to describe the music because somehow I think it's impossible to describe music in words. But, I can say what other people have told. So, some people – like all reporters in Finland – call it like mystic-romantic pop rock, and it was funny how it started. One reporter just said like, "oh, this sounds like mystic-romantic" and suddenly all the reporters were writing it's mystic-romantic. Yeah, one interviewer also said, "it sounds like Disney on acid." (laughs) I think it was a funny description. I'm sure there is some films, movie soundtracks and a lot of movie composers.
On 30th April you've published out the videoclip "In Passing", what is the story behind the video and how was work with Patric Ullaeus Team?
Yeah, in Sweden in Gothenburg. You are talking probably of the "In Passing" video. The story behind the song is that it is kind of a letter from an older sister who is dead to her little sister, and she is trying to encourage her and telling her that "you must go on with your life and move on". It was great to work with Revolver Team, and Patrick Ullaeus I think did a great job. We shot it two videos in Gothenburg. "Islands of Light" I think it isn't published yet, but it will come out soon I guess.
Watching your promo shoots I was astonished about your dresses. Who's the creator of it?
Sometimes we are using different kinds of designers, but there is one Finnish, Anne-Mari Pahkala, who has done many of our dresses. Some dresses we are found from our grandmas' closets or somewhere, like anywhere where we go. But Anne-Mari Pahkala is a girl with whom we have worked the most.
Before "In Passing" video there was another one video called "Snakes and Arrows", I've seen it, have you shooted it in Tokyo?
We had one. It was kind of, you know, zero budget. We deal with just one friend's photographer wanted to do one because he wanted to do some photo shootings there, and we had a show in Tokyo. We spent there a week, so we were shooting the video at the same time. But it was a great experience. I really liked Tokyo, but I couldn't believe that I would live there.
Which is your favourite song from "A Way Away" and why?
My favourite song from the album is, I guess, the ending track "Eerie Eden" … "As If" is also one of my favourite tracks. I always fell in love with the slow songs, so that is why maybe "Eerie Eden" and "Children of Frost" and "A Way Away" are one of my favourites. The girls are always angry to me because I always try to do a slow album where there is only slow songs on there like that. "You are killing the audience! They will fall asleep". (laughs) So, it's good that we have different opinions in our band too, because otherwise it would be only 10 slow songs on the album.
I know that's very very early to talk about that but are you working for the next album with brand new songs?
Composing is my lifestyle, and I'm all the time composing something. But we really haven't sat down yet with the band and talked about what we are going to do, what kind of direction we are going to go in. Maybe after this album comes out, we can sit down and talk about that with the people that we work with and do some planning.
What are the next band planes?
In the near future we are going … tomorrow [the interview was done on the 20 May 2010] we are in Italy doing something and going to Rome, then we go to Leipzig to do one gothic festival and then I go back to Finland to do some TV programmes. Then we are playing in Rock am Ring and Rock im Park (it's in Germany).
It's a very famous festival, with groups from every genre, and MTV is there.
It will be interesting and I think they said that they are shooting the show too. So we are doing some festivals in summer, but mainly touring will start in the autumn. Then the plan is to tour pretty much before Christmas and go around Europe. Let's see, I have a meeting with my gig agents next weekend, then they tell us some ideas.
Italy is in your plans?
Yeah, I'm sure Italy will be on the list. But really, I would love to, I'm waiting to come back to Italy. These days we are doing some acoustic performances in the radios but to do a real live show because I think Italian audiences are great. They are so free and open.
Greet our fans freely!! And thanks!
Thank you very much for the interview! It was really nice to talk with you, and I hope to see you somewhere.
Kiitos! [Finnish word for thanks]
Oh, you know it! Great.
Links
MySpace * Facebook * Twitter * Site
Latest Multimedia

Interview by Alessandra Cognetta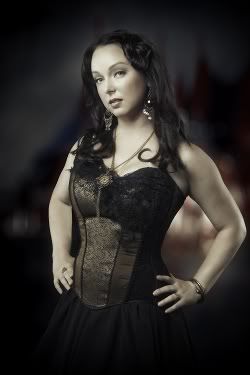 Heidi Parviainen is the lead singer of the Finnish Amberian Dawn. Their latest album, "Circus Black", has been released on the 29th of February in Europe, USA and Canada. We took this chance to ask her (and Tuomas Seppälä, AD's songwriter and keyboards player, as well as one of the founding members) some questions about the band, their latest work and more.
"Circus Black" is yet another step forward for Amberian Dawn. What do you think changed, was added or improved from your previous works?
Heidi: "Circus Black" is the most singable album from AD so far and I really like it.
This is the first album to feature a real orchestra and choir, which I must say is one of the additions I enjoyed the most. Was it already in your plans for earlier releases or is it an element you chose to implement only for "Circus Black"?
Tuomas: To be quite honest…we haven't afford to use real choir before…now we had a chance to try it and it was great...
The Album Sampler states "strongest line-up so far": what does every member bring to AD's sound as a whole, both in studio and live?
Tuomas: We have gathered the best musicians possible so that we can achieve the very sophisticated and highly techninally advanced sound. Every band member needs to be a true virtuoso with his own instrument. I write all music for AD, including guitar riffs, vocal lines etc. but still there's always some free space for every musician to color the music with their own way of play.
Another highlight is the once again stellar guest appearances. Can you tell us about these collaborations?
Tuomas: We have always used some guest vocalists or musicians on our albums. I like to to do it, because that's how I can get more variations out of AD's music. Those guest singers on this albums are "hand-picked" and I tried several different singers and selected the most suitable for each and every song.
Heidi, you write all the lyrics for the band, often taking inspiration from Finnish mythology. What's behind the lyrics of "Circus Black" and what is your usual writing process?
Heidi: On "Circus Black" there are no Kalevala lyrics at all. I wanted to take a step into a different direction with the lyrical work and this album has a kind of a psychological vibe since some lyrics talk about our fears, bad relationships etc. But there is some folklore too and even light horror. Tuomas always (except once with "Lionheart") composes all the music first and sends the ready melodies to me and I write the lyrics.
You've also recorded songs in your mother tongue ("Virvatulen Laulu" from "End of Eden"), it's surely a very different experience, for you as a singer and for the fans as well. Do you prefer singing in English or in Finnish?
Heidi: I prefer singing in English because we mostly perform to a foreign audience and it is importat that the audience understand what the lyrics are about. But it is really fun to break the rules sometimes and do something different. Who knows if there will be a new Finnish song someday…
What's the concept behind the video for your new single, "Cold Kiss"?
Heidi: The story of "Cold Kiss" is a kind of a "Twilight" spirit lovestory between a vampire and a human.
AD recently toured Europe with Tristania, Xandria, Serenity and Van Canto, how was it sharing the stage with all these very diverse female fronted bands?
Heidi: Yes. It was! All the ladies on tour were a great company and it was kind of refreshing to once work with so many women. We had a lot of fun together. The only this I missed was a song together with all the ladies!
"Circus Black" was released for the first time in USA and Canada, too. What do you think this will mean for the band? Are there any plans for an overseas tour in the future?
Heidi: All the plans are still open and we hope to be able to tour soon. It would be lovely to go over seas but let´s see.
What's your favourite song to perform live and why?
Heidi: From our previous albums I like "River of Tuoni" because it is the most popular song from AD so far and the audience know the lyrics and melody so they can sing along. But ther are many other I also like to sing.
Have you ever thought about pursuing a career as an opera singer, or singing something different from Amberian Dawn's repertoire?
Heidi: Not really an opera singer but I do study classical singing at a conservatory and I also do some classical concerts. Who knows what the future will bring, I´m all open to it!
You're often compared to other female fronted bands, like Nightwish for example. What is your opinion on this matter?
Heidi: Well. As I often say. Maybe ther are still too few female fronted metal bands that people need to compare the bands to the only one who really has reached the big succes in this genre. Still there are much less female fronted bands that male fronted. No one is really wining about their singing styles which sound quite same to my ears in their rock technique. It doesn´t bother me but it is quite weird that is still happens after these six years and four albums with AD. In my opinion there a quite few similarities with Nigtwish and nowadays even less after Nightwish started to work with Anette. Does really the singing techique of the singer make everything- includind songwriting, other istruments- sound similar? I don´t think so.
With the new album and single out since less than a month, what do you see in the future of Amberian Dawn?
Heidi: I hope lots of gigs and touring and hopefully a wider audience too and better sales!
Thanks for taking the time to answer our questions, greetings from your Italian fans!
Heidi: Grazie mille! Baci a voi!
Credit Photo
Band photo by Toni Härkönen
Links
MySpace * Facebook * Twitter * Site
Latest Multimedia
Label : Spinefarm Records
Review by Tony Cannella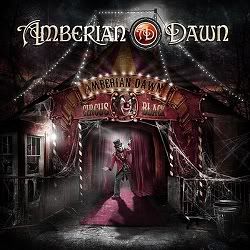 The Finnish symphonic metal band Amberian Dawn has come a long way since their inception in 2006 and their debut in 2008. With their 4th and latest album, "Circus Black" the band continues to emerge from the shadow of fellow Finns Nightwish and maintain a steady path to move onwards and upwards.The bombastic, beautifully lush "Circus Black" starts things off and is followed by "Cold Kiss". For this song lead vocalist Heidi Parvainen is joined by Stratovarius front man Timo Kotipelto for an amazing duet. For the next song "Crimson Flower", the band is joined by Stratovarius keyboardist Jens Johansson for a song that really revolves around the remarkable operatic vocals of Heidi. Guest keyboardist Jens Johansson is allowed to go off on his own for a bit in this song, he was also once upon a time a member of Yngwie Malmsteen's revolving door of musicians and the guitar solo and keyboard part remind me a bit of the Swedish guitar wiz. "Crimson Flower" would make a great video track from this album. "Charnel's Ball" is a slower paced song with a huge operatic/symphonic feel to it. "Fight" is just a fast paced power metal tune, which once again recalls the past glories of Yngwie as well as Stratovarius. Of course the operatic vocals are what set it apart from those two bands. Other highlights include: "Letter", "I Share With You This Dream" and the excellent instrumental "Rivalry Between Good and Evil". I am not really a fan of instrumentals but this is one of the better ones I've heard in a long time, and it is a great moment where the musicians are left alone to show their phenomenal talents. "Circus Black" is another strong achievement for Amberian Dawn and may be their most ambitious effort yet. Is it their best? That's hard to say, each album has its own charm and "Circus Black" is a great addition to their catalog. Time may tell if this is the album that pushes Amberian Dawn over-the-top.
Rating – 85/100
Tracklist
Circus Black

Cold Kiss

Crimson Flower

Charnel's Ball

Fight

Letter

I Share With You This Dream

Rivalry Between Good and Evil

Guardian

Lily of the Moon
Line Up
Heidi Parvainen – Vocals

Kasperi Heikkinen – Guitars

Kimmo Korhonen – Guitars

Tuomas Seppala – Keyboards

Jukka Koskinen –Bass

Heikki Saari – Drums
Links
Label : Ascendance Records
Review by Tony Cannella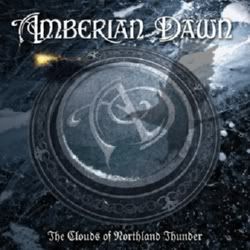 Finland's Amberian Dawn have already created quite a buzz for themselves thanks to their phenomonal 2008 debut "River Of Tuoni". The band have also been touring relentlessly – supporting the likes of Epica, Evergrey and Kamelot. After listening to the aforementioned debut CD it was really easy to become excited about this band. Now, they have released their eagerly anticipated follow-up CD titled "The Clouds of Northland Thunder" and after a few listens it is quite apparent that all of the praise the band received on their first album was well deserved.The band play symphonic power metal with plenty of bombast to the songs and have been compared favorably to another Finnish band Nightwish, thanks in part to the Tarja Turunen-esque operatic style of singer Heidi Parvainen. Personally, I think the songs that can be found on any one of their two albums – but particularly "Northland Thunder" – are good enough to stand on their own. "He Sleeps in a Grove" gets things started on a fast paced, high tempo note. A strong opening track that is a perfect showcase for the awesome vocals of Heidi. This is a band that is at the top of their game and it definitely shines through on the opening track. The following number "Incubus" keeps things headed in the right direction and it is a definite highlight. Check out the fantastic guitar solo on this one. "Kokko – Eagle of Fire" slows the pace down a little bit. This is a nice mid-tempo number that once again highlights the great vocals of Heidi. "Willow of Tears" is a haunting ballad that offers a nice change of pace and the orchestration that is present in this song is a nice touch. "Shallow Waters" picks up the pace again and offers plenty of bombast. Other highlights include: "Lost Soul", "Sons Of Seven Stars", "Saga" and "Snowmaiden". When all is said and done "The Clouds of Northland Thunder" features 12-songs and 47-minutes worth of pure symphonic metal paradise. With "The Clouds of Northland Thunder" Amberian Dawn have released another master piece. For anyone who liked "River of Tuoni" than I can safely say that you will love this one. All of the elements are there that were present on the debut but this one is a logical progression. Amberian Dawn should hopefully be prepared to take that next step in the metal stratosphere.

Rating – 80/100
Tracklist
He Sleeps in a Grove

Incubus


Kokko – Eagle of Fire

Willow of Tears

Shallow Water

Lost Soul

Sons of Seven Stars

Saga

Snowmaiden

Lionheart

Morning Star

Birth of the Harp

Windows

A Rise
Line Up
Heidi Parviainen – Vocals

Emil "Emppu" Pohjalainen –Guitars

Kasperi Heikkinen – Guitar


Tuomas Seppälä – Keyboards

Tommi Kuri – Bass

Joonas Pykälä-aho – Drums
Links
MySpace * Facebook * Twitter * Site
6 color styles available:

Style switcher only on this demo version. Theme styles can be changed from Options page.