Browsing articles tagged with " eva"
Live Report & Photos by Erwin van Dijk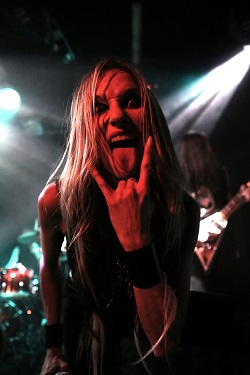 Huntress and Gold are two bands which qualify the describtion "Female Fronted Metal" but are worlds apart musicwise. The two bands did share the stage at the 013 venue in Netherlands on a hot saturday night. The 013 is one of the larger venues in the Netherlands. Bands like Therion, Kamelot and Dragonforce visited the venue in the past. In fact, Huntress was the opener for Dragonforce some time ago. The Stage1 is of course not as big as the main hall of the 013 (the Stage1 would fit on the stage of the main hall) but as Milton said it's "Better to reign in Hell than to serve in Heaven" and a headliner gig is more fun than a couple of songs in front of an audience who are waiting for the headliner. It's also the second gig for Gold at the 013. The band did a gig at the very prestigious Roadburn Festival.
Gold (from the city of Rotterdam) decribes themselves as a "comtemporary rock band that's heavy because of the songs, not the sound". The band has only time for 6 songs (see setlist) from the "Interbellum" album. Continue reading »
Label : Ravenheart Music
Review by Tony Cannella
From Holland, Only Fate Remains is formerly known as Trisomy and were formed in 1996. They released three demos under that moniker before changing their name to their current one. This brings us to 2011 and the debut full-length from Only Fate Remains "Breathe". The music on "Breathe" is some high quality melodic metal that has drawn favorable comparisons to such bands as Evanescence, Lacuna Coil and The Gathering. That is not a bad trio to be compared to.
From the opening track of "Nightly Walks" it becomes apparent that Only Fate Remains has something a little different to offer that many of the current female fronted bands. They eschew the usage of grunt vocals, orchestras and operatic vocals. Instead they opt for a more organic sound that emphasizes the heavy guitars and Eva Kokken's excellent, clean vocals. My favorite song is the more up-tempo "Fall". This track would make an excellent single/video, in my opinion and a song that I would play for anyone who has not yet heard the band. "Shallow Water" is buoyed by an excellent guitar riff which is complimented by the vocals and Maarten Siem's keyboard work, but it is this huge guitar riff that really makes this song work for me.  Continue reading »
Label : Dreamcell11/Aural Music
Review by Andrea Disgraced
Theatres des Vampires are back and this time with full force! Ok, let's start from the beginning: being an old, huge fan of the band and having followed them since the beginning, loving almost every change in directions they had made, since most times they did it with both "brain & heart", maintaining a very high profile, musically speaking. Until that infamous "Anima Noir", which dates back to 2008 and that brought a lot of doubts to my mind. Don't get me wrong, I own it and enjoyed A LOT one gig of the promo tour here in Italy but after that period I didn't listen to it anymore; when I decided to have another go at it some months ago I suddenly realized all the flaws that back in 2008 the excitement of a die-hard fan didn't allow me to see. But this isn't a review of "Anima Noir" so I'll be brief, although it's a necessary prologue to understand my following statements. In few words, that was a bad album, with half of the songs that really didn't do any justice to such a band. There was a wonderful song, the ballad "From The Deep" and generally talking the first half of the album was more than decent, with some shivers then and there (no, that wasn't meant in a positive way!

). second half of the album was shamefully bad, bad songwriting, ridiculous keyboards-laden songs with that electro flavour that can appeal only to German goth dance clubs (no offense of any kind to anyone attached, be it clear). Only other wonderful song, the magnificent closing title-track couldn't save the album from drowning, in my personal and most humble opinion. So I admit I feared not that TdV took a direction I wouldn't like or became even less metal or bullshit like that, but simply that they would've come back with a – in my personal and most humble opinion – bad written album. God! Satan! Whoever you want! I was So wrong! I'm consuming this promo, I think.

The band decided somehow to dare, without losing its trademarks since countess Sonya Scarlet is the singer, and wrote a bunch of kickass songs that I refuse to call vampiric as if this review or the album where aimed at a teenie goth who thinks Stephenie Meyer invented gothic/vampiric literature. The album starts with "Keeper of Secrets", a good, heavy gothic metal song that perfectly opens to you the doors to what Theatres are today (and, I hope for several years to come). Aggressive guitars but never wannabe-aggressive, if you get my point: they don't try to be harder than they actually are and it's perfect this way. A catchy opener that will bring massacres during gigs! Last but not least, it introduces the first guest of the album, Mr. Snowy Shaw of Merciful Fate and Therion fame (let's not chat about the latest happenings around him I'm sure you all know of and that don't get him in the light so much hehe

). Let me tell you something that I'm sure you all crave to know about. Sonya's performance is here probably her best EVER. It must be said that that is also due to a finally perfect production, able to give Sonya's different vocal nuances the right tone to be well expressed and recorded. Actually I think that her rockish vocals are quite interesting in the scene: unusual, sensual, with a lot of "recitato" (I take this word from the opera terminology to say that she really means what she sings, so to say). Not to mention that her opera-like singing, being it in the background or the leading vocal line, has improved so much and sounds now so incredibly good! Ok, not as powerful as the queens of "opera metal", but at least so clear, pure, crystalline you can't but love it. I dare to say even better than in those days in which she was merely a back-up singer and all (or nearly all) she had to do was to sing that way. Of course, throughout the whole opus we meet the usual male vocals – same speech here, sometimes they're just in the background, sometimes they duet with Sonya and sometimes they sing alone. Shame on me because I can't tell you who and when is doing them, since Fabian, Zimon and Gabriel, respectively keys, bass and drums are used to do those deep, male vocals, live too, so I guess you'll all have to attend a show! "Fly Away" and title-track "Moonlight Waltz" will make you feel like you wanna throw away half of your (modern at least) gothic metal collection, since these two passionate songs are surely above an average rating and mark other two songs I'm craving to hear live as soon as possible! Let's arrive to the cover song of this album: beloved Hijo de la Luna by Mecano, here in an Italian version called "Figlio Della Luna". Now, I usually hate covers identical or almost identical to the original, I wonder what's the point in doing that… This is NOT identical to the original, but not even totally different, that must be said. You'd recognize it very easily. Nonetheless, it's a fucking masterpiece! Perhaps because Italian is after all my mother tongue and so it has a particular taste – the exotic one for non-italian speakers. Perhaps because the orchestration and the band's skills turned it into a perfect symphonic cover – lately the only similar example I've heard, of something not having anything to do with symphonic metal that became an awesome pièce of it is "Still of the Night" by the goddess Tarja. Anyway this cover has it all: a heartfelt interpretation by Sonya, soaring orchestra and choirs and the right, fitting hitting of the band on the respective instruments. And if I can add, Sonya's performance has a nice feeling reminiscent of some classic (not classical) italian singers like Patty Pravo which is simply a point more in the whole thing. Ninth track "Le Grand Guignol" displays the talent of one of the first and best extreme metal women of all times: Cadaveria. The production gives a good hint, when she growls, of how she sounded back in the past with her previous bands, always on the edge of symphonic black metal and thrash; besides, we can hear also how perfect and angelic her clean vocals can be. "Obsession" is a good example of how you can make a song with electronic elements with an orchestra and choirs (thanks to the Classical Music Academy of Rome directed by Luca Bellanova) that would make many symphonic metal bands quite envious. Of course that isn't something related to just this track, as beautiful violins act as a perfect side part in "Carmilla", chosen as first single and which you can see the video to here. When I first listened to "Medousa" and "Carmilla", the songs made available on myspace, I admit I prefrred the former, though now also the latter, after nine or ten listenings before writing this review, has started to grow on me. "Medousa" is the closing track of this album, which features the classy participation of Eva Breznicar from neofolk-industrial band Laibach. Unfortunately although I like the song in itself, I don't find it a good ending, too anonymous perhaps. And I expected something more in the veins of Laibach, with their singer collaborating but maybe it was just me thinking wrong, maybe she was just invited to sing and stop. I still think it would've been an interesting experiment. On a negative note I can't help but pointing out that once again the English pronunciation isn't at its top at all; partly I think that's because of Sonya's particulasr style of singing: I mean, also when she sings in Italian I have problems in understanding the lyrics!

And if it can be of any consolation that's a problem shared by 99,9% of Italian bands in any genre, apart from those so commercially big that I think are forced by their labels to sing as clear as possible. Pity, otherwise my final vote (even though it's a number that doesn't count anything without reading the whole review) would have been higher. So, welcome back, TdV! p.s.The limited edition includes a bonus DVD with the video to "Carmilla", a "making of" of the album and other exclusive stuff.
Rating – 82/100
Tracklist
Keeper of Secrets
Carmilla
Moonlight Waltz
Fly Away
Sangue
Figlio Della Luna (Mecano cover)
An Illusion
Black Madonna
Le Grand Guignol
Obsession
The Secret Gates of Hades
Medousa
Line Up
Sonya Scarlet – Vocals
Stephan Benfante – Guitars
Fabian Varesi – Keyboards & Backing Vocals
Zimon Lijoi – Bass & Backing Vocals
Gabriel Valerio – Drums & Backing Vocals
Links
MySpace * ReverbNation * Facebook * Site
Independent Release
Review by Danny Robertson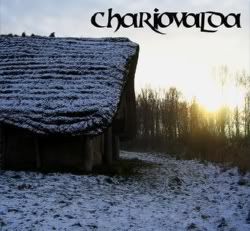 Chariovalda presents this debut EP. Essentially a solo side-project of Sebas (from the band Heidevolk) who wrote the majority of the music, this EP also features vocal contributions from Iné Zijlstra, from the battle metal group Elexorien, in addition to two other musicians – former Heidevolk violinist Stephanie Achatz, and sometime-Rapalje contributor Eva Marks. The musical output here is a slight departure for those more accustomed to Sebas' more metal-based material with Heidevolk – whilst still sang entirley in Dutch, this release consists of four tracks of medieval acoustic-folk, heavily influenced by German history and mythology, paganism and nature. So whilst the music itself may be different, the influences behind it are still very much the same. The tracks presented here would be the perfect soundtrack to a medieval battle reenactment!This CD would easily appeal to fans of Heidevolk and the likes of Turisas, or medieval themes and acoustic pagan/folk music, and is a good taster of things to come. The EP is available via Chariovalda's MySpace site, and at live events featuring Heidevolk, Elexorien or Rapalje.
Rating – 80/100
Tracklist
Noordzee (As Autumn Falls)


Freya

Web Van Wording

Het Heilige Woud
Line Up
Iné Zijlstra – Vocals

Stephanie Achatz – Vocals and violin

Sebastiaan "Sebas" van Eldik – Guitars, beatring and drums

Eva Marks – Bodhran
Links
6 color styles available:

Style switcher only on this demo version. Theme styles can be changed from Options page.