Browsing articles tagged with " faith"
Interview by Erwin van Dijk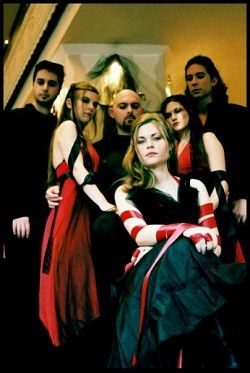 Dakrya is a gothic metal band from Greece and the bandname means "Tears" in Greek. They recently released their debut album called "Monumento".
The first question: can you tell us something about yourself?
Christina : Hello, I am Christina and I am singing in Dakrya. Singing sets my soul free, makes me feel alive, and I hope that through our music the audience will find a way to express their feelings.
Thomais : Well… I am Thomais sharing the vocal area (the more classical one) with Christina in Dakrya too. It's a tough job but someone has to do it… haha I'm just kidding. Love sharing the stage with those guys cause they are my friends, and like a family to me.
How did you get into the music business? Did you always wanted to become a singer?
Christina: I always wanted to become a singer, since I remember myself. As a child I used to give performances in front of my parents! My deepest will was to sing and share this joy I felt with others. When I graduated from high school I thought that journalism was a good idea, so I studied mass media at the university. But singing is something that has always been chasing me and I'm quite sure that I won't let it go! At the age of eighteen I started singing lessons and soon I came across people who helped me find my way into the music business.
Thomais: Certainly a tough one, and difficult to handle with! Well, its classical background makes it even more demanding when I have to combine the techniques in this kind of music and it has its needs of space and time. That's why I believe emotion and expression are so important. They give colour and meaning to a voice, helping you pushing your limits further.
Guitarists and drummers can talk endlessly about their gear. Since you are one of the singers of Dakrya, what do you do to keep your voice in top condition?
Christina : As I said before, I've attended singing lessons for 4 years and I'm still working on my voice with exercises. Actually, I'm going to continue the lessons and try to improve my technique and my potentials.
Thomais : For me keeping my voice in a good condition is really important. It's my instrument and the way I handle it shows in the results so I have to be careful. I always prepare my voice before a show, rehearsal or entering a studio. Of course there is a weekly exercise too. The voice is a very fragile instrument and a unique one in every human being. You have to practise its different abilities every day and it never stops to amaze you.
Have you played in other bands before Dakrya? Or do you have an other band besides Dakrya?
Christina : I've participated in another band before Dakrya. That was my first experience in a band, which helped me to learn how to cooperate with other musicians and move on. We didn't have discography or even a band name, we were just a group of people who shared their love for metal and rock music. At the moment Dakrya is my only band and try to give my best to it.
Thomais : Yes I have been in other bands. I was the singer of Insidius Infernus for a period of time, a Greek black metal band, releasing two albums in our active years. I was 17 years old back then and had the cliché nickname Luciferia… hahaha. I have also participated in some theatrical choirs and giving session performances… at the moment I'm giving my full attention to Dakrya and I'll keep it that way for a while as we have new recordings coming and shows to give.
To what kind of music do you listen yourself? And who is your favorite singer?
Christina : I love music in general, but metal and rock music have a special place in my heart. Black Sabbath is my favourite band, with their incomparable riffs stuck in my head! Lately I'm more into southern rock, and listen to bands like Monster Magnet and the Greek's Nightstalker. As for the voices I admire, I love the powerful voice of Bruce Dickinson, the absolute rock voice of Axl Rose and the black voice of Joss Stone.
Thomais : I prefer listening to music that suits my emotional state at any time, I have some favorites starting with Primordial, Shinning or Meshuggah (the third one will make our guitarist really happy! Haha), ending with Loreena McKennit, Ayreon and so on. I listen to metal and classical music of course but I also love industrial, folk – acoustic and rock in general.
Christina, what are the differences between you and Thomais when it comes about singing for Dakrya?
Christina : Thomais has a more lyrical voice with a classical background and as I said we try to combine our voices. Of course, each voice has a different role in the songs. I believe that in Dakrya we are experimenting so much with our voices that sometimes our voices seem like one.
Thomais, what are the differences between you and Christina when it comes about singing for Dakrya?
Thomais : Well, first of all how our voices make as different… plus she is blond! Haha! Every song is a different concept… we have to express different emotions, playing a different role in a more theatrical aspect. That gives us different orientations, but makes us more bonded too. Depending on what you need to feel that very moment you listen the song.
What is the idea behind the band name?
Thomais : Dakrya is a Greek word written in Latin characters and it means 'tears.' I guess Sophia came up with that name for the band because she was having a kind of dark and esoteric period, nostalgic or even a hopeful one. A tear can be shed for many reasons… joy to anger, sadness or fulfillment.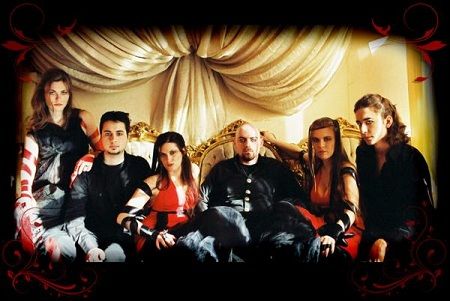 Can you tell us something about the songs present on the debut album?
Christina: The first three songs in the album is a trilogy. They are talking about faith and its loss, the punishment that follows and the domination of pain, and finally about the newborn hope that rises from the ashes of our existence. The human element is very intense through the songs and they describe the emotional changes of a man and the function of the subconscious.
Thomais: All the songs have their own reason to appear in the album, even their order and their structure gives them a concept meaning. Past dominates and bounds a timeline when things change us personally, musically even the people participating in this attempt of giving life in this work. It's a monument of memories that became melodies for you to listen.
About the songwriting: is there one mastermind in the band who does all the writing or is it teamwork?
Thomais : Yes, all the credits go to SophiaX for that. She begun having a dream and tried give it life through her compositions and lyrics. Christina and I create all the vocal arrangements and George D. enriches the sound with extra guitar parts and solos.
Dagwn, the singer from Nethescerial did the brutal vocals on "Monumento". How was it to work together with a male singer?
Thomais : It was fine! We had a great time and fun during the studio sessions! We needed a masculine feeling and he clicked really nice. He is doing a great job with his band too and he was the first we though for the guest vocals.
Christina : It was fine! We had a great time and fun during the studio sessions! We needed a masculine feeling and he clicked really nice. He is doing a great job with his band too and he was the first we though for the guest vocals.
And how are you going to do his part live? With guest singers?
Thomais : George has already taken the responsibility for the brutal vocals and it works really well on stage too. Well, guest singers may appear in the future but for different reasons and not from the lack of one.
Christina: Yes, I think it's time for George to show all of his talents!
I could find little information about Thomas K, who did the declamations on "Monumento". Who is he?
Thomais : Thomas is a very good friend of us and had been preparing during rehearsals as a second guitarist for a small period. He left the group though for his own personal reasons and we won't have him with us but of course our friendship still remains.
Christina : Thomas K except from our friend I believe he is our biggest fan! He is very supportive and we are so grateful about it.
There are not many metal bands from Greece and certainly not with female singers (exceptions are to name a few Ismini and Astarte) Can you tell us something about the music scene in Greece. Is it difficult there for the more heavy metal oriented bands?
Thomais : Things are very difficult in the metal Greek scene in general. Labels don't pay a great attention to newcomers and sponsorships are rare in the beginning. So you have to try with your own forces, to prove yourself to the audience who is the only factor that will set the fate of a new group, by accepting or reject it.
Christina : Actually there are many metal bands in Greece. The problem is that it is very difficult for metal bands here to move on and become known to a larger audience and especially outside the borders of Greece. The most popular music in Greece is the local Greek music and dominates the music business without leaving any opportunities for metal or even rock bands to develop. It is really sad…
And since Greece is relatively far away from Western Europe (some 3,000 kilometres by car) is that the reason why we see not many bands from Greece tour in the west? (Besides Rotting Christ).
Thomais : All that I said before comes to the answer in your question. A label will make an attempt to support a band and helping it's effort by booking a European tour and so on, when it will notice it's success and acceptance in Greece.
Christina : If you don't have some kind of financial support I think it's too difficult to tour to Europe. Especially for young people who are working hard just to make a living and they have no savings…
So, are there any plans for a tour in Europe?
Christina : There are no plans at the moment, as we want to tour in Greece first, but there are a few potentials for European gigs in 2009 and we are going to make it true despite the obstacles! We want to see the world and taste new experiences as musicians and as persons too.
And the last question, are there things the reader should know that I haven't ask?
Thomais : Thank you Erwin, for giving us the chance to come closure to the audience. We would love to see you soon by giving a live performance in your country.
Christina : I want to thank you too! Well, the readers should know that we have some new stuff to work on and hope we will surprise them positively!
Links
MySpace * Facebook * ReverbNation * Twitter * Site
Label – Reality Entertainment/Dreamcell 11/Aural Music
Review By Tony Cannella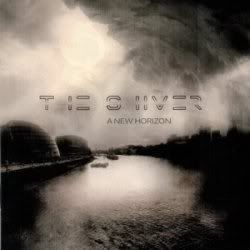 The Shiver is a melodic, gothic metal band from Italy. Their second album is titled "A New Horizon" and the band has already drawn favorable comparisons to Evanescence, thanks in part to the infectious melodies that can be found throughout the CD and the Amy Lee-esque vocals provided by Federica Faith Sciamanna. "A New Horizon" features a playing time of 41-minutes and the first thing that I realized is that there is a certain contagious charm on display throughout the duration. The songs flow together nicely and from the outset of the opener, "In Obscurity" is quite apparent that "A New Horizon" will be an enjoyable ride. "Crushing Down" follows the opener and instantaneously became a huge highlight. The band shows an immense appreciation for melody throughout the CD as can be heard on "Empty People Empty Words", "Nothing Left To Waste", "No Longer Here" and "Desire". The Shiver maintains a similar tempo in the songs throughout "A New Horizon". In addition to her soaring vocal delivery, Federica also adds some death grunts at various points, these are done more as background enhancements on choruses, so they don't overwhelm anything and they are a nice, added touch. "A New Horizon" is an excellent first effort from this very talented and appealing Italian band. The Shiver is a new powerful force in the realm of gothic metal.
Rating – 80/100
Tracklist
In Obscurity

Crushing Down

Empty People Empty Words

The Fragile Sound

Nothing Left to Waste

Through This Cold Water

Leech and Flower

Answers

Feel Tomorrow's Light

Desire

No Longer Here

Bring Me to the Horizon
Line Up
Federica Faith Sciamanna – Vocals

Stefano Tocci – Bass & guitars

Francesco Finch Russo – Drums
Links
MySpace * ReverbNation * Facebook * Twitter * Site
Label : Century Media Records
Review by John Davies
I remember the first time I heard the song samples on Eyes of Eden's MySpace, I was really impressed and I was anxious for the release of this debut CD. It took a little longer to get hold of a copy from over here in North America but I was not disappointed when at last I managed to get one. "Faith" is a great accomplishment, delivering some of the cleverest song writing I've heard. It's hard to label this band's sound but I'd say it's a blend of symphonic and progressive metal. There are no operatic vocals, no death growls and no guitar shredding, just some perfectly crafted songs with the beautiful silky vocals of Franziska Huth, some amazing orchestral accompaniment, crunchy metal guitars and very tasteful lead breaks. Also, there are excellent background vocals coming from Sandra Schleret who recently joined the band Elis. The first track, "Winter Night" is certainly a stand out song. This and many of the other songs have a fantastic whimsical nature to them. The choruses are breath taking, and the vocal melodies are ingenious, with the main vocals and background vocals often playing off of each other, as well as off the instrument parts. "Pictures" opens with a beautiful guitar intro, and progresses into a lush, melancholy gem. "Sleeping Minds" is a rather delicate sounding song, with escalating orchestral bridges that will bring you to ecstasy. "Daylight" is one of the heavier songs and has one of the most beautiful choruses. The last song called "Not Human Kind" is a lengthy 10 minutes long, which I think could have been shortened to five minutes. It just doesn't have enough high points to justify the length. Overall, I really enjoyed this album. Great vocals, lush compositions, and carefully thought out lead breaks that compliment rather than disrupt the underlying music. Franziska definitely has her own vocal style and the band sounds very original at a time when there are so many bands popping up that sound the same. Sound quality is awesome, very crisp with a punchy drum sound.
Rating – 90/100
Tracklist
Winter Night

When Gods Fall

Star


Picture

Dancing Fire

Sleeping Minds

Daylight


Man in the Flame

From Heaven Sent

Not Human Kind
Line Up
Franziska Huth – Vocals

Waldermar Sorchyta – Guitars

Alla Fedynitch – Bass


Thomas Diener – Drums
Links
6 color styles available:

Style switcher only on this demo version. Theme styles can be changed from Options page.