Browsing articles tagged with " festival"
Interview by Miriam C.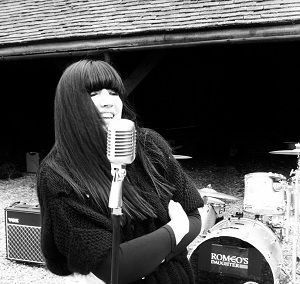 In the late 80s as Tony (our reviewer) said in the reviews " it was impossible to pick up an issue of Kerrang! Magazine without seeing something about the band gorgeous front woman Leigh Matty" – they were destined to be huge stars in the AOR/Melodic Rock panorama but something in the 90s changed, the grunge come and in a blaze crushed  and destroyed everything was good of the 80s and as a lot of AOR acts (including Romeo's Daughter) were facing difficulties in promote their music and the only solution was put an end to a band. Only the brave survived to that infamous period. At this moment, the international AOR scene seems safe and sound, for sure we have some comebacks (see UK's Fiona Flanagan and Dante Fox) but also some new rising stars (see Norway's Issa or Sweden's Nubian Rose); but talking about comebacks, after 19 years of stop and a successful comeback in 2009 at the Firefest festival, London based Romeo's Daughter are back with a new self-released album called "Rapture" and seems that RSD are ready to rule the world. So, after this short intro, I think, it's time to give some space and let Leigh Matty speaks herself.
Hi Leigh, first of all Happy Christmas and Happy New Year, welcome to Femme Metal Webzine and thanks for the interview. How are you? Would you mind share some details about the origins of Romeo's Daughter? How the whole story started and when?
Dear Miriam – a very happy New Year to you too! Sorry about the delay in me getting this back to you! Well, the Romeo's Daughter story really started in 1984/85 when I answered an advert in a well known music magazine – they were looking for a singer to front their band and I called the number and got through to Craig ( the guitarist and song writer). We got on very well on the phone and I ended up being the 1st singer they saw out of around 70 – I got the job! We worked on songs and getting the right band members for a couple of years and after a lot of blood, sweat and tears, we released our 1st album in 1988. We were named after a line in "Cry Myself to Sleep" as no one could agree on a name – I don't think we could have been called anything else though – it was perfect for us! Continue reading »
Interview by Ed MacLaren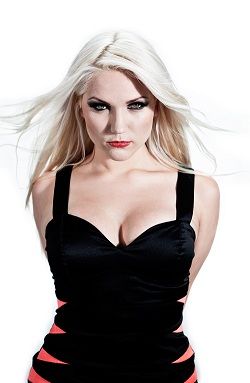 Hearing a band's debut album for the first time is like digging up a treasure chest. You have no idea what's in it but you're hoping that, whatever it is, it's going to make you rich. Uncovering "Breaking the Stillness" – the powerful debut album from Finland's  Shear – is a treasure in its own right – a refreshing and engaging listen that will reward your ears again and again. The album is built on catchy melodies and progressive arrangements but what really raises the eyebrows are the balls-out voice of singer Alexa Leroux. On each track, her vocals cut loose adding some grit to the polished music underneath. Femme Metal Webzine got the inside scoop from vocalist Alexa Leroux on the new album, her powerhouse vocals and how classical training works well in the metal world.
Welcome to Femme Metal Webzine, Alexa! Congratulations to you and the rest of Shear on "Breaking the Stillness". An excellent debut album!
Thank you very much! Glad you like it!
Shear brings a sonic cornucopia to the ears – crunching riffs, swirling keyboards and powerhouse vocals. This album will definitely appeal to fans of power and symphonic metal not to mention the progressive metal faction.
Well, thank you, once again. Our album is a little more melodic mixed with progressive, than symphonic, but I hope it reaches fans of different metal styles also. I believe it's diverse enough, so even if people don't like all the songs they might find some elements they really like.
Are you excited? What are your expectations for the album? The prediction here is that even though it's early in the year, you could be seeing "Breaking the Stillness" on some best of lists at the end of the year.
I am very excited about having an album finally come out. I can't really predict anything and in a way I think it's better I don't even try to, but it would be totally awesome to see it succeed.
Track for track, "Breaking the Stillness" is a powerful listen from start to finish. What's the secret to maintaining that kind of momentum over a whole album?
We really took our time writing the songs. Every song was written with a purpose and they all come from a very personal space, so that is probably what helped the most.
Label : Gnostic Dirt
Review by Luisa Mercier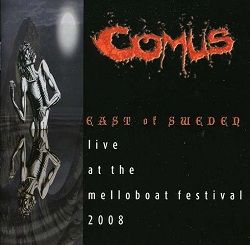 I did not know much about Comus before listening to this live album. I have came to know that it is a sort of reunion album after a long period of time (since 1972 they say in the live recording). As soon as I started listening, I understood that they are a worthy band anyway. They play a kind of progressive rock highly influenced by folk music with the addition of various instruments, flute above all. They have a '70s flavor that is missing in contemporary music which sounds completely fresh to me since I had not the chance to live the period in which this kind of music was more popular. Musically they're still perfect, and vocally Roger Wootton is obviously aged, but he still sounds good and the live recording is good. Someone complained about the fact that the crowd was barely audible, but for me it is better this way since I want to focus on the music not the audience. For lovers of prog rock, old flavors and moods this is a release they will enjoy for sure.
Rating – 75/100
Tracklist
Song to Comus

Diana

The Herald

Drip, Drip

The Prisoner

Venus in Furs

Song to Comus
Line Up
Roger Wootton – Guitar & Vocals

Bobbie Watson – Vocals & Percussion

Glenn Goring – 6 String, 12 String Guitar & Bongos

Andy Hellaby – Bass

Jon Seagroatt – Flute & Percussion

Colin Pearson -Violin & Viola
Links

Interview by Andy Axworthy
Hailing from Bratislava, Galadriel have been delivering their own brand of doom, death and heavy metal since "Empire of Emptiness" was released in 1997. A band that writes from the heart their style has matured over the years, though it has never lost its edge. With their latest release - "The 7th Queen Enthroned" – about to hit the stores we took some time out with singer Sona Witch Kozakova to talk about life, reality and a damn good metal album.
Hi Sona. A warm welcome from Femme Metal. How are you today?
Hi Femme Metal, I heartily greet the readers of Femme Metal Webzine. Thank you for asking, I'm enjoying the first cold days of autumn.
You joined Galadriel in '96. How did you get drawn to music, to metal in particular, and how did you end up joining Galadriel?
When I was twelve, my brother brought home his first metal vinyls and I was so fascinated by the metal music. And it keeps me during all my life. We've been always dreaming about forming a metal band. But everything started many years later when I met Dodo and Voloda at some festival in Czech Republic and we were talking about the music and life. So I have told them about my dreams to be a singer. These guys were preparing the recording of the first Galadriel demo and one month later they came to my house and asked me to record vocals on their demo because their vocalist left the band.
It's been quite a journey from "Empire of Emptiness" to latest release, "The 7th Queen Enthroned". For you, what would you say has remained constant and also, what has changed the most over that time?
There are many changes of course. It's hard to compare middle 90s age and nowadays. When we were at the beginning it was all about the young enthusiasm, easygoing life, dreams and plans. Later we found out it will be not that easy to reach our goals and nothing is for free. We gave all our lives to the band. Many of the plans we have did not realize by now. Now all of us have many problems with jobs, bills or credits. But we are trying to approach very seriously to the band and trying to grow every day. I'm challenging myself when I'm not satisfied with my performance almost everytime. I think we're still trying to be kind to our fans and supporters. Every one is so important to us.
While a metal heart beats at its centre, Galadriel is a band that is not afraid to experiment with its sound. Is that something that evolves during songwriting and rehearsal or do you go into the studio with a particular idea in mind?
There are some experiments that were created in the studio of course but most of these elements and ideas we were preparing in the rehearsal or at home. Many times when we are working on new songs, at the first steps, we are working at home and sending ideas and demo mp3s through Internet so everybody can think about that in the quiet of home. That's for example my best way to be creative. I need to think about songs and melodies first and after I'm ready to perform my ideas I record them. After we have few ideas to work with we can meet in the rehearsal and work together.
In terms of songwriting, where do you get your imagery and inspirations from, both personally and within the band?
There are some things and themes around us that hurt us and we are thinking about them and talking about our opinions. Everyone of us has some dark and light places in his soul. There are some feelings growing in those places. The feelings give us the ideas for melodies or lyrics. Sometimes I wake up in the morning, looking thourgh the window, and it just show up in my mind. I wake up with some strong feelings and they need to go out. So I take my phone and record some melodies in working quality.
Talking of the band, could you introduce us to and tell us a bit more about your fellow band members?
Actually we are in this line-up: Dodo Datel (vox, bass), Tomax Gabris (guit), me (vox) and live co-performers Jano Valer Tornad (drums), Peter Lipovsky (guit) and Andrej Kutis (keys).
The "7th Queen Enthroned" is your latest release and the next step forward in the band's evolution. How do you feel about the album, and what has been the reaction from the press and fans alike?
I feel good with new album. We tried to do our best in conditions and possibilities we had. I think we did another step forward. The final release of the album is delayed and I have not the CD in my hands yet. We have published two songs on the Internet and the reactions are really positive what is encouraging but I think our fans will let us know their emotions and feelings after the CD will be definitely out for some time.
Can you tell us more about the idea behind the album title? Where did it come from? Is it a theme in its own right or does it form part of a story arc with "World Under World" and "Renascence of Ancient Spirit"?
We feel there are many bad things and situations in the world and everyday we're waiting for another bomb or terroristic attack. Greed and recklessness of people in combination with aggressiveness and arrogance move our world more and more to extensive conflicts. Also the drop of mineral resources and environmental blindness, fails and mistakes of mankind fill us up with very bad feelings. It looks there is too many people on this planet… and that's dangerous. Our "7th Queen" is some status of mankind after collapse of life on Earth. However she (the Queen) tries to do something, to save the life, everything she touches is turned to death and dust. She's a mirror of mankind. Hopeless she fights for the change (like few parts of people) but all her endeavors are smashed by aggressive and destructive thoughts and feelings. So she was enthroned by mankind. People have chosen this way of extinction… There are some parallels with some themes we used on our previous albums but every one of our albums stands alone for itself.
How about the album artwork? What is the story behind the design?
Yes, we tried to put our thoughts from lyrics and songs also to the cover. So we wanted to show some desolated hopeless woman in pain in a dead world. I've been a part of the team which prepared the latex fashion show of my friend Krisztina Csizmadia few years ago in Austria. I was working as a make-up designer and the model Lizzy Meow was one of most important part of the show that night. When Dodo told me about his idea of the cover we were talking about some possibilities and then we decided to ask Lizzy for the cooperation, we knew she is open for some kind of destructive or cyberpunk ideas, haha. Yes, we are really happy she said yes to our offer. The photo-shooting was taken in Vienna by the photographer Marius Sachtikus and Lizzy's make-up was done by Nadja Hluchowski. This photoshooting was really professional and we were selecting from more than 200 pictures. All post-production works were done by Dodo himself.
"The 7th Queen Enthroned" is a consistently strong album. Rockers like "Still Not Dead Enough" and "The Last Time" sit comfortably alongside hard hitting yet atmospheric tracks like "Crucifixion Deluxe" and "Eosphorus". Which song is your own current favourite from this release and why do you like it so much?
Thank you! I really love all songs on the record. It's hard to choose one or two. Maybe I will be able to choose after some shows we will play and I will know how can I sing each of the songs on stage. I'm really looking for singing "Crucifixion DeLuxe" because in that song I sing with different style. We will not play "Eosphorus" live because this song is dedicated to the dead daughter of my close friend. And there are so many actual sad emotions in my heart that I cannot sing it now correctly. Maybe later…
How about your personal musical influences? Which bands and/or singers do you enjoy listening to and which of them inspired you the most when you were starting out as a vocalist?
When the idea to be a singer first came to my mind I decided to be singer with growling vocals, haha. I was really listening to bands like Aphyx, Obituary or Morbid Angel in the beginning of 90s. But as you know I'm using clear vocals because Dodo is singing the growling parts, haha. As there were not so many female vocalist in harder or darker metal genres in my beginnings it's really hard to say about some idols. I always loved Kari Rueslatten, she was singing in doom metal band The 3rd And The Mortal, and I also love her solo works despite of fact she is far from metal music nowadays. Another my favourite singer is Anneke van Giersbergen, I love Lisa Gerrard… later Sharon den Adel, Sarah Jezebel Deva or Mariangela Demurtas. There are many talented and brilliant female vocalists I love to listen to and I still love clear and growling male vocals too

You recently played the Gothoom Festival. How was the show and what was the highlight of your day? Did you manage to see any of the other bands that were playing?
Yes, it was the festival promoted and organized by our label Gothoom Productions. Our show was quite good despite of fact our line up was completed with new guys and they have only few days to learn how to play the songs. But guys were cool and we really enjoyed it. Maybe it was a not so much comfortable situation for us as we were playing right after the headliner of the day, Septicflesh, and many people were still oriented their way but our fans were cool. It's always difficult to look at the other bands, because we need to prepare for our show. But we have seen some parts of shows of Doomas, Septicflesh and Skyforger…
What other interests do you have outside of the band? How do you relax when you've got some time to yourself?
Oh, I have really many many interests, haha. Sometimes when I wake up in the morning I don't know what to do first. I want to do so many things when I have some free time. My biggest pleasure are animals and we have many animals, so in my free time I take the care of them. I also spend my free time making art… I create jewelery, some characters or I paint… that's my biggest relax. But sometimes I only lay on the sofa with some book.
As a band, Galadriel have grown up with the Internet. How do the events of the latest release compare with the experience of getting "Empire of Emptiness" marketed and distributed back in the day? What do you personally think has been gained – or lost – in this media change?
Well, yes. On one hand Internet has changed everything. When we were promoting our first album in 1997 it was everything more complicated. We used the classic mail way to spread our music to magazines. We used the classic mail way to answer to letters of fans and answer the interviews. Now we can upload some song to YouTube or to one of many players on the web or social web and send link directly to our fans. Everything is faster and easier. So it's definitely more comfortable and more effective than in the past. On the other hand was so cool when we get first letters from fans written by their hands and they traveled to our city to buy the CD directly from us. So I think it was more 'heart to heart' way of communication.
With the Web now putting the world at your fingertips, which parts of the world outside of Slovakia are currently showing the greatest interest in your music and which countries and/or festivals would you like to play and why?
Outside of Slovakia and Czechia… I think we have many fans in the countries of South America. This is the part of the world where people really love this kind of music and are really thankful for every band that comes there to tour. So I would love to travel there to play some shows but it's not easy for a band like Galadriel. And festivals… hmm… yes, Hellfest would be cool or Metal Female Voices Festival is growing more and more and that would be another great adventure to play there. And Wacken of course… all the world is meeting up on Wacken. And there is another great new kind of festivals on the boats. That would be cool too, haha.
What is next for you and Galadriel? Are you taking the album on the road and further afield?
So, now we are really looking forward to the release party show of our new album here in Bratislava, Slovakia. We would like to play many shows in 2013 all around Europe, we have some ideas and offers and I hope most of them will come true. And I hope our fans will not wait for next album another five years!
Thanks for sharing this time with us. To wind up, is there anything else you would like to add for our readers?
My pleasure. Thank you for interesting questions. I'm sending heartily greetings to all readers of Femme Metal Webzine and I hope we will see you under stage next year

Keep an eye open on our website or Facebook profile to stay tuned about everything. Check out our new album "The 7th Queen Enthroned" too

Save the Nature, save animals and all what's alive… Thanks!
Links
MySpace * Facebook * Twitter * Site
Interview by Marc "Peston" Sels

Kivimetsän Druidi is a Finnish band that plays folk/gothic metal. The name means The Druid of the Stone Forest. In 2008 Leeni-Maria Hovila (ex-Exsecratus) joined the band and they recorded their first full cd, "Shadowheart". At this moment (November 2009) the band is on tour in the States and Canada, together with Eluveitie (Swiss), Belphegor (Austria), Alestorm(UK) and Vreid (Norway). Normally the new cd will be released in April by Century media. I had a short interview with the beautiful lead vocalist Leeni-Maria.
Hello Leeni-Maria. How is the American Tour going?
So far so good. We seem to have been a success allthough we had to make several shows without Joni – he's got the swine flu or something. Since we have been selling an increasing number of CD's and shirts regardless of his absence, he has said something on the lines that he's "never coming back, you guys do just fine without me. I'm going to be your manager or something". D, not likely, heh. OK. He'll be back on stage in San Antonio.
Can you tell us how you became the singer of Kivimetsän Druidi?
They called me. I was currently the vocalist of Exsecratus and Kivimetsän Druidi's manager had made a review of exce's first album so when Druidi wound up needing a new female lead, they basically called me at work. This was, I recall, spring 2008.
The first cd was mostly in Finnish. Don't you fear this may be an obstacle for fans outside Finland ?
So, one would think but no one has ever actually bothered to tell us so. It doesn't seem to be any problem to anyone. Record company has said nothing on the matter, quite the contrary. I remember them being supportive about the matter. Fans mostly come to tell us that they've self-studying Finnish to understand the lyrics first hand.
I saw you at the Metal Female Voices Fest this year and I found Kivimetsän Druidi one of the most impressive bands of the festival. How did you experienced it?
MFVF was certainly one of the biggest and best organized festivals we have ever been toand it felt like the perfect audience to us although we felt we were definitely heavier and more extreme than most acts there. And Brussels was a great city – we had a day off there afterwards because of flight arrangements.
A whole lot of bands are from Finland. Is there a reasonable explanation for it?
It has to be that dark nordic mentality.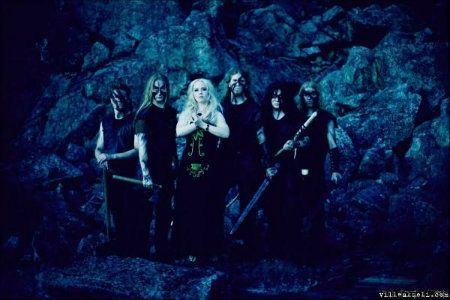 In your bio you mention Floor Jansen as one of your influences. What is your favorite cd of After Forever, and why?
"Invisible Circles", which is a great performance of switching between the styles.
Women are more and more placed as the face of a band. Doesn't that divert from the music?
It depends what they're there for. It depends on whether they go there to divert from the music or make it. There's nothing wrong with having a great rack and a pretty face. You still don't have to sell with them.
Can you tell us someting about the upcoming album, or is it top secret?
Well, it's going to better than the first.There's going to be songs composed and lyrics written by more members of the band than before. It's going to have so much variety it's actually a little horrifying. It's hopefully going to be out sometime late next spring, I think in April. It's going to kick ass!
Do you prefer to sing live on stage, or recording songs in the studio?
Augh!! Sometimes I hate them both, other times I love them. They are so different situations with such different sides that you really can't even compare.
At last, what are the plans for 2008?
Release the album. Promote the album like our lives depend on it. Tourish-kinda-things would be nice. Another Europe, maybe? Start making new songs for so far hypothetical number three, early enough so we won't be slightly buggered with it, as usual.
Thanx, and give my regards to Santa Claus!!!
I'll tell him to be nice to you this year. All the best, Leeni-Maria.
Latest Multimedia
Links
MySpace * Facebook * Twitter * Site
6 color styles available:

Style switcher only on this demo version. Theme styles can be changed from Options page.