Browsing articles tagged with " fifth"
Interview by Miriam C.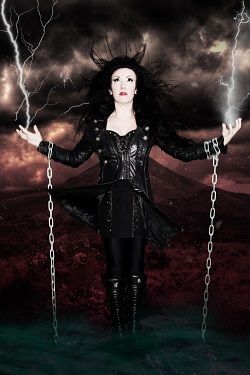 After having released a great album as "Delta" and an EP called "Maria Magdalena", Visions of Atlantis comes back in this 2013 with a new album, "Ethera", that marks a new "era" of this Austrian band, which recently ended up a good tour with Serenity and Souldrinker. We had the pleasure to have a nice chat with the lead vocalist, Maxi Nil, who told us some great things…
Hi Maxi and welcome to FM. How are you doing?
I'm doing great thank you. Just got back from our European tour and I'm relaxing at home with my loved ones.
Let's immediately talk about your latest album, "Ethera". The album title is quite interesting and in a very first moment, a lot of people have thought that the album would have been called "Etherea". Would you like to explain us the meaning of the album title and what has pushed you as a band to choose this word for the record?
Etherea?? Why? Haha… Well Ether (Etheras in Greek) is the 5th element of nature and since we have begun this game with album titles having to do with which album it is for example the 3rd was "Trinity" the fourth was "Delta" (the 4th letter in Greek alphabet) we wanted to find a title that has to do with the number 5 and the new era for VoA with a standard line up that work together as one. So Ether+Era=Ethera. Continue reading »
The long waited new album by Mandragora Scream will be released Tomorrow Nov 21st. The Italian Band led by singer MORGAN LACROIX is back with their brand new album "LUCIFERLAND". Luciferland represenst the city where the Gods were born, a kind of Atlantis, the city where everything begun. Luciferland is released three years after "Volturna". This is a sophisticated album both in in the compositions and in lyrics and concept. Infact Morgan Lacroix has spent a lot of her time studying with experts in quantistic physics and esotherism as well as with archeologists and experts in ancient languages who have driven the author of all lyrics to sing some excerpts in Sumeric, Latin, Babylonese and even geroghliphic. Luciferland represents not only an album with songs, but is the real start of a path for all followers of hermetic science. Some videos are being shot to support the album. These will be released during the next months. The first single will be a song dedicate to the goddess "Medusa". LUCIFERLAND will not be distributed in the classic points of sale; the purchase will be possible directly on the band's website and on the music portal Gattimusic.com. An order dedicated mail service will be provided so that all sellers throughout the world will be in the position to sell LUCIFERLAND directly. Each album will contain a parchment with Morgan's autograph and with her kiss, each piece being of course customized by Morgan herself. This activity took Morgan's time during the past weeks as she wanted to prepare a different gift for all follower who will buy the album.
This is the tracklist of the album:
The Chant Of Furies

Hekate – En Erebos Phos

Persephone

Anubis

The Illusionist

Medusa

The veil of Neith

Six Grains Of Pomegranate

Night's Master (Azhrarn & Sivesh)

Lamia

Love For Endymion

Lucifer's Ballade

Titan – Extraterrestrial Suicide

Lucifer's Lullaby
Interview by Ary R.

Considered a great icon in the metal world, Liv Kristine is one of the metal queen of the fronted metal scene. On the occasion of her new release, "Libertine", Femme Metal had the honor of interviewing this amazing Norwegian singer.
Today I have the BIG pleasure of playing host Liv Kristine, my idol since ever. Hi Liv and welcome to Femme Metal.net. Tusen takk for din tid

How are you doing?
Thank you so much, I and the rest of the guys are doing really well, veldig bra! We've been on tour for four weeks now, Leaves' Eyes and Firewind, and I have to tell you this tour is the best tour I've ever experienced because there are only, ONLY, really nice and lovely people on board of this Nightliner.
Let me say that for me is a very big, big pleasure to interview you today. Let's break the ice and let's talk about your fourth studio album, "Libertine". It has been released via Napalm Records a few weeks ago. How were the feedbacks for this new record?
The feedback from the press and fans for "Libertine" have been absolutely amazing, world-wide, actually the best ones I've ever had so far in my 20-years long career. I am so grateful for this, I am very moved. My inner voice tells me that I need to go on tour and play these songs live as soon as possible!
What are the biggest differences compared to your previous albums?
"Deus ex Machina" was very atmospheric, reminding you a bit about Irish Enya, a real pop-album. "Enter My Religion" was more guitar-based and earthly with many interesting exotic folk influences. "Skintight" had some influence from J. Cash, which sometimes gives the listeners a warm and here-and-now camp-fire feeling experience. "Libertine" is a back-to-the-roots album, containing the most emotional ballads I've ever composed, it even has a dark but sweet feeling to it, through both the piano, the dark bass lines and guitars. I see every album becoming more and more individual, just like I am getting closer to myself. I would say all of my albums are somehow indie, pop or rock.
"Libertine" is surely a fresh and a direct record and, under some points of view, it reminds some resonances of Theatre of Tragedy's masterpieces like "Aegis" and "Musique" in songs like "Paris Paris" or "Solve Me" (I was under this impression, correct me if I'm wrong

). Was the choice purely accidental or was it something that you wanted to do?
"Libertine", as you correctly pointed out, is an album going back to the roots, to my years with Theatre of Tragedy. During my solo concert in German Nagold last December I just felt that the time had come to let in all the experience I gathered during my years with Theatre of Tragedy, moreover, to forgive my ex-band members and their fatal decision in 2003 to exclude me from the band. In Nagold I played the demo version of the more heavy rocker "Libertine" just to see how the audience react on it. There and then I understood that this is the right way to go. My fans showed me the way. I have to tell you that I feel truly privileged – First of all I am grateful to my fans and friends for giving me all this respect, love and good energy, some of them following me since my ex-band Theatre of Tragedy came into existence about 17-18 years ago. My fans have granted me this freedom I appreciate so much. Through both Leaves' Eyes and my solo project I am able to live out my musical instinct.
This record has been produced by your husband (and collegue) Alexander Krull. How did you feel like working with your own husband? Why have you chosen to cooperate with him instead of collaborating with some other producer?
I actually prefer working with my husband. To tell you the truth: I like "to cook in my own kitchen". Alexander produced the album at our own Mastersound Studio. We are very privileged to have our own studio, and it is superb having my husband next to me. He, and my guitar player Thorsten, know me the best. Both of them know how to push me just a little bit further…and in the end, I am so happy to have achieved a new goal. Their opinions mean very much to me. Of course we do have discussions sometimes, I mean, we are all perfectionists and very stubborn, however, we always come up with a perfect solution.
Would you like to say something about the concept of the artwork? For what I see there's a lot of red in it

Who has taken care of it and of the promoshoot related to it?
I had from the very beginning a clear idea of how the artwork should be. All the paintings you see are my own, which I painted myself. The only thing I wasn't sure about was the front cover. One Saturday I found this lovely red dress in a little shop, and I thought it would be absolutely perfect for a front picture. Then I discovered this red umbrella…and these high-heeled shoes! All I had to do was to put on my red favorite Chanel lipstick, which I have used for the last ten years, go outside in the sun and have Alex make photos of me. Stefan Heilemann then re-worked everything to make the artwork look exactly how I wanted it.
To give your fans a little "appetizer", you've played an acoustic show in Germany, "One Night With Liv Kristine" and you've introduced the audience a brand new song, that is the title track of your last album. Would you like to reveal some little details of this particular evening?
As already mentioned, In Nagold was this moment during my concert in Nagold, Germany, December 2011, when I first presented the demo song "Libertine" to my audience. I had also performed a handful of Theatre of Tragedy songs, because it was my wish. There and then I understood in which musical direction my up-coming album would be, more powerful, more back to the roots. Everybody was there, my closest friends and family, my fantastic fans from all over the world, Argentina, Belgium, Denmark, UK, Finland, Spain, Holland and all over Germany. I was so happy! This was a very special night for me, so special that I will do it again in December 22nd this year!
Have you ever thought of creating an acoustic album with Leaves' Eyes or in your solo career? I think that this would be something nice for your fans. I would be the first one to buy an album like that

That's a very good idea! I'd love to, but right now we are already working on our fifth full-length studio album.
In order to promote your new record in the best way possible, you've asked Patric Ullaeus from Revolver Film Company Ab to direct a videoclip of yours for the single "Paris Paris". He already worked with "giants" like Dimmu Borgir, In Flames and many others. What could you tell about this little work experience? How come have you decided to ask him for directing your new videoclip?
I just love working with Patric and his Revolver team as he already produced two Leaves' Eyes clips and one for my solo single "Skintight", this is such a great honor, and pleasure! He is able to read my thoughts and ideas, he is just the best, that's all I can say. Even when my suitcase got lost by the Airline in Paris with all my dresses, nobody panicked and Patric made a few phone-calls. His wife, Tara, is my favorite make-up artist, I am always in good hands when she is doing my make-up! I am very, very proud of the clip for "Paris Paris".
Let's talk about the single "Paris Paris". It was your "first choice" to promote the album. As I mentioned before, to me it recalls some resonances with some old work by Theatre Of Tragedy. What could you tell about this new single? If I'm not mistaken, there are some verses sung in French…
"Paris Paris" was actually a demo song I prepared for Theatre of Tragedy, but it was never recorded. However, I re-wrote it for fun using the program Garage band. My co-musicians loved it and all the instruments were recorded new. It is definitely a very refreshing song! The video clip is online as well. I've visited Paris many times, and by and by I've learned to enjoy this city, with its small cafes on the street corners, serving even the smaller cappuccino. Charming.
This new record includes two "gems". The first one is the duet on the track "Vanilla Skin Delight", that sees the attendance of the third-season winner of 'Deutschland Sucht Den Superstar', Tobias Regner. What could you say about this cooperation with this guy? How did it happen?
I am so happy to have worked with Tobias Regner. His voice is amazing. He was one of the Superstar-winners in Germany, and he is definitely my favorite. We met through a common friend, luckily, as my band mates suggested that we look for a male voice for "Vanilla Skin Delight". 48 hours later he knocked on the studio door of Mastersound Studio and we became friends straight away! We had so many stories to tell. He is a true professional and he did such a great job in front of the microphone. I really hope we will be able to perform this song together some day.
The second gem is Kate Bush's cover, "The Man With a Child in His Eyes". What has pushed you to revise this song?
Kate Bush and Tori Amos are truly my greatest influences vocally. Since I never had any musical education I have found my own way to prepare my voice before a concert or recording session in which I sing along to either of these wonderful voices. It was my best friend, Katja, who had this idea that I should cover Kate. During one of our girls' evenings…parties…I started singing from the top of my voice along to Kate…the next day I was worried what the neighbors would say. Katja's neighbors did not complain… and my friend inspired me to record the track for "Libertine". It was recorded in a one- take session.
Currently you're promoting your new record and you're also on tour with your own band. Have you already planned something new for Leaves' Eyes or for your solo career? Will we ever see you in a "solo" tour?
When we get back from this tour Leaves' Eyes will start the recordings for our fifth full-length album as already mentioned, moreover, we will play a few concerts in the winter. I have planned a few solo concerts, exclusive ones, for mid and end December as well, Nagold is already settled and announced for the 22.12.2012. I hope for tours for both bands next year!
As I mentioned in the previous question, you're currently on the road in Europe with Firewind. How did it happen? What do you think, personally, of Gus G as musician and as a person as well?
I can tell you Gus is such a lovely person, very, very warm-hearted and kind. He is also an absolutely amazing musician. It's such a pleasure being on the road and sharing Nightliner with Firewind.
You've played in France, UK, Germany and Belgium at the moment. How come haven't you decided to play all over Europe? Will there be a second "chance" to see you on tour with Firewind again?
I would really hope so, also in other continents. All of us get along so well. It would be so nice touring together also in the future. Our fans also LE the package of both bands being on the same bill.
Short time ago, I've discovered that you've joined Firewind on stage during the performance of "Break the Silence". Originally the female parts were sung by Tara Teresa. How has been the performance so far?
Absolutely amazing, I am going to join Firewind in a few minutes as I am sitting here, talking to you. The audience go crazy because Firewind hasn't played this song since 2006 with Tara. I love Tara's voice, she is fantastic. I feel very honored to sing her parts.
Recent is also the news that Leaves' Eyes were forced to cancel some dates in USA and you'll play there next year. Could you please explain us, in short, the reason why you've been asked to cancel some dates of this tour?
Yes, that was south-America. I am deeply sorry. This was due to troubles with organization. I am really sorry. We will make up for this as soon as possible. In 99% of cancellations it is really not on the bands' hands. All we want to do is to play and meet our fans and friends!
Last year Leaves' Eyes shared the stage with Midnattsol, led by your sister Carmen. What do you remember of this experience with a big affection? How did it happen to make a tour together?
We had wanted to tour together for such a long time, and then our dream came true! It was fantastic having my sister next to me singing "Kråkevisa", the traditional Norwegian song. I can't wait to visit my sister in Norway again for Chistmas!
If I'm not wrong, "Meredead" included a typical traditional song sung in your mother tongue and your sister sang in it. Could you please reveal us the concept of this song? Of course we're talking of "Kråkevisa" (The Crow Song

). If I'm not mistaken, this song was put in streaming, right before the release of the record…
To record this traditional tune, turning it into a Leaves Eyes song was an idea of my friend Anette, and my sister, Carmen, both of them joining me on guest vocals.
You're not "new" with duets and stuff. Among the biggest ones, we surely remember "Nymphetamine" (Cradle Of Filth), "See Me in Shadow" (Delain), Atrocity, Doro Pesch and so on. What do you remind about these duets? Is there any artist you would like to cooperate with in a nearest future?
Ozzy Osbourne! Kate Bush and Tori Amos.
A few months ago, it has been said that Theatre of Tragedy wanted to re-issue some of your old works (your self-title album, "Velvet Darkness They Fear" and "Aegis"). How did you react to this news? Are you still in good terms with your former band members?
I had no idea about this, but I appreciate it. I am still in contact with Raymond, living in Brazil since a few years.
This was my last question. Thanks so much for your time and for having allowed us this little interview. Is there something you would like to say to our readers and your fans out there? We hope to see you soon in Italy

Thank you for being there for me all these years, with Theatre of Tragedy, Leaves' Eyes and my solo work. It has been lovely to see many of you at our European tour Leaves' Eyes and Firewind. I also hope you enjoy "Libertine" as much as I did composing and recording it. I can't wait to play it live for you! Love, Liv.
Links
MySpace * Facebook * Twitter * Site
Latest Multimedia
Interview by Ed MacLaren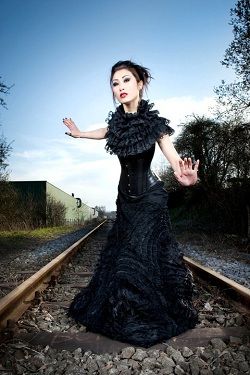 Since 2004, Germany's Krypteria has released a string of excellent symphonic metal albums – each reconstructing and redefining their trademark symphonic metal sound. With their latest album, "All Beauty Must Die", Krypteria has stepped out once again with amazingly ear-pounding results. Led by the formidable vocal talents and dynamic stage presence of Ji-In Cho, Krypteria are becoming as equally known for their powerful live shows as their complex and powerful music. Femme Metal recently got the opportunity to talk to Ji-In about the making of their new album where she breaks down the Krypteria sound and tells us why all beauty must die.
Welcome to Femme Metal Ji-In! "All Beauty Must Die" is out and it's a winner! Life in Krypteriapolis must be looking pretty good these days.
Hello Ed! Thank you very much! Yes, I can't deny that after all the time we were confined to our studio working on "All Beauty Must Die" we are now very happy about getting all the great mail from our fans and wonderful reviews!
"All Beauty Must Die" is hookier and heavier than any of your previous efforts yet you've still been able to maintain many of symphonic and choral elements that made "Bloodangel's Cry" and "My Fatal Kiss" such interesting listens. What was the band's mindset going into the recording of the album?
Like always, we poured our experiences and emotions we had to deal with in the last year into the record. But as you may know we set up our own label and that means for the first time in our career we are free – in every part of this business. That means we are now responsible for everything – even besides the music – and that is very exciting and new for us. We told ourselves that if we fail, we will die by our own sword. This might sound a little weird but because of this knowledge we feel totally liberated, independent and stronger than before. I really hope you can hear it on "All Beauty Must Die". By the way: we called our label Liberatio. (Smiles)
Do you feel that Krypteria has established a certain "trademark" sound that sets you apart from other bands – a sound that people will instantly identify with Krypteria?
I believe we do have quite a different sound from other bands. Not on purpose, this is just the result of our combined efforts at composing and writing. It is hard to describe in a few words, but I believe our fans will know by now what a Krypteria song sounds like. We have a knack for dramatic but still catchy melodies. We like to combine choir parts and classic elements with heavy riffs and beats. On our new album we have further grown and evolved musically. Maybe we are a little tougher and rougher, but unmistakably still Krypteria.
Are there still wild and unknown places the band still wants to explore musically?
There are surely a lot. But at this moment we are very happy with our baby and it is too early to think about our next steps or our next album. The only wish we have is to present our baby live on stage to our fans.
All Krypteria albums have a central theme that holds the lyrics and music together. What's the conceptual thread that ties together "All Beauty Must Die"?
Well, it's not a concept album like "Operation Mindcrime", "Streets" or our 2007 release "Bloodangel's Cry". It's about staying true to yourself and to your ideals no matter the obstacles. There's a lot of rage and yearning involved and it's about loss. But there's also a lot of resolve, defiance and hope to it.
While we're on the subject: why must all beauty die?
If I only knew!! Well, that's how it is and there is nothing you can do against it. You can't hold the good moments forever and stop time – only the memories can remain. But even these are gone when you die. To say something positive: not only the wonderful moments fade away but also the bad times and negative emotions are someday over.
Your singing is spectacular on "All Beauty Must Die". Your vocal melodies have matured immensely on this album. How would you chart your vocal evolution over the course of your time with Krypteria?
Thank you for the compliment but I guess my teacher at the Musikhochschule who taught me classical singing would have a hard time listening to my singing!(Laughs) I think everyone of us has found his place in the band. We all respect and appreciate each other. We also totally trust each other and we feel safe when we are together. I think it's always very helpful and encouraging if you feel comfortable and you feel accepted as the person you are. That's the best way to express and develop yourself.
Do you still work on improving your vocal abilities either through personal practice or professional instruction?
There are days when I sing all the time just to try out what's possible with my voice. And sometimes it's better just to shut my mouth! (Laughs)
A goal of the band seems to be capturing the energy of your live performances – especially yours – on album. Are you getting close to getting that dynamic down digitally?
I hope so. But in the end it's never as easy as we always have a lot of fun on stage – thanks to our audience. Every band would say so – the fon stage. Fans give you the best energy boost you can have and I could never compare these moments we share with our fans with anything else.
Although Krypteria started out more like a loose and informal "project", it seems like Krypteria functions more and more like a true collective. How does that affect the direction and arrangement of the music?
I never thought of this band being loose and informal. But you're right: the longer we know each other the more organic we're getting. I'm very thankful that we're aware of being four totally different personalities and treat this fact as an inspiring fact. That's why we try to make sure that every facet is represented. I'm sure that helps to make our album more multi-dimensional and more colorful.
"All Beauty Must Die" is a heavy album with tracks like "Messiah", "Higher" and "Eyes of a Stranger" but there's still room for your delicate piano flourishes. How important is it to express that musical aspect of your personality on each album?
I love to write songs with only my piano and I think it's a perfect instrument to bear up against the guitars. In comparison with the voice you can show a different and more complex atmosphere and in addition to my voice, the piano is very important for me to express myself and my musical imagination.
"The Eye Collector" is a standout track – and not just because it clocks in at an epic-length 11 minutes long. The intense arrangements and the simmering force of the music make it arguably one of your strongest tracks from any Krypteria album. What is it about extended tracks that bring out the best in the band?
Well, in this case this is easy to answer because we had a great inspiration based on a book by the German author Sebastian Fitzek. One of his fabulous books is a psychological thriller named "The Eye Collector" and we are relieved and very happy to tell you that he likes our song and the fact that it's inspired by his book too. (Smiles)
When you decided to bring in some guests to record you didn't fool around. Doro Pesch, Tobias Exxel and Olli Singer! Nice job! How did they do?
We are very happy that we could win these guys to play with us. For me personally, it's a big honor to sing a duet with Doro – she's really the Queen of Metal and no one is more experienced than her. After all these years she still gives to her fans everything she's got on stage and that's really something to admire. We got to know Eggy when we had our first gig in Germany. We shared the dressing room with Edguy and very soon we found out that they are very nice and funny guys. We are glad that finally after all these years Eggy could find some time to join us on the record – especially as a guitar player! And regarding Olli: he's the best guy we could find to replace Chris on stage. He's a real good guitar player but first of all a real good guy and we have a lot of fun with him when we are on tour.
Krypteria's artwork always shows a lot of attention to detail – both in quality and in reflecting the musical and lyrical content of the album. At the very least the skull logo will look great on a black tour shirt! How did the artwork for "All Beauty Must Die" develop and what were you trying to convey with it?
Talking about the artwork for "All Beauty Must Die", we were searching for a picture that would fit this title. I didn't want my face to be displayed again on our cover, because we already did that. So I came up with the idea of a female and Asian skull. Fortunately, my band members were also very curious about the idea and what such a skull could look like. Thanks to our great illustrator Torsten Bürgin we now have this fantastic female skull logo. If I had tried to draw up something like that, we would probably have a different cover – I'm a real bad drawer and painter!
We're starting to see more bands integrating members from different countries and making some incredibly creative music. This includes Leaves' Eyes, Tristania and Visions of Atlantis to name a few. You've been the lone South Korean in a German band for a long time now. Has your South Korea ancestry played a part in your contributions to Krypteria or influenced the direction of the music?
Not in a direct way. But I can tell you that my family loves music – especially passionate and wonderful melodies. We're very emotional and everyone in my family can play a classical instrument. So I guess this love for this style of music is in my blood.
"All Beauty Must Die" gives you four solid albums of excellent metal music to perform. Does the material give you an opportunity to express all facets of your personality on stage?
Absolutely yes. I love to live out all the emotions and subjects we are concerned with. It's really like a therapy and after every concert I feel clarified – I'm very thankful for that.
Will Krypteria ever get around to capturing your live energy and the band's stellar performances on DVD?
I hope so and I'm sure this wish will soon come true! (Smiles)
Where will "All Beauty Must Die" take you touring this year? Any chance for an appearance in North or South America?
So far we're abroad in Asia and some other foreign countries but unfortunately not in America. We would really like to but there are no confirmed dates yet. Later this year we will tour in Germany. But let's wait and see: not everything is set in stone, yet. (Smiles)
I am not good with last words. All I can tell you is what I tell myself as often as I can: Enjoy your time on earth and keep in mind the wonderful moments but also the bad moments – you never know for what they are good for!
Links
MySpace * Facebook * Twitter * Site
Latest Multimedia
Interview by Eetu "Ene" Niskanen

We have reached Kittie singer Morgan Lander for let know to all our readers the latest news about the brand new album "In the Black". Enjoy!
Hello Morgan and thanks for doing our interview!
No problem and thank you for chatting with me

This year you released your new album, "In the Black", how much work did it take to get it done and released?
This album was actually written and recorded over a fairly extended time. Most of the ideas and songs were at least sketched out while we were on tour last summer and fall, but nothing was really set in stone until after we were released from our label and were free agents. We then decided it was time to get down to the business or writing, and then once we felt that we had some great material, we went into the studio for 3 weeks to record. It was a very relaxed, laid back experience. No pressure what so ever!
Do you see any improvement compared to the earlier albums?
Comparing our previous works to "In the Black" is like night and day. We are a totally different band ability-wise and maturity-wise. We have come a long way since our "Spit" days.
Also with this album you changed labels, how was the change and how is the new label?
It was amazing to finally be signed again in Europe through Massacre Records, and through E1 Entertainment in North America. Everyone has been so accomidating and helpful with every aspect of the release. We are proud to be a part of the E1 and Massacre families.
You also have a new bassist, how is it working with her?
Ivy actually joined the band in 2007, and she has been a great addition to the band. She is super talented, driven and really just wants what we all want, which is to make Kittie the best that we can be. We all get along and have such a good time playing together, its nice to have that kind of stability finally!
Was it important to get female bassist to stay as all-female band?
Yes and no. While we were waiting to fill the void left by Trish when she exited the band in mid 2007, we had our friend Jeff Phillips join us for a few tours. He also played with us for a few years early on in our career. We honestly just wanted someone who knew the songs and was good at what they do, so it was never really an issue. When it came time for a permanant replacement, however, we knew that reputation-wise, we should be looking for a female. It's actually not that important to find a woman, but in a way thats what most people expect when they hear the name Kittie.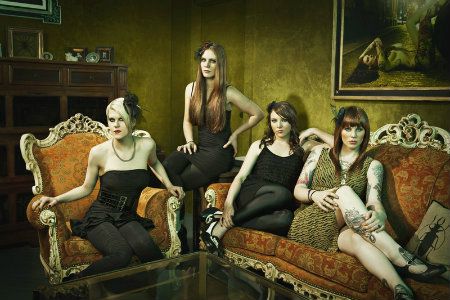 I just did interview with Masha from Arkona so I'll ask you the same question, there are still very little bands with female growler, how did you come up with the idea of extreme vocals performed by you?
Honestly it was something that came naturally to me. It was a way to express how I was feeling and in order to match the dynamic and power of the songs we were writing, I needed to scream. It was never really a very conscious decision, it was all very organic and my style and abilities developed over time.
From the new album, what are your favourite songs and why?
I love songs like "My Plague", "Forgive and Forget" and "Cut Throat" for their speed and intensity, and I especially love "Sorrow I Know" for its dark feel and somber mood. I love the entire album, but these are stand-out tracks for me!
After all these year with Kittie where do you see girls in 5-10 years?
I see us continuing to make music and tour. We are all still young and have so much more to learn and to offer musically. There is no slowing us down!
What kind of music do you listen yourself and how often?
I have quite a diverse set of songs in my iPod that I listen to on a regular basis. I listen to something extreme and heavy just about every day while I am at the gym, and I find that bands like Carcass, Behemoth, At The Gates and Metallica all work really well for high-intensity purposes! I do have alot of more rock based stuff that I listen to often aswell, like Kings of Leon too, for the more chill moments!
Who are your biggest influences?
Personally I don't really have too many idols musically, but I was shaped early on by bands like Van Halen, Heart and Ted Nugent. I respect and admire so many bands though, especially if there is hope or perseverance in their story. Bands like Pantera and Metallica give me hope for the future of the greatness of heavy metal.
In the end, are you working on any quest performances, if not would you like to do?
And by quest do you mean tours abroad? Because we are definitely hitting up Europe and the UK this January in support of "In the Black"!
Links
MySpace * Facebook * Twitter * Site
Latest Multimedia
6 color styles available:

Style switcher only on this demo version. Theme styles can be changed from Options page.