Browsing articles tagged with " fight"

Interview by Robin Stryker

Two years after releasing their debut album "Reversing Time", Greek/Turkish progressive symphonic melodic metal band, Dreamtone & Iris Mavraki's Neverland, returns with its second album "Ophidia" (AFM Records 2010). Femme Metal sat down with Greek female vocalist, Iris Mavraki to get the inside story on the band and its new album.
Welcome, Iris, and thank you for joining us today! Would you start off by telling us why you joined forced with the Turkish band, Dreamtone, to form Neverland? What was it about Dreamtone's music that caught your attention?
First of all, hello Robin; it's a pleasure to be with you! Well…. A few years ago, my son Orpheus Spiliotopoulos, who was at that time reviewing for the Greek site MetalTemple.com, suggested I listen to a CD entitled "Unforseen Reflections" by a band called Dreamtone. I was immediately, tremendously impressed by the power of their compositions and the symphonic elements in their music. Then I found out that they are from Turkey; a nice surprise to me as I was then also singing with the Turkish Symphony Orchestra, so I suggested we get in touch. There was something in their music, something really different.
Neverland was born as a project to combine metal with a symphony orchestra for live performances. At what point did Neverland mature from a concert project into a full-fledged band?
That didn't take long really! As I mentioned above, that's how it started in my mind for sure, the metal band working with an orchestra and being about the live performance. It was certainly our first idea for it, but we quickly realised that there was so much more interesting material and potential that could be shared, and that it had to be right to start a new band recording our own music! We decided to unite forces and become Dreamtone & Iris Mavraki's Neverland, and we've never looked back!
For someone who has never heard "Ophidia", how would you describe the album's sound? And, for fans of "Reversing Time", what are the biggest differences between the two albums?
I think "Ophidia" has the more powerful sound of the two but it also combines, in some parts, an Anatolian, Mediterranean, spicy touch, Medieval parts, symphonic parts and bombastic melody too. I think it goes further than the first one! "Reversing Time" was maybe more symphonic; we had The Istanbul Philharmonic Orchestra play on it, but both albums ultimately have the identity of Dreamtone & Iris Mavraki's Neverland because they're written with all the musical styles present.
Which bands have influenced Neverland's sound the most?
Hard to say as I think each and every one of us have different influences. But, if asked specifically, I would say: Blind Guardian, Jon Oliva's Pain and many others!
What does "Ophidia" mean, and does the title play into the album's overall theme?
Well, "Ophidia" basically tells the story of how the evil inside every one of us slowly corrupts anything and everything. Our title track is basically a semi-electronic, semi symphonic, mid tempo piece with its subtle change of pace as well as some nice guitar tricks. The song covers the theme from the perspective of "evil" as having a tongue and speaking. The song presents evil as a "snake", slowly crawling inside our minds. "Ophidia" means worshipping the snake or following the path of the snake. Since humans almost always lie, the song suggests that we are all Ophidians… In the album, there are a lot of different meanings in the songs as well though, I don't think we had a total concept of "Ophidia", but just tried to represent just a few of them.
Please tell us a bit about your musical training and background. Also, who are your personal musical heroes?
Well, I studied classical piano and had singing lessons at the National Conservatoire And Hellenic Conservatoire of Greece in Rhodes. I was a member of the Municipal Choir of Rhodes for about 10 years, and a member of an amateur theatrical group there. I have been singing alone and with bands for many years and with Symphony Orchestras from Turkey and elsewhere, at numerous concerts for the "environment", "against racism", "antiwar concerts", "for human rights", etc. I had many different influences, starting with: Joan Baez, Maria Callas, Janis Joplin, Pink Floyd, Metallica, Trans Siberian Orchestra, Leonard Cohen, Blind Guardian, East West Divan Orchestra and Daniel Barenboim, plus Mikis Theodorakis who you might know? I was very lucky back in the 80's to have had an audition with David Gilmour (Pink Floyd). I think that all these years of experimenting with many kinds of musical styles and in several different languages, have given me a wide range of repertoire and experience.
With your background participating in human rights concerts and given the historic tension between Turkey and Greece, how important are politics to Neverland?
It's not really about this, but there is some aspect of it to think about I suppose! If you think about it, our countries have had bad relations for many years and are slowly recovering from these wounds of the past, so it is important that we help promote such a conscience, especially in the young. To build a cultural bridge through music is the best way to spread messages of hope and peace, as music is a universal language, no? "Politics" in the narrow sense of the word, is for Politicians. I think, for us, it's a matter of keeping eyes open helping people to be more aware of things. We, as people from Greece and Turkey, have far more to share than those who try to divide us can take away! We share the same sun, and that means "light". It's politicians that create the problems, not us!
The new album has fantastic guest appearances by metal vocalists Jon Oliva (Savatage, Trans Siberian Orchestra, Jon Oliva's Pain), Edu Falschi (Angra, Almah) and Urban Breed (Pyramaze, ex-Bloodbound, Tad Morose). How did these collaborations come about?
Oganalp and our band members contacted all of them and asked them if they would accept an invitation to be our guests basically, and it's so wonderful that they all accepted. It's really wonderful having people like this on our new album. It's humbling!
Neverland will be touring Europe with Jon Oliva's Pain in October. Is the tour a direct result of his guest vocals on "Ophidia"?
We were planning to go on tour anyway, but, I think Jon's appearance on our album definitely played a role. I think the general reaction to the album from the fans is also so great that that plays its role too and is the main reason for us being accepted on the tour.
One of the most touching songs on the new album is "Places Unknown", a farewell to Mike Baker (Shadow Gallery) who passed away in 2008. During the upcoming tour, will Neverland perform "Places Unknown" or "Reversing Time" (feat. Mike Baker) — the title track from Neverland's debut album, which was also Mike's last official release before his death — or are emotions still too raw to sing these songs during a live performance?
Emotions are, of course, still present and raw. It was such a shock for us, and especially for the Dreamtone guys, who were in touch with Mike for a long time. But the fact that he sang "Reversing Time" and that this was his last song recorded; you know the lyrics of the song? Well, it seemed to me, very strange. There are sometimes things you simply just can't explain in words and that is one of them, sorry! Yes, we will be playing these two songs, definitely! May Mike rest in peace and in our memories.
Speaking of tours, how was ProgPower Europe 2009? What is your best memory from the festival?
It was a terrific experience; bands from different countries, a fantastic audience that came just for the Festival. It was amazing. I was impressed by Evergrey's acoustic performanc. We had lots of fun and good memories. We hope to be there soon, once again. Promoters, audience and bands were all awesome and very friendly to us!
Congratulations on the video premier of "This Voice Inside" on Headbangers Ball (MTV Greece)! Why did Neverland pick this song as the album's first music video?
Well, "This Voice Inside" is about the main character of "The Wheel of Time" series, Rand Al'Thor, one of the main characters of the book. It mainly tells of Rand's unwilling turn into an anti-hero, whilst constantly trying to battle with the voices inside his head. It's a powerful song. You're right. It had its premier on Headbangers Ball (MTV Greece)! In fact, they will be presenting it again, as we have a concert in Rhodes at the Colorado Club (Rhodes) on June 10th. We picked the song because it was powerful, of course, but also because it somehow defines the album's sound. There are more complex and alternative tracks than that one, but it shows generally, what to expect from the album!
Which is your favourite Neverland song of all time, and why do you feel a strong connection to the song?
Mine is actually "Black Water", off "Reversing Time". It talks about, black water; oil, or more specifically petrol and reminds us of the eternal fight humans seem to need to have to keep control over it. It is a lovely song also, from the pure musical side!
If you could design the perfect Neverland gig, what would it be like (venue, guest appearances, etc.)?
I would love to do this! First of all, I would design it with a Symphony Orchestra, of course, live with Neverland. I would have all our guests appear also, in memory of Mike Baker. I'd do two big concerts. One in Athens and one in Istanbul. And I would give this the title, "Connecting Bridges"!
How is 2010 shaping up for Neverland?
So far, it looks very exciting. In Rhodes, the concert is organized by the Road Knights, the MCC of Rhodes (The Harley Davidson Club of Rhodes) and my son Orpheus will present "Ophidia" and us. Orpheus presents Headbangers Ball (MTV Greece) now and is also writing for Rock Hard (Greece) and they will be our Media Sponsors. Then we're preparing for our European tour with Jon Oliva. It will be great. There are many shows booked, and we will visit several countries. I believe we've just added two more gigs, one in the Czech Republic and one more leg in Germany? It will be a great experience,w e will have a real chance to connect with our European listeners, and I'm so looking forward to it. 2010 is probably going to be our most active year to date.
Thank you for taking the time to chat with us, Iris. Do you have any parting words for your fans at Femme Metal?
I thank you also, it was a pleasure to speak to you. Thank you for some really good questions. I send our greetings from this part of world and hope to perform somewhere close to you soon, hopefully in the UK? Keep listening and supporting Metal Music; it's a good way of life and it rocks!
Links
MySpace * Facebook * Twitter * Site
Latest Multimedia
Interview by Si Smith
Do you ever long for the lost days of hair metal, of Motley Crue and Guns'n'Roses? If you do then you could do far worse than checking out the new album from Hollywood Groupies, a rock quartet with a penchant for raunchy tunes like rock used to be, down and dirty. Femme Metal spoke to singer Foxy to dish the dirt on the band…. First thanks for talking to us, and welcome to the Femme Metal Webzine!
Hi everybody!!

I must say that it was a breath of fresh air to hear your debut album, it is nice to hear this kind of music being played again loud and proud. So who's was the idea of forming this band in the first place?
Thank you so much!! I can say that the idea came from me and Kelly..
The band now consists of yourself, Kelly, Ace and Condor. Was it easy to come to this line-up or were there different people along the way?

Well it's been a long trip..but it sure has worth all our efforts..there's always been me, Kelly and Ace, along with other people who thought to go on their own way..and that 's how our paths crossed with Condor..

Your sound seems well-defined and clear to listen to. Who does what in the band when it comes to writing songs like these?
Everyone has an important role when it comes to give birth to a song, because we want everyone to feel a song like his own baby, but usually Ace writes the music and I write the lyrics..

As front woman all eyes turn to you when the band plays. What is your vision for the band?
I don't really have a vision or an idea, everything comes from what you feel and what you want to prove to the audience at the moment, anyway most of the people who bought the album and then saw one of our show said we're a lot better live, and I agree with them, we're able to express ourself in a better way..
You must all have gone through different life experiences to get to where you are today. What do you feel each member brings to the band?
Sure..everyone had different life experiences.. emotionally and working adventures, these experiences make everyone the person that they are today, we formed in 2006 so I can proudly say that each one of us is important for the other ones in the band, that's what makes us special, to share joy and sorrow with your band mates is one of the best things ever. So I can't really tell you what each members brings to the band but I can surely tell you everyone brings something important to be a special band..

A demo was released in 2007. What happened to this demo?
What do you mean..has it become a gem?! If so I'm gonna sell it on eBay right now! hahah! There were not so many copies, there were just a few songs and just one is still alive and kickin' in our setlist nowadays which is "Swallow This.." but we we're thinking about "covering" one of the songs featured in that demo..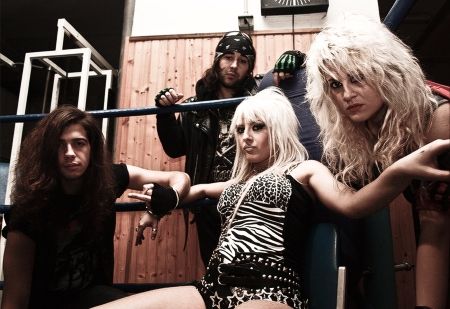 It was 2009 before the band began to get noticed in Europe and the USA – what were the stages along this journey for you?

It was a kind of surprise, we were working to get noticed in Italy and suddenly a lot of people from the U.S. and the rest of Europe started to contact us to say that they appreciated our music..

Getting included on "Glamnation Vol 4″ must have been a smart move. How did this deal come along?
Yes it was! They contacted us thru MySpace (which is a powerful way to get noticed for every musician) and we didn't think about it neither for a second..we said yes!

"Punched by Millions, Hit by None" is now out and about on the music scene. What does the title of the album refer to?
It refers to every enemy that tries to put you down, everyone has at least one, someone who said to you in your life "you're not gonna make it ", trying to discourage you.. the ones who try to throw a monkey wrench in the works.. hehe.. the title is the clear answer for that, you can hit me but you can't beat me..

Last year you played the Free Wheels festival in France alongside many established acts. What are your live plans for this year?

That' s weird to hear about it now, because right now while I'm answering to you, it recurs one year from Free Wheels festival and I feel pretty melancholy since it was one of our best band experiences and one of the best days of my life.. we're gonna play a few gigs here in Italy and then we're gonna play in L.A. on the 4th November at the Whisky a Go Go!

Your singing is very striking in its power. How do you train your voice?
I don't train my voice at all and that's one of my biggest mistakes but I don't feel the need of doin' it, i just drink a couple of drinks before go on stage..

Have you any funny stories from your band to share with us? Or does all go smoothly with you all the time…..?
It never goes smoothly! hahah!! Most of the times it ends up with me and Condor arguing for something.. I think the funniest stories are from our beginning but I can't remember one in particular, maybe I was not that sober..hehe..

Finally, do you have any words of wisdom to share with your audience? We are listening…..
I'm never the wise one.. the only thing I tell you is always fight for your dreams, if you win you'd be satisfied and if you lose you wouldn't have any regrets..

Thanks again for the interview, we wish you success in the future.


Thank you so much and thank you for the awesome interview!
Links
MySpace * ReverbNation * Facebook * Twitter

Interview by Miriam C.
This time I've sit down with miss Autumn for drink a (virtual) tea, jokes aside, I have had the honour to speak with the last eclectic genious of our century. Ok, sound tacky and not true but it's really what I think and you know that I always try to be sincere with you all, dear readers. Eclectic because she's the true tightrope walker of the arts, she can switch from music to writing a glimpse of an eye. Genious, sorry but I really need to explain why? Now I prefere sitting in the corner and leave to her the word. For such person you have only to learn to fight and never surrender. Emilie is a true life's inspiration.
Hi Emilie first of all thanks so much for accepting this interview, I'm really honoured. I hope everything is going will with your American tour!
Hello, it's my absolute pleasure to sit down for tea with you today.
I'm gonna starting, before all, asking your about your book (that's already at 3rd edition, congratulations!) "The Asylum for Wayward Victorian Girls" that finally is out (again) to buy on your official shop, what details can you share about its genesis and the plot?
Thank you very much, that's very kind! Yes, the book continues to do very well and I am so grateful that so many people find this a story worth reading and making a part of their lives. It's truly incredible to me, since it is released independently and is only available in one place – my shop website (www.asylumemporium.com). For those who don't already know the story, this book is my autobiography of my time spent imprisoned in a mental hospital, but nothing is exactly what it seems, and the story quickly becomes a sort of fantasy, time travel, adventure, mystery novel that is actually quite a lot of fun to read. It is this story that's behind everything I do, from the music to the stage show, and this book has become the "Harry Potter" to the Plague Rats (the name for my audience) — the bible of this whole Asylum world that my art and life takes place within.
Emilie, your musical training lies in the classical music. How are you able to merge your classical side with the "industrial" one?
Once one stops thinking of music as being divided up into individual categories, each appealing to only one individual audience and begins thinking of it as just being a collection of sounds that blend well to accomplish an emotional purpose and tell a story, then it all becomes so much easier. Throughout the history of art, the way any new art form has evolved is that somebody put together things that traditionally didn't fit and simply made them fit until they seemed natural.
Despite being an artist, performer, writer – you're also a fashion designer. Congratulations for your dresses, I really love them. From where you take your inspiration and you never thought to create a dressing line for debut in such fashion events like Milan, Paris & New York?
Thank you so much for the compliment! The inspiration behind all of our costumes on stage is really quite simple, in that, just like the music, it's a blend of the old and the new, and then some fun fantasy bits that don't belong in any particular period but the imagination. Now that we have entered into a new era of performance with the "Fight Like A Girl" album and tour, I'm enjoying the new tribal elements, the warrior elements, the mohawk hairstyles and the bits of armor I am working today to incorporate. I've been sewing the new costumes before talking to you, and will get right back to work at it afterwards.
Now let's pass again into the musical side, on 2010 thru Twitter you have unleashed the title of your forthcoming album "Fight Like a Girl". It's really a strong title, what you can unveil about its creation?
The title of the album is meant to inspire a very strong reaction, and it does so because, even in this modern day in 2012, the phrase "you fight like a girl" is still used as an insult to boys, and to ridicule girls, and for absolutely no logical reason other than the misogyny that still infects our globally patriarchal culture. So, to those who are evolved and honor the feminine and are aware of her innate power, the title will immediately seems like a very positive thing, while to others who were taught that to do anything "like a girl" was a bad thing, the title will be more challenging, but this too is good. Art is about changing the way people think – not making people comfortable with what they already think.
I got really impressed by the statement that you have released for the PRs about F.L.A.G that says : "This record is my soundtrack. Of course, there's an overriding story arc. It's a social critique of the mental healthcare system spanning from the 19th century all the way up to the present, as well as the inequality women still face worldwide, whether they're crazy or not. I'm drawing upon my own personal experience as a notoriously bi-polar person who has been committed and lived to tell the tale. Hopefully, my story will give strength to those who need it, and raise a little awareness." – Did you have done some historic research for write down your lyrics? Also I would like to now if do you have a personal heroine that inspired you. Or you consider yourself the only and ultimate inspiration?
My great passion is history, and so, because it is what I love, I've done a whole lifetime of historical research, and will continue to do so, because it is what I study constantly. I certainly wouldn't feel I had any right to speak about things like gender issues or the treatment of mental illness if I hadn't the historical knowledge to back it up, and, also, it is by looking at the past that we discover how we became who we are and see where we can go in the future. There are so many strong women throughout history that I thank and am inspired by, from ancient rulers to early feminists, but I am even more inspired simply by the women I know, those around me, especially my Bloody Crumpets, Veronica, Contessa and Captain Maggots. These three ladies are the strongest, bravest, most talented and inwardly beautiful women I have ever known, and they inspire me every day.
Reading here and there I've knowledged that a Broadway musical taken from your "The Asylum for Wayward Victorian Girls" book is taking life. Have you any details that you can share?
I am very happy to be able to finally announce that Darren Lynn Bousman has officially accepted the role of director of the musical, so, between him and myself, this will definitely be a musical like no one has ever seen.
Also you have managed to put up your own imprint, how's it to be the enterpreneur of yourself? And why going solo? I mean your were onto Trisol, one of the best industrial label that I know. No more faith in the record companies?
Ha, yes! Definitely no more faith in record companies. None. I've been burned too many times, and have been stolen from, and have lost too much money that could have gone into my show or my work. All of my music and books from this point on will be under the label of The Asylum Emporium.
What you can tell me about Darren Lynn Bousman and Terrance Zdunich's upcoming project "Devil's Carnival". How you got in touch with the creators of the show and how happened to get involved into this project too?
They got in touch with me, actually. About a year and a half ago, I was on tour, and Melissa, my excellent manager, was contacted by Darren about this project. To be perfectly honest, I didn't know about Darren and Terrance, I hadn't seen the "Saw" films (even though I do have some songs on their soundtracks), and I hadn't yet seen "REPO! The Genetic Opera", so I didn't know what to think, but something about the very passionate way Darren talked about this project made me curious to know more. I very quickly became close friends with both Terrance and Darren, and, before I knew it, I was a part of this carnival family, and acting and singing in this magical, amazing film project with so many other wonderful actors and performers. I'm very proud to be a part of this film, and the best part is that we are soon going to begin filming for Episode 2!
The majority of people that listen music recognize that classical music as an elitist music. From your own side, do you think that with your music are you helping to "unhinge" such prejudice?
I really do feel that way, and I'm so glad and grateful to be in the position to encourage people, especially young people, to feel differently about something I hold so dearly. But the magical thing is that I don't really have to do anything other than make the music I make and let people come up with their own descriptions of it, or put it in their own categories. Those that enjoy my music, either the songs with vocals as well as classical elements, or simply my classical violin recordings, like it because they like it. And they often find that they love classical music, and even end up learning classical instruments, like the violin, because they want to celebrate and be a part of that kind of music and the joy it gives. But it's a very honest, non-judgmental approach. I'm not telling people they should like any particular thing, and so, when they do, it is very sincere, and they don't even know that they "aren't supposed to" like it.
What will be the difference between the "The Door Tour" and the upcoming "The Fight Like a Girl Fall Tour", what will change in matter of dresses, scenography and set list? Also all your female companions like Veronica Varlow & Co. are confirmed for the shows?
Yes, Naughty Veronica, The Blessed Contessa and Captain Maggots will all be joining me onstage. They are such a beloved part of this show to our audiences that I think there would be a riot of some sort if they weren't there! As I said before regarding the new costumes, we are definitely incorporating more of a tribal warrior element into both our look and performance, even the choreography. This next chapter is all about the war for freedom that takes place within the Asylum and the journey that we go from victim to victor. We want to take our audience on that journey with us.
What your next projects? – Including that fact that you have a lot on your plate, talking about the Broadway show, the film, a new book (a bird says me, right?) and new album to promote – what willbe your priorities here?
At this moment, the tour is the priority, but after that, my next two years will be spent mainly on the composition and creation of the Broadway musical based on the "Asylum…" book. It is an epic project that will take so much, but I think it will also be my greatest offering, and so I am willing to give it everything I have.
Emilie, thanks really so much to spend your time for checkout this humble questions that I've proposed to you, I hoped you have had fun replying in it. Feel free to greet our readers and your Plague Rats as you want. Thanks again!
Miriam, thank you so very much for your time and your great questions! And to all my dear Plague Rats, raise your paws and bare your claws, because we're coming for you and it's time to fight!
Links
MySpace * Facebook * Twitter * Site
Interview by Erwin Van Dijk
Forget all those Cristina Scabbia & Lacuna Coil look-alikes from Italy. If you want to hear some old sckool metal from that country that would make Doro or Sabina Classen proud you should give the band White Skull a try. No soprano vocals or sweet elven maidens onstage with this band. I saw White Skull a few years ago at the Metal Female Voices Fest and they were one of the highlights today (the others were Girlschool and Izegrim).
Did you always wanted to become a singer?
Well, from what I can remember, when I started listening to heavy metal music I was about 16 years and I imagined myself running on a stage like Bruce Dickinson, hehe! That's probably the dream of many young metal heads. Btw, then I started learning guitar and I found my own style on vocals just many years later.
Did you have any other bands before White Skull?
Yes, but as I said before, I was playing guitar. I played in some underground bands of my town, sometimes on guitar, later on vocals, and sometimes both on guitar and voice. Everything is good to make experience!
Who are your favourite singers?
Bruce Dickinson, Bobby Blitz and Ronny James Dio.
And to what kind of music do you listen yourself?
I love and listen mostly to thrash metal ('80s Bay Area bands) and classic heavy metal like Iron Maiden and Scorpions.
What are your other passions besides music?
I love reading books and watching horror films. I like being scared!
And is it difficult to combine White Skull with your personal life?
No, luckily my job gives me the chance to plan my time in an independent way.
Besides White Skull you are also busy with your mail-order shop (see www.over-zone.com). What made you decide to start your own mail order shop specialized in old school metal stuff from the eighties?
Thanks for the question about it. I'm into the '80s style since I was young and I also worked with a business partner in a rock-metal shop for several years. After making enough experience in it, I was in need of independence and I also found out that she wasn't the right person to share my work with. So I opened my own on-line shop and finally I could put my own style in it! It's been a great satisfaction and I hope to support the old school style as long as possible, also for the young generations.
Do you think that metal as genre and life style was better in the eighties than today?
Surely it was better in the eighties. Everything was new, and you had to make sacrifices for your passion in Metal. Now everything is much more simple, you can find everything on-line, Mp3, information, shops… So it's also less strong than before. And then, today many pubs and clubs are closing or just stopping to let bands play. It's very sad!!
Unlike most female singers today (who try to be the next Sharon den Adel or Cristina Scabbia) the way you sing is more in the style of Sabina Classen from Holy Moses. Since this is not the most gentle way to tread your vocal cords, what do you do to keep your voice in top condition?
Yes it's not a gentle way at all, haha. I'll be honest I'm doing very few things for it: just concentrating in the right breathing and rehearsing at home to find the best position of the sound in my mouth or head, or nose.. I'm sorry, I haven't got time for vocal lessons at the moment.
How did you became a member of White Skull?
Oh, totally by accident! I wasn't following the band in the last times, so I didn't know that they were searching for a new vocalist. One night I met Danilo in a pub and he just asked me what I was making in music now. He only knew that I was playing guitar in some local bands but he didn't know that I was singing too. So he simply asked me to make the proof with them.. I did it one week later and here I am.
And since you are not White Skull's first singer, was it necessary to adapt the songs to your voice?
Of course it always happens, when one vocalist comes after another (or two!!) and he has to perform songs that he hasn't composed. That's a old story! I've tried to do my best, but it's natural that I prefer singing my own songs, I haven't got problems in telling it.
What are the most memorable moments for you with White Skull?
We are a band and a family as well, so every time we go out and play, we have very good time together, in total harmony and fun. I can remember when we played at the MFVF in Belgium. We arrived to the place the day before playing, so we had all the day and night to relax and touring around Bruxelles. It was like a little holiday and we really had fun (especially with food and beers!!)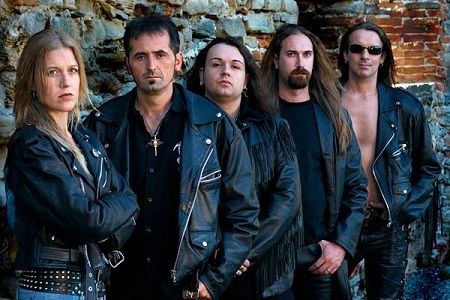 I have seen White Skull only once, at the Metal Female Voices Fest of 2008. How do you look back at that festival?
Oh, I didn't read this question when I told you about it in the previous one!
No problem

As I told you, we really enjoyed that little tour and also the organisation of the Festival has been good and kind with us. I only have to say that we were the only True Metal band, that day. The other bands played mostly gothic or doom or some new metal, that's not my genre. It seems difficult to find female metal bands in classic heavy metal! Luckily at the end came the Girlschool with their funny and old school rock'n roll, hehe.
Can you introduce us to the other members of White Skull?
Tony Mad (Rhythm Guitar) and Alex (Drums) are the founder members of the band. Later, after other mambers, came Danilo Bar on the solo guitar and me on voice and finally Jo on bass. During the story of the band there have been several line up changes. For example, Alessio Lucatti (Keyboards) has just left the band due to employment purposes. It's not easy to find the right people to play with, sometime for personal reasons, other times for a different style in composing ad taste in music, or simply for problems in the job. Now we hope to last many and many years like this!
Who is responsible for the music and lyrics in White Skull?
The music is composed by all of us, sometimes all together, other times working on one's idea or riff. When each song is ready I write the lyrics and the melody for the voice.
And were do you and the band get the inspiration for the songs?
We all listen to metal since years and years, so I think that our inspiration comes in a natural way from all the bands we love. Though, 'cause we have different taste in music (I'm mostly into thrash metal, for example), at the end everything mixes together and that's the way how the White Skull current style was born.
"Forever Fight" is White Skull's latest album. Is "Forever Fight" a concept album or are it thirteen individual songs?
I'd better say that they are 13 different songs, linked together by the same historical period (the end of the Roman Empire of Occident). Some of the songs tell about the same story (for example, "Boudicca's Speech" is the prologue of "A Mother's Revenge" and other songs talk about Attle and the Huns). But in the end it's not a real concept album.
How did the press and the fans received the album?
Well, I can honestly say in a good way. I'm happy about the result. Of course there will always be who prefers the old WS style or members, but it's natural and it's not a problem. Everyone has his own taste in music and you can't say anything, everybody is right. The important thing is that fans come to our shows and at the end they are really happy and come to talk with us with much excitement. And this is the biggest satisfaction for us!
Since "Forever Fight" was released in 2009, are you already working on a new album?
We've been busy with the live shows since now, so we're planning to start the new album around this summer but with no hurry. There's nothing worst for a musician than being late and having to write songs as quick as possible. We also live in different and also far cities, so it's not easy to meet each others and play together, so the times are a little longer than normally.
If you look back at "Forever Fight", are there things on the album you would have done different now?
This is my first album with WS and I'm much attached to it. So, even if nothing is always "perfect" and you could always improve it, now I wouldn't change a single note in it.
And what are White Skull plans for the future?
Going on with the live shows and starting the composition of the new songs as well.
And the last question: is there anything the reader should know that I have not asked?
Oh you've already asked a lot, hehehe!

One can never ask enough questions

I can only add that WS is a band with a strong passion for the true heavy metal and we do nothing if we don't like it in that moment. We've done sacrifices like many other Italian bands to have the chance to play around, in a bad period for heavy metal music. Our only interest is passion and not business! Keep the Metal alive, guys.
Links
MySpace * ReverbNation * Facebook * Site
Latest Multimedia
Label : The Asylum Emporium
Review by Luisa Mercier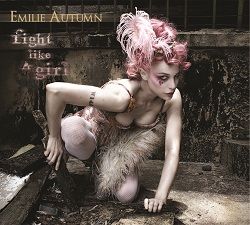 Six years. A long time passed since "Opheliac", Emilie's last full-length release, but now she is finally back. I love her, love her imagery, the world she has created around her, her lyrics, her sarcasm and I even quoted "Opheliac" in my thesis when I graduated off university. And now here we are, "Fight Like a Girl" is going to be released in a few days. The opener "Fight Like a Girl" starts with a clock ticking and then electronica takes over. The style is not much different from what Emilie used to write in the past. It is catchy, fun and she ranges from a sweeter tone to harsh vocals. Following "Time for Tea" is much creepier, with a mood that remembers the gothic novels of the Nineteenth century. She even uses growling and the music is close to industrial plus her usual violin and harpsichord. Really worth listening. "4 O' Clock" is a single released in 2008 and in "Fight Like a Girl", Emilie proposes an orchestral reprise that has a soundtrack feeling. "What Will I Remember" is a melancholic ballad which could be easily be soundtrack for a Disney movie (and it is meant like a compliment). It is sweet with an hint of sadness to it. Completely different is the following "Take The Pill", which is quite aggressive and the electronic music is dark and quite groovy. Emilie sounds threatening, sexy, expressive as always. The ending is absolutely explosive, one of the highlights of the record. "Girls! Girls! Girls!" starts with harpsichord and vocals and then it gets a cabaret mood, like we were in the Paris of two centuries ago. You can perceive the irony in her words and I love her for that. It is more like being on a stage than just listening to a song. "I Don't Understand" is a sort of dialogue in music while "We Want Them Young" has an ethnic feeling with the percussion in the background and the epic music. I guess that soundtrack/orchestral sound is one of the new elements that appear in the album. Like an horror movie. This is what the start of "If I Burn" suggested me before it gets close to normal Emilie style with harpsichord, electronica and synth. Maybe it is the track that remembered me the most of "Opheliac". "Scavanger" goes on on the same creepy notes, slow and doomish and "Gaslight" is a ballad for strings and harpsichord. This last instrument was used a lot more in this album than in the previous releases, more than her well-known electric violin. "The Key" is a short psychotic interlude in which Emilie recites the words rather than singing on a epic orchestral piece which would be perfect for a thriller movie . It flows into "Hell Is Empty", an even shorter orchestral piece. I must admit that the second half of the album is very, very disturbing and I guess it is connected to a place that Emilie has often used as integral part of her imaginarium: the asylum. Hence the creepy atmosphere and the overall gloomy sound. In fact she stated that the album is: "an operatic feminist treatise set inside an insane asylum, wherein the female inmates gradually realize their own strength in numbers." A little bit of peace with the instrumental reprise of "Gaslight" "Goodnight, Sweet Ladies"is a track in which Emilie uses her high pitched voice and creates an ethereal, almost neoclassical song. "Start Another Story" leads into "One Foot in front of the Other", the closing track. It has a martial pace, like an army advancing. I can say that "Fight Like a Girl" is for sure connected to his predecessor as far as sound and style is concerned but it developed even further certain aspects of Emilie Autumn trademark. Now it is more epic, darker and the symphonic side has been well united to the rest.
Rating – 80/100
Tracklist
Fight Like a Girl

Time for Tea

4 o' Clock Reprise

What Will I Remember?

Take The Pill

Girls! Girls! Girls!

I Don't Understand

We Want Them Young

If I Burn

Scavenger

Gaslight

The Key

Hell Is Empty

Gaslight Reprise

Goodnight, Sweet Ladies

Start Another Story

One Foot in Front of the Other
Line Up
Emilie Autumn – Vocals, Piano, Violin & harpsichord

The Lady Aprella – Back Vocals

Little Lucina, Mistress of Sin - Back Vocals

Mistress Apnea – Back Vocals

Lady Joo Hee – Cello

The Naughty Veronica – Back Vocals & Keyboard

Ulorin Vex – Back Vocals

Lady Vecona – Back Vocals
Links
MySpace * Facebook * Twitter * Site
6 color styles available:

Style switcher only on this demo version. Theme styles can be changed from Options page.