Browsing articles tagged with " find"
Interview by Connie Bach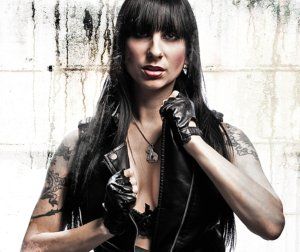 Rock with attitude. This is Sister Sin's personality. The "attitude" aspect is loud, edgy, and melodic. If you are furious with someone this is a great album for the situation. And if you are not in a rage, there is energy for entertainment, and plenty to spare.
Hi, Liv. What's going on with the band right now?
Hi! Right now we are playing lots of shows in Scandinavia and doin' some tours in Europe, we hope to be back in US early next year! The album is just released in Japan too so hopefully we will get the opportunity to do a tour over there next year too. This one's for the whole band. How did each of you get involved in rock music? What's your background?
Liv : Well, I started to get into rock in my early teens when I found Nirvana and Hole, and a Swedish metal band called Drain. Drain had Pantera as their favorite band and that got me into Pantera and the heavier stuff. I so wanted to become a rock star that I forced my to best girlfriends to start a band with me. After a while they got into it too ha, ha… We were called Sisters of Kali and we´re very, very dark and angry on everything. Jimmy : I got into rock music seriously when I was around eleven years old. I loved Metallica and Pantera at that time which friends introduced me with. Then I discovered more extreme music such as Slayer, Sodom, Entombed and later on bands like Morbid Angel, Deicide, Suffocation, Gorefest and also a lot black metal. I played in many bands in those days, mostly death and black metal bands. Then I had a break from playing and one day I heard from a friend that Sister Sin was looking for a new guitarist, knew nothing about who they were. But I gave it a shot since I always had a soft spot for classic hard rock and heavy metal. It turned out to be perfect! Dave : I stole all my brother's heavy metal vinyls after discovering Vanessa Warvick hosting "Headbangers Ball" in the early nineties. After that I got in to a lot of punk, hardcore and eventually black metal as well. Started playing guitar back then but moved on to drums for the usual reason that there weren't any drummers around. And here I am today, piss poor but happy with a Metal Heart, ha ha. It's been a few months since Benton, Sister Sin's bassist, unfortunately had to part ways with the three of you. Liv, how is the search for a new bassist going? What challenges does a change in line-up present, even with the qualifications you have in mind?
It's always very hard to find replacement for someone that you liked and that suited the band so well and we have been thru this before so we are pretty tired of this whole bassplayer thing. That's why this time we really need to find someone that has the passion for music and touring that we do and that could dedicate their life to this band. Even if you do find someone who is technically qualified the most important thing is always the social aspect. When spending so much time as we do in a van you can't have one guy you wanna choke to death every half hour. I think we´ve actually found the right man for job but he´s gonna do at least one tour before we make it official, for both parties sake.
Why does Sister Sin require that the new bassist have studio experience?
Do we? Ha ha… I didn't know that. No, but I guess it´s more of sorting out the serious ones, like we get so many e-mails from people who think that anyone can play bass and let me tell you; just because you can play guitar and get by doesn't mean you can play bass. What are you expecting with the tour with Grave Digger and Grand Magus?
I think that will be a blast! We haven't toured so much in Europe with all the focus that's been on U.S last two years so it´s gonna be cool for sure and we are hitting some very interesting countries as well, so I'm really looking forward to that.
What determines where a tour takes Sister Sin, or any other band? Why?
Since we haven't really sold shitloads of albums around the world we can't exactly pick and choose where and when we wanna tour and whom with. Many people ask why we go on tour with bands like Arch Enemy or OTEP and the reason is just that we got offered those tours and we need to be on the road all the time. Got nothing against any of the bands we´ve toured but yeah, if we could choose we would definitely tour with headliners that are more close to our genre and fan base. We´ve been over totimes and the reason for that is that our label has spent more promotion over there and we need to back that up.

Liv, you are featured as "Miss November" in Revolver's "Hottest Chicks in Metal" calendar. How do you feel about the award? Nice job. The reason I ask is that for some it is a source of pride, whereas some feel it mocks women in metal.
For me it's a pride!! I'm very, very glad to be one of the girls in that calendar, it's an honor. I truly can't believe it really, I'm just a working girl from Sweden and a big American rock magazine wants me in a calendar ? That's so cool! And I don't understand these people that think it's mocking women, if you are a beautiful woman with a talent, show it! Both your talent and your beauty, that calendar is a way to celebrate both in my opinion! "True Sound Of The Underground" did quite well on the charts. What does that mean for the band?
Of course it means a lot to know that people enjoy our work and that we hopefully can inspire others with our music. Not that you have to sell a lot of copies these days to end up on a chart but it´s a nice motivator for us that there is a growing market for the kind of music we play. Do each of you have a personal goal that you are fulfilling through being in Sister Sin?
Jimmy : Yes absolutely. I get to play guitar just they way I dreamed of when I first picked up a guitar and all the countless hours of practice finally pays off with releasing albums and touring, it certainly is a privilege and a dream come true.
Dave : Ever since first got in to heavy metal I always wanted to tour and see the world. And now I get to travel, see new places, new people and be on stage every night doing what I love to do. I've never dreamed of making lots of money (although it would be nice! ) and playing big arenas, I'm just glad that 3 nobodies like ourselves who have been stuck in a rehearsal studio for 5 years never gave up and it´s paying off the way I always wanted it to do. Liv : This is my personal goal, to be able to be in a great band and play live all over the world! One thing that would make it even better would to be able to live from the music one day, that's very much a goal for me. To just live 100% for the band, now I have to share my time with my job as a personal trainer.

Liv, Sweden (especially Gothenburg) has a huge metal scene, with many famous acts. Why does this scene influence Sister Sin?
I really don't think there are any Swedish bands that influences us really. There´s a lot of extreme metal coming out of here which obviously is what Sweden is mostly famous for in metal. A lot of those bands, like In Flames for example definitely inspire in another way though that you can make it if you just hang there, never quit and be true to what you love. Liv, Dave, and Jimmy, thanks a lot for your time. Your musical energy and commitment to Sister Sin is impressive. Hopefully we'll see you in the States again soon.
We will be back 4 sure!
Links
MySpace * Facebook * Twitter * Site
Latest Multimedia
Interview by Danny Robertson
Here we get an insight into the Dutch metal band Cardamon, their history and current album "The Primrose Path", thanks to frontwoman Floortje Donia.
How did it all get started for Cardamon? How did you form?
Thomas (our former drummer) and Koen were looking for a way to express their softer side in metal music, next to their thrash metal band Detonation. They decided they wanted a girl on vocals, they asked me. I knew them still from high school.
Who or what initially influenced you to start a band?
It wasn't really like that, I was already singing in some small projects and in a cover band when I was asked for Cardamon, so I didn't start a band. But of course there are a lot of people and musicians who inspire me to make music, which go from Jimi Hendrix to Eric Satie to Opeth..
Where does the band's name come from?
It was my dad who came up with the name. We thought it was catchy and it represents our spicy side..
What was your local music scene like when you first started? Has it changed much since then?
If you mean the local metal scene, I honestly couldn't say. I've never been an active part of this scene, then or now. I just sing stuff I love. This is a question you should ask my fellas from the band.. But in general the local scene is very active. Utrecht has a load of talent, and it shows! Financially it's becoming almost impossible though, for talent to surface.. the industry is dead..
How long did it take to put the album "The Primrose Path" together?
Quite a while. We took a long time to write all the songs, working on them a little more, and a little more, and a little more.. In the studio it was no different and with the mixing same story. But it was worth the wait, in the end we presented exaclty the album we aimed for!
Are there any concepts or main themes that run through the album?
The album has some returning themes that appear in the songs. They are about betrayal, mostly by people you trusted. About loneliness, even though you are amongst others. About the urge to find peace, in a place which is filled with noise. Contradictions, failure, desire and truth.
What inspired the album's title?
It's about being tempted to pursue happiness coming easily, knowing it's not going to happen.. You're deceiving yourself, others deceive us, be careful not to let your guard down, nothing comes easily.
Would you say your sound has changed much over the years?
We decided we wanted to become a little louder. During shows we always realise how the faster, more rocking songs give us so much energy and fun.. So yes, definitely, our second album will be different from "The Primrose Path". More of a live sound instead of a studio album.
What has been your biggest challenge thus far?
Finances and bureaucrats. We feel the people out there can really appreciate our music, but it is so damn hard to get it anywhere! Unbelieveable! But we'll keep trying… we'll keep trying…
Which current acts do you feel you share the most common ground with?
Hard to compare, also 'cause we're nowhere near their status, but Katatonia and Anathema are still heroes and we hear comparisons with The Gathering.
What's next for Cardamon?
Deliver a second album. We're working hard on it as we speak! I have no idea when or how it will come out, but we'll make sure it does. Also, we really want to keep playing live as much as we can, because that's the funnest part!
Any last messages for people?
Keep supporting the bands you like, especially the smaller ones. Let's make this happen together!
Links
Latest Multimedia
Label : Comet Music
Review by Luisa Mercier
"Adverse Camber" is the third release of the British band The Reasoning. It is quite short, about 40 minutes of music, and it is released in a context, the UK prog scene which is quite fertile. The members of The Reasoning have been or still are part of other prog bands: bass guitar player Matthew Cohen for example, was part of Magenta before he formed The Reasoning in 2005. Lead vocalist Rachel Jones married with Matthew and therefore is currently known as Rachel Cohen. The overall sound is heavier than in their previous releases; in the opener "Diamond and Leather" you can hear that the guitars are quite aggressive, the same in "The Nobody Effect" and "14″ the last song, although they never step out of the rock territories. The quality of the record is very high, it is not a revolutionary album which will change forever the prog rock scene, but it is enjoyable and catchy enough to stay in your favorite music player for a while. Let us say that is a good compromise between prog madness and catchyness; all graced by the skilled vocals of Rachel.
Rating – 70/100
Tracklist
Diamonds and Leather

The Nobody Effect

The Thirteenth Hour

Through the Now

Script-Switch Trigger

14
Line Up
Rachel Cohen – Vocals & percussion

Dylan Thompson – Vocals, electric guitar, acoustic guitar & mandolin

Matthew Cohen – Bass guitar, backing vocals, mandolin & percussion

Maria Owen – Vocals

Tony Turrel – Keyboards & backing vocals

Owain Roberts – Electric guitar

Jake Bradford-Sharp – Drums & percussion
Links
ReverbNation * Facebook * Twitter * Site
Label : Comet Music
Review by Luisa Mercier
As the title may suggest, in this record The Reasoning turn their old songs in acoustic pieces, very atmospheric and sometimes even more beautiful than the original ones. Deprived of their prog structure, the songs have to stand alone and they succed. This means a very high quality of the original compositions. Listen for example "In the Future" from their 2008 "Dark Angel", it has a warm sound and sometimes it seems even richer, especially in the instrumental breaks. I have to say that the songs are not completely stripped down, there are still drums, bass guitar, keyboards but obviously the guitars are not distorted. The harp in the beginning of "Script Switch Trigger" is just lovely and lends to the track a fairy-ish atmosphere together with delicate Rachel's vocals. Sometimes she duets with another male vocalist, the one she replaces in the previous album and the two are perfectly complementary. Enchanting is "The Nobody Effect" which has become a very nice ballad retaining the uplifting feeling in the chorus. The closing track "Within Cold Glass" has a nice folk-rock feeling to it which has been unveiled by the acoustic arrangement.
Rating – 80/100
Tracklist
The Thirteenth Hour

In the Future

Script Switch Trigger

Aching Hunger

Dark Angel

The Nobody Effect

Sacred Shape

Within Cold Glass

A Musing Dream
Line Up
Rachel Cohen – Vocals, Percussion

Owain Roberts – Guitars

Tony Turrell – Keyboards, Vocals

Matthew Cohen – Bass, Backing Vocals

Jake Bradford-Sharp – Drums, Backing Vocals
Links
ReverbNation * Facebook * Twitter * Site
6 color styles available:

Style switcher only on this demo version. Theme styles can be changed from Options page.