Browsing articles tagged with " finland"
Interview by Laura Medina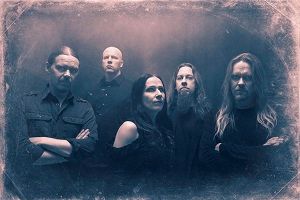 Susanna Vesilahti is the female vocalist of Unshine, a Finnish druid metal band from Finland. Unshine's third album, "Dark Half Rising" is currently out now via Massacre Records and features a more "stronger and powerful presence than ever." What I like most about Unshine's lyrics is that they are written about ancient histories of civilizations that existed long ago and they write about nature topics that make you want to continue listening. I got the chance to chat with Susanna about Unshine, "Dark Half Rising", her pre-concert rituals and much more.
Hi Susanna and welcome to Femme Metal Webzine! Thank you so much for allowing us to interview you today! I hope you are doing well today.
Hi Laura, nice to talk with you! Greetings from rainy Finland! Continue reading »
Label: Svart Records
Review by Cristina Gregori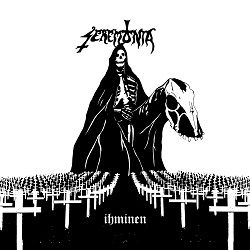 Seremonia is a Finnish band, they play heavy psychedelic rock sings in Finnish language. The band influence can rely on the Finnish punk and prog rock. The voice of Noora Federley preaches the dark gospel that takes us into the dark. "Ihminen" means "Human" in Finnish brought us like magic in a perfect dark ceremony. It start fast with the witch master "Noitamestari" where Noora fully display her scratchy vocals. The whole album continues with moments of progressive and psychedelic rock wheelies.
The guitar riffs are really good in particular on "Ovi" - that is one of the most appeling- but the best surely is "Suuri Valkeus" ("The Great Light") it's so energetic and it fits perfectly. Continue reading »
Interview by Ary R. and Miriam C.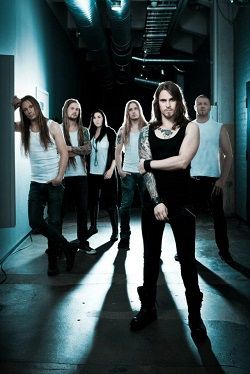 MyGRAIN is a melodic-death band from Finland. In these recent years, this 6-piece esemble gained more celebrity thanks to a few tours in Japan, Asia and especially Europe. After a long delay, the guys were able to release their 4th album via Spinefarm Records and in this exclusive interview, the singer Tuomas and the keyboard player Eve give us a few more details about the new record!
Hi Tuomas, hi Eve. Welcome to Femme Metal! First of all, I'd like to tell you that it's a great pleasure to have you here today! How are you doing there in Finland? 
Eve: Nice to have a chat with you as well! The leaves are falling to the ground here in Finland and the autumn seems to evoke a serious creativity boost… So we're working with the new songs already!
Tuomas: Hi there and thanks for having us! We're living exciting times as we're at the moment starting the Finnish shows with the new album "Planetary Breathing". And at the same time we've already made arrangements for yet newer stuff!
Label: Escape Music
Review by Tony Cannella
The Finnish symphonic metal band Amberian Dawn parted ways with their popular longtime singer Heidi Parvainen late last year. Now that her replacement has been found the band continues on, with an odd way to break in the new singer. First of all, her name is Capri and instead of working on new material Amberian Dawn has chosen to introduce her to their fan base via a re-recording of some favorites with Capri on vocals.
The kind of soaring power metal that Amberian Dawn plays deserves a vocalist whose voice soars with the music and with Capri they have found just that. "Re-Evolution" contains 11-song that encompass all of their albums and it would be impossible to say that anyone does them better than Heidi (she was the original, after all), Capri acquits herself quite well and she quickly put my fears to rest. You can hear her take on songs like, "Valkyries", "Incubus", "Lily of the Moon", "Come Now Follow", "River of Tuoni" and my favorite all time AD track "Charnel's Ball". Continue reading »
Interview by Laura Medina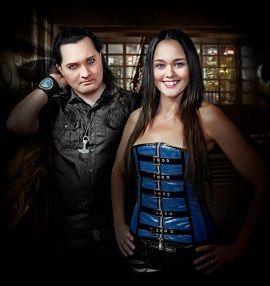 Amberian Dawn, a symphonic metal band from Finland, announced via their official website that they were parting ways with their longtime female vocalist, Heidi Parviainen, in early 2012 soon after their magnifying, superior and outstanding performance at the Metal Female Voices Festival (MFVF) X in Wieze, Belgium. Flash forward to December 2012, it was announced via their official website that the band would release a compilation album consisting of songs from their four previous albums that would be re-recorded featuring their new Finnish female vocalist, Capri!
With the release of "Re-Evolution", their new female vocalist Capri poured out her own mix of classical and rock styles as well as raw emotions into those Amberian Dawn songs. Continue reading »
6 color styles available:

Style switcher only on this demo version. Theme styles can be changed from Options page.