Browsing articles tagged with " finland"
Label : Cyclone Empire Records
Review by Luisa Mercier
Black Sun Aeon is the solo project of Tuomas Saukkonen, who is already involved in many other bands (Before The Dawn, Dawn of Solace, RoutaSielu). He used to keep this project to explore other sides of his music mixing gothic, death, doom never losing sight of melody. While the previous work "Routa" was mainly focused on instrumental music, "Blacklight Deliverance" has two guests singers that alternate in the seven tracks: Mikko Heikkilä and Janica Lönn (female singer from Lunar Path). The opener "Brothers" has powerful yet melodic riffing as only Finnish can craft, while Tuomas growls and Janica creates magical landscapes with her vocalising. Towards the end an acoustic interlude makes everything softer and sweeter. There is a real winter mood throughout the song that goes on with the following "Solitude". Continue reading »
Label : Ravenheart Music
Review by Tony Cannella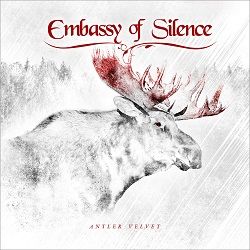 Finland's Embassy of Silence first burst onto the scene via their excellent debut album "Euphorialight" in 2010, impressive is an understatement when referring to that album, sonically; musically and melodically it was a stellar debut. Now, the band returns with their sophomore effort, "Antler Velvet".
From the opening track "Trickster Queen" it is obvious that Embassy of Silence has not lost any of their ability to write good hard driving, melodic heavy rock songs. This song reminded me what I loved about their debut. "Unconverted" is next and quickly became another huge favorite thanks to its barrage of heavy riffs and vocalist Ines Lukkanen's smooth delivery. Continue reading »
Label : Iron on Iron Records
Review by Tony Cannella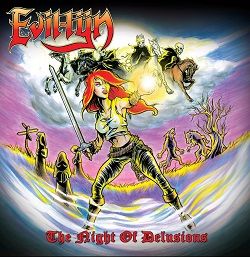 Sometimes it is so cool to hear some good 'ol fashioned traditional metal. The genre possesses some great bands – Crystal Viper, SlingBlade, BackSlash and White Skull as well some older favorites like Warlock, Zed Yago and Velvet Viper and now you can add another band to the list: Evil-lyn from Finland. Their debut EP "The Night of Delusions" includes five undeniably traditional heavy metal songs and over 20-minutes worth of classic sounding metal that definitely harkens back to another era yet still vibrant today.
The female fronted metal scene has never been in better shape, there is music, mood and styles for all tastes, but one of my favorite sub-genres is traditional heavy metal, and fortunately there are many great bands that do the genre a great service, like Evil-lyn. Continue reading »
Label : Svart Records
Review by Luisa Mercier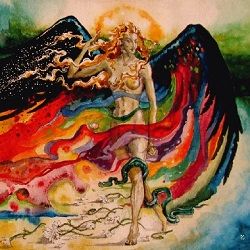 After their high praised self-titled debut, Finnish Jess and The Ancient Ones are back with a elegant new EP. They are a band that can deal with their different nuances, creating a mood, an atmosphere that were so dear to the rock of the Seventies.
The EP is made up of three tracks bathed by a magic breath, a liquid sound that is found also in the instruments. There is feeling, focused on awakening the souls that are sleeping through doomish moments, blues influences and airy keyboards.
Jess's voice is not as harsh as that of other female singers in occult rock, but it is dark and mysterious and I love it all the same. Her performance is great, you will get shivers if you are into this kind of music. Continue reading »
Label : Svart Records
Review by Luisa Mercier
"Seremonia" is the Finnish word for "ceremony" and it conveys the world that the music of this band wants to create. Gloomy, dark, occult, evil, these are the adjectives that I will collocate with the songs they composed and even though in Finnish, the titles are quite explicit about the content and the source of inspiration. The self-titled intro is an electronic, mesmerizing piece that left with quite good expectations on what was to follow, but they were partially betrayed. First of all, I think that Noora's vocals are not suitable for this kind of music. She is quite cold, distant, not very expressive. Generally, women in occult/psychedelic rock deliver harsh, hard performances, but I also liked a lot the angelic voice of Jamie Myers in Sabbath Assembly.
So, I guess it's just a subjective point of view. The low-fi production is a choice of the band, and I can understand the point, but there is something that just does not click with me. The sound of the guitars or the constant reverberation are not helping. Of course, there are interesting things too. The instruments department is good and the song "Aamuruskon Kaupunki" is quite varied and I liked the aggressive ending. Continue reading »
6 color styles available:

Style switcher only on this demo version. Theme styles can be changed from Options page.