Browsing articles tagged with " flame"
Label : Napalm Records
Review by Tony Cannella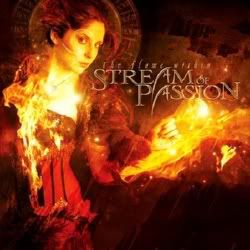 When it was announced that Arjen Lucassen was leaving Stream of Passion, many people were shocked since it was generally thought that SOP was his project. We couldn't have been more wrong. The band has returned with several new members: Stephan Schultz (Lead Guitar), Erik Hazebroek (Guitars) and Jeffrey Revet (Piano, Keyboards) join the remaining members, Johan van Stratum (bass), Davy Mickers (Drums) and Marcela Bovio (Vocals). Their new album is titled "The Flame Within" and they have defied the odds by not only coming out with a worthy successor to their debut "Embrace the Storm" but you could argue that "The Flame Within" is every bit as good, if not better. The opening track "The Art of Loss" begins with a nice piano intro before giving way to some truly bombastic guitars and the track really heats up when vocalist Marcela Bovio joins in. A good opening tune that really reminds the listener why their debut was such an enjoyable listen. "In the End" picks right up where the first song left off. This song is quite dramatic and has a great melody. Once again the vocals provided by Marcela Bovio are quite impressive. This is another solid track that would make a great single, should the band decide to put one out. The third track "Now or Never" contains some more bombast and it is more of an up-tempo song than the previous ones and it is among the very best that this CD has to offer. "When You Hurt Me the Most" is quite a haunting ballad that packs plenty of power and a passionate vocal delivery from Marcela. "Run Away" begins with some truly pretty piano and it pretty much stays that way throughout the song, before getting heavier near the end. This song was a huge highlight for me. "Games We Play" really brings back the heaviness with a great guitar riff. Other highlights include: "This Endless Night", "Burn My Pain", "A Part of You", "Let Me In" and "Street Spirit". "The Flame Within" features 14-songs and 59-minutes worth of classy metal. The band has indeed soldiered on following the key departures that I mentioned earlier in this review and I for one am glad that they have. This quote appears on the sticker on the front cover of the CD and it is from the man himself, Arjen Lucassen: "After hearing the excellent "The Flame Within", It's clear that I'm not needed at all!". That is the best endorsement I can think of.
Rating – 90/100
6 color styles available:

Style switcher only on this demo version. Theme styles can be changed from Options page.