Browsing articles tagged with " floyd"
Label : Season of Mist

Review by Davide Torresan

2012 sees the reappearance of Kylesa in the worldwide metal scene. After the album of 2010 "Spiral Shadow" and many live dates, the masters of stoner metal started to gather together their ideas to give birth to a new work. According to some rumors of the band, it will be out in 2013. In the meantime, between a concert and another, they found the time to pick up the material so far composed and propose it again in a new guise. Indeed there are many bands that lately try to do that. The first that comes in my mind is Anathema with "Hindsight" and the following "Falling Deeper", or My Dying Bride with "Evinta". Kylesa decided to travel a different path, redefining its original sound. They picked up some songs of their past giving them a fresher sound. The production has benefited of this restyling, so songs like "Between Silence And Sound" and "Bottom Line" live a second life. Hard and dry sounds, but sometimes they are enchanting and even soothing. The work on guitars of Phillip and Laura is accurate and well done. Psychedelic and progressive rock are fused in one soul, giving to the listener a sound experience to live at 360 grades. Their vocals are unique, as they switch from an aggressive style to another more melodic. In this album they have also included some previously unreleased songs, so you can pretty much say that this "From The Vaults Vol. I" is a new album. There is a new song too, "End Truth", which has a quiet pace compared to what they've reproposed so far. Kylesa realized also a couple of cover songs. The first is "Drained" of the American sludge metal band Buzzov-en. This song, like the original, has a doom rhythm, really oppressive and heavy. The second is "Set the Controls for the Heart of the Sun" of Pink Floyd. Kylesa proposed the pearl of the masters of English prog-rock in a overwhelming version thanks to the wall of sound of the guitars and the rhythm section. In conclusion, this album is really good for the neophytes of stoner/sludge metal like me, and the band fans. Today I can say to have discovered a new talented group. Give them a chance!
Rating – 77/100
Tracklist
Intro
Inverse
111 Degree Heat Index
Between Silence and Sound II
Paranoid Tempo
End Truth
Bottom Line II
Wavering
Bass Salts
Drained (Buzzov-en)
Set the Controls for the Heart of the Sun
Drum Jam
Line Up
Phillip Cope – Guitar & Vocals
Laura Pleasants – Guitar & Vocals
Eric Hernandez – Bass
Carl McGinley – Drums
Tyler Newberry – Drums
Links
MySpace * Facebook * Twitter * Site

Interview by Robin Stryker

Two years after releasing their debut album "Reversing Time", Greek/Turkish progressive symphonic melodic metal band, Dreamtone & Iris Mavraki's Neverland, returns with its second album "Ophidia" (AFM Records 2010). Femme Metal sat down with Greek female vocalist, Iris Mavraki to get the inside story on the band and its new album.
Welcome, Iris, and thank you for joining us today! Would you start off by telling us why you joined forced with the Turkish band, Dreamtone, to form Neverland? What was it about Dreamtone's music that caught your attention?
First of all, hello Robin; it's a pleasure to be with you! Well…. A few years ago, my son Orpheus Spiliotopoulos, who was at that time reviewing for the Greek site MetalTemple.com, suggested I listen to a CD entitled "Unforseen Reflections" by a band called Dreamtone. I was immediately, tremendously impressed by the power of their compositions and the symphonic elements in their music. Then I found out that they are from Turkey; a nice surprise to me as I was then also singing with the Turkish Symphony Orchestra, so I suggested we get in touch. There was something in their music, something really different.
Neverland was born as a project to combine metal with a symphony orchestra for live performances. At what point did Neverland mature from a concert project into a full-fledged band?
That didn't take long really! As I mentioned above, that's how it started in my mind for sure, the metal band working with an orchestra and being about the live performance. It was certainly our first idea for it, but we quickly realised that there was so much more interesting material and potential that could be shared, and that it had to be right to start a new band recording our own music! We decided to unite forces and become Dreamtone & Iris Mavraki's Neverland, and we've never looked back!
For someone who has never heard "Ophidia", how would you describe the album's sound? And, for fans of "Reversing Time", what are the biggest differences between the two albums?
I think "Ophidia" has the more powerful sound of the two but it also combines, in some parts, an Anatolian, Mediterranean, spicy touch, Medieval parts, symphonic parts and bombastic melody too. I think it goes further than the first one! "Reversing Time" was maybe more symphonic; we had The Istanbul Philharmonic Orchestra play on it, but both albums ultimately have the identity of Dreamtone & Iris Mavraki's Neverland because they're written with all the musical styles present.
Which bands have influenced Neverland's sound the most?
Hard to say as I think each and every one of us have different influences. But, if asked specifically, I would say: Blind Guardian, Jon Oliva's Pain and many others!
What does "Ophidia" mean, and does the title play into the album's overall theme?
Well, "Ophidia" basically tells the story of how the evil inside every one of us slowly corrupts anything and everything. Our title track is basically a semi-electronic, semi symphonic, mid tempo piece with its subtle change of pace as well as some nice guitar tricks. The song covers the theme from the perspective of "evil" as having a tongue and speaking. The song presents evil as a "snake", slowly crawling inside our minds. "Ophidia" means worshipping the snake or following the path of the snake. Since humans almost always lie, the song suggests that we are all Ophidians… In the album, there are a lot of different meanings in the songs as well though, I don't think we had a total concept of "Ophidia", but just tried to represent just a few of them.
Please tell us a bit about your musical training and background. Also, who are your personal musical heroes?
Well, I studied classical piano and had singing lessons at the National Conservatoire And Hellenic Conservatoire of Greece in Rhodes. I was a member of the Municipal Choir of Rhodes for about 10 years, and a member of an amateur theatrical group there. I have been singing alone and with bands for many years and with Symphony Orchestras from Turkey and elsewhere, at numerous concerts for the "environment", "against racism", "antiwar concerts", "for human rights", etc. I had many different influences, starting with: Joan Baez, Maria Callas, Janis Joplin, Pink Floyd, Metallica, Trans Siberian Orchestra, Leonard Cohen, Blind Guardian, East West Divan Orchestra and Daniel Barenboim, plus Mikis Theodorakis who you might know? I was very lucky back in the 80's to have had an audition with David Gilmour (Pink Floyd). I think that all these years of experimenting with many kinds of musical styles and in several different languages, have given me a wide range of repertoire and experience.
With your background participating in human rights concerts and given the historic tension between Turkey and Greece, how important are politics to Neverland?
It's not really about this, but there is some aspect of it to think about I suppose! If you think about it, our countries have had bad relations for many years and are slowly recovering from these wounds of the past, so it is important that we help promote such a conscience, especially in the young. To build a cultural bridge through music is the best way to spread messages of hope and peace, as music is a universal language, no? "Politics" in the narrow sense of the word, is for Politicians. I think, for us, it's a matter of keeping eyes open helping people to be more aware of things. We, as people from Greece and Turkey, have far more to share than those who try to divide us can take away! We share the same sun, and that means "light". It's politicians that create the problems, not us!
The new album has fantastic guest appearances by metal vocalists Jon Oliva (Savatage, Trans Siberian Orchestra, Jon Oliva's Pain), Edu Falschi (Angra, Almah) and Urban Breed (Pyramaze, ex-Bloodbound, Tad Morose). How did these collaborations come about?
Oganalp and our band members contacted all of them and asked them if they would accept an invitation to be our guests basically, and it's so wonderful that they all accepted. It's really wonderful having people like this on our new album. It's humbling!
Neverland will be touring Europe with Jon Oliva's Pain in October. Is the tour a direct result of his guest vocals on "Ophidia"?
We were planning to go on tour anyway, but, I think Jon's appearance on our album definitely played a role. I think the general reaction to the album from the fans is also so great that that plays its role too and is the main reason for us being accepted on the tour.
One of the most touching songs on the new album is "Places Unknown", a farewell to Mike Baker (Shadow Gallery) who passed away in 2008. During the upcoming tour, will Neverland perform "Places Unknown" or "Reversing Time" (feat. Mike Baker) — the title track from Neverland's debut album, which was also Mike's last official release before his death — or are emotions still too raw to sing these songs during a live performance?
Emotions are, of course, still present and raw. It was such a shock for us, and especially for the Dreamtone guys, who were in touch with Mike for a long time. But the fact that he sang "Reversing Time" and that this was his last song recorded; you know the lyrics of the song? Well, it seemed to me, very strange. There are sometimes things you simply just can't explain in words and that is one of them, sorry! Yes, we will be playing these two songs, definitely! May Mike rest in peace and in our memories.
Speaking of tours, how was ProgPower Europe 2009? What is your best memory from the festival?
It was a terrific experience; bands from different countries, a fantastic audience that came just for the Festival. It was amazing. I was impressed by Evergrey's acoustic performanc. We had lots of fun and good memories. We hope to be there soon, once again. Promoters, audience and bands were all awesome and very friendly to us!
Congratulations on the video premier of "This Voice Inside" on Headbangers Ball (MTV Greece)! Why did Neverland pick this song as the album's first music video?
Well, "This Voice Inside" is about the main character of "The Wheel of Time" series, Rand Al'Thor, one of the main characters of the book. It mainly tells of Rand's unwilling turn into an anti-hero, whilst constantly trying to battle with the voices inside his head. It's a powerful song. You're right. It had its premier on Headbangers Ball (MTV Greece)! In fact, they will be presenting it again, as we have a concert in Rhodes at the Colorado Club (Rhodes) on June 10th. We picked the song because it was powerful, of course, but also because it somehow defines the album's sound. There are more complex and alternative tracks than that one, but it shows generally, what to expect from the album!
Which is your favourite Neverland song of all time, and why do you feel a strong connection to the song?
Mine is actually "Black Water", off "Reversing Time". It talks about, black water; oil, or more specifically petrol and reminds us of the eternal fight humans seem to need to have to keep control over it. It is a lovely song also, from the pure musical side!
If you could design the perfect Neverland gig, what would it be like (venue, guest appearances, etc.)?
I would love to do this! First of all, I would design it with a Symphony Orchestra, of course, live with Neverland. I would have all our guests appear also, in memory of Mike Baker. I'd do two big concerts. One in Athens and one in Istanbul. And I would give this the title, "Connecting Bridges"!
How is 2010 shaping up for Neverland?
So far, it looks very exciting. In Rhodes, the concert is organized by the Road Knights, the MCC of Rhodes (The Harley Davidson Club of Rhodes) and my son Orpheus will present "Ophidia" and us. Orpheus presents Headbangers Ball (MTV Greece) now and is also writing for Rock Hard (Greece) and they will be our Media Sponsors. Then we're preparing for our European tour with Jon Oliva. It will be great. There are many shows booked, and we will visit several countries. I believe we've just added two more gigs, one in the Czech Republic and one more leg in Germany? It will be a great experience,w e will have a real chance to connect with our European listeners, and I'm so looking forward to it. 2010 is probably going to be our most active year to date.
Thank you for taking the time to chat with us, Iris. Do you have any parting words for your fans at Femme Metal?
I thank you also, it was a pleasure to speak to you. Thank you for some really good questions. I send our greetings from this part of world and hope to perform somewhere close to you soon, hopefully in the UK? Keep listening and supporting Metal Music; it's a good way of life and it rocks!
Links
MySpace * Facebook * Twitter * Site
Latest Multimedia

Interview by Si Smith
Alchemy Room are a Italian progressive rock band born on 2007 and have already on their discography 2 EP that, now thanks to Nomadism, are out. The first one is a re-release of the first EP called "Origin of Fears" released in 2009 and the brand new EP "A Matter of Time". While waiting for a uncoming full lenght, we have spoken with Irene, the singer for unveil us more about the history's band.
First of all thank you for talking to us, and a warm welcome from all at Femme Metal Webzine. Fabio La Manna started the project in January 2007, how did you get involved in the beginning, and what were you expecting or hoping at the time?
I met Fabio at the beginning of 2009; I was in a Europe cover band and was looking for something more interesting and challenging to put my voice to the test. So I answered Fabio's announcement and met him, Andy and Tommy to listen to "Origin of Fears" songs that were already written and ready to be registered. I loved the vocal lines as soon as I heard them and decided to join Alchemy Room. My expectation was to make music with someone who could appreciate my vocal skills and at the same time make me grow as a singer and I'm happy with my choice because I also found good friends.

The ideas and visions for the band seem to have originally come from Fabio's head. What is it like inside his head? Have you guys managed to work him out yet?
He is impossible to understand what's going on in Fabio 'cause he's totally crazy. Anyway we are focusing on what we.re doing together as a band and we're following the same path knowing where we want to go.

The name "Alchemy Room" suggets a place where different elements are brought together to create something new and unique. How well does this describe the band itself?
From our biography I could say: Alchemy Room Is a place where everything can happen,when different elements united.sometimes we feel this happens in our hearts, in our minds. Art is usually created by a single, in a chamber or in his personal studio. Everybody's got his personal place that is very important, more important than any other place of the world, 'cause a strange alchemy exists there In alchemy every part has its proper place, what would you say are the essential parts that go into creating an Alchemy Room song? The original album "Origin of Fears" (2009) seems to have had an impact on some reviewers who were expecting Alchemy Room to be the average female-fronted symphonic prog-metal band. It is clear that the band is more than that. Has the new material advanced the band in any way? Is there anything new in there for us to discover?
"Origin of Fears" is a wonderful work entirely conceived and written by Fabio, so it belongs more to his way of composing instrumental structures and of writing lyrics even though the rest of the band put something personal in the execution. The new material is the attempt for us to write something as Alchemy Room, an experimentation in a way trying to find Alchemy Room's sound.

On the first album there was quite a focus on Fabio's guitar solos. Did you ever feel you wanted more singing and less guitar soloing?
I would lie if I said that I'm happy to sing for the first 3 or 4 minutes of a song that lasts 15 minutes! "Origin of Fears" songs are the result of the development of Fabio's creative path and I think it.s more natural for a guitarist to explain himself in songs through instrumental parts than by singing. And it sounds much more natural also when you don't know if you will
find someone able to sing those songs.
Dream Theater and Pink Floyd are both names that seem to crop up in comparison to Alchemy Room. Do you think these are fair comparisons? Are there any bands YOU like to listen to?
I'm really pleased to hear that someone compared us to Dream Theater and Pink
Floyd. Surely these bands inspired us and are points of reference as for the goals we want to reach. I started thinking that I could sing when I was 6, listening to music with my brothers; I became more convinced when I discovered Queen at the age of 12. Freddie Mercury was for several years a sort of vocal coach. So Queen is the band I love the most and that I listen to often. I also like listening to Joan Baez, Carole King, Johny Mitchell and all the classic bands of the 60-70s, but also Tool, Nightwish, Iron Maiden (Bruce Dickinson is something powerful). For me "Waking the Child" was one of the highlights from the first CD. Is there a particular concept in mind when you sing this song?
Both "Waking the Child I & II" are among my favourites "Origin of Fears" songs. I feel a real pleasure in singing them. "Waking the Child I" grows from a grey, sad and delicate atmosphere into a powerful one. When I sing "Waking the Child II" I feel a real sense of tenderness and peace. And so onto "A Matter of Time", which has no extended songs over 13 minutes, but shorter songs apparently making just as much impact. Have you any favourite among the new material?
I'm affectionate to all the songs of "A Matter of Time", but my favourite is "Into the Deep" because is my first attempt to write a song.

"Into the Deep" seems to be much more like a classic song structure than some of your progressive epics. Was this a deliberate attempt to write a more "straightforward" song? Or to include less of the musical meanderings?
The explanation is much more simple. Into the deep reflects my way of writing and my way of being; I like to be linear, both as for the structure as well as for the content of a song. Also in life I go straight to the point.
"Indigo" starts with a slow minimal backing over which you begin to sing. How does a song like this end up in its final form? Do the words come first or the music?
Fabio wrote first the lyrics, then he brought them in studio with a draft of the instrumental line that was developed with Andy and me. We wanted to express a dreamlike atmosphere as the lyrics inspire. Andy came in studio one day with the initial baking and Fabio and I liked it. The rest of the song came alone. The longest of the new songs is "A Matter of Time", which has quite philosophical lyrics. Are these philosophical thinkings Fabio's territory alone, or do you all share in the motivation behind the lyrics?
"A Matter of Time" deals with the consciousness of the existence of other life forms (maybe alien populations) besides humanity. I do not completely share this position, but I believe that there can be a contact with other entities (maybe the departed) who send signals to us in the everyday life. There must be something more than humanity and its madness!

Finally, it is very clear that you fit well into the band – but what would you be doing if you were not in this band? Any other dreams you have?
I would be surely singing in another band because it's part of me. Thanks so much for talking to us, we wish the album success in the future. Thank u for all! Hope u enjoy our album and keep in touch with us!
Links
Label : Mylodon Records
Review by Tony Cannella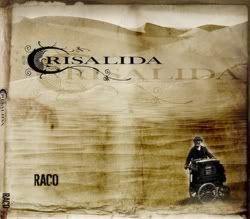 From Chile, Crisalida play progressive rock/metal and describe their sound as Chilean art rock on their My Space profile. Whatever the case, they have so much more to offer than your standard prog rock. Their new album is titled "Raco" and most of the songs are sung in their native tongue. The music on "Raco" veers off into many different and exciting territories that leave the listener breathless and wondering what is around the next corner. It's all very extraordinary and well, quite good."Deficit Global" starts the 7-song and 50-minutes worth of music contained on "Raco". This is a pretty strong opening number that showcases the bands immense skills; especially great is the guitar solo. It is the next song that really grabbed my attention. "Indigo" is 10-minutes long and for the most part it has a laid back Pink Floyd vibe to it, before venturing off into 70's prog rock territory, and then giving way to a Black Sabbath style of heavy riff. Another highlight is the 10-minute instrumental track, "Corporatocracy". This is just a solid musical 10-minutes interwoven with sound samples from movies, this is one of the better instrumental tracks I have heard recently and even though it is quite long, it still managed to hold my attention for the duration. "Raco" is a very impressive achievement for Crisalida and an outstanding release in every way imaginable from this Chilean band. I really liked this CD but I don't think any words can do them justice, so check 'em out and decide for yourself.

Rating – 95/100
Tracklist
Deficit Global

Indigo


Libre Albedrio

Corporatocracy

Desterra

Raco

Into

Viento del Sur
Line Up
Cinthia Santibañes – Vocals

Cristián Carillo – Guitars

Felipe Troncoso – Keyboards

Rodrigo Castro – Bass

Rodrigo Sánchez – Drums
Links
MySpace * Facebook * Twitter * Site
Independent Release/Renaissance Records (Distribution)
Review by Mortuai
I'll give Renaissance Records one thing – they certainly know how to find artists who give the listener something different rather than just more of the same old, same old. Such is definitely the case with Bydgoszcz, Poland's Sellisternium, a group I am still having trouble finding a straightforward classification for even after multiple listens. A 'sellisternium' is, according to both Greek and Roman mythology, a banquet held by the goddesses, and while the band of the same name may only feature one goddess in vocalist/lyricist Anna Pietrzak, it certainly serves up a banquet or perhaps 'smorgasbord' is a more appropriate term of musical meanderings. Originally formed in 1999, the band released a two-track demo in 2000, played local clubs in Poland for a couple years, temporarily fragmented in 2001, then reformed in 2003 with Anna and guitarist Marcin Koleniec as the only members from the original lineup. In late 2006, the band recorded what would become their self-released debut album "Furia". Renaissance Records picked up the band in early 2008, re-releasing their debut though with a rather obvious change in May. The aforementioned change is almost entirely lyrical and is reflected in the title alteration, for while Furia was written and sung in Polish, the tracks on Fury have been translated and re-sung in English. In addition, a tenth track from "Furia" originally entitled "Impresja do M." ("Impression For M") has been dropped from the songs on "Fury". Quite frankly, I'm not entirely sure the translation was either necessary or beneficial, for while I can appreciate the effort made to make the lyrics more accessible to worldwide listeners, I can't help but feel they sound better in their original tongue, especially in the frequent spoken-word passages delivered by Pietrzak. When she sings, she generally sticks to a nice melodic mid-high range and sounds just fine though during several of the tracks her voice is swathed in so much reverb-echo it becomes difficult to understand but her accent is very strong in the spoken-word portions, making some of them seem awfully strange, especially the short and bizarre track "Peculiar Thoughts and Others",' wherein most of the lyrics are delivered in an off-kilter sing-song fashion. She also occasionally launches into some wicked-toned skin-crawl-inducing whispering portions. If I had to pick comparisons to her voice, I'd have to say she reminds me at times of Cadaveria (minus the black metal shrieking) mixed with a dose of Björk, a strong touch of Diamanda Galás, and even – on occasion – Grace Slick. If that sounds like an unsettling combination, you're right on the money. Musically, I have to designate Sellisternium as art-rock, mostly because on occasion when I see otherwise unclassifiable work by modern visual artists, I can only shrug and say, "well, I know it's art not sure quite what it is but it's interesting". While the songs feature strong gothic rock/metal elements and some tasty crunch-riffs here and there, there's also a definite progressive influence to be heard on many of the cuts, calling to mind a bit of Yes and Pink Floyd as well as obvious nods to Dream Theater and similar modern prog-metal bands, hints of classical music, and little bits and pieces of jazz, fusion and pop. One portion of a song even calls to mind the maddening carnival breakdown sections of "Being for the Benefit of Mr. Kite" from The Beatles' "Sgt. Pepper Days". Despite the progressive influences, don't expect solo tradeoffs – there's actually only one guitar lead on the entire album and it's in the last two minutes of the very last track which also happens to be the most straightforward gothic-metal-style song, "Verte". This song also features the most interesting and disturbing vocal performance from Pietrzak in its introduction, where the Galás influence is very obvious as she shrieks, moans, squeals, and whispers incomprehensibly over some dark-toned keyboard drones. Do expect some long instrumental passages though, including the leadoff track "Depression and Me", which spans over seven minutes of space-rock/gothic metal hybridization and doesn't feature any vocals at all until the four and a half minute mark and even then, the entire lyrics for the song consist of singing the title a few times as well as a Dream Theater/Evergrey-ish instrumental cut "Discourse with the Viper". Production-wise, the album sounds fairly good but the rhythm guitars are somewhat flat and buried in the mix on most tracks and the keyboards are quite often overly dominant. Given this is really more of a gothic-rock album than a pure metal album, that's forgivable, though. "Fury" is not an album for everyone, nor is it for the casual music listener, who might easily become frustrated with the complexity and frequent directional changes. There's little to grab onto in terms of memorable hooks but it's certainly an interesting listen while it's playing. Recommended for open-minded fans of progressive gothic metal and art-rock.
Rating – 70/100
Tracklist
Depresja i ja / Depression and Me

Věnêficā / Venefica

Śnieg / Snow


Myśli dziwne i inne / Peculiar Thoughts and Others

Rozmowa ze żmiją / Discourse with the Viper

Sub Rosa / Sub Rosa

Wiosna / Springtime


Rara Avis / Rara Avis

Verte / Verte
Line Up
Anna Pietrzak – Vocals & Lyrics

Marcin Koleniec – Guitars


Piotr Kowalski – Keyboards

Robert Puk – Bass

Piotr Grugel – Drums
Links
6 color styles available:

Style switcher only on this demo version. Theme styles can be changed from Options page.