Browsing articles tagged with " folk"
Interview by Laura Medina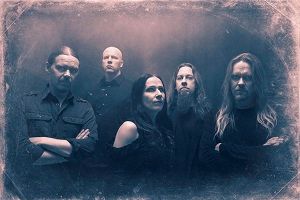 Susanna Vesilahti is the female vocalist of Unshine, a Finnish druid metal band from Finland. Unshine's third album, "Dark Half Rising" is currently out now via Massacre Records and features a more "stronger and powerful presence than ever." What I like most about Unshine's lyrics is that they are written about ancient histories of civilizations that existed long ago and they write about nature topics that make you want to continue listening. I got the chance to chat with Susanna about Unshine, "Dark Half Rising", her pre-concert rituals and much more.
Hi Susanna and welcome to Femme Metal Webzine! Thank you so much for allowing us to interview you today! I hope you are doing well today.
Hi Laura, nice to talk with you! Greetings from rainy Finland! Continue reading »
Label: In The Morningside Records
Review by Luisa Mercier
Trobar de Morte are back, three year after their latest full-lenth release and last year acoustic album. This time the album is inspired by Celtic mythology, by the ancestral goddess of the Earth in hymns like "The Silver Wheel" and "Riding The Wheel". Tales, legends and myths of ancient Celtic classics are masterfully interpreted in songs like "The Mist of Avalon", "Morgana", "Arianrhod", "Nimue" and the cover version of "Kyrie Eleison". Deeply rooted in paganism and Gaelic tradition are songs like "The Pagan Way", "Samhain" (the Gaelic Harvest Festival) and fantasy themes like "In the Garden of Serenity" and "Moonspell".  Continue reading »
Label: Midsummer's Eve
Review by Luisa Mercier
The Italian prog/pagan-folk metal band MaterDea has released their second full-length last year and it is inspired by Latin literature. "Satyricon" is a novel by Petronius, late Empire Age author, which we got incomplete. The title-track is the opener and it is a brilliant song: electronics mingles with hard rock and Simon's beautiful soft voice is mixed with female vocals. Not to mention the traditional instruments that cannot miss in a folk-tinged record. The following "Lady of Inverness" has a beautiful piano intro, but guitar riffs are present in a very good quantity. The strings, the percussion, the arrangement, everything is very well crafted. In "The Green Man" other special instruments appear such as pipes and help to see another aapect of Materdea musicality. I love the fact that they never lose their rock edge.  Continue reading »
Label: Sound Age Production
Review by Luisa Mercier
From Russia with love. Following their most famous country mates, Arkona, Grai play folk metal, maybe a bit more lively than the one proposed by the band fronted by Masha Scream. This is their second album and is opened by "The Song About Native Land". Even though the titles are in English, the songs are sung in Russian and the effect is very nice. You can hear that there is more than one vocalist; the female vocals are actually delivered by three girls: Irina, Rimma and Alia. The last two are also in charge of keyboards and flute.
These instruments are very present throughout the album, which is more folk than metal, if I had to describe it I'd say that it is very melodic while Arkona is more death-metal oriented. Some growls appear in "Get Up from Your Knees", but it is just a few seconds. Continue reading »
Label: Savage Productions/Season of Mist
Review by Luisa Mercier
"Echoes of the Wolf" is the debut full length of the Celtic folk metal band Fenrir. Hailing from France, they deliver us a record full of music (15 tracks) and diversity. A great deal of the above mentioned diversity is given by the violin, played by Elsa Thouvenot who also is the singer. Her vocals reminded me of Sharon den Adel, crystal clear and soaring, a nice change from the usual soprano voice you encounter in female fronted metal. Very refreshing is also the mixture of styles: you find symphonic metal (the intro "Awakening") and power metal as for example "Morrigane's Fury" where the violin plays a major role. You find also black metal in a song which title would suggest something completely different. Continue reading »
6 color styles available:

Style switcher only on this demo version. Theme styles can be changed from Options page.