Browsing articles tagged with " fonto"

Interview by Miriam "NocturnalConcerto"
Talking via Skype with a legend of the heavy metal is not one of your regular day, believe me but we're able to track down Federica "Sister" De Boni, the legendary singer of the Italian defenders White Skull share with us some infos about the new album "Under This Flag" and a small chit chat about coming back in Italy and personal tastes. Hail on!
First of all Federica, welcome back in Italy!
Thank you dear!
How's coming back in Italy after so much time and what's the thing that you missed so much when you were in America?
It is amazing. Me and my family loved it here and were missing the Italian life. I think I missed my friends and metal the most. We lived in a State where country music rules.
A curiosity, what state?
Georgia.
I was saying Tennessee I was close hahah
Yeah …. just southern where the bible belt runs the place.
I totally got it.. I'm just wondering now one of those places with a wood bar all drinking beer and dancing country songs.. how you endure this, I mean your're a real defender in the midst of some lousy rockers…
Ha ha ha I felt just like you said… just staying in my porch with hubby and kids listening to "House of Hair" (Dee Snider Heavy Metal Radio Show) part.
Well, I must say that it was a great choice for endure all that stuff, something to clutch on hahaha…
Yeah, pretty muche THE ONLY choice and a few occasional concerts of local metal bands but very few oh and also we used to watch "That Metal Show" on TV so well we had some choice.
Luckily you have had that too, in Italy (I mean nowadays) except maybe for Virgin Radio we haven't nothing like that.. you're away 10 years but from that point of view nothing changed unfortunatly…
I realized that when I came back but we can still go online and look for those shows, we need to be flexible and get what we can find, right?
Exactly.. the Italian TV and the radio are only good for commercial music sadly. There are so many HM bands here in Italy and deserve to be recognized, we need to go to concerts and support them.
It's totally a good thing to do, support italian metal underground, in this case the HM genre.You know if the media is not supporting HM in Italy we have to stand up and support our way.
And I'm not to saying pleasentries now, I prefer to support underground instead of the big acts I mean the big big acts has already the right following of fans sometimes we need to look inside our country and give our support to this little bands but way back to us and if you are back in Italy, it's natural that you're back in White Skull. How's was the first meeting with the guys, how's after so much years (I remember to the readers that you left the band in 2000) being back in the White Skull squad?
I agree. I love big bands myself but just love to listen to what local (italian) bands come up with. It was just like it wasn't that long… I mean, since the first rehearsal we connected immediatly. We wrote the new album in no time. That really blew my mind how simple and natural the return has been.
You know, for the startest when I have read the news that you were back in WS I was really happy and yes kind of surprised I must admit it, yesterday that I was nailing down some questions I was thinking about it "Damn, after 10 years that she didn't record anything, would very hard for her" instead you tell me it easy maybe after all those years you still have had the "fire" burning inside you..
It comes natural for me. First I have known metal for 20 years or more, then I do have experience in song writing and most of all I do live Metal as my life style.
Everything helps.. well I've listened a little bit to the album congratulations.. it's very clear and an HQ production, what you can tell me about its genesis? Despite the fact as you have stated before that come out in a natural way…
WS is known for the concept albums. This time we wanted to get away from the past and talk about something modern and close to us. Therefore we had close experience with the wars around us and wrote about it. I've been a soldier wife and had a lot to say about the warfare and here comes "Under This Flag"… fight for everything you care for.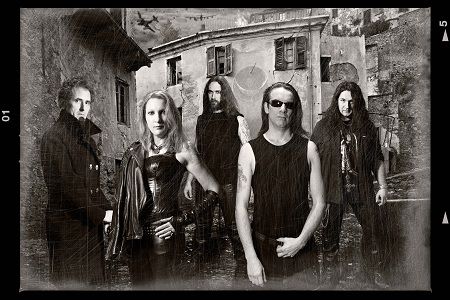 And for this is reason that the cover album, if we compare to "Public Glory, Secret Agony" or "Tales from the North", is more straight-in-your-face and very simply? Probably more direct but very powerful maybe means also "if we reunite us under a flag we can fight this wars (or evil) together".. when I saw I thought this interpretation, can be right?
Damn right. We want to get the Metal headbanger to join us and fight for Metal. We will say it as loud as we can and for as long as we can. WS flag is really a stand to reunite what is left of metal…
Well, talking about gather around and female solidarity I'm curious to know how was being a woman singing in a heavy metal band in the 90s? It was difficult or haven't had a model to follow? For what I know closest rode model that you have had at the times were Doro, Girlschool and Sabine Classen.
I was really lucky Tony believed I could do the job, in 1990 a woman singing Metal was sort of a "odd thing" even if Doro and Girlschool, Lita Ford and so on was around.
Maybe if we go deep deep in the italian underground we have Morgana, I don't know if you know her she was singing in the 80s/first 90s.
I do know Morgana and she did really challanged the Metal scene, I am really proud of having been around since the 90s and back now.
You are a national heritage, I mean also if the media won't promote the scene you're one of the Italian precursor female singer..comes really hard to think (at least for me) a closest singer to confront with you.
Thank you. I feel I am just one of many that are here living what they believe.
Many CDs of your discography are sold out since ages, there are any planes to re-released them without spending a lot of money on eBay? I know that the Polish Metal Minds Production has re-released years ago (in 2008 to be precise) in a limited number of copies "Tales From The North" and "Public Glory, Secret Agony" but the stocks are gone, really really gone and for the young fans that are trying to collect and buy the first albums is a problem, are really hard to find and it's kinda become utopistic have your entire discography.
I heard about it but this is the market and WS is unable to have a say about it. Sad but true YouTube helps this out by publishing the songs for free.
But if you face the truth you cannot earn anything from that…it's not fair! I mean is disrespectful towards you, the musicians.
I know but as far as WS music is broadcasted we will be all right.
So you count that all that people that listen WS on YouTube will support at live concerts and buying the last releases?
YouTube will spread the word, get us more opportunities and maybe some CDs sold but as we said Metal is not the TREND right now but who cares, we will get our message through.
Maybe I'm talking the wrong person (I'm imagine that you collect a lot of vinyls/CDs) but do you think about the digital music stores like Itunes?
Sure Itunes can sell the music. But this will be our label sale policy to decide it.
But now I put the question in a more personal way, as music lover what do you prefer the CD format or the digital one?
Right now in a digital world it would make more sense to get it out via internet I just do love the CD with pictures and lyrics.
Because you can "feel" them right? I mean when I see my collection I still cannot believe it have it and collect them everytime I listen to them and have the booklet in my hand I feel very proud of myself..
Yes, it does become a personal matter, you have it and can ask the musician to autograph it just like your own treasure, so much worth it m/
Hahahah that's true!! Well, we're near the end what are the next planes talking live gigs and promotions? I hope you come again near where I live 'cause some years ago with the old band members WS played a gig!!
We have a lot of gigs on schedule and I do really hope we will have the chance to play in your area as well…I am sure we will meet someday! Keep the Metal on and since then … if it ain' t Metal, well it's crap!!!!!!!
That's for true! As a final question I'll asking you to greet freely you fans and our readers and thanks for this awesome interview, Sister!
To all the metal heads: have a blast !!! WS is back and ready to kick ass just come out and play!!! Thank you for this opportunity I've really enjoyed the interview.
Links
MySpace * ReverbNation * Facebook * Site
Label : Dragonheart Records/SPV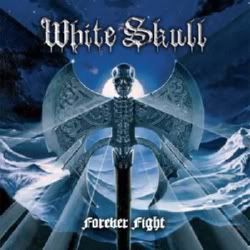 Italy's White Skull have already been around for a number of years. Their debut CD "I Won't Burn Alone" was released in 1995 and since that time they have just managed to fly under the radar, all-the-while releasing strong traditional power metal albums. After their original female singer Federica De Boni left the band in 2001, White Skull chose a male vocalist in Gustavo Gabarro from Argentina as her replacement. The band recorded 3 more albums with Mr. Gabarro before he left in 2007. All of that now bring us to the present as White Skull have once again chosen a female singer as his replacement. The newest members name is Elisa "Over" De Palma. The rest of the band line up is completed by: Tony "Mad" Fontò (rhythm guitar), Danilo Bar (lead guitar), Alessio Lucatti (keyboards), Jo Raddi (bass) and Alex Mantiero (drums). Okay, enough of the history lesson. The band have just issued a new CD with this new line-up called "Forever Fight". The CD opens up with the classical tinged intro, the appropriately titled "We Are Coming". From there it segues into the energetic opening track "Escape". This is about as metal as it gets. The band are firing on all cylinders and the choice of Elisa "Over" as the new vocalist appears to be a good one. The band definitely seem to be revitalized. This song features a great guitar solo as well and some cool interplay between guitars and keyboards, giving it almost a 70's progressive/arena rock feel. But the heart of this band is still rooted in the metal genre in 2009. "Feel My Rage" is next and judging by the title one might expect a rip-your-face-off metal number, but after starting off slow it settles nicely into a great mid-tempo track. This song is just fantastic and one of the best that this CD has to offer. Once again there is some great guitar work on display here, as it can be heard all throughout the 13-songs and 58-minutes worth of great material on "Forever Fight". Next is "Spy" and it does nothing to slow things down. It keeps things going at a nice pace with a gritty, heavy guitar riff. "Attle and Bleda" is next and is another strong track. This has a nice catchy chorus that you can sing along to and this track should go down great live. The title track "Forever Fight" is just a take-no-prisoners headbanging metal track. This is another cut that really stands out. "Boudicca's Speech" offers a bit of a change of pace with a pretty piano intro accompanied by Elisa's vocals. On the whole it is a nice ballad that really shows that this band can do more than just head bang. Other highlights include: "A Mother's Revenge", "Heavy Metal Axes" and "Visions". "Forever Fight" is definitely a return to the original mission statement of White Skull. The albums White Skull did with their previous male singer were very good as well, but it is nice to see them get back to how they originally started. They are a band who are proud to fly the flag for true metal and that is one of the most endearing traits of this band. Their music is straight-forward and definitely from the heart. With "Forever Fight" the band continues to forge a strong career that hopefully will not go unnoticed for long.
Rating – 85/100
Tracklist
We Are Coming

Escape

Feel My Rage

Spy

Attle and Bleda

Forever Fight

Boudicca's Speech

A Mother's Revenge

Heavy Metal Axes

Etzel

Visions

Beer, Cheers
Line Up
Elisa "Over" De Palma – Vocals

Tony "Mad" Fontò – Rhythm Guitar

Danilo Bar – Lead Guitar

Alessio Lucatti – Keyboards

Jo Raddi – Bass

Alex Mantiero – Drums
Links
MySpace * ReverbNation * Facebook * Twitter * Site
6 color styles available:

Style switcher only on this demo version. Theme styles can be changed from Options page.