Browsing articles tagged with " founder"
Label : Nuclear Blast Records
Review by Tony Cannella
The Norwegian Symphonic metal band Sirenia returns with their 6th album, "Perils of the Deep Blue" and what you get here is 11-songs and over an hour's worth of music that doesn't stray too far from what Sirenia does best, and that is definitely not a bad thing. Sirenia's growing fan base has come to expect a certain style and sound and happily that is exactly what Sirenia gives us. That is not to say that Sirenia doesn't do some tweaking along the way. And therein lies their strength as a band that they still manage to make each album a unique experience and that continues on "Perils of the Deep Blue".
"Perils of the Deep Blue" begins with an atmospheric intro called "Ducere Me In Lucem" which gives way to the bombastic "Seven Widows Weep". Continue reading »
Interview by Alessandra Cognetta
When I was asked if I wanted to interview Einar "Kvitrafn" Selvik from Wardruna I had to stop for a good five minutes to register the news. If you don't know about Wardruna, you should immediately make up for that, for your own good. Wardruna is an ensemble of Norwegian musicians that combines runes, old and historical instruments, sounds produced by nature and a significant amount of talent to produce some of the most intense, primitive, magical (I could go on forever and I still wouldn't be able to describe it accurately) pieces of music you will ever hear. Kvitrafn is one of the main pillars of this extraordinary gathering of artists, delivering lyrics, vocals and instrumental performances since the first album of the "Runaljod" trilogy of albums, which is still in progress. Their second work, "Yggdrasil", has been released at the end of March and we took the chance to uncover some of the mysteries of their music. Read below for a nice conversation about music, shamanism, vikings, stereotypes and… well, just scroll down and see for yourself!
Hello and welcome to the 'zine, Kvitrafn! It's really a honour to have you here with us and put the spotlight on Wardruna. So, how are you and how's it going for Wardruna since the release of "Yggdrasil"? Continue reading »
Interview by Robert Brady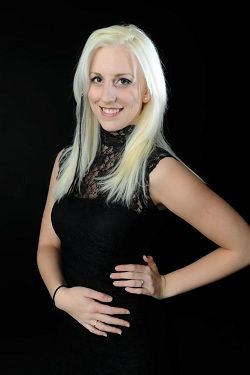 When most women are little girls they dream of the Knight and Shining Armour and the dress they will adorn themselves with. Some women find earlier than others. It certainly seems music found Jamie Lee-Smit the founder of the 'Belgian' metal band Azylya.
Azylya is a musical concept conceived from the mind and heart of Jamie Lee-Smit. Every time I listen to Azylya I feel like I am going to see a film at a film festival. Jamie Lee-Smit certainly has unleashed her cinematic influences in her music. I love the fact is that she never allows one moment for her listeners to get bored or think it all sounds the same like some bands have a tendency of doing on their albums. There is always something different with every track and composition in Azylya's music and at the same time they remain on point with their objective overall as not to alienate the listener from getting the main concept.
Azylya has something for every metal pallet. If you like female fronted metal it certainly has that to the forefront, there are black metal elements with the male vocal along with progressive, gothic, power metal elements. The running theme that seems heavily present with in Azylya is the cinematic film score style of metal that only a few bands as Rhapsody of Fire and Epica have dared venture towards.
As female fronted metal has really flourished in the past 15 years with bands like Theater of Tragedy, After Forever, Tristania, Epica, Leaves Eyes, Within Temptation and Nightwish, I believe Jamie Lee-Smit and Azylya are at the forefront of the preservation of the road and trail the previous bands have built. As a 40 something who grew up as a metal child of the 1980′s where our choices in women in metal were limited honestly to 4 bands in Girlschool, Rock Goddess, Warlock/Doro, and Lita Ford it is encouraging to see women now on the frontline of the battle and to see young women like Jamie Lee-Smit take her dream and vision and enlist in the business, I definitely see women in metal thrive in the next few decades and bands like Azylya carrying that banner for years to come.
Continue reading »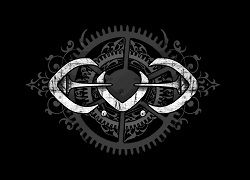 Interview by Matteo Bussotti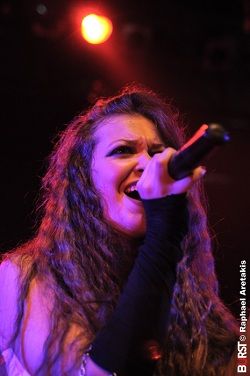 It is quite an unusual thing to have a band from Greece, but, let me say this: if all the bands from Greece are like E.V.E, I'll certainly listen to more Greek music from now on! E.V.E.'s lyrics are really deep and beautiful, and their sound is unique, special. Their goal is to share a message, a vision about contemporary world. We asked their singer and founder, Vicky, what's the idea at the base of this band, and what Greece has to offer to the world's musical landscape. Needless to say, her answers were complete, meaningful, and really interesting to read.
So, let's start this interview!
Hello Vicky, and welcome to Femme Metal! We are very proud of having you here! First of all: you started the E.V.E. project with the intention of speaking about modern society, people and their interactions, don't you? Why did you feel this need? Can you recall a moment, an event which triggered your determination to create E.V.E.?
Hello Matteo, thank you for the interview. I'm more than happy to answer your questions. The whole idea regarding the main concept of E.V.E. was something that progressed throughout the last 3-4 years. Why modern society and human interactions, you ask? Simply because the need to write about every intriguing event that I've witnessed is like an instinct to me. Especially, during the latest happenings in Greece, and many other countries as well. It's not easy to turn your back on them and pretend that we live in fairytale world.
I think that your band's name is a very peculiar one! Equations Vanquish Equality…what is the story behind that? Were there maybe some other names that you had to choose from?
Good question. To tell you the truth I was trying to find a proper name for the project for over a year. It's difficult to reflect your music's content in just 2-3 words. In the end, I decided that I'd prefer a one-word abbreviation as its name. So once the word EVE came to mind, almost instantly the 3 words "Equations Vanquish Equality" completed the puzzle.
As for what they stand for, it is indeed peculiar and complex. For me, the word "Equations" is connected to technological and scientific progress. Without mathematical equations none of these would have been achieved. The following words, "Vanquish Equality" describe the other side of the matter: even though progress is greatly valued the means in which it's acquired sometimes damage humanity itself, bringing an imbalance to the world. Overall though, I really think that it's a personal matter seeing that many people have given me their own valid interpretation. Continue reading »
Interview  by Alessandra Cognetta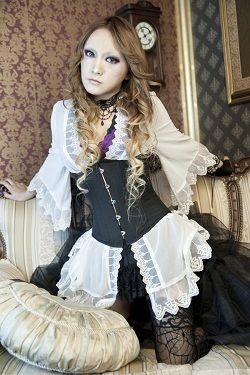 It may not seem so, but the Japanese metal scene is active and ever growing. We are thus very pleased to feature Ancient Myth here for the first time. The female-fronted band from Tōkyō has already released two full-length albums, "Astrolable in Your Heart" (2010) and "Akashic" (2012), various demos and singles and a live DVD. Michal, the lead vocalist, kindly gave us a bit of insight on the band and the current situation of female-fronted metal in Japan.
Hello and welcome, Michal! We're really glad to have you here, since you are the first Japanese artist we have the pleasure of interviewing for the Webzine. Let's start by getting to know you better: "who" is Ancient Myth and how was the band formed?
Thank you for giving me an opportunity to do an interview with you, and I'm truly glad of the fact that I'm the first Japanese artist for your Webzine. Ancient Myth was formed by Mittu, the original Drummer (as the leader) in his school days. I heard the original members of the band were all his classmates in his music college.
Your latest full-length album, "Akashic", was released on 2/24/2012. How did the production go and what has been the feedback from your fans so far?
In October 2011, Puzzy (Keyboards) joined the band, and then we soon went into the studio. We had to get the recordings finished to catch the deadline for the release, so we didn't have enough time to sleep every day and night, for a couple of months but I felt I lived a full life during that time! Some fans say "Akashic" is a crowning work but I'm sure that we can create more splendid ones in future.
What does the word "Akashic" mean and why did you choose it as your album's title?
The title "Akashic" was named after the concept of "Akashic Records", which means all the knowledge and the experienced history of human souls' activities are recorded in the cosmos. Ancient Myth is a band with a long history, but we have led a tough life, like several member changes and recessions. In the present, the past & the future, all the issues on our destiny are parts of the records of the big cosmos. We have to accept all the things in our past and future and keep making our steps forward, if anything is/has happened on us. Because the things are all decided, as "Akashic Records". Continue reading »
6 color styles available:

Style switcher only on this demo version. Theme styles can be changed from Options page.