Browsing articles tagged with " free"
Italian rock noir band BELLADONNA has just released as FREE DOWNLOAD a very noir version of the Guns N' Roses classic love song "Sweet Child O' Mine"!
The band has also published on their YouTube a video of the track, featuring the luscious singer Luana Caraffa at her very noir-est!
BELLADONNA's "Sweet Child O' Mine" is on iTunes, but it is also available as FREE DOWNLOAD on the band's SoundCloud page.
WATCH THE VIDEO: http://youtu.be/vkPx2AYZ2qM
DOWNLOAD THE FREE mp3: http://soundcloud.com/belladonnaband/belladonna-sweet-child-o-mine Continue reading »
Independent Release
Review by Vard Aman
Onatra was founded in 2009 in the Ukrainian city of Lviv, and is the brainchild of drummer/composer, Marta Medler; and despite being a somewhat troublesome child at times (breaking up and reforming), Onatra has made some fairly sizable waves in the Female-fronted Symphonic Metal pool. When you hear them, you'll understand why. They describe their sound as "Modern Symphonic Metal" but you might as well read that as "Symphonic Metal", because that's really what it is: good, powerful, multi-layered Symphonic Metal that you can both listen to with your ears and feel with your diaphragm. I have no idea where the "modern" part comes into it, not by its genuine definition (modern as opposed to what? Old fashioned?), and certainly not by its weasel-word definition (no something-core or screamo here). I should add here, however, that Onatra are by no means ordinary Symphonic Metal; they have a distinctive "oomph" that many of their compatriots in the genre lack (but "oomph" in no way equates to "modern").
In January 2012, Onatra released their debut EP called "For Your Soul", consisting of three songs. All three are examples of excellent compositions and display great musicianship, especially instrumentally: powerful guitars and drums interlaced with intricate symphonics (and other bits). Musically, I can't fault any of this and I can't praise it enough, so I'll just say "do yourself a big favour and listen to it" and talk about the vocals instead. On this EP (and the following single), Onatra was fronted by Iryna Vitiv. She is not a bad vocalist by any means, but against the backdrop of the power and the stand-out quality of the music I can't help but feel she is just a little out of her comfort zone. On the title track, "За Твою Душу" (the only non-English track), her voice has a rich and powerful feel to it, and is her best performance on the EP. On the other two tracks she seems to lack the same confidence, and the main reason for this I think is that the other two songs are not suited to her voice or to her style of singing – her vocals are too mono-dimensional. (That said; she excels in the whispered sections of "Shadows' Steps" and in belting out the chorus). "With You" is the main culprit. In my opinion, this song should have been sung in Ukrainian or Russian, or the vocals should have been written in a way that would have better complimented the nature of the music – the first verse especially is a real anti-climax to the way the song built up from the intro.

Tairrie B Murphy of the Los Angeles based hard rock band MY RUIN featuring husband/guitarist Mick Murphy and bassist Luciano Ferrea has posted the following message on the bands website:
———-
Dear Friends,
Today is the one year anniversary of our 7th album 'A Southern Revelation' which we released as a FREE (digital only) DOWNLOAD and gift to fans on December 7th, 2011. To celebrate our special day we would like to thank all those who have taken the time to download a copy and donate to our band this past year continuing to keep the spirit of independence alive through our music and art, by releasing this new version of the song 'Seventh Sacrament' which was recorded live at the Scala in London, England on our Southern Revelation Tour 2012.
SEVENTH † SACRAMENT
http://myruin.bandcamp.com/track/seventh-sacrament-live
Mick, Luciano and I have recently finished mastering our new album which we will be revealing the name, cover art & details for in January 2013. We recorded album #8 a few months back at Soundtrack Black Studio in Knoxville, Tennessee with our good friend and co producer Joel Stooksbury who worked with us on 'A Southern Revelation'. To check out behind the scenes photos from our time in the studio, click the following link:
STUDIO † PHOTOS
http://www.facebook.com/media/set/?set=a.10151175791021416.496160.247462796415&type=3
Thanks to everyone once again for your continued rock love and support of our band and music. Enjoy the live track and share it with your friends. We're looking forward to the New Year and unveiling something sacred.
♥
Mrs M
The prog rock quartet have recently launched their brand new Bandcamp site – handthe.bandcamp.com. The band said – "It's a great way of managing digital sales, and asking the fans what they want to pay for our music. It allows us more control, and hopefully to bring more to the fans." To celebrate the launch of the site, the band have decided to offer their full back catalog for free download until 10th December. Available content includes the debut album "Deadroom Journal", Kerrang! said it has "Jarring instrumental jams that would leave Coheed and Cambria blushing". hAND are a 4 piece female fronted progressive rock / metal band from Sussex, and are currently working on their third album due to be recorded next year. Their second album "Breathing" was released in 2011 via Femme Metal Records and Brutal Elite Records, and was hailed "Nothing short of stunning" - Sea Of Tranquillity. More info about hAND can be found at www.handtheband.com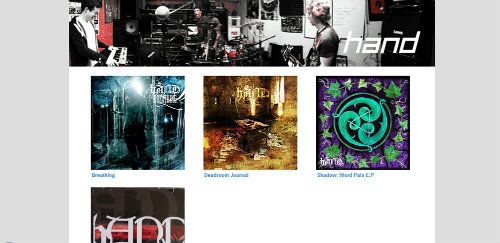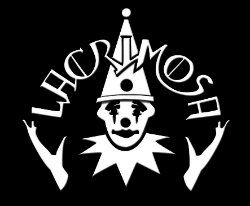 Interview by Miriam C.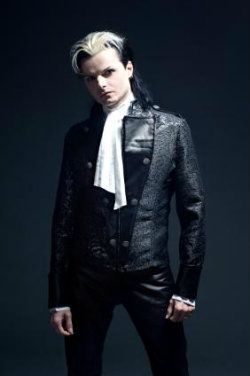 After four three of silence gothic/darkwave Swiss duo Lacrimosa are back! So we took the chance to ask a few question to the mastermind Tilo Wolff about on "Revolution", the new album out on Hall of Sermon.
Hi Tilo, first of all thank so much for reply at our questions. How are you??
Pretty fine. We are on tour in Germany right now, have the last five shows ahead and so far we are pretty happy with everything that happend during the tour!
"Revolution" comes after a three year break with "Sehnsucht", how was the album's genesis, when have you started to nail down the first lyric?
Actually the first lyric for "Revolution" was "This Is the Night" which I wrote in Bejing right after we played there in 2009. So the first seed for this album was planted while we were still on tour with "Sehnsucht" which might also be the reason why this new album sounds like the conclution of the previous one.
For this last album you have worked with Mille Petrozza (Kreator) and Stefan Schwarzmann (Accept), how's this collaboration was born and how was working with them?
It was quite spontaneous. Mille was at my house visiting me and I played him the track "Revolution" in a version recorded by myself. He instantly liked it and asked if this would be the final version. "Why?" I replied and he said that he'd like to play this song himself. Of course I had nothing against it and then he played more and more songs getting really into it! Afterwards I asked Stefan if he'd like to participate on the production since we already some time ago talked of doing something together, and well, so it developed.
Will you shoot any videoclip from the "Revolution" album? What songs will you choose?
Yes, we made a short clip for "Irgendein Arsch ist immer unterwegs" and a live clip for "Revolution" which is in the post production right now.
How is to be your self entrepreneur of your music? What are, in your opinion, the pros and cons? Also I've read that you have taken the decision to not sign anymore external band like has happened with Sandra Schleret's Dreams of Sanity, why?
The pros are that there is no-one telling me what I shall do and what I shall not do. I can write and produce exactly the music I want to free from any commercial aspects! This is essential for me! The cons are that I don't have much free time. This is also the reason why it always takes so much time from album to album. While other bands are on tour their record labels are preparing the next album and taking care of the promotion while I'm just busy traveling and playing.
Between "Sehnsucht" and "Revolution" are passed 3 years, there's something that you'll change in "Sehnsucht" and, in your order of ideas, what are the differences between the last album and this one?
I improved in the production and mixing matter but I love "Sehnsucht" as it is. Pure and majesticaly unpolished while the new one is straight, direct und uncompromising – so far my favorite album!
What is the lyric in "Revolution" that you are more fond of/attached to? And why?
"Weil Du Hilfe brauchst". Here it all comes together for the album. If we don't realize that we have needs that need to be fullfilled and that there are people around us that might need our help, if we don't realize that we all are sitting in the same boat and will only survive if we row together and not against each other, than we might be lost!
In your long musical career what is/are the thing(s) that you regret the most and there's something that you'll change?
Of course when you are doing all by yourself and have no adviser you make mistakes here and there but all in all I am pretty happy with everything and if things would have been different I wouldn't be where I am right now and where I am right now makes me thankful, so no need to regret anything so far!
How should consider the status of your other band Snakeskin? Something is going on or all is quiet and would be for a long long time?
Well, it's all a question of time. Since years I want to make a new album for Snakeskin but I just don't come to it. Maybe in the end of next year, let's see.
Maybe this question can sound harsh to you but I hope to explain well what I would like to ask : what you can tell me about Anne's musical background and, if I recall right, in 1994, what was triggered the decision to insert/add her in the line up? In the end what was the thing that you have been hit/intrigued about her?
Since I started with Lacrimosa I was trying to find a female voice suiting my voice. Already on the first album I recorded with some but never was so completely happy. When I heard Anne plus she playing after I never had a good live keyboarder I asked her in for some test recordings and musically and personately it worked perfectly.

Well, dear Tilo, I really thank you for this interview, hope you'll finding it entertaining and interesting. I would ask you now to greet your fans and our readers. Thanks
Thank you and take good care!
Links
MySpace * Facebook * Twitter * Site
6 color styles available:

Style switcher only on this demo version. Theme styles can be changed from Options page.