Browsing articles tagged with " fusion"
Interview by Matteo Bussotti
Their first album has just been released, but they didn't stop working; in fact, they're already working about their second release! I'm talking about Nightqueen, and, wanting to hear more from them, we interviewed their singer, Keely. We must say she was very nice, and she shared with us some very important, interesting facts and news about her band and her personal life. Interested? Keep on reading!
So, Keely, welcome to our site: Femmemetal!
Thanks for inviting me!
Are you satisfied with your album? Is there anything you'd like to change about it?
I love our first album !!!!! It's like a new born baby. We worked really hard to create this magical story and if I may say so myself I think we did a great job. Of course we learned a lot during the process and there are little mistakes we won't make again the next time. But for now I'm really proud!!!
Your band has had a very difficult story, with various changes of line-up. How did you feel when you finally had the perfect members for this album, when you said: "Ok, we are ready to do this, so…let's do it!" ?
I joined the band in November 2010, at that time the guys were already talking about making this album. A few songs were already finished and others were written especially for my voice but we knew we had to make them special. One by one my knights are perfect musicians so during the creative sessions the songs became better and better and that was that moment when we said : "Yeah Hell, let's do this !!!".
What's the creative process behind Nightqueen's songs? Who usually writes the lyrics, in what way one's work affects the final product?
Most songs are created in Rex Zeco's magical brain. He starts with an idea of a fantasy but then he relates everything with our daily society. He let us all listen to the song he came up with, and then the other musicians give their idea's. If the idea is good, it gets used into the song and so you will hear in every song 5 or 6 different influences.
Is there a song which brings to mind any special memories, or with a particular creative process?
I try to sing each song with my heart, I put in every song all my feelings. To be able to do that I search for the special memories in each and every song. But if I have to pick one song of our album… mmmmm let's say that I can relate very well to the lyrics of "Nocturnal" thoughts. But that's me and my dirty mind hahahaha
How's the "group alchemy" in Nightqueen? Do you tend to be very serious when you rehearse, or you tend to put up a comic show?
Hahahaha LOL (sometimes "we try to be" very serious when we rehearse, certainly when there is a gig coming up) but most of the time the guys are always joking so we have a lot of fun and laughter's while we rehearse.
In your biography is stated that your style was created in order to have something new. Is there some other factor that influenced your sound?
We try to put some really good old-school 80's metal with some 2012 rock sounds together with magical symphony and a heavy story to tell about society. All this and more made Nightqueen what we are today.
Moreover, are there any bands in particular that influenced your style?
Let's say that we make a fusion of all the great things we ever heard in metal but still we try to keep it original by mixing it with new ideas. Also Rex is our main songwriter. He grew up with the music of Maiden, Priest, Accept, Helloween, Queensryche and Saxon. So it's logic that he is a bit influenced by those bands. His riffs are played with an 80′s twist and has a lot of melody in it.
Personally, Keely, what are your favorite bands or singers? And did your style derive from them?
I love music in general but my all-time favorites are: Kamelot, Autumn, Delain, Epica, We Are the Fallen and many more… but I can't say they really influenced me in my performance. We Have a totally different style and we're just trying to tell our story in the best way we can.
When and why did you start singing? With "why", I obviously mean the reason you began to sing!
I started singing really early, when I was about 9 years old. At that time my grandfather was a tenor singer and together with his children they started a cabaret group. Everybody in my family was singing and I really wanted to join them, so I started rehearsing in my bedroom. And then I kind of auditioned. So I could join them. Now many many years after, my mam still plays the keyboard and every time I visited her in Spain we perform together and sing the songs we sang back then.
What do you think about your fans? How do you interact with them, not only on Facebook or on Myspace, but also during your gigs, or your ordinary life?
I really love my fans. There are a few fans who knew me already from when I was still performing with my family. I switched my style but they stayed die-hard fans, some of them even became my closest friends in real life. But to all my fans I like to say that I really love to go on photo with them, so I have a souvenir and so I can remember every lovely moment we spend together.
Do you have any plans for the future? Are you looking for some gigs abroad?
We are already working, writing and creating a second album witch is going to be even better than our first album, because the story we want to tell is not finished yet. We are also looking forward to all the gigs we have on our program and all the gigs that are yet to come so we can meet all our amazing fans.
How do you feel about touring, especially about long tours?
Maybe in the future we will be going on tour, but first I think we need to finish our second album so we have something to show abroad, something to make our fans really proud of.
Finally, do you, Keely, have any special plans or projects (maybe as a solo artist) for the future?
My future is and will be with Nightqueen I don't think I want to go off on my own without my knights… lol I would miss them tooooooooo much
Links
Latest Multimedia
Label : Black Widow Records
Review by Tony Cannella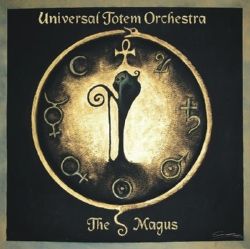 Italy's Universal Totem Orchestra is a strange Progressive, Jazz/Fusion and Rock Ensemble. Their new album is called "The Magus" and was released in 2008. According to the UTO official web site, "The Magus" completes a trilogy ("Hidden Opera" and "Rituale Alieno" are the first two parts), dedicated to Human Alienation; from the most esoteric state to the most psychal complex one, crossing extreme forms of analysis and autoanalysis. After listening to "The Magus" and taking it all in, all I can say is, wow! Universal Totem Orchestra is one band that has absolutely no restraints when it comes to their music, zero, none. On "The Magus" anything goes. Even though there are only 6-songs on "The Magus", the whole thing clocks in at a whopping 80-minute long. The 19-minute quirky opener, "De Astrologia" really sets the tempo and vibe. Next is the 17 and-a-half minute "Coerenza Delle Percentuali". This is a great track the features some cool female opera vocals from Ana Torres Fraile. "Ato Paradime" (16-minutes long) and the closing track "Vento Madre" (over 13-minutes long) are two more highlights. UTO are seriously one of the most unique bands I have heard in a long time. Because the songs are so long there is ample opportunity given to the musicians to shine and the songs travel down many different paths throughout the course of a single song. Whether you like UTO or you don't, there is no denying the musicianship and the sheer uniqueness that this band displays on "The Magus". I don't know if I could recommend this band to the majority of my metal loving brethren, but for those who enjoy a bit of the adventurous when it come to music, and wouldn't mind checking out a band that dares to think out of the box, than this is one band that deserves a listen.
Rating – 82/100
Tracklist
De Astrologia
Coerenza Delle Percentuali
Les Plantes Magiques
Ato Paradime
Mors, Ultima Linea Rerum
Vento Madre
Line Up
Ana Torres Fraile – Vocals
Fabrizzio Mattuzzi – Keyboards
Antonio Fedeli – Saxophones
Yanik L. Andreatta – Bass
Uto G. Golin – Drums
Links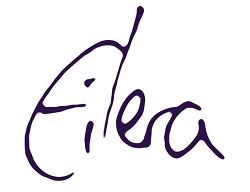 Interview by Claudio Grippi
Femme Metal Webzine got the chance to interview Eilera, a French artist who was able to draw the attention of the Finnish label Spinefarm Records, releasing under this label their first studio album called "Fusion" in 2007. Her new album "Darker Chapter… and Stars" is divided into two parts that lead you through a journey of personal discovery where different worlds coexist and interact harmoniously.
Hi Eilera, thank you for your time. How are you?
Hello dear. I'm good, thank you. I've had a much relaxed Sunday and I'm now answering your interview with HIM's "Venus Doom" playing in the background. All fine

First of all, the title of the new album is "Darker Chapter… and Stars". Why did you choose this title? Why is this chapter 'darker' if compared to your previous albums?
This title refers to the two main characteristics of this album: darker than my previous work, in its music and in its lyrics, yet filled with positive energy. I wrote and composed this album during a darker period of my life. I thought I should use this challenge that life was offering to me: use this darker energy and create something positive out of it. It was thus the perfect opportunity for me to pay a homage to the roots of rock and metal. I have always opened new doors with my songs and pushed metal music to its limits. This time the challenge was: make songs that would honour the roots of Rock and Metal, in my own style.
Why did you choose to divide the album into two parts? Is there a particular reason?
Yes there is. When I started working on this album I had decided to explore the possibilities of the digital world. I wanted eilera.com to offer an exploration game for its visitors, with photos and a story associated to each and every song.I also decided that the album would first be released digitally only. And in order not to be cut from our public for too long again, we would release one part, then tour, then release the second part, and play more shows. After that we released a special limited CD edition that can currently be bought in French shops, or via the websites of Season of Mist and Levykauppa äx.
I listened to the album and I really liked it as I found different worlds coexisting and living harmoniously. It was a real pleasure listening to this record. How long did it take you to write this album?
Nice. Your reaction is a reward in itself to a loooong working process. It took me several months, five to six I would say, to write the album. Some of it I wrote in Helsinki, some of it I wrote in France. For the first time I had decided to focus on humans instead of nature. Hence the 11 stories with this female character at the heart of each of them. This woman you can see at the back of the CD cover and on the opening page of eilera.com.
I am very curious to learn more about "Fly", "Celtic", "Passport Please", "At a +- Roads" and "From Pink to Black". What can you tell us about these songs?
My intention with "Fly" was to make a heavy song that would sound like a standard of metal music in the Metallica tradition, invite Max Lilja to play his brilliant cello-metal for me again on top of it, and add the power of the Ocean to it in a much personal way. I wanted to make a song that could sound like a classic and fill it up with the pure freedom and power of the Ocean. There is a strong anti-formatting message to it. "Celtic" belongs to the filmic tradition I've been evolving into from the start. It is a ballad, a moment of peace and beauty.When you hear it you can feel the Blue Mountains of my homeland around you, a big source of inspiration for me. Whenever I need a moment of rest, or when I need to go back to the essentials of Life and forget about the rest, the mountains are always there for me. An ocean of blue mountains, like waves of the Ocean, heart of the Celtic tradition. "Passport Please" is pure, row energy. Violent and fun at the same time. It cuts into the air like a metal blade. It is the most punk of the songs. It is meant to slap you in the face whenever prejudice might get a grip on you. I like the very modern catchy side of it. I think this song is a good combination of my early songs in "Facettes" with the "Darker Chapter… and Star" sound. I had an idea in mind for "At a +-Roads": combine what I love of a Western cowboy film soundtrack with a heavy sound. Make it groove, make it my own. Create a space of imagination for whoever might be working at his desk with headphones on his ears, fancying that he/she is riding a horse in the wildness… The song is about freedom of the earth versus religion. "From Pink to Black" is about the questions that any of us might ask oneself when our heart has been broken. This is the oldest subjects of all for a song and yet a subject that will never die. We all fall in love, we all get hurt, and we will all fall in love again. For this song I wanted a sexy groove. I wanted to fill it with "americanization". Europe and USA in one song, uniting on an international subject.
I read you started playing music when you were twelve. How did time change your way to make music?
It has not changed much really: I still compose and play in a spontaneous way. When I was in music school I used to boycott music theory because I could not stand the "organization of freedom" it represented to me. Today I have found a balance, this might be the change: I accept the extreme organization and precision that recording demands, but I have not given up on my freedom in making my songs.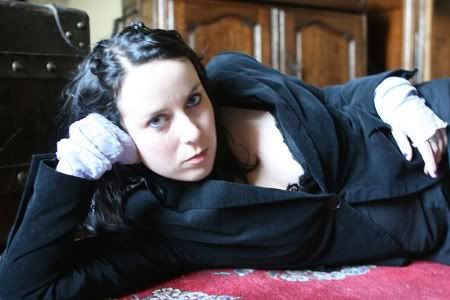 Before embarking on your current project, you were part of a melodic death metal band called Suspiria, soon after renamed Chrysalis. Do you still have some melodic death metal influences when it comes to songwriting?
I think so, yes. I dislike the obvious yet I still use and love my roots. In my own way.
If compared to melodic death metal influences, are there still any electronic influences from your side project called Bliss?
Yes, definitely. I love electronics. They are less present in "Darker Chapter… and Stars" than in my previous CDs because there was less space for them there. It was an album for more classical instruments, especially for big walls of guitars, fat bass and voice.
In your opinion, what are the main, straightforward differences between this album and the previous one?
It sounds more like a band album. It is more masculine. Less experimental; more traditional. It sounds more live. A sort of metal Lord of the Rings with muscles and magic, written by a tiny woman.
What are your plans, career goals or aspirations that you would like to achieve as a singer and as a band?
Make songs for as long as I breathe on this earth, sing them to people for as long as I have a voice. I feel like I'm only at the beginning of this adventure.
Are you already working on news songs for a new album?
Yes, I have a few on the side. I can feel the excitement of the next album already. Full of light after this darker chapter.
Do you think your future sound will go towards an heavier or more melodic direction?
More melodic. I think that after this chapter I'll be done with the heavier sound for a while. I have been through the extremes, from the lightest to the heaviest. The next album will be that of balance.
Is there a question that no-one asks you that you wish someone would?
Actually you have killed my frustration with your interview: before you I had not had an opportunity to speak about my lyrics. So, merci dear.

Well, Eilera, thank you very much for your precious time! Is there anything you would like to say to our readers?
Keep supporting music and the metal scene! Keep the passion alive. For it will keep you alive. See you!
Links
MySpace * Facebook * Twitter * Site
Independent Release
Review By Tony Cannella
Italy's Sinking Soul play an interesting mix of metal, progressive combined with unlikely influences such as baroque, jazz and fusion. It is a unique combination that all goes into the creation of their self-titled debut. You have to give a band like Sinking Soul credit for searching for influences in the most unlikely of places , this 7-track 27-minute opus is confirmation of this fact The opening track "Others' Land" sets just the right tempo for the CD as the soaring vocals of Laura Marchionni join in. A good opener that also shows of the musical talents of each band member. The next track "Temptation" is on the heavier, more straight forward side of the musical spectrum, this song is also very melodic (as is the entire CD) and features a catchy, memorable melody and chorus. The next track "The Unknown" is a short (just over a minute) track that shows off the great vocal range of Laura Marchionni and serves as an interlude between the previous song and the next number, the great ballad "Returns & Flights" which is probably my favorite song that this CD has to offer. Just a great emotionally charged track that is definitely ready for mass appeal. The CD is concluded by a trio of equally strong tunes: "Sinking Soul 1431″, "Dancing with Tears in My Eyes" (a cover of the song originally recorded by 70′s/80′s new wave band Ultravox) and the closing track "Into Your Arms". Musically, Sinking Soul offer a little something for everybody. While the band is considered a progressive band, they offer so much more than just long musical pieces that is so often associated with progressive rock and metal, it is cool when a young band is able to transcend genres and with their debut Sinking Soul manage to do just that. A good first effort for this up-and-coming band from Italy.
Rating – 85/100
Tracklist
Other's Land

Temptation

The Unknown

Returns & Flights

Sinking Soul 1431

Dancing with Tears in My Eyes

Into Your Arms
Line Up
Laura Marchionni – Vocals

Luca Riccetti – Guitar

Giuliano Vangelista – Keyboards
Links
6 color styles available:

Style switcher only on this demo version. Theme styles can be changed from Options page.