Browsing articles tagged with " gabriel"
Interview by Si Smith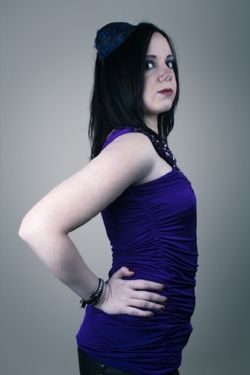 Flying the flag for Belgian metal are dedicated rockers Lovelorn, fronted by the attractively named Ladyhell (Kristell Lowagie). Melodic and passionate, they are determined to put Belgium in the centre of the map for quality metal. Links to groups such as Eve's Apple (formed by Lisa Middlehauve) only serve to solidify their rock and metal credentials. Femme Metal cornered singer Ladyhell to probe deeper….
First thanks for talking to us, and welcome from all at Femme Metal. It seems that are a lady with many faces, as you are also active in other ventures. I believe you and Corpus Christi met for "The Road to Consciousness" project in 2009. Could you tell us a little about this?
Corpus Christi had composed all the tracks of his concept album "The Road to Consciousness" and he was in search for male and female voices. He contacted me, I listened to the songs, and I said yes, I thought the tracks were great ! Later on, we met at the studio to record the songs, and we had lots of fun. We had the same view and ideas about music, we both had no band at that time and we decided to start Lovelorn.
You are also an active member in the Eve's Apple community. For those who are not yet aware, how does Eve's Apple work, and what role do you play in it?
Eve's Apple is a community founded by Lisa Middelhauve. The goal is to join together professional female singers, so they can communicate, but also to help newcomers. We also write articles, express our ideas, give some hints, interact with fans. We don't have a specific role, but we are all working in areas that we like or know better. For example, I'm better at promotion, so I'm trying to help as much as I can in that field.
Your singing career has taken many turns too, from Skeptical Minds to Valkyre to guest vocals for Psy'Aviah. Have you come to a place where you know for sure what your voice is and how it should sound for Lovelorn?
I learned that I cannot sing the songs composed by others. I really need to sing my own songs. Because I wrote it, they perfectly fit to my voice. I have a voice that fits rock, gothic rock, but certainly not symphonic metal ! Yes, I think I know exactly how it should sound.  In Lovelorn, I just make it sound like me, myself and I, and no one else !
Put simply Lovelorn tells stories about love; what is it about love that makes it great material for such a wide variety of songs do you think?
Love rules the world ! It's a subject that everybody can experience, you can tell 1000 different stories about love ! Love is not only about passion between a man and a woman, it can also be love for a god, for your family, for your friends, for nature…. anything is possible.
A track of yours was included on the World of Glass Compilation. Do you think these compilations are important in these days of downloading? Do you feel it gained you any publicity?
Yes I think it helped us, I'm sure some people who listened to the compilation discovered Lovelorn. There are still some people curious about new bands, new projects and who are not brainwashed by commercial radios and TV stations. As a band, we also made friends with other bands on the compilation, yes that compilation was not made for nothing !
I love your definition of your genre on your Facebook page – "alternative, rock, metal, electro, ambient" – well, that suitably walks over such a wide range of genres, how on earth do you decide what to record for any particular track when it comes to composing?
I can't find a good definition for our music style, that's why I've put so many !! ah ah !! If you have any opinion about which style we actually make, be my guest ! We don't decide, it just comes naturally. I couldn't really explain the composing process. Corpus Christi is coming with ideas, I put my voice on top then, we make adjustements. Sometimes we decide we want to put some electronic. It's usually because I want to give a mysterious « atmosphere ».
Why is it important to you that the band members have pseudonyms – the other two being "Hindi Rose" and "Gabriel Arkangel"?
It's not important ! It's just for the fun !! Playing music, going on stage … it's another part of you, another side of your everyday life, … so why not have other names ?

So the EP "An Intense Feeling of Attraction" is now out. The first track is "Save Me". There are a number of songs (even in the female-fronted genre) called "Save Me" or "Save Us". What do you think your song has to separate it from all the others?
I can't remember any other song called "Save Me" but I'm sure it exists, you're right. Everything has been done and said in music, it's kinda difficult to not repeat it, and find something new. This song "Save Me" could be different because of the voice, of the atmosphere, and the nice melody…
Track two is a more laid back affair with minimal backing at certain points. What is the story behind the title "Sagarmatha"?
It sounds different, because I came with the vocal line first, and Christi had to adapt behind it. I also composed all the electronic parts, to make it sound a bit oriental like the title of the song. "Sagarmatha" is sanskrit for "mother of the Earth". This song is about the damages we've done to the Earth and the end of the world.
"Cold" has quite a distinctive choral line. Where do all the ideas come from for a Lovelorn song – the musical and the lyrical ones? Do the ideas come from any specific band member or does everybody contribute?
It depends, it comes from me or from Corpus. We take what's best ! "Cold" is coming from me. I had that whole singing line since years in my head and I already tried to make it sound nice, but it was not possible, but Corpus made it possible! Thank you !!! During rehearsals, the other members become active for the live parts; they also suggest bass lines, drums, we are very open, the purpose is not our ego, but to make the best song possible.
The electronic side comes out more in the drumbeat to "Something Wrong".Was it difficult to agree on how this song should sound, or do all band members have a clear vision of where the band is going at any one time?
We are a new band; so I would lie if I'd say we have a clear vision of where we're going. We are new so we try things, if it works, that's great, if it doesn't we leave it behind. We are composing a lot and we are getting more and more certain about what we want to hear and what we don't, so that's good. "Something Wrong" has many fans, it's touching a broader audience and it still fits the EP, so we are more than happy with the result !
By contrast your final song "Little Princess Euphoria" has a more guitar driven basis, and sounds like it would be great live. Have you had many live performances of your material yet?
Live performances is the next step. We had some and we are still working on getting more. We are lucky and we have booking agencies that are helping us in the process. "Little Princess Euphoria" is great live, we experienced it on stage and every week at rehearsals, we have loads of fun with it !
Flight of the Valkyries festival is upcoming in the US for this year and I believe you have a chance to play there. How can readers vote for you if they would like to? What would it mean for Lovelorn to be a part of such a festival?
Yes, we were surprised to be on the list of the nominees, it was unexpected, so we are doing our best to get more chances to go there. People can vote for us here . It would be nice to be part of that fest, i don't know how big it is, but we will play if we are invited to !
Finally, thanks so much for talking to us. Have you any final words of wisdom for us? Anything from your heart?
No wise words, just enjoy life !
Links
Label : AFM Records

Review by Tony Cannella
Originally released in 2007, AFM Records have recently re-issued the debut album "The Curse of Crystal Viper" from Poland's classic metal heroes Crystal Viper. In addition to the full album, this new version also features five rare bonus tracks that have appeared on tribute albums and hard to find material, so while these songs may not be un-released per-se they are still rare and thus valuable to any Crystal Viper fan. What can be said about "The Curse of Crystal Viper"? I remember the first time I heard it and being blown away by its sheer power and ferocity. It also gave me a feeling of when I got into metal in the first place in the early 80s. Crystal Viper really captures that vibe, but musically they go beyond that. Lead vocalist Marta Gabriel has got a great classic metal vocal style. The somewhat Running Wild like intro "…I See Him!" starts things and segues straight into the Iron Maiden style riffs and guitar harmonies of "Night Prowler". Some of Crystal Vipers best songs appear on this album: "Shadows on the Horizon", "Island of the Silver Skull" and "Sleeping Swords" is all considered Crystal Viper classics. Among the 'bonus' tracks, you get a covers of the Manilla Road track "Flaming Metal Systems" and Warlock's "Mr. Gold" as well as alternate versions of "Demons' Dagger", "The Last Axeman" and "Sleeping Swords". This is top-notch classic metal played Crystal Viper style. In Re-visiting their debut, it is easy to see why they have become one of best bands in their genre. Crystal Viper continues to churn out classic metal, but this is where it all began and thus a will always have a special place in my heart.
Rating – 85/100
Tracklist
…I See Him! (Intro)
Night Prowler
Shadows on the Horizon
City of the Damned
The Last Axeman
Island of the Silver Skull
I Am Leather Witch
Demons' Dagger
The Fury (Undead)
Sleeping Swords
Flaming Metal Systems (Manilla Road Cover)
Demon's Dagger (2008 version)
The Last Axeman (Polish version)
Sleeping Swords (2008 version)
Mr. Gold (Warlock Cover)
Line Up
Marta Gabriel – Vocals, Guitar
Andy Wave – Guitars
Tommy Roxx – Bass
Golem – Drums
Links
MySpace * Facebook * Twitter * Site
Label : Massacre Records
Review by Tony Cannella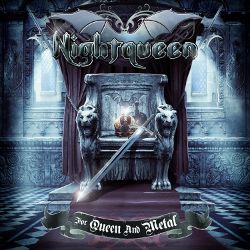 They say everything old is new again (I'm not sure who "they" are, but somebody said it), and that seems to be the case with a lot of metal bands these days– female and male fronted – adding a definite classic metal style to their sound. One of the latest to do this is Belgium's Nightqueen who has just released their debut album "For Queen and Metal". With a title like "For Queen and Metal" you pretty much know what you are going to get, just full-on classic metal. Nightqueen incorporates more keyboards than most bands that play this style of music, but the keyboards are in perfect harmony with the vocals and other musicians, and I suppose this is what sets them apart a bit. First off, the songs on "For Queen and Metal" are melodic and infectious as hell, they just soar and Nightqueen captures that classic melodic 80s sound perfectly. Vocalist Keely Larreina packs all of the power of Doro Pesch and Marta Gabriel while still coming across as different. As the opening intro "Into the Night" (I'm sure this will open their live shows) reaches its crescendo the band launches into "Nightfall", which is an incomprehensibly awesome way to begin things. "Mystical Night" became a huge favorite of mine and would make a great video track (hint, hint). This is Nightqueen at their melodic best. On this mid-tempo tune Keely sings her heart out and the song is buoyed by a memorable melody and chorus. By this point, I could not wait to see what would come next. I was not disappointed as the opening riff to the title song "For Queen and Metal" kicked in. "Lady Fantasy" is next follows the same musical direction as "Mystical Night". "Nocturnal Thoughts" is the closest thing to a ballad here; it starts off slow but the song quickly picks up the pace and settles into a nice, effortless mid-tempo groove. The 7-minute "Majesty" has an appealingly dramatic quality to it. The final track "Dark Fairy" is 8 ½ minutes long and opens with some samples of historical figures to contribute to the epic-ness of this track which brings things to a conclusion on a very high note. There is plenty to love about Nightqueen, especially if you yearn for the days of 80s metal, but even if you aren't necessarily from that era Nightqueen is a special band. "For Queen and Metal" should be able to find its niche among fans of Manowar, Crystal Viper, Accept, Warlock and bands of that style. It is always good when you hear a band like Nightqueen who flies the flag for pure heavy metal. Everything old is new again, and that is fine by me.
Rating – 94/100
Tracklist
Into the Night

Nightfall

Mystical Night

For Queen and Metal

Lady Fantasy

Nocturnal Thoughts

Secret of the Blind Man

Majesty

Rebel to Rebel

Screaming for Mercy

Dark Fairy
Line Up
Keely Larreina – Lead Vocals
Rex Zeco – Guitar

Alex Rawson – Guitar

Steven Steele – Bass

Daniel Kells – Keyboards

William Blodyn – Drums
Links
Interview by Lindz Riot
Traditional Metal still lives! You can find it in the great grandfathers of metal or in band like Crystal Viper from Poland. Their lead singer and creator Marta Gabriel is crashing the boys club and shows true musician confidence in her vocals, guitar work and song writing ability. No wonder the band is still going strong since their beginnings in 2003. "Legends" is their newest release that will please listeners of Iron Maiden, Judas Priest and Dio. Recently they have been signed to AFM Records and take pride in their highly energetic live show along with their growing fan base. I have been privileged enough to interview this metal queen via email and get more of an inside scoop behind the brains of Crystal Viper.

So Marta, when did music start for you? How old were you? What instrument did you pick up first? And what artists/people inspired you to become a musician?
I really started my "musical journey" at the age of 7 I suppose; when my parents sent me to a music school. I was in piano class. There were also other instruments I played, but piano was the main one. I basically decided to become a musician when I saw a symphony orchestra on TV and told my parents that I wanted to be a part of it! Classical music has always been an inspiration for me; great artists like Rossini, Beethoven, Mozart, Holst, Tchaikovsky, Bach, Wagner and many, many more. There was also a lot of music in the family home, loads of Mike Oldfield – and I still love to listen to his albums. My father used to listen to bands like Queen… Oh, ever since I was a kid, I wanted to be a musician!

What inspired you to start Crystal Viper? Where did your vision come from? And if there are any, which artists influenced the project?
Well, heavy metal has always been my favourite genre. Even though, as I mentioned, I was taught as a classical musician and still really find inspiration in it, I find many pieces in and similarities between classical music and metal. In my opinion, rock and metal music are real types of music, played by real musicians, who put their whole heart into their song writing. There's nothing better than beautiful melodies and the feeling that you can put into songs while playing or performing them live. There are a lot of great bands that inspired me, such as Warlock, Judas Priest, Omen, Black Sabbath, early Phantom Blue and Vixen, Chastain and Leather Leone, Helloween, Jag Panzer, and believe me – many more…!

Are you the main song writer? Where do the stories for your songs come from? And what is the song writing process like for Crystal Viper?
Ever since Crystal Viper has been in existence, I have been the main composer in the band, yes! The song writing process is pretty simple; when I have an idea for a song, I record it, arrange vocals, guitars and drums, and then work on it with the rest of the band. After that, I'm looking at a right theme for the lyrics and trying to sharpen everything so it sounds really tight.

So then what was your over all experience like when recording "Legends"? How is it different from your previous albums? How would you describe it?
It's hard to describe an album in a few words but the "Legends" recording session was our most "conscious" recording session, if that's the right word in English? By that, I mean that, during previous recording sessions for earlier albums, we were always trying many new things; we would be testing new equipment and stuff like that! But, this time, we were sure about everything! We knew what kind of sound we wanted to have on the album, what kind of equipment we should use… definitely!! The other difference was that we had become more mature as musicians and because of this, were able to achieve new levels of playing, and better levels of playing. Of course, we're still learning; as a musician, you learn as long as you play your instrument. But, "Legends", in just a few words? Well, I think it's the most classic heavy metal album Crystal Viper has done!
Your voice can really wail! What is your background and your vocal training? Your contrast between clean and raspy is very smooth, how did you teach yourself to do that?
Thank you… I'm touched by that but honestly, I can't tell you, because I don't know!! Ha! Ha! How did I learn to do that? I have no idea; Ha! Ha!
Honestly, I was always trying new things while rehearsing, discovering new things; I was always playing with my voice and I still do this. About my background, though? Well, I've never really taken any singing lessons if that's what you mean? One day, I just found that I was able to sing in the way that I'm singing now without straining the voice. I have, like all of us, I suppose – my favourite vocalists, who have always been, to me at least, "lights in the dark", like; Tony Martin, Ronnie James Dio, David DeFeis,
Doro
, Gigi Hangach, etc.. and listening to them just gave me the confidence to sing my way!
When it comes to the live stage, what has been your best show played to this day?
Each show is always "The Best One" when you're walking down the stage steps after your show, Ha! Ha!… But, you know, each show is different and very special. It is very hard to choose only one, because while playing each of them, something always happens that makes it special. The most important thing out there are our fans; they are the people who make our shows so unique, that we don't want to leave the stage…!! And that's something you really hold on to after a good show!
Well then, how would you describe your fans? What kind of people are they and how do they make every show so special?
Crystal Viper fans are the best; they always give us the energy while performing live. They are the reason why we play and we appreciate them very, very much!! Thanks to them, we feel that there is a sense in what we do, if you understand that – writing and playing music that we all love is fine but if it wasn't for those people, we wouldn't be where we are right now…..?
I have to say though, that metal fans in general are the best, and the most loyal fans in the world! I'm not only a musician, I am as much fan of metal as many of them and for me, it doesn't matter where you are from, what you look like, how old you are, or anything; metal gathers people together. It doesn't split people into groups. I love it!
If you could have any guitar, what would it be? Or do you already own it?
Now, that would be; a Jackson guitar, the Randy Rhoads signature but the yellow one!! I don't own it yet, but I will one day!!
What is your opinion on the Global Metal Movement we see going on in the world today?
Truly, I don't see any special "metal movement" out there separating anyone. I mean, Traditional Metal has always been here, between the real fans and they embrace everyone as they themselves are embraced. Of course, there are great new bands such as Enforcer, Steel Horse, Portrait, Steelwing and others who are ready to conquer the stages of the world. But many of our "heroes", like Accept, Raven, Iron Maiden and Saxon produced great new albums last time around, so yeah; Traditional Metal is doing really well, and definitely hasn't uttered its final words yet!!
As a Metal Fan then, what was your favourite concert that you have ever attended?
The best one that I've ever seen was Raven at the Headbanger's Open Air, this year. These guys Rule! But generally, I've seen a lot of amazing shows! I'm a really big fan of metal music, so I go to see my favourite bands performing live as often as possible.
Aside from music, do you have any other goals or aspirations in life?
Really, I can't imagine doing too many other things that wouldn't be connected with
music!! I like doing music videos; I mean, actually directing and editing them, so maybe that?
Do you have a unique hobby or talent that you would like to share with the world?
Ha! Ha! I don't know? Maybe it's not a talent but I'm sure that there isn't another person, in the whole known world, that has broken as many beer glasses as I have?? Seriously; just ask my friends! Ha! Ha!
Ha Ha! Amazing! Thanks so much for the interview!!
Thank you too! Heavy Metal greetings!
Links
Marta Gabriel : Facebook
Crystal Viper : MySpace * Facebook * Twitter * Site
Latest Multimedia
Interview by Tony Cannella
The Polish band Crystal Viper has been proudly flying the flag for traditional heavy metal since 2007 when their debut "The Curse of Crystal Viper" was unleashed. Now the band has released – what is quite possibly – their most ambitious and best album to date called "Crimen Excepta". Recently vocalist and guitarist Marta Gabriel was kind enough to take some time to answer some questions. Read on…
First off, congratulations on the great new album "Crimen Excepta". Please tell us a little about it.
Thank you! We are very excited about it, and can't wait for the release date, when our fans get their hands on it; I know it's going to be great! It's our brand new album, totally different to the previous ones and it shows a new face to Crystal Viper!
Can you please tell us a little about the story/concept of the album?
First of all, I need to say that "Crimen Excepta" is a little bit like a movie, where the story is told with music, and not with pictures. It's a bit different from the standard record. It's basically a tale about witches and the inquisition, but there is also a deeper meaning here, and that can be interpreted as a story about intolerance and human cruelty. It's a story about a witch named Sarah and her adopted son William, who becomes an Inquisitor. It's quite a dramatic and weird story I would say. It was basically inspired by books and movies, such as; "The Name of the Rose" or even "Malleus Malleficarum", and if you know more about the inquisition in general, you will quickly find out that there is more reality than fiction in it.
You say you feel it differs from previous albums? How exactly?
It is different, very different actually; and I felt that even while playing these new songs during rehearsals. The main reason is, that the story, the main lyrical theme, was written before I started composing music, so it affected the process of writing the music a lot, driving it in a different way. The concept is very dark, brutal, much more mystical, and so is the music that I wrote to go with it. It's all one piece: music fits to lyrics, and lyrics fit to the music; there are real emotions and real feelings in these songs. Added to that, the album is different again, because our attitude was different this time: everything was actually produced just like in the '80s. We used Flying V guitars, tube amps, of course real drums – no samples, triggers or anything like that, also no copying – everything that you hear on the album was sung or played.
Crystal Viper has always picked interesting songs from the metal genre to cover. This time you covered a Vader song. How did that come about?
When we were thinking about bonus tracks for the limited edition of the album, we wanted to record a song which would be unusual; a song that people don't expect us to record. I'm a huge fan of Death and Black Metal; I really like Vader and "Tyrani Piekiel" is my favourite Vader song, so it seemed natural to do that. Actually, we don't know of any other Heavy Metal band that has recorded a pure Death Metal song, so looks like we were first. By the way, we also recorded one more cover song during this recording session as well; "Night of the Demon" from NWOBHM heroes Demon, and this song landed up on the limited vinyl edition of "Crimen Excepta"!
Are there any artists you would like to collaborate with that you haven't already?
Oh, of course! There are many great and talented artists around, but if I could choose, I would like to record something with, say Glenn Tipton or King Diamond, they are like heroes for me.
For fans who have never heard the band. How would you describe Crystal Viper?
Female fronted, heavy metal band, straight from the hottest parts of metal hell! If you are ready for a metal bomb, come and see us playing live; we take no prisoners.
What has the reaction been from media and fans to the new album?
It's a little bit too early yet, and there aren't too many reviews of "Crimen Excepta"; but the ones we have seen, are pretty good so far. Looks like we've managed to surprise people, and that we've recorded something no one expected. But you know, for me, it's always so important that our fans like what we do, as they are the ones who are totally true and honest; they are the most important people on earth for us!
What attracted you to classic heavy metal in the first place?
There are many reasons! It has energy, power, sound, atmosphere, wildness, and the possibility of doing something really creative. I simply love Heavy Metal.
Do you have much touring planned in support of "Crimen Excepta"?
We hope to play as many live shows as possible this year. Right now, we have confirmed shows in Spain, Slovakia, the Czech Republic, Denmark and Germany but please keep on checking our website, as we will announce more dates soon. We hope to visit the UK this year as well!
What can fans expect when they come to see you live?
Well, you can expect a powerful show, full of heavy metal energy! As mentioned; we take no prisoners! The stage is like a second home. Every single live show is special, and we are happy when we can play in new places!
It's hard to believe that your debut album "The Curse of Crystal Viper" came out five years ago. How do you feel the band has changed since then?
For sure, not much! We are still the same guys; we totally love what we do; we still can't live without music. You should see us rehearsing; every time we are happy, like a bunch of kids who've just entered the greatest playground in the world. Instead of toys, we have our guitars, amplifiers, and drums. But, saying that, we certainly have changed as musicians; and each one of us has managed to develop his / her playing skills, whilst I would say I developed my writing skills. We certainly know each other much better, and we've learned how to work with each other in a much better fashion.
Do you have a personal favourite album and song from the Crystal Viper catalogue?
Without a doubt, my favourite song is "Crimen Excepta", I think it's the best song I've ever composed! I'm not being totally 'original' here, I know every artist says that the latest album is the best one, but to be totally honest with you, I totally love this "Crimen Excepta" album. The songs are very emotional and powerful; the lyrics have very important meaning, and it's all something totally new and fresh, full of energy!
Who are some bands that you would like to tour with that you haven't already?
Again, there are many, many great acts we would love to tour with! I would start with King Diamond, Candlemass, Cannibal Corpse, Judas Priest, Nifelheim, Vader, and of course, legends such as Iron Maiden or Black Sabbath. But, the truth is, we love to tour with any good Metal band; we are always happy when we can play with other cool acts. When we can, we always try to see the bands that share that stage with us. We are huge Metal fans ourselves, so it's great to do that.
Who are some singers and bands that you admire?
I've always been a fan of Tony Martin, David De Feis, Jutta Weinhold, Leather Leone, Dio, Rob Halford, Doro, the list goes on. But, I also like to listen to the heavier bands; I mean death and black metal ones; like, for example, Dissection, Destroyer 666, Immortal, Bathory, Watain and many, many more.
What are your plans for 2012 and beyond?
We are ready to strike; to play in countries that we've never been before! We're planning to do a video clip very soon and I'm slowly getting ready to write the next album as well.
Thank you for taking the time to answer these questions. Crystal Viper is fast becoming one of my favourite bands, so this was a pleasure for me. Is there anything you would like to add to wrap this up? The final words are yours.
Thank you for supporting Crystal Viper; I'm glad to hear such great words! Heavy Metal greetings to all the metal maniacs! Remember to keep supporting your favourite bands; keep on buying original albums, and keep on going to live shows – the future of Metal is in your hands! Horns up!
Links
Marta Gabriel : Facebook
6 color styles available:

Style switcher only on this demo version. Theme styles can be changed from Options page.