Browsing articles tagged with " gaia"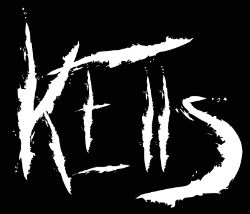 Interview by Ary R.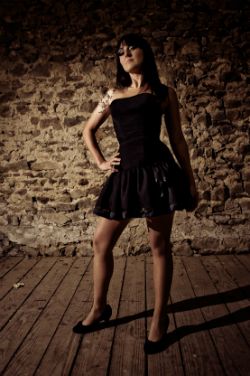 They rocked Europe last year with Leaves'Eyes and Tarja Turunen, and with Epica and ReVamp the former year as well. Now they're back on the music scene with the upcoming album, "Anachromie", that will reveal some other music features of the French rock band Kells. Just read with us what the front-woman Virginie Goncalves told to us!
Hi Virginie. Welcome to Femme Metal. How are you doing? Recently, you've released the new Kells album, "Anachromie". How are the feedbacks from your fans going?
I'm fine, thanks! "Anachromie" has been out for a month now, and it seems that both the press and the fans have praised this record. We are very happy about that because somehow we had chosen to take artistic risks, not to repeat ourselves and to renew our image, and people liked it!
I've been surprised about the title you've chosen for the album, as I've been amazed by the artwork as well. Would you like to talk about them? Who has created the cover and how was the choice for the name of the album born?
In this album, everything in the lyrics is written in a disjointed way, the space-time notion is broken, the reality mixes up with the dream, as in the surrealist genre… Globally, the lyrics are anachronistic. Also, I use many adjectives of color (ochre, silver, gold, amaranth, blue, white, black, saffron, amber, sapphire, sandy…), which gives the lyrics a very pictorial aspect. It is the mixture of these 2 concepts, the chromia and the anachronism, that gave birth to "Anachromie". The cover artwork has been made by Blackthorns Design. We appreciated what he had made for other bands, this mixture of surrealism and modernity, that's why we decided to work with him. The frontcover and the booklet are an illustration of the lyrics… the girl with her bridal veil, with all her dreams, the tortured childhood, the nightmares and the anachronism always there, with the hours of the clock, the tracklist in disorder … as in the surrealist universe, where nothing has any reasonable landmarks or points of reference.
The recording and the creation of the album have been quite challenging. How long did it take to put down all the material, to record it and to mix it properly?
We recorded this album in November 2011, more than a year ago already! We went to Mon Studio in Nancy, to work with Yann (MyPollux). We began with the recording of the drums, then the basses, the guitars, the strings, the choir, keyboards, electro music, to finally end up with the vocals, at the end of November. So it took almost one month, because we prefer taking time! Yann then attacked the mixing in December, and we eventually sent it all in New York to the Sterling Sound Studio for Ted Jensen to master it in february 2011.
Interview by Gaia Stella Rotondi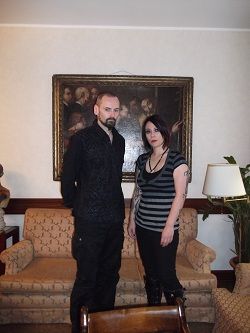 We have met vocalist and mastermind Aaron Stainthorpe and bassist Lena Abé from UK doomsters My Dying Bride for get the latest updates and info about their twelfth album out on Peaceville "A Map of All Failures". Be enchanted and be doomed by this symphony….
Welcome guys how are you doing?
Very well, thank you very much, good to be here.
You are here in Milan to talk about and promote your new album. It is produced by Peaceville Records and it will be in stores on October 15th. It is named "A Map of All Our Failures". Would you like to tell us something about this album?
Aaron: Yeah, it's brilliant. It's um, it's been a while since we did a full studio album, because last the last project was all classical music and then the last thing an EP. So it has been a while since we did a full rock studio album. Three years I think. So that is I think a good evolution from the previous album, we are older now and I think we are wiser, I would like to think we are wiser and better songwriters. I think the more you work on something, the better it should be. We've been working on this stuff for a long time. So in theory, with those mathematics the album should be the best one we've ever done. And all new bands who have a new record say their new album is the best they've ever done. And it's true, this is what you've just achieved, so you're very proud of it, it's like it's you just had a baby, the greatest thing ever. And so, it is wonderful. We've worked hard on it; you can tell its My Dying Bride still, we're not trying to write something completely out of our style. It's recognizable as My Dying Bride, but still fresh enough to be interesting, new and exciting for the fans. So if you've liked anything we've done the past there's pretty much a good chance you're going to love this.
Lena: Some people give us feedback and that it's quite reminiscent of the early works as well. People who like the early work are probably going to like this.
I know that there will be a special edition with CD and DVD and also a double vinyl edition. So what is the reason for this release?
Aaron: It's the record label I guess. Vinyl despite it being not very popular is popular enough for the record label to still do it. They wouldn't do it if they couldn't sell. And I love that as well and I don't even have a record player but I love vinyl because…. Especially gatefold, this thing is huge you don't even see these anymore. It's like an antique but it's a lovely thing to have because we've worked hard on the artwork, photography and the lyrics. So I think if you buy something even a CD, it's something you're hard earned money is well spent on. It's a good piece of rock. I think downloading it, you're missing out. You really are missing out. If you're buying something, have it, don't have it digital, have it in your hands because you can see and appreciate the work we've put into it. And special editions are great. I think special editions are for the diehard fans. They always want a little bit extra. And I was the same when I was younger. I would collect picture disks of Iron Maiden, any weird shit. I loved all that. I would spend all my money on this stuff, box sets. I loved it. And so we do a similar sort of thing. And so the special edition has nine songs instead of eight and will come with a DVD. Which for the first time ever in our history we are showing people behind the scenes of My Dying Bride what goes on the tour bus, how boring it is on tour. You know some live stuff, interviews with all the members of the band. Explaining how we feel on tour. We've never normally done that, we've been a very private band. We sit in the background quietly. When we do an album we talk about it and then disappear again but I think for the DVD we just said let's shout about what we do and then people will see and they'll think it's actually quite boring. The DVD is just a little history of what we do. And the vinyl is great but I'm not gonna play it because I have nothing to play on.
A few days ago, we were given a chance to download the single "Kneel till Doomsday" off the new album for free. Can you tell us something about this song?
Lena: A good general vibe of a whole album, it starts off with slow riffs, it comes back down again, it goes back up and comes back down. It's a good representation of the whole album in general. You've got death metal and a bit of doom metal in there. It's good representative of what "A Map of All Our Failures" is all about.
Aaron: Some of the songs have a specific feel and if you choose an unusual sounding track for download, people assume the whole album is like that. You need a track that has the good spread of what My Dying Bride is about to give people the chance to know that it contains all kinds of stuff. So that is why that one was chosen.
The artwork for this album is very dark. It represents a women sitting on a bed and in a white sheet, with a veil covering her face. Would you like to talk about the album concept and tell us who created this artwork?
Aaron: The album cover was created by a guy called Rhett Podersoo who did the previous albums artwork, "For Lies I Sire". He's quite a visionary guy. I like his work a lot. I gave him the lyrics for the actual track "A Map of All Our Failings" and I explained to him what I wanted and when he came up with a concept, with the idea of my concept, I thought, "Ja that works", because in the lyrics of that song, it's about someone who's just completely alone and in complete and utter silence they have absolutely nothing, nothing at all. The only thing they can sense is their breathing. There's just nothing else there. And there is just a bed and a chair and the chair is just there for when death comes. And it's just terribly tragic. It's a very lonely song. I so I was explaining this to Rhett and I said I want complete misery. I don't want sparks and blood and guts and mayhem. I want loneliness and inspired death looking image, but it works like that. His artwork is throughout the whole CD. Every single page in the CD booklet, an image related to the words. It's not just random artwork, it's all been really well thought out. We worked long and hard for a few months to make sure each image, even though it's covered with lyrics, each image has the feeling of that track. Again that's something you'll miss if you download it. So for the full package, buy it kids!
You're going to be on a European tour in December and you are going to come back here to Italy for two days. What do you think of the Italian audience?
Aaron: They're alright (LAUGHS)
Lena: I've only played there once before at the Frozen Rock Festival. I think it was 2007 so it's been a five years since we came here. I believe the band has played there before, a few years ago? I have some really good memories of playing there.
Aaron: The Italian fans have been backing us back from the demo, a long time ago. You kids weren't even born then. You don't even know what a demo tape is. We've had letters from Italians before the Internet even, when people use to write to us with a pen. They've backed as for years, so every opportunity we get when we on the road, includes Italy, to say thank you.
How is your relation with fans in general? Are there chances to meet them, maybe after your shows?
Aaron: We have lots of time before the show because after the show we're too drunk. Before the show we always agree to do what we call "meet and greet". We always agree to do these things at our own shows because these people have payed for your records, they've bought your things with their hard earned money and it's rude to not say thank you. So playing live for them isn't enough, it's important to meet them. And every time anybody says there's these lines of people outside, they want an autograph, we go outside and sign their autographs because it's important. And they love it as well. The jam their faces between us and we have a photo. It's a special moment. It's easy for a band to do; I don't know why other bands don't like to meet with fans. The fans, without them, there is no band.
Lena: I was in America in January and there was this guy and we had a really good chat and he came from Australia to America just to come see us. He wasn't so bothered about any of the other bands. When people start doing that, why wouldn't you want partisan and say thank you? That kind of dedication means quite a lot to us.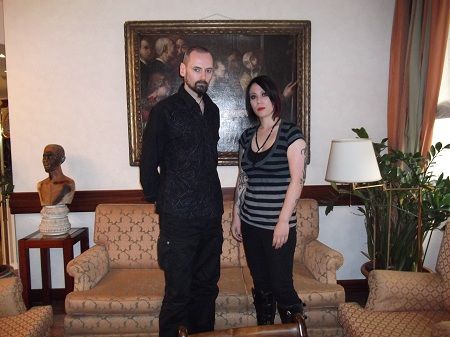 What do you think about British and International gothic scene of this day?
Aaron: Um, I'm only aware of the scene when we perform live because I don't really stay up to date with what's happening in the scene. Because the scene is quite split because we're sort of Doom gothic death metal, it's almost three genres stuck together, that's what we do. So there doesn't appear to be single website dedicated to that kind, or even a single festival. We play metal festivals, extreme metal festivals, gothic festivals, we play lots of different sorts of festivals. We have quite a broad appeal. So it's hard to see what the scene is like because we're seeing different scenes at different times. We still get messages from young upcoming bands who are actually saying thank you for the influence, we love My Dying Bride, and we've created a band because we love you guys. And that's wonderful. That's quite a big thing. We see loads of bands who have mentioned us as an inspirational force. We've done some good old festivals, which are attended really well, despite it being no money in the world at the moment. Some festivals that we've played, particularly Graspop in Belgium, have thousands and thousands of people there. So it's wonderful. We span different genres, so it's hard to see if one is more potent than the other.
How often and how much have you changed since the beginning? What do think of these changes in your 23 years of career?
Aaron: Well, I've got older but I've got wiser? Importantly, we're all going to get older but some people don't get wiser. I don't know? I still like the same sort of subjects that I sang about in the early days. f you picked up our first album and the new album and looked at the song titles and the lyrics, you would see similar themes because those are the things I find interesting. I'm not going to start singing about something I know very little about because it would be pointless. I sing about the things I understand and the things I am comfortable with. And so those subjects have spanned all of our albums. But I think the vocals have developed for sure because in the early days there was a lot of shouting and some clear vocals that weren't great. But that's what I did when I was younger. I was a shit singer and I can hear it. When I listen to the early records I think; "He was a young boy back then". I can't play an instrument, so I have to develop vocals and you get older you feel more, brave. You want to experiment more. So now, on the new album, there's screaming, shouting, whispering, spoken word, all sorts of harmonics going on. And so that's completely different from the first album. Something's don't change much and other things develop and evolve as we get older because it's such a long period of time, 23 years now. Changes are nice and steady, it's not suddenly; "What's going on now?". It's slow evolution and that's a nice way of doing it, I think.
A question about your voice actually. Your voice has its own style. It is clear especially in the later works. What is a change made that you haven't planned. How and why were you moved to follow such a personal approach?
Aaron: Well, again, it's all about experimenting and about expanding. If you're good at something you want to be better at it. And I'm not different, these people that play instruments, they are getting better and better at it. A bit more flashy and stylish on stage. They're looking cool. I am thinking "I have to expand". I am not going to stand there doing nothing. I am going to elaborate and gesture like performers do. Again, it's the braver thing, as you get older you don't care so much about the image. You think I am going to sing this! I don't care about Death metal songs. I am going to sing because it's a good lyric on a nice piece of music, no point doing a death metal vocal just for it. So I much more open to performing vocals in a more appropriate style for each song. And to keep a good variety keeps in interesting not only for the fans, for me as well. I don't want to do the same thing over and over again.
Do you have any artists you look to for inspiration?
Aaron: No, not really. I did in the early days. Not from a vocal point of view. I did in the early days. In the early days, influences were from bands like Celtic Frost and Candlemass. But even not from a vocal point of view. I like Nick Cave. Nick Cave and the Bad Seeds was a great band. I like Swans, Michael Gire has a great voice. They would the closest thing I could associate with an influence.
The band has gone through lineup changes. The arrival and departure of Katie Stone and who has been replaced by Shaun MacGowen. How did you find Shaun?
Lena: When Katie left it was quite sudden. It was about 4 weeks to our next gig. And our tour manager had a feeling that she was not quite committed. We asked her, "What's going on?". She said she wanted to leave and work on her career. She a student psychologist. So that was it and she left. My friend Shaun, he is a big My Dying Bride fan, he plays violins and keyboards. We all got together at our rehearsal studio. We auditioned him and he was fantastic. That was it really.
The music industry convention suggests problems in terms of dealing with business detracting from the musical side. How do you manage to keep working ahead after seeing what could be the pitfalls that the business has to offer through the years?
Aaron: It is difficult. It's a juggling act. A balancing act. When My Dying Bride formed, it was just a band. A bit of fun. Now it's a business, we pay VAT. All that shit. And we've never had a manager, myself and Andrew manage the band. We have an accountant, because our math is terrible. It is boring. Sometimes our accountant will ring us and say "Ok guys, come to the office. Let's look at some figures". And it's so dull; I didn't form a band to band to do this shit. This is what we are paying you to do. I don't want to see any good news or bad news, I don't care if we are making money or losing money. This is boring! So Andrew would normally deal with statistics. And will try and concentrate on the more visual side of things. The T-shirt designs, that's more my thing. I work with the artists to come up with the album covers. But it's hard and sometimes you do see problems in the business. We've shit that goes on you wouldn't believe! And you just think, "This is a criminal business we're in". But you just gloss over it and think "but well that doesn't matter" because we've got the good stuff, the songwriting. So if you're having problems in the office, get out the office and write the songs, because that's where the front of your business is, that's where the passion is. Someone else can do all the calculations later. Let's concentrate on the artistic side of things. They clash sometimes but we try and keep them apart.
Lena: The thing that keeps us going as well, is that we are not constantly touring. So we are not constantly feeling that kind of business pressure. Almost like a part time kind of band, if that makes sense. A lot of bands they do many concerts a year. We're not really under that much pressure. That keeps are more focused and enthusiastic about what we do. We will never turn up at a show looking tired and not bothered. We are totally focused on one event and that particular moment in time, we are there do that job.
Thank you very much for being here. Would you like to tell us anything else?
Aaron: Pleasure.
Aaron: Well actually, next year there is an EP coming out as well, because we wrote and recorded 13 songs. So after the special edition, there's 4 more songs. So the record label would like to do an EP. So in maybe March/April next year an EP with 4 brand new My Dying Bride tracks on it. More stuff to come yet!
Thanks for the good news.
Aaron: Thank you very much!
Credit Photos
Photos by Erika Cremonesi
Links
MySpace * Facebook * Twitter * Site
Interview by Gaia Stella Rotondi
Transcription by Alessandro Narcissus
Intro by Miriam C.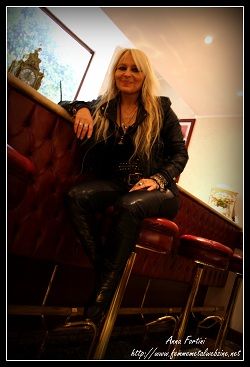 On a hot summer day (to be precise on the 12th September) we've met in a hotel in the centre of Milan during the promo day dedicated to "Raise Your Fist", the German metal queen Doro. Let's hear directly from her the latest news. Some words dedicated to the memoir of the late Mr Ronnie James Dio are present and we join with her to his memory publishing this interview.
Today Femme Metal is pleased to have the metal queen Doro Pesch as guest. Hi Doro, how are you?
Hi there, I'm very good! Thank you for the interview, it's great to be here in Italy!
We know that your new album, "Raise Your Fist", produced by Nuclear Blast Records, will be released on October 19. Could you tell us something about it?
We've worked for over half a year on it. We recordet it all over the world, from New York and New Jersey to Hamburg, we've mixed it in Danmark with Jacob Hansen, who'se the producer and engeneer for all of it. I wanted to make sure that the sound is hard, powerful and really, really good. The first song, "Raise Your Fist in the Air", I kind of had the feeling it might be the first single. So I sent it out to many people, everybody mixed it, and then it was hard to choose 'cause many were really good, but when I heard Jacob's work I said, "Okay, you're the one!". There are some special guests on the record: I sing a duet with Lemmy (Kilmister from Motörhead Ed.) on one of my favourite songs, "It Still Hurts", which is a very touching and emotional ballad, and I love it so much, and I also love Lemmy for the longest time, he's great! Then we have another guest, Gus G, the guitar player of Firewind, and he plays a solo on "Grab The Bull (Last Man Standing)". A good friend of mine made contract with Alex Krull from Atrocity and Leaves' Eyes, and he's a guest on that song as well. Then there is "Hero", which was the first song we wrote for the record, and it's a tribute to Ronnie James Dio: so many fans were totally heartbroken when he died – including myself, I was totally devastated and after all this time I still am! – so I really wanted to say thank you and pay respect to him.
Could you tell us something about the importance that Ronnie had in your life?
Yeah! Beside being an amazing singer, I think definitely one of the best, he was a great friend and my biggest inspiration! I had the chance to meet him many times, we toured together – actually my second big tour, back in 1987, it was with Ronnie James Dio and it was great because it was the peak of heavy metal with big venues and fans, it was unbelievable and really unforgettable! Then we had the chance to tour again a couple of times and one of the greatest experiences was the American tour in 2000, because, as you probably remember, in the Nineties grunge was big and heavy metal had a really difficult time; and then, in 1999 I felt it was coming back somehow and I did a song for Ronnie James Dio's new album, then he held a release party in New York and I was there and I went to say hi, and he was like "Hey, I like the song so much, it's magical!". And a couple of weeks later we had our record done – I was "Calling The Wild". We were in the middle of an interview with a radio station in Tennessee, and we were talking and they asked if we had any touring plans, I was like "Not yet, but of course we want either to open up for someone or do our own club tour", and then the lady said she was like "What about Ronnie James Dio?", and she was going to interview him in a hour so she suggested us to him! And a couple of weeks later we were on tour together and it was great! The last leg of the tour was in Florida and we always sang the encore together! He went to the monitor guy asking for a second microphone and came on stage. In 1987 I could not speak English that well, so we were just like "Hi, great show", but in 2000 we really got much closer and became really good friends.
In "Raise Your Fist" you had the chance to work with many other musicians. As you said, you collaborated with Gus G from Firewind and Lemmy from Motörhead. How did it feel to work with legendary and new generation artists at the same time?
It's great every time! It was a honour to work with somebody special like Lemmy. He's my hero, I love Lemmy! We played together in the very early 80′s and now we were on tour together two years ago, and it's great. He's very soulful and a total gentleman, a great talker, a great musician. With younger generations, when people love music there's always this common ground. With Alex Krull we always met in Wacken and he suggested that we do something together and his wife Liv Kristine, she was at my 25th Anniversary gig and performed on "Celebrate" along with all those great ladies that met on stage. And we all felt connected then. There is one song on the limited edition called "Strong And Proud" which I wrote to talk about this connection with all the female vocalists. I think it's pretty cool because we're all supporting each other and connected, there is a lot of unity.
An EP was released on August 3rd, to precede the upcoming album. The EP contains four songs and it includes also a French version of the single "Raise Your Fist in the Air". Would you like to talk about the reasons of this choice and about the EP in general?
After I recorded the demo of the song, I played it to some people involved with Wacken. When they heard it they were very enthusiastic about it and wanted me to play it at the festival. It was not finished yet, but they really wanted it, so I was like, ok, I can try. Then I played it and I got a great response. Everybody's fists were in the air. It was the first day and I played it in front of about 50,000 people, they all liked it, so I thought it could be a great single. Then I tried it out a couple of times when I played in Europe, in Moscow, and I also wanted to play it in Lyon, in France. I tried to say something in the native language, so I asked "How do you say 'Raise your fist in the air' in French?" and they told me "Lève Ton Poing Vers Le Ciel" and it was really cool! And then there is another story: one day I was introdued to a girl called Vanessa who really wanted to hear a song in her native language because she only speaks French. On my previous album I recorded several versions of "Herzblut", like in Spanish and in Portuguese, so I also made one in French and I dedicated it to Vanessa. She was really happy! She has two sons and said "When I have a girl, I will call her Doro!", which was really cool! I was very happy! So I decided to do another French version on this album.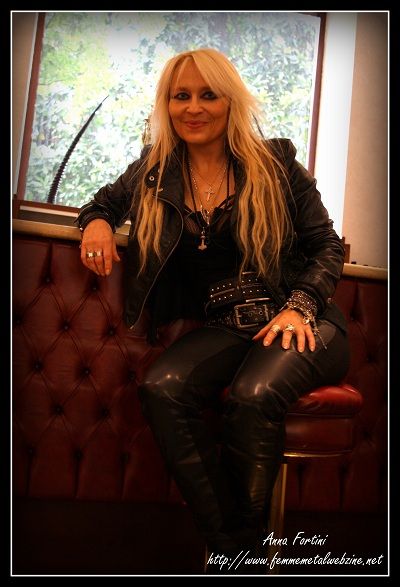 The guitar player on "Raise Your Fist" is Luca Princiotta, an italian musician. How did you meet him?
I met him a couple of years ago. I was in Italy doing a little appearance for Clairvoyance. There I met Luca and I knew he was a great musician. Then joined us for the keyboard when Oliver Palotai was busy touring with Kamelot. We really got along and played many gigs, so he joined in as guitarist for the new album.
You have released also a video for the single "Raise Your Fist in the Air". We know that you love the city of New York, but the video was shooted in the Bronx area. Why did you choose this place and how would you describe this experience?
It was quite an adventure, quite dangerous too! In New York it's very hard to fill in to get a permission and stuff. So we were like, okay, you know what? We just go there with our truck. We go everywhere we want and when the police comes we just get back on our truck and run away! We went all over and then elsewhere too. We went to all kinds of neibourghoods in the Bronx and in Harlem, and while I was singing, suddenly people were coming up to see what we were doing. At a certain point there was like a gang, and we were like, "Oh God, sorry, we were just shooting a little video!", but they liked the song although I think they were more into rap or that kind of music, so we asked them to join us and it was really cool! Everybody came in, we shot under a bridge, there were also some homeless people who showed up as well, even a guy who said he liked jazz but stopped all the same, and my band was in the video too, so… gang members, homeless people of New York, all united by music, it made all of it immediate. It was much fun!
You often play at metal festivals, such as the Wacken Open Air. What do you think about festivals and how is your relation with the fans during these events?
I love playing festivals. My first time playing in Wacken was in 1993 and there were maybe 2000 people. It was very small, just the area where now the bands' dressing rooms are. And since then every four or five years I came back, and a certain point there were 20,000 people and the whole thing was going bigger and bigger. What I love so much was that the organisers of the festival were two die-hard metal fans, because no one wanted to do metal festivals in the early 90′s, so it was a festival from fans to fans, you can still feel it today. And the village near it, everybody is very welcoming to all the metalheads, back then somebody even welcomed us to sleep, which is really great because, you know, all those guys with long hair and tattoos and stuff… So I specially love Wacken, but I also love Gods of Metal, Metalcamp… I love it all, every festival is special in its on way. People from everywhere come and enjoy so much music, you can see all your friends, all those bands, all the fans of other bands, everybody has stuff to do but you can reconnect with the fans.
In 2006 you made your cinematic debut in the film "Anuk". You returned to the set for the second part of this film that will be released at the end of 2013, and it is called "Anuk – The Path of the Warrior". Would you like to talk about this film and the shooting? Is it true that the soundtrack will contains music from the upcoming album?
Yes. The producer is called Luke Gasser. He asked me for the movie and then I did some more music for the film, very different in a way, for there is not only words. We were doing the music together and I just came back for shooting the movie. It was a little more difficult than usual because I also had to do the promotion then go on tour. This is the second part to end "The Path of the Warrior", it's an adventure, the good guys against the bad guys, it's set in 2000 BC. The first movie was a lot of fun! It's an independent movie, the budget is not big, it's just not like a Hollywood budget, but everybody put so much energy in it. It's very demanding, getting up every day in 5 o'clock in the morning, then working hard for 16-18 hours a day, there were 50 horses, many people who did the stunts, I was filming often in the water so I also hoped I would not get ill – but I didn't! On the last record, "I Lay My Head Upon My Sword" was for the movie.
You're on the metal scene since the early 80′s. Is it difficult to hold the crown of Metal Queen for such a long time? What is changed since the beginning of your career?
Well, it's so nice when people have good things to say about you, it makes me so happy! But actually I'm just a normal metalhead. I still love metal, I still love the fans. I just try to make the fans happy, which is the most important thing to me, it's my mission. For so many years it's been great and I owe much to the fans, they always support me in good and in bad times, like when grunge was big in music. I love my fans more than anything and it's my aim in life to make fans happy and to give them something they can believe in and enjoy, give them some positive power. Now, being called a "Metal Queen" is such a big word, I just work each day to make something nice, but it's only me, I still feel like when I started it all, when I was 22. It feels like 6-7 years ago, not certainly like 26 or 27!
Thank you so much for being here and replying our questions. Is there anything else you would like to say to your fans?
Yeah! The most important thing in this world to me, which will never ever change, is my love for them. I'm still there, I'm still giving 100%, and I want to say thank you to all of them! They give me all the energy and all the support, so… thank you so much, it's very important to love each other!
Credit Photos
Exclusive Photos shot by Anna Fortini
Links
MySpace * Facebook * Twitter * Site
Latest Multimedia

Interview by Lindz Riot
And finally after some trouble, including a split and a brand new line up, Crysalys are ready to present their first opera "The Awakening of Gaia" and we can truly conferm that the pheonix is rising again.
Hello Chiara of Crysalys! Thank you so much for doing this Interview with us here at Femme Metal, How are you today?
Hello sweet Lindz ! Thank you for this interview, I've been following this webzine for years and I love it! It's always a pleasure to talk with you. Today I feel fine, despite the fact that I've been literally roasted by the Italian sun! I'm not that much into summer, I have to say… and I have to confess you that I'm anxiously waiting for autumn, when my psyco-physic strengths will come back to life… Hey I hear that too! So how excited are you for the release of your first album "The Awakening of Gaia" this September?
Definitely! Being this our debut album I'm even more excited! I truly hope that Crysalys will be appreciated by all the female fronted metal fans out there. I can't wait for the release day, the recording sessions ended in September 2010, we really can't wait anymore!

Please tell how this album came to be, who recorded it and anything else that is special about its production.
The recording sessions of "The Awakening of Gaia" ended on September 13th, 2010. It happened almost one year ago, but the production involved big names and took a little longer. The album was recorded in Langhirano (here in Italy), at Real Sound Studios. The mixing, instead, was done by Chris Donaldson (The Agonist, Cryptopsy, Beneath the Massacre) in Canada, then the CD moved to Finland and was mastered at Finnvox Studios by Mika Jussila. Travis Smith (Opeth, Katatonia, Anathema and many more..) is the author of the artwork and you'll agree with us when we say that he has done a wonderful work! Composition-wise, the most interesting thing about this album is probably the fact that we wrote it almost without the support of any guitarist. Most of the harmonies were written by Fabio, then Alessandro wrote the guitars and the drums. Less frequently we procedeed vice versa. Fabio and I are definitely the dreamers of the group and it was up to us to think about the concept and write the lyrics. There are some recurrent themes in our lyrics, those we are fond of and those that left their own mark on our life: opera, nature, magic… So the theme of the album is very nature based, why did you choose this theme?
Since I was a child, I've always felt a strong connection with Mother Earth. Nature is the biggest magic on this planet. The name Crysalys itself is obviously inspired by the chrysalis, a symbol of evolution, birth and freedom. Themes related to Earth and magic will always be part of our concepts. Now just let me read you the plot of the apocalyptic fairy tale which our concept album is based on: "The end or the beginning, according to your own point of view, will come under the hits of the loyal first-borns, the Elements. Mankind, deceiving itself to pave the way for its own future and choosing for Mother Earth's destiny, will turn back to dust to become food for a new flourishing nature. The innocence of a little child, Angelica, will quench the Mother's thirst for revenge and purification, and show her that a sparkle of hope and uniqueness is still left in mankind. Eventually men, following their own nature, will certainly miss this new opportunity, and will perpetrate injustice and destruction caused by their greed and their intrinsic need for power and control. However, all these events will make sense if, as a sprouting seed, man will grow the awareness of the beauty of this world, of all the creatures and entities living on the surface and in the depths of the planet. Sometimes we feel attracted by these entities and we even get in touch with them. The Earth itself is a living being and it is even more alive than we all are."
This is a very powerful theme indeed! Now I know this is a very generic question, but how do you describe your band's sound since it is two completely extreme genres?

If the listeners are not really eager to go into it, they could normally define our sound as "symphonic metal", nevertheless we decided to give it a new name: "Post Opera". Opera is a glorious cultural heritage in Italy, it has been part of our cultural and our artistic development since its very beginning. This is one of the greatest influences on this album, especially because of my voice, characterized by the same dramatic nature of the Old Italian operatic school, the verist repertoire in particular. Our sound is actually changing, as we're including characteristic peculiar operatic elements in our musical structures. Therefore the label we chose to describe our genre will be better explained by the next Crysalys full length that we started writing in the last days. Wow you guys are machines! Congrats on already starting your second album! What is the history of Crysalys anyways? How did you all come to meet and decide on your band's sound?
The band was already known for two self-produced EPs, "White Lotus On Acheron' Shores" and "…And Let the Innocence Dream". In 2009 we went through a big line-up change that allowed us to shuffle the cards, understand our strong points and our peculiarities, in order to create something that we could really define "ours" and that could reach a certain kind of audience. A few days later we signed a deal with WormHoleDeath-Dreamcell11/Aural Music to release our debut album.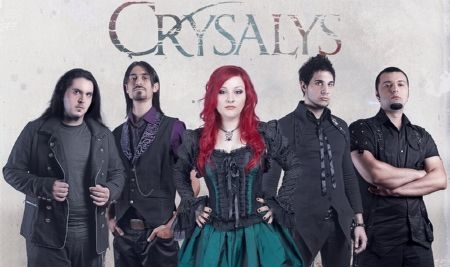 Since the release of your video "The Awakening of Gaia" you have had quite the response, how do you feel about it?
We're so happy that many people liked our work and already noticed that we can offer something that is really ours with "The Awakening of Gaia". We perfectly understand that our music can be misinterpreted at first, since it sounds a bit excessive and nonstandard for the genre. However, I feel totally tranquil to say that whoever is going to listen to the album will experience something new, he'll get in touch with an extremely varied music, perhaps even different from the atmospheres of the first single, but he'll definitely never get bored! As a singer Chiara, obviously your voice didn't happen overnight, what kind of vocal training have you had? How did your vocal journey start and when?
Since I was a child, I've always loved singing, but actually I only started studying modern singing at the age of 18, in a private school. A few years later, encouraged by my vocal coach and some experts who discovered a natural talent in me, I started studying opera. To be honest, I started taking it seriously in autumn 2008, when I met my current teacher in Florence, the capital of the Italian melodrama and the city that gave birth to the genre of opera. I made my debut on April 10th 2011 with Gluck's "Orpheus and Eurydice", playing the role of Eurydice. Last year I enrolled at the music academy. I would like to underline the fact that, only when I started singing and experimenting vocals with Crysalys I realized that my operatic voice was kind of natural. I followed the opposite path compared to common opera singers… I have to say you have such a strong and beautiful voice! I'm sure you make your teachers and your country's heritage proud

So how have been some of your vocal influences from classical and main stream?
You're always so nice with me Lindsay… you're really making me blush! My teacher always pushes me to study, even for the sake of my band, she encourages me to have no limits, which is something rare among young students and opera singers. The female voices that influenced my life in a way or another were (in chronological order): Christina Aguilera (I'm not going to hide the fact that she was my very first inspiration, I was 16 and I couldn't do anything but singing her songs along, I started studying modern singing afterwards), Tori Amos (who's still my favourite artist and muse). Then came Tarja Turunen and it was thanks to her and Nightwish that I discovered my real voice. My favourite opera singers are the divine Maria Callas (my guardian angel and the one who always moves me to tears) and other talented sopranos that I take as models such as Ghena Dimotrova, Monsterrat Caballé and, among the younger ladies, Anna Netrebko and Diana Damrau.

Speaking of influences, are there any bands in particular that inspire Crysalys as a whole?
As you can imagine, each one of us has a different taste and we don't have that much in common. Fabio could be Michael Jackson's number one fan, Alessandro has always been a big fan of Nevermore and Dark Tranquillity, Giuseppe even loves 30 Seconds To Mars! I grew up with Tori Amos, Cradle of Filth and Nightwish… It might happen, while listening to our music that you don't find anything of these bands, and this is the point: every influence or inspiration always gets filtered through our rules and must be coherent with the style and the message of our band
So after your release, what do you and Crysalys have planned for the next while?
The first step to promote the album will be the organization of a tour. I think our music gives much more impact when played live. The naturalness of expressions, passion and body language are fundamental elements to communicate with myself through singing. At the moment we're already considering a few places to perform, and all I can say is that Italy is not the most popular country on our list. We're also writing material for the new album and I'm already excited for the direction we're taking, as well for the musical and graphic concept that is coming out…
What is your ultimate dream for the band? Do you guys have an ultimate goal you are planning to aim for in the long run?

Being a dreamer, I would like Crysalys to become and remain an important name in the genre, one of those groups that the new generations still appreciate and listen to. For the time being, going on day by day, I hope that this adventure can last as long as possible, since we have to face a lot of difficulties, renounces and sacrifices along the way.
Well after listening to your album I have no doubts at all in regards to that! So for my last question: Outside of singing and music, what do you do for fun or as hobbies?
I love cinema and literature, I like fantasy, medieval-inspired and occult books. I like relaxing at night (when it is possible), while reading enchanted tales under the stars, smelling incense and having my boyfriend by my side. Even though it's been a long time since my last trip, I like travelling, especially in Northern countries, among haunted castles, star-crossed lovers, secret forests and magical legends…
Well thanks so much for your time Chiara, it's been a pleasure getting to know you and we at Femme Metal wish you all the best with "The Awakening of Gaia" ?
Thank you dear "Apple Sister" Lindz (http://www.facebook.com/evesapple), it was a really nice interview, both because I have a soft spot for this webzine and because I had the pleasure to be interviewed by you! I take the chance to say hello to all Femme Metal readers and Female Fronted Metal lovers, don't forget that our debut album "The Awakening of Gaia" is coming out on September 23rd via Wormholedeath-Dreamcell11/Aural Music!
Photo Credit
Chiara's photo by Daniele Tedeschi
Band Photo by Osea Costantini
Links
Latest Multimedia
Label : Wormhole Death/Aural Music
Review by Tony Cannella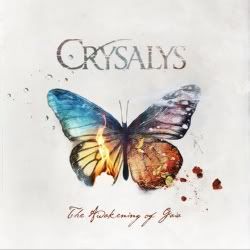 Italy's power, operatic metal band Crysalys released their debut EP "White Lotus on Acheron Shores" in 2007, it has been a long time in coming, but the band has finally released their debut full-length "The Awakening of Gaia". The album opens on a definite high note with the excellent title track. "The Awakening of Gaia" is a great way to open the album and is hands down one of the strongest tracks that Crysalys has to offer. The band has also made a video for the song, which you can view at all of the usual outlets (YouTube, etc., etc.). The main focus of Crysalys is based around the ultra-operatic (and some would say over-the-top) vocals of Chiara Malvestiti. Sure, some may be turned off by her approach, but there is no denying the passion and energy she puts into the songs. In addition to Chiara, Crysalys is made up of a stellar group of musicians, who each adds their own personal touch to the proceedings. The next track "Butterfly Effect" starts off with a slow tempo before the band comes in and the song transforms into a beautiful melodic mid-tempo number and Chiara's vocals are really fantastic on this one. This would make a great choice for a second video, in my opinion. "Angelica" starts off with a sweet intro before the heavy guitars comes crashing in, this song has a mournful melody and vibe and certainly is another worthy highlight. The tempo speeds up significantly for the next track "Scarlet Crusade". Other highlights include: "By Stars Revealed", "My Will Be Done", "Lilium" and "…and Let the Innocent Dream". The final tally is 10-songs and 45-minutes worth of energetic, impassioned music from Crysalys. "The Awakening of Gaia" is definitely an album that was worth the wait.

Rating – 85/100
Tracklist
The Awakening of Gaia

Butterfly Effect

Angelica

Scarlet Crusade

By Stars Revealed

My Will Be Done

When Sirens Sing

Time For Vultures

Lilium

…and Let the Innocent Dream
Line Up
Chiara Malvestiti – Vocals

Lorenzo Marcelloni – Guitars

Fabio Amurri – Keyboards

Giuseppe Cardinali – Bass

Alessandro Camela – Drums
Links
MySpace * ReverbNation * Facebook * Site
6 color styles available:

Style switcher only on this demo version. Theme styles can be changed from Options page.