Browsing articles tagged with " game"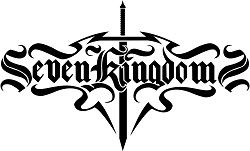 Interview by Alessandra Cognetta
Seven Kingdoms hail from the US and bring us into the world of George R. R. Martin's works by the means of female-fronted power metal. With three albums released (their latest effort "The Fire Is Mine" included) and a tour with Blind Guardian, we took the chance to have another chat with frontwoman Sabrina Valentine about the band, women in metal, the Eve's Apple community and Game of Thrones.
Hello and welcome to Femme Metal, Sabrina! It's a pleasure to have you with us again. How are you and how's it going with Seven Kingdoms?
Well Hello! Thank you for having us back!! I am great, Just back from my first over sea's experience at Female Metal Voices Fest! Me and my Band brothers are well, just waiting to see what comes from the release of our Latest album "The Fire is Mine".
A consistent part of your music and lyrical themes was influenced by George R.R. Martin's works. How much did you actually take from his books and how much (and in which direction) developed on its own "inside" Seven Kingdoms?
Well, on our new album "The Fire Is Mine", we dedicated 3 songs and 2 audio/narrative pieces to the book series. Mostly the songs lyrical content are written to fit the music, because the music is the what makes you think about the emotion we are trying to portray. The rest of the songs on our album were stories that we wrote as a group or on our own.
How was it, touring with no other than Blind Guardian? And how did the two bands get in contact in the first place?
Touring with Blind Guardian was the best moment we as a band have ever experienced. What better way to learn, than to be taught by the forefathers of Metal? They are a group of the most professional and down to earth men I have ever had the pleasure of knowing. Camden and Claus (our Manager at Intromental management) had tried to work something out for us to go overseas and tour with Blind Guardian but being a fresh new band, the financial backing was not there. Camden was determined, so they both discussed if they would be coming to America. It was half the cost to do it on our own territory and more feasible. We applied and Thanks be to the Gods, we were chosen.
Interview by Luisa Mercier

It was on 2006 that we heard news, for the last time, about Bill Leeb's electronic pop project Delerium. After that nothing. But with 2012, after 6 years of silence, Delirium reappears in the music business with the fourteenth album called "Music Box Opera" and since I have always been a great Delerium fan, so it was a great pleasure to have this exclusive interview from Bill.

It's been a long time since "Nuages du Monde". How does "Music Box Opera" connect with the past and how does it differ from it?
The concept is still the same, we are trying to create ethereal electronic pop music. Having said that, a lot has changed in the world and with all of us so there's definitely a growing scenario going on with all the people involved… More specifically would be that we've come along way in writing, producing and programming and our tastes have changed… We've all matured and we've evolved and we tend to think that it comes out in the music.

There are some new entries among the singers, together with already known voices like Kristy Thirsk. How and why did you choose the new ones?
With every record we try to evolve and bring new flavours into the mix, we usually make a list of potential singers we want to work with. We then reach out to them and through attrition and luck we end up with people we respect and want to contribute to the album. It's definitely a lengthy task cause a lot of people have busy careers and lives so sometimes these things take much longer than anticipated. That's why its also been 6 years been albums, good things take time.

Am I wrong or the sound is more electronic? What audience do you expect to reach in the music business overcrowded by mainstream acts?
No, we've definitely put away all the organic instruments and have gone for a really electronic feel this time. More programming, no acoustic guitars or anything. We thought it was really time to change it up and go down the electronic road, which is kind of where Delerium started from anyways, we like things to be really tweeky now and since technology has so much to offer now we try to expand our horizons.

Have you ever felt so hopeless towards music scene as to want ro give up everything and just go back to a normal kind of life?
No, being an artist is something that picks you, you don'y really pick it. I think all artists are tortured souls, whether they are successful or not because how does one measure success. Is it done through the amount of status you have versus how much wealth you obtain? Or is it just trying to be a pure creative genius who's simply putting forth something you think the world needs to see or hear. It's a never ending journey, you could ask any artist of any genre and they will all tell you pretty much the same thing. No piece of art is ever perfect or complete, you go on forever striving for that perfect song even though in the back of your mind you know it's unreachable, which keeps you going. As far as normal goes, I don't think anybody lives a normal state, the world is a pretty complicated place.

On an happier note, is there still something you have not tried and you would like to do -music related – in the future?
I would definitely like to score a major motion picture with a real budget that is very artistic and off the beat and track. This is something that has always eluded me and kept my curiosity, I keep hoping that this will be the one thing will still come to fruition down the road. We just finished our second video game soundtrack for a game called AirMech with Front Line Assembly so we are interested to see how that will pan out and where it will lead.

Future project? Touring?
Touring has become a very insidious proposition because it seems like it's hard to put the show together that you want, and putting something out there that is less than 100 % of your idea and vision feels like you are not reaching your full potential for your audience to see. Everybody tells you now day to go out, lofi, low cost, literally get in a van and tour but is there really a point to that? Will that actually help sell records these days? This is a question the band always talks and thinks about, so at this point we are pretty undecided what the future of live shows will be at this moment in time. Having said that, if the feedback merits it and there is a real demand we will obvious give it a rethink and possibly hit the road and do some shows.
Links
Latest Multimedia
Interview by Roberta Ilaria Rossi
Pythia is one of the most famous British metal band and they come back in this 2012 with a new record for Golden Axe Records, called "The Serpent's Curse". We had the chance to exchange some little words with the amazing vocalist Emily Alice Ovenden and that's what she said to us!
Hi Emily, welcome to Femme Metal. Your new album, "The Serpent's Curse", will be released very soon. Would you like to share something with us?
"The Serpent's Curse" is brilliant! Buy it if you haven't yet!
In December, you released the single "Betray My Heart" and you also did a video clip for it. Why have you chosen this single to launch this new album?
We just felt it was the most immediate track and a good taster for the rest of the album. While I think there's plenty of variety on the album, this was as representative of the album as a whole as any of the songs on there. It was definitely a good choice as it's proved to be a big hit with fans live.
After the video, you streamed two more songs: "Just a Lie" e "Heartless", both taken from the new record. What can you tell us about those?
Those again felt like some of the catchier tracks on the album and seemed the right choice to get out there. They were our choices for tracks for the Rock Band game and as they were being made available that way, it made sense to stream them. They're also two of the fastest songs we've ever written so should be a challenge for people to perfect on Rock Band.
The album will be out on Feb 27th, via Golden Axe Records, who previously have released your debut album, "Beneath the Veiled Embrace". Have you had the chance to see (and to read) something from the critics and the press itself? If so, what was their reaction?
We've seen a number of reviews and so far the feedback has been overwhelmingly positive. Thankfully, most of the critics seem to be getting what the band is all about and enjoying how catchy some of it is but also finding out the layering and subtlety that we've put into the song writing. I'm also glad to read a lot of good feedback on my lyrics which I really put a lot into on this album and it's the best compliment to hear that people are really latching on to that.
Do you think that this album will be appreciated by Pythia fans?
We hope so! At this point, the album has now been released and it sounds as though the fans are really digging it. Without wishing to blow our own trumpet, I've heard nothing but positive feedback from the existing fans. And I think we've also picked up a few more fans since the album's release, which is just fantastic.
The artwork immediately caught my attention. Who created it?
It was done by a very well-known British artist called Brian Froud. I'm really lucky to have known Brian for a long time, since I was very young in fact and he was really up for doing the cover for us. He came up with a fantastic idea straight off the bat and was really open to our suggestions, leading to the final artwork we used on the album. I should also mention Gurdish Haugsdal who came up with the sleeve and inlay design, using Brian's artwork. Again, Gurdish did an amazing job of bringing our ideas to life so the end result was exactly what we were hoping for.
Where did the idea for the album title "The Serpent's Curse" come from?
It's a reference to the snake in the Garden of Eden, as well as retaining the serpentine theme of the name Pythia. One of the recurring themes of the lyrics on the album is the stand-off between Darwinism and the idea of Creation, so I suppose it's almost posed as a question to the listener – you decide!
If you were to define this new output with a word or an adjective, or even "a feeling", which word would you use to describe it ?
Metal!
Having given the album a quick, I felt I could hear it being influence by the Nightwish album "Oceanborn" album, mainly on the track "Cry of Our Nation". It seems like that maybe because of the keyboards who seem very "symphonic-oriented" or perhaps it is due to the hard and powerful guitars. Do you personally agree with this statement?
I don't think it's directly influenced, as none of us really listen to Nightwish or certainly haven't for a long time. As a metal band with a female singer we have unavoidably drawn those comparisons to Nightwish, so I guess we're closer to that earlier period of the band that was a bit thrashier – or so I've been told! I think if anything, we probably drew from the same influences that Nightwish did, so possibly that's why there are parallels.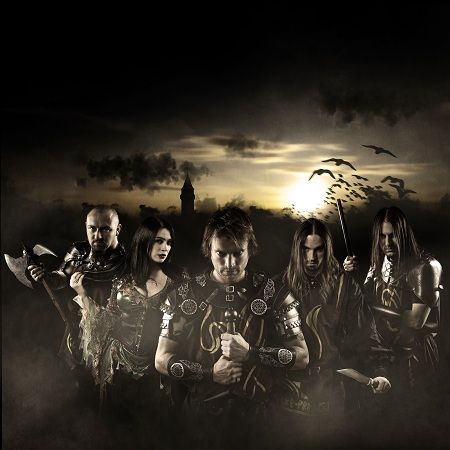 The record is quite multifaceted and quite catchy, sometimes it sounds like symphonic metal, but the thing that impressed me the most was the lyrical side of it. I know that write most of the lyrics for Pythia. What can you tell us about them? How's writing process been, where did the inspiration to write such lyrics come from?
I wrote all the lyrics and it's great to hear that they've come across well and people are enjoying them! I put quite a lot into them emotionally and in some ways it was almost a channelling process and I went to some very personal places with the lyrics. Really it all comes from my own experiences in life, love, relationships etc. As I mentioned before, there are also some philosophical questions in there, but again they come from my own personal perspective and view on the world.
Pythia is considered a metal band, even if I think personally that you're more gothic-classical oriented. Do you agree with this?
I think we are definitely a metal band at our core. The drums and guitars are unmistakably metal, particularly on the new album and I think it's something we're unashamedly proud of. As for the gothic and classical influences, those are also really important parts of our sound, but I think those are more closely tied to metal than a lot of people think. If someone like Beethoven had been alive today, I think he probably would have been writing metal as there are a lot of similarities in the virtuosity of the musicianship and the complexity and layering of the composition. As a lifelong fan of gothic literature, I think the gothic influence is also valid as I think, even sub-consciously, it influences my melodies and lyrics, at least.
Emily, I know that you also sing in Mediæval Bæbes and Celtic Legend. How do you manage to reconcile all your work commitments?
I only sleep 30 minutes a night! My secret is out! Seriously, it is hard work, particularly with now being a mother, but I think if you have the passion and enthusiasm for things, which I certainly do, then you make it all work and fit together. There's also the thing at the back of my mind that my voice isn't going to last forever so I want to make the most of it while I can!
You use an operatic singing style. What kind of vocal training did you have?
I started singing at a very early age and was very fortunate to go to a specialist music school when I was a teenager.
I know that this year you will play in London and as well as in Cardiff, along with Serenity. What do you think of this Austrian band?
They're a great bunch of guys and are deservedly making a name for themselves in Europe and over hear. Hopefully these shows should help them raise their profile further. I think what they're doing is very accessible but subtly different to a lot of 'power metal bands' in that they have a higher level of musicianship and a complexity in their songs that gives them an extra depth. A couple of the guys in Serenity actually collaborated with the Pythia boys on a charity concert in memory of Marc Dyos' brother Vincent, who sadly passed away in 2009.
What is your own relationship with the music you make and the stage?
As I mentioned before, I put a lot of personal emotion and energy into the lyrics, so I think I have a very close relationship with my music. As for the stage, it's really important to me to be able to perform my music as, while I think you can get a lot from listening on a CD or digital copy, you can only really feel the true energy of the music if you get to see it performed live.
I know that in 2010 you also played in Belgium, for an important festival called Metal Female Voices Fest, that has the only purpose to promote fronted female metal bands. Would you like to share something about this experience with us? How was it for you playing live in front of so many people that were coming for you from all over the world?
It was incredible! A really great experience and one that I hope we can repeat at some point in the future. It's a really well organised and put together festival and deservedly attracts a big, international crowd. It was amazing being able to interact with people from all over as well as share the stage with some great bands.
What do you think of fronted female metal genre? Is there any artist or band you like the most?
Apart from Pythia? Seriously, I don't really see it as a genre, as most of the bands that are classified as female-fronted metal sound completely different to each other. Aesthetically they may have similarities, but sonically Nightwish sound to me really different to Leaves' Eyes or Stream of Passion. And then I think we sound totally different to, say, Unexpected. I think the good thing about it being considered a genre is that it means people get to hear all sorts of different styles without maybe realising it. Hopefully they then go out and check out other bands in that genre, female-fronted or otherwise.
Your album will be released in Europe very soon. Is there something you would like to do after the promotion for the new record? Any hidden fantasy or dream?
Plenty of hidden fantasies, though none I'm going to share here

I'm hoping we get the chance to do more shows in Europe and spread the name around more. We've got a distribution deal in Japan so it would be dream come true if we got the chance to play out there at some point.
Are you going to go on a European tour soon? What future is in store for Pythia?
There are some things in the pipeline, but nothing that we can announce yet. Watch this space!
Thanks so much for the nice chat, Emily. Good luck with the band! Anything you'd like to say to your fans and our FM readers?
Check out "The Serpent's Curse" if you haven't already! See you on the road in the not too distant future…
Links
MySpace * ReverbNation * Facebook * Twitter * Site
Latest Multimedia
Interview by Si Smith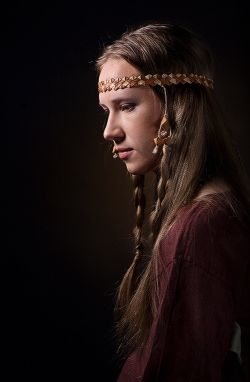 Arkona are probably one of the best known Russian folk metal bands and a new release is always hotly anticipated. While we wait for a new album, an EP has been released recently containing a variety of tracks that explore the various inspirations for the band and provide us with a bit more metal to dance and mosh to. I spoke to Masha Scream to ask her about the new EP and the band in general.
First of all, welcome to Femme Metal webzine, it is great to speak with you today. It's no secret that the roots to the band Arkona began in the pagan community "Vyatichi" – are you guys still members and how is the community these days?
The Pagan community appeared when Arkona was created and with other people. Now members of our band are not taking part in any community.
All these years on from your formation in 2002, are you still discovering new and exciting lyrical material in the ancient national beliefs and history of Slavonic Russia, or do you think this kind of material limits you as a band?
We are not just a musical band. In Arkona I'm explaining my worldview to people and I create the music as my soul wants it.We are known as a diverse band, I always make a lot of experiments, developing in the arrangements. Every time I use something new in my songs, so nothing is limiting me.
In 2004 the first LP "Vozrozhdenie" was recorded without even a single rehearsal – I gather that things are very different now from how they were at the beginning, seeing as there are now so many orchestrations and ethnic instruments involved also…..have things changed that much since then? Is there anything about those times that you miss?
Old albums are still loved by me and the most of listeners. Some fans even believe that our first works much better than our next, because it has its own individual atmosphere and tells about the life that I had before. All that I have done – was done sincerely, and it's the most important thing!
Many speak of your "irrepressible creativity" which always pushes you on to cover new ground with the band – what would you say are the things that drive you personally? What really inspires you?
I'm inspired by life and all depends on the situation around me. Every my song is an emotional flash or pain about something.
Signing with Napalm Records must have been a high point of your careers – as time goes on are they still the best place for you to be? In what ways do they help you as a band?
Yes, we are fully satisfied of working with Napalm Records! We are really getting the biggest support in promotion and many other things. It's very important when band and label are working and developing together, and the same time – we are a help to each other.
You are well known as an active live band, as shown by your recent live DVD. Heidenfest kicks off in late September this year, billing you alongside Finntroll, Turisas and others. What are the keys to maintaining your artistic integrity as a live band would you say? Are there any particular live events you are looking forward to this year?
We never sit in one place. Always we're in movement: making albums, playing shows. The number of shows has started to grow. Of course, we are spending a lot of time on tours and every show for us is a part of every day life. The shows, which I waited for, is already in the past, but all of us so much like to play live, so we are waiting for every show!
On May "Stenka na Stenku" is released to the public. What are your hopes for this release?
EP is already released, so all hopes are come true! Some people like the EP, some don't like but it must be like that! So, all is going normal!
The new (title) track from the album is a traditional style folk romp through two and a half minutes. For our non-Russian readers, would you like to tell us the inspiration behind this delightful track?
This song is called "Stenka na Stenku" and it will be on new album. "Stenka na Stenku" translated means "Wall on Wall" – it's a ancient Slavic men's fun, it can consist of any number of people of different ages. They were formed in 2 groups (walls). They stay face to face and start a friendly fist-fight. In ancient times it made strong warriors from men. It is something similar to the "Wall of death" . I was inspired by the idea of a Slavic celebration "Perunov Den'".The music, which I made first, fit the atmosphere of this celebration.
In "Valenki" the pace is picked up quite a bit alongside some pretty emotional vocals from yourself as well as hearty "gang vocals". Once again traditional rhythms win through – is this still where the band's strengths lie do you think, or will you be experimenting more in the future?
This song is a Russian national song, we just recorded a metal cover of it. In any case this song is not showing a further way of development of our band, because we always bring in the music something new. I just saw an arrangement of this song as you can hear it on the EP.
"Goi Rode Goi" has become quite an recognisable anthem for the band recently, accompanied as it was by the dynamic promotional video. Your acoustic treatment on this EP certainly takes it into new territory. What is it about this song that made it such a good candidate for reworking? Are there any other classics we will see reworked soon?
We use this version of song before recording on acoustic show of Arkona in Moscow. Then we decided to record it, because, in my opinion, it's the most successful from all our acoustic program. Yes, we plan in future to record a full acoustic album with new and old songs, but still it is only in the plans.
"Skal"
features Freki from Varg as guest musician – how did Freki get involved with this project?
We were on tour with Varg last year and this song was our "drinking song"! Later we decided to realize it and show friendship of Russian and German people. I think – we made it not bad ?
Your final two tracks on the CD are covers of slightly more melancholy tracks which show off your diversity as artists. Why were these tracks and these bands particularly chosen (Svarga and Shaman)? Do you have any guidelines in mind when interpreting other bands' songs?
Both bands I respect a lot and I show them my respect with these cover versions.
As most of this release is taken up with non-album tracks, what can we expect from the new album? Any secrets you can reveal?!?
Now, I will not tell about all the secrets of the new album, because you will hear it very soon. I will tell you just that this album is my favorite and it is the most strong album of all our history.
It appears that ardent fans always lap up this kind of release, with acoustic versions and covers, as they provide unique views of bands we have already come to know and love. How important are your fans to you, and have you any special message for diehard fans that may be reading this interview now?
Not all people understand me and my songs, but those who can do it – really great people! So stay the same and listen to your heart!
Finally, at this point in your career when you look back do you have any regrets? Or advice for people also pursuing their dream to be in a folk metal band?
"Regret is a sin" – the words of one famous band. You don't need to regret about what you have done because it's part of your life and also part of you. You just need to remember your mistakes and to not make them again in the future
!.
It only leaves me to say thank you to you for giving us of your time. We wish Arkona all success in the future with this and the new album.
Links
Latest Multimedia
6 color styles available:

Style switcher only on this demo version. Theme styles can be changed from Options page.