Browsing articles tagged with " gathering"

Questions by Ed MacLaren
Collected by Edoardo Fiumi
Dutch singer Anneke van Giersbergen is never one to rest on her musical laurels. Since leaving The Gathering in 2007, she has been tearing up recording studios on three continents releasing a string of successful albums with Agua de Annique and as a solo artist – not to mention the lengthy list of incredibly diverse musical collaborations. The constant recording and touring to an ever expanding audience around the world is great news for her fans, and thankfully it shows no signs of slowing down. One of the truly unique voices in music, van Giersbergen is looking to break out big with her new album, "Drive". A heavy power pop album brimming with hooks, riffs and stellar vocals, "Drive" achieves the perfect balance with her metal roots and her ever-expanding musical palette. Femme Metal got a chance to talk to the groundbreaking singer during sound check on her most recent swing through Italy.
Continue reading »

Interview by Grace Méridian, Kassandra Novell & Lindsay Schoolcraft
Video by Mary Zimmer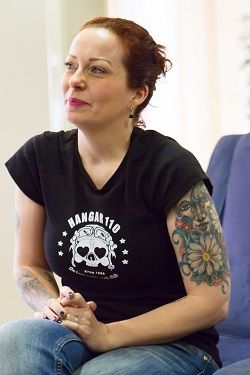 Here what we present you is a special interview done by the Eve's Apple (Don't you know what is? Just take a peek

here

!) members Grace Méridan (

Lifeaftergod

), Kassandra Novell, 

Lindsay Schoolcraft

 & Mary Zimmer (

Luna Mortis

). First of all I thank the girls for this awesome interview and if you wanna enjoy the video experience, please check out

here

but we must warn we that there's a little mistake that we cannot fix, we hope you like it the same.
Then we come to the special guest – we're talking about Anneke Van Giersbergen. The fantastic Dutch singer, after her departure from The Gathering, has slowly built a solo career with her 5 albums. The girls interviewed Anneke during her short trip in US, on March in Chicago. Beside the girls, I want to personally thank Mr.Rob Snijders for helping us setting this interview up. Well, after this short intro it's time to read the interview, so enjoy it!
Grace: I'm Grace Meridan and we're here interview Anneke van Giersbergen for Femme Metal and Eve's Apple. So, Hi Anneke, pleased to meet you. Continue reading »
Interview by Alessandra Cognetta
Here we are for another feature from overseas in our series of interviews with female-fronted Japanese bands. This time we move from Tokyo to the south of the country, specifically Osaka. Shiori is the lead singer of Eleanor, a gothic/melancholic metal band that will surely remind you of the Dutch act The Gathering. But there's much more than that in their music and we had Shiori as our guide to get to know more about Eleanor and their latest release, "Breathe Life Into The Essence", with in-depth analysis of the songs, the emotions the cultural influences and the people behind the music. You only have to scroll down and read!
Hello and welcome to Femme Metal, Shiori! We're glad to have another Japanese band on our webzine. So, how are you and how's Eleanor doing right now? Your latest album, "Breathe Life Into The Essence", has been released not long ago, what feedback did you get from the press and from your fans?
Hello. I'm the singer of Eleanor, Shiori. Thank you for the opportunity, and I would like to express my feelings of honor at being interviewed. As for the new album, we have been introduced by magazine reviews, radio programs etc., and through various sources of media we have been receiving favorable receptions from not only our fans, but also listeners who have never heard of us before, and I feel very happy about this. It could be due to the fact that before the release we posted free test plays from the album, and made the PV accessible, so that as many people as possible would have the chance to know a little bit about us.
"Breathe Life Into The Essence" comes four years after the release of your first album. What happened in these four years and how did this long pause away from studio recordings help or improve your relationship with songwriting?
The making of the second album began from the act of first putting a stop to the currentof our activities, and taking a second look into ourselves. The songs on the second album I think have increased in scale, compared to before. We do call ourselves a melancholic gothic metal band, but many songs take a widely altered course from what would be expected from the gothic metal genre. If we had not stopped the flow after the release of the first, we most possibly might have ended up making an album on the same track as before. Continue reading »
Label : Inner Wound Recordings
Review by Tony Cannella
From Brazil, the band Vandroya has existed since 2001. They released their debut 2-song demo "Within Shadows" in 2005 and have finally returned with their power metal extravaganza of a debut full-length entitled, "One". Lead vocalist Daisa Munhoz can already be heard on the last Soulspell offering "Hollow's Gathering" and on "One" she proves to be one of the best voices in the power metal genre.
"All Becomes One" is the ominous intro track that leads us into power metal masterpiece "The Last Free Land". The musicianship is up-tempo and lead vocalist Daisa Munhoz's vocals are remarkable as they soar right along with the music. In an age when so many female fronted metal is dominated by operatic vocals and extreme vocals (not that there is anything wrong with that), it is refreshing to hear someone who just goes out there and sings in a power metal style. One of the songs that stood out for me is the stirring ballad "Why Should We Say Goodbye?" which is just phenomenal. Continue reading »
Label : Inner Wound Recordings
Review by Tony Cannella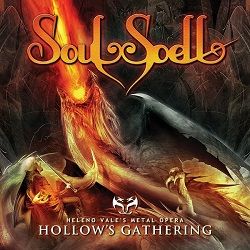 Soulspell is the all-star metal opera brainchild of Brazilian drummer Heleno Vale. The project got off the ground in 2007 with "Soulspell" an album that represented part I in the metal opera. It was soon after followed by Part II called "The Labyrinth of Truths". Now this all star metal project is back with Part III "Hollow's Gathering".
First of all Heleno Vale has done a great job in assembling some hugely talented musicians for "Hollow's Gathering" as he has on the previous albums. Next are the lyrics. You can check out the story on the official web site, but Heleno has written an incredibly detailed and complex story with each singer/musician playing a part. Third and most important is the songs. "Hollow's Gathering" had me wanting to listen again and again. The songs are well written and range from pounding classic metal style numbers, prog, ballads, power metal and symphonic metal. Starting with the 9-minute title song, this really is an album that is unrelenting –several singers can be heard on this monstrous opener. Continue reading »
6 color styles available:

Style switcher only on this demo version. Theme styles can be changed from Options page.