Browsing articles tagged with " george"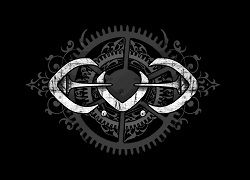 Interview by Matteo Bussotti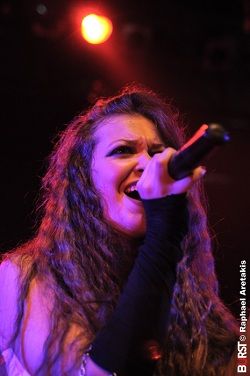 It is quite an unusual thing to have a band from Greece, but, let me say this: if all the bands from Greece are like E.V.E, I'll certainly listen to more Greek music from now on! E.V.E.'s lyrics are really deep and beautiful, and their sound is unique, special. Their goal is to share a message, a vision about contemporary world. We asked their singer and founder, Vicky, what's the idea at the base of this band, and what Greece has to offer to the world's musical landscape. Needless to say, her answers were complete, meaningful, and really interesting to read.
So, let's start this interview!
Hello Vicky, and welcome to Femme Metal! We are very proud of having you here! First of all: you started the E.V.E. project with the intention of speaking about modern society, people and their interactions, don't you? Why did you feel this need? Can you recall a moment, an event which triggered your determination to create E.V.E.?
Hello Matteo, thank you for the interview. I'm more than happy to answer your questions. The whole idea regarding the main concept of E.V.E. was something that progressed throughout the last 3-4 years. Why modern society and human interactions, you ask? Simply because the need to write about every intriguing event that I've witnessed is like an instinct to me. Especially, during the latest happenings in Greece, and many other countries as well. It's not easy to turn your back on them and pretend that we live in fairytale world.
I think that your band's name is a very peculiar one! Equations Vanquish Equality…what is the story behind that? Were there maybe some other names that you had to choose from?
Good question. To tell you the truth I was trying to find a proper name for the project for over a year. It's difficult to reflect your music's content in just 2-3 words. In the end, I decided that I'd prefer a one-word abbreviation as its name. So once the word EVE came to mind, almost instantly the 3 words "Equations Vanquish Equality" completed the puzzle.
As for what they stand for, it is indeed peculiar and complex. For me, the word "Equations" is connected to technological and scientific progress. Without mathematical equations none of these would have been achieved. The following words, "Vanquish Equality" describe the other side of the matter: even though progress is greatly valued the means in which it's acquired sometimes damage humanity itself, bringing an imbalance to the world. Overall though, I really think that it's a personal matter seeing that many people have given me their own valid interpretation. Continue reading »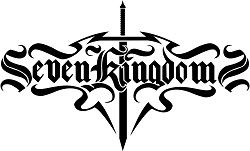 Interview by Alessandra Cognetta
Seven Kingdoms hail from the US and bring us into the world of George R. R. Martin's works by the means of female-fronted power metal. With three albums released (their latest effort "The Fire Is Mine" included) and a tour with Blind Guardian, we took the chance to have another chat with frontwoman Sabrina Valentine about the band, women in metal, the Eve's Apple community and Game of Thrones.
Hello and welcome to Femme Metal, Sabrina! It's a pleasure to have you with us again. How are you and how's it going with Seven Kingdoms?
Well Hello! Thank you for having us back!! I am great, Just back from my first over sea's experience at Female Metal Voices Fest! Me and my Band brothers are well, just waiting to see what comes from the release of our Latest album "The Fire is Mine".
A consistent part of your music and lyrical themes was influenced by George R.R. Martin's works. How much did you actually take from his books and how much (and in which direction) developed on its own "inside" Seven Kingdoms?
Well, on our new album "The Fire Is Mine", we dedicated 3 songs and 2 audio/narrative pieces to the book series. Mostly the songs lyrical content are written to fit the music, because the music is the what makes you think about the emotion we are trying to portray. The rest of the songs on our album were stories that we wrote as a group or on our own.
How was it, touring with no other than Blind Guardian? And how did the two bands get in contact in the first place?
Touring with Blind Guardian was the best moment we as a band have ever experienced. What better way to learn, than to be taught by the forefathers of Metal? They are a group of the most professional and down to earth men I have ever had the pleasure of knowing. Camden and Claus (our Manager at Intromental management) had tried to work something out for us to go overseas and tour with Blind Guardian but being a fresh new band, the financial backing was not there. Camden was determined, so they both discussed if they would be coming to America. It was half the cost to do it on our own territory and more feasible. We applied and Thanks be to the Gods, we were chosen.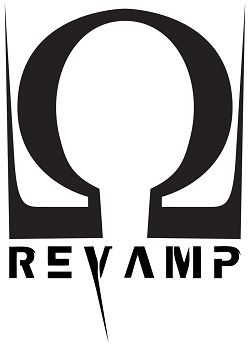 Interview by Miriam C.
Transcription by Tony Cannella
Interview Floor Jansen it's one of my countless dream that I've fullfilled, it was fantastic know that her she's back with ReVamp but at the same time it was hard to ask for me ask some questions about After Forever, I've felt, during the interview, her rage talking about Transmission Records and as a fan and chief editor I feel very sorry for this bad story. In the end she was very happy to talk with our webzine. I want say only one thing before you start to read the interview, for all you After Forever fans overthere : Floor has told us (better had begged me) not to buy the new re-release of "Prison Of Desire" because this release it's practically illegal or better not officially recognized by the band.
Your first album, with Revamp is available from the 26th of May and the first album of your come back since the After Forever split. What was the genesis of this album and what was the right moment when you realized it was the right time to begin this new adventure?
After Forever stopped a year ago now, over a year ago, in the beginning of 2009. I did need some time to sort of mourn that, I was very sad that we stopped. I didn't want to stop making metal, I did need some time to recover and to think what was next because I studied a lot of different styles, I like a lot of different styles. I had so many amazing reactions from all over the world, asking, "okay, what are you going to do now ?", that gave me a lot of strength and energy to start working on Revamp, which was April or May of last year, I am very proud that within a year I managed to get from a concept and an idea to an actual release.
I read through Twitter that you were ill?
Yes, I was. It was nothing serious actually, it was just a lump in my throat – not a very pretty story – so I wasn't really sick, there was just a little thing in my throat that disabled me to sing. I sounded horrible, I sounded as if I would never sing again. It sounded but it didn't feel bad. I really doubted if I'd be able to sing again. It took over the weekend for me to get back, I don't even have my full voice back now, I'm just trying to shut up as much as I can (laughs) and take it easy, live healthy and then I'll be fine on Friday. Yeah, it's one of those things that when you work hard, your body becomes tired, it loses its resistance, and then all of a sudden, there you are. If I was doing anything other than being a singer then I would have no problem.
Good luck for the release party with the Red Limo String Quartet.
Yeah, I'm so happy they are joining. I really wanted this evening to be special and so many people had a positive response to the shows that I did with them before even though they were After Forever songs, I'm very sure people will appreciate it.
I know that's hard to talk about and I can understand if you don't want to answer questions about After Forever anymore.
No it's okay, I mean for 13 years it was part of my life and part of the reason why Revamp can become successful is because of After Forever. I know a lot of people felt the end came very sudden. We put our explanation on line and a lot of people felt like it wasn't enough, a lot of people wanted us to do a good bye show and none of that happened. I can imagine that a lot of people are kind of in the dark, how After Forever stopped then you start with something new and it's not weird that people want to hear that part of the story.
After Forever is and will forever be one of my favorite metal groups, along with Nightwish and Within Temptation. The only thing that's missing is an After Forever live DVD. Never got a temptation to film one?
We had a many. We had a record company for our first four albums, Transmission Records.
That label, Epica had problems with them too.
Well, Epica had problems, but believe me, we had way worse because we were with this label for much longer, and we couldn't get away. We wanted to make a live DVD but the label just made it impossible and by the time we were able to when we were with Nuclear Blast, and the time we can start planning for that we stopped playing live. I understand that people want a live DVD; I would have really liked to have it as well. I was hoping we could do a farewell show or farewell tour, but you need six people to agree on that, and the rest didn't want to.
In the future, will there be any official re-releases of the early After Forever albums?
I don't know. I honestly don't know. The guy who went bankrupt is still in charge of the rights of the CDs, so it is up to him if he wants to release something again or not. That is a very frustrating thing as an artist, to see that your albums are not being made or distributed anymore, or he makes a re-release and he re-masters something or puts more crap on it then re-sells it, he puts After Forever on it but then it is something we never really wanted. I don't know how the future will look when it comes to this, because the guy who owns it, I'm sorry to say, but he's crazy. I don't know, I have to admit that it got to such a negative energy that I stopped running after it, because it is useless, there is nothing to do about it.
I have a question about the cover. Who is the creator and what does it symbolize to you?
Well, it's not a literal symbol for something. It's more that I wanted the cover to be very aggressive and dark with a feminine edge with a lot of bright colors (white and pink). I saw a picture in a magazine actually, where that was one image with more pictures morphed into one, I really liked that idea, so I asked the team who made that picture, "can you do my art work?" so yeah they created that image out of pictures of me. I never wanted to be on one my own albums, but the way it's done now, it's not like typical singer on the cover thing, and it's really integrated artwork. I'm really happy with it.
If I define your style as Gothic or Symphonic metal, is that right or is there something you would add?
We can be Gothic as far I am concerned. I never understood what Gothic or our music has to do with each other (laughs).
Can you talk a little about the lyrics behind the songs?
The lyrics all have different subjects. Some are more written by personal subjects, others are written about what is happening in the world. Three are connected to one theme though, "In Sickness Till Death Do Us Part", they are three songs that deal with the subject of a person being very sick without ever being healthy again. The only thing left for him or her is death and this process is seen through different eyes and different moments in those three songs. "I Lost Myself" for instance, the piano ballad at the very end of the album that is a more personal song.
The album has three guest stars on the album. Russell Allen of Symphony X, Bjorn Strid of Soilwork and George Oosthoek formerly of Orphanage. How was working with them?
With all three of them I didn't work personally with them. George came to the studio on a day I couldn't be there, but he did come to the same studio that I did my vocals at here in the Netherlands. He sings on the song, "Here's My Hell" which was basically done but we felt we were missing something, we missed growls. I called him because I knew him when he was in Orphanage. Russell Allen I met on the Arjen Lucassen's Star One tour in 2003 and we stayed in touch ever since. We've always had the intention to record something together and when I was writing, "Sweet Curse" it felt like the perfect time for that. Bjorn of Soilwork I never actually met before, I am a big Soilwork fan though, it was actually the record company who recommended him for that part, they contacted him and I got a message from him the very same day that he really liked the song and liked my voice and was happy to work on it. So that was very cool.
Do you have any promotional video clips planned?
No, nothing yet.
Let's talk about the present line-up. Are they only live members or in the future will they be considered the definitive ReVamp Line-up?
Yeah, the ReVamp members that I played with live today are the ReVamp members. I started with them more as a project. I got the name, I had a plan for the art work and the music and I thought, "okay, how do I get this done fast and good", so I started to work with two other songwriters that I knew, of course it is never a guarantee that it will work, but fortunately for me, it did. We also recorded the album together with a studio drummer and at the same time we started to look for band members, and the guys who are now in the band are the ones that I want to continue with. ReVamp is not a solo thing, but it is initiated by me, I am sort of the captain of the ship. We are doing this together and hopefully we will be able to write the next album together.
Talk about your plans for the future…
I have some things in the pipeline but nothing is concrete yet. The main thing we are focused on is doing a tour in Europe – hopefully Italy as well. It is definitely important that ReVamp crosses the border soon and we probably will be supporting a bigger band in Europe, and there is a lot of interest coming from South America as well. Nothing is 100% yet.
Never thought about just publish a live album with the Red Limo String Quartet?
I did, but because After Forever just stopped, it wasn't something that was on my main priority list. I was working hard to set up a new band and After Forever stopped. To release something with After Forever songs, the rest of the guys didn't really want that.
Thank you for the interview, Floor.
Thank you spreading the ReVamp word in Italy.
Links
ReVamp : MySpace * Facebook * Twitter * Site
Floor Jansen : MySpace * Facebook * Twitter * Site
Interview by Robin Stryker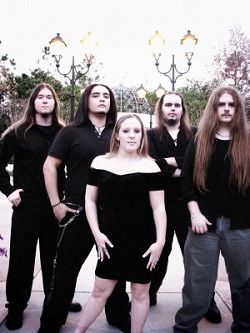 Femme Metal is here with Seven Kingdoms, a power metal band from Florida that ROCKED the stage last night at the Mid-Week Mayhem show at ProgPower.
Hi guys! We were obviously blown away by your announcement last night that Seven Kingdoms will be opening for Blind Guardian on their North American tour. Please tell us about that.
Camden: You start, Keith. What do you feel, man?
Keith: It feels good!
Sabrina: It's an opportunity that we used to dream about and say, "Yeah, one day we'll do that!". But we never believed it.
Camden: It's funny, I used to joke with Kevin that our first tour was gonna be with Blind Guardian because that was the most RIDICULOUS scenario I could ever possibly think of. And then, it's just funny that "Hey Kevin, we're going on tour with Blind Guardian!"
Keith: Blind Guardian has been one of our biggest influences and has been Kevin's favourite band since he was like 16. And it's always been one of my favourite bands, so it's an honour.
Is this going to be Seven Kingdom's first big, nationwide tour?
Camden: We did a stint in Florida that was just playing as a glorified local band for seven days. It was tough, with barely any people coming and still paying for it.
Sabrina: We had a bunch of good bands with us. It was pretty much like a week-long party, is what it really was.
Keith: It was fun.
Camden: It was fun. I had actually booked a tour package of locals and it was Seven Kingdoms, From the Throne (a melodic metalcore band) and Demise of All Reason which is just a ridiculous death metal band. I booked them because they were probably all the best bands in the genre in their own rights from Florida and they work hard. Sadly, neither of those bands exists anymore. I mean, I actually fed and got gas for three local bands through Florida … basically through three shows with the guarantees. Yuengling went to the bars and put drink specials up and got T-shirts printed for us that we still sell. (laughs)
Sabrina: Yeah, we're still trying to get rid of them.
Camden: But yes, this will be our first legitimate tour.
Let's rewind a bit, since we jumped into the interview without everyone first introducing themselves. Please introduce yourself and tell us what equipment you rock on stage.
Keith: My name is Keith Byrd and I'm the drummer. I play on a new Yamaha sparkling oak drumset.
Camden: I always say that I live vicariously through Keith because I always wanted to be a drummer.
Kevin: My name is Kevin Byrd, I'm a guitarist. I play an ESP guitar with Engl Powerball amp heads.
Sabrina: I am Sabrina Valentine and I sing on a Sennheiser microphone with a Shure in-ear. I like to stick gems and glitter over everything I have. J
Camden: My name is Camden Cruz. I play Bernie Rico Jr. guitars and Krank amp heads.
Prior to Sabrina becoming the vocalist and Seven Kingdoms recording "Seven Kingdoms", the band had recorded a full-length album called "Brothers of the Night" with Bryan Edwards on vocals. Other than the obvious difference of now having a female vocalist, has there been a change in style?
Kevin: Yes, "Seven Kingdoms" is much more power metal, as opposed to "Brothers of the Night" which was death metal influenced and more thrash. Of course, there is thrash and some death metal on the new album, but it is more melodic power metal.
Keith: Before "Brothers of the Night", me and Kevin had just joined, and we didn't write any of the songs except for "Blackwater Rush". Camden and Bryan had them all written. We just came in, learned them, played live and went to the studio. On the next album, was when we all collaborated.
Camden: "Seven Kingdoms" is what happens when you actually try. I mean "Brothers of the Night" was literally me and in our off time trying to write … the drums were fake, the guitars were recorded at my home with a computer mike that was the size of my thumb. We took it to Morrisound Studios because Jim can fix anything, just because he is JIM MORRIS.
Sabrina: A very awesome guy!
Camden: We tell him that he is a living musical deity in every interview that we ever do.
Sabrina: You want to know how much Camden likes Jim? He made a shirt that says "Jim Fuckin' Morris" and wore it to the studio.
Camden: And on the back it says, "You're out of tune". Jim can be listening to a full mix and say, "The bass is out of tune". You drop all the tracks and sure enough, the bass is a quarter-step flat. He has got ears like a dog. It was just a fun project. No one in Florida does that kind of music or even attempts to do it. We could start seeing the reaction in people live, sort of like "Oh this is pretty cool!" So, I wanted to get a little bit more serious with it, especially after seeing what Kevin and Keith could do. I sort of thought to myself, "I just wasted some money at Morrisound on that first album". Nevertheless, we got serious. At that time, Bryan really didn't want to be serious, so he left. It was funny, I actually started dating Sabrina three or four months beforehand and had no clue that she could sing … not even one slight clue that she could sing.
How, then, did Sabrina wind up as your vocalist? Sabrina, it seems from your MySpace that, when you first stepped behind the microphone, you felt very nervous and uncertain about becoming a singer.
Sabrina: It's a totally different style. I have grown up as a bluegrass and country girl and with Christian-oriented music, and had never heard any of this type of music. Right now, everything is still brand-new to me. It's like, I've never even known that this music was out there because I was in a little bubble. The Christmas of 2008, Bryan quit seven days before we had a show at either the Dungeon or Pegasus Lounge. (I don't remember exactly which venue it was). Then Camden said, "We need a singer". He had been messing around on the computer one time when I was over there … I think it was the part for "Open the Gates".
Camden: No, it was the part in "Somewhere Far Away" before the solos. The ooooooooo parts. I was like, "Okay, it doesn't take lyrics. You've got ten minutes, I wanna try this".
Sabrina: Camden was like, "Let's see what you can do!". And I just did something.
Camden: And it sounded exactly like it does on the record.
Sabrina: Camden's mom walked in, and she was like, "Camden, I think it's obvious, what are you doing?!?". I just ooooo'd, that is all I did.
Camden: It was just timing. Bryan didn't want to do it because he had other things going on. Bryan did most of my Florida Power Fest stuff while I was here in Atlanta for ProgPower, so I'm still really good friends with him. It was perfect timing … it just lined up. We went to karaoke and Sabrina goes up and sings Journey. You know when you see something and it just clicks? You're rubbing your hair back, like "Oh my God, why didn't I already know about this little unpolished gem?!?".
Sabrina: I had never done anything like that before. Karaoke bars were the only places I ever sang, besides in church. That was it.
Camden: I thought I had a crash course in doing this because I've only been doing this kind of music since the beginning of Seven Kingdoms in 2007. I was in a breakdown band before that. I just didn't really want to do it anymore. This girl right here, she has gotten the crash course of all time.
I will say that one of the interesting things in reading the reviews of "Seven Kingdoms" is that your music is compared to Iron Maiden, Iced Earth, Blind Guardian, Hammerfall and Amon Amarth, as well as Sabrina's layered vocals being compared to Paul Stanley of KISS. Normally, with female-fronted groups, there is a predictable group of bands — Within Temptation, Nightwish, Epica and Lacuna Coil – that everyone is compared to.
Camden: Yeah, I read that review comparing Sabrina to Paul Stanley. That's what happens when you put Sabrina and Jim in a room for ten minutes and we don't have time to do backing vocals over it (laughs). So we've got to make it sound good as we are running out of time. I guess Paul Stanley did that at one point on a KISS record.
Do have any thoughts on why it is that Seven Kingdom is compared to the core power metal bands, with gender being taken out of it? People obviously comment on the fact that Sabrina is a woman. But when they are talking about the music, the comparisons are to male-fronted bands.
Keith: It's like we play male-fronted music but we have a female singer.
Sabrina: That and because my background is something else. I seriously would be one of those singers who could go to a karaoke bar and imitate ANYBODY in that karaoke book. And I could sing just like them. It was to the point that I didn't even know what I sounded like. All of the influences through my entire life are in my voice … it's like everybody in one. That's why everybody has a hard time saying what I sound like.
Camden: Keith and Kevin are power metal elitists. They don't listen to anything but that. So, we live, breathe, eat, and defecate power metal. Seriously!
Keith: We started out with Metallica and Slayer. Me and Kevin were into thrash metal bands, then went onto Iced Earth and Blind Guardian with the epic-ness. We just mashed it all together.
Sabrina: It's everything we like, combined in one album.
Let's talk some about the writing of the album because I understand that "Seven Kingdoms" was more of a collaborative effort that "Brothers of the Night". So, who did what?
Sabrina: It was sort of a family event.
Camden: Me and Kevin babied the guitar stuff … he had an idea, I had an idea, make it work. He'd say, "I think we should change this" … it always works. I would say, "I think we should change this" … it sometimes works.
Kevin: We would come up with an idea and present it to the rest of the band. We would all then work on it. There was certain stuff that we wrote individually.
Keith: Kevin did most of "Into the Darkness"; Miles did most of "Eyes to the North" and Camden did most of "Wolf in Sheep's Clothes", "Seven Kingdoms" and "Somewhere Far Away".
Sabrina: Then Keith and I worked together on "A Murder Never Dead". He did the piano, and I did the lyrics.
Camden: I'm trying to figure out what is the most collaborative song on that record.
Sabrina: It's got to be "Open the Gates". We all sat down and were in the practice room for I think five hours writing lyrics.
Camden: We had written that song with Bryan, but we had to re-do lyrics. That was our first time and we were like "Oh my God, we have got to do lyrics. None of us know how to do lyrics".
Keith: That was the first time we really ever wrote lyrics because Bryan usually wrote all of them.
Camden: He is a great lyricist, a fantastic lyricist.
So who did most of the lyrics on "Seven Kingdoms"?
Camden: I wrote a lot of them. Kevin did some, Sabrina did some. And everybody had their part in changing little things here and there. Especially now, where we've started brainstorming ideas for the next record … when Kevin presents an idea, it is damn close to perfect. Seriously, we'll just put, "Keith: cymbal grab here and put hits with it" or some ridiculous thing.
Keith: Anything to make it bombastic.
Camden: We're lucky because I click with these guys good and I'm pretty sure that they click with me.
Sabrina: They are to the point that they don't even have to talk.
Camden: We are to the point now that it just happens. "Oh, try this one tiny little thing.." and that's it.
"Brothers of the Night" was inspired by George R.R. Martin, the writer of the fantasy series "A Song of Ice and Fire" …
Camden: I will totally take credit that we did that before Blind Guardian did! I will milk that until the edge of time.
Hear that, Blind Guardian?!? The "Seven Kingdoms" album also has strong fantasy themes like the Norse myth about the revenge of Rangnar's sons. Is this a concept album?
Keith: Bryan wrote the last album, which was a concept album.
Camden: It was the album to the first book of that fantasy series.
Keith: The "Seven Kingdoms" songs that we wrote, we tried to make up our own kind of story. We didn't want to stick with the same concept (with our name being Seven Kingdoms), so we used a different story.
Camden: We had to stick with the same name because we had been a year-and-a-half into it already. I don't want to say that it is generic fantasy, but it is very open. I like doing lyrics that people can take a lot of different interpretations on. Because then it makes people think.
Sabrina: When we started this album, we wanted a new beginning. We feel like "don't every let anybody hold you down". So there are a lot of songs on there that are us sticking up for ourselves.
Camden: It's power metal. You've got to have the fairy dust, swords and castles. You got to have some of that stuff. It's not cool if you don't have that.
In your own minds, do you have a over-arching story for "Seven Kingdoms" as a whole, or is each song its own story?
Camden: It was cool for me because I've never written lyrics before. My mom is a fantastic writer, so there has got to be something in my blood. (Or not, someone tell me please). It was a challenge and I like challenges. I did "Seven Kingdoms" and that took me a full year. We did the whole album and then the song "Seven Kingdoms" I worked on the entire time before presenting it as a whole to these guys. "The One Who Breathes the Flame" actually happens before "Seven Kingdoms" takes place.
Keith: There are a few songs on the album that are a concept and tell a story. But we put songs in the middle, talking about whatever makes you happy. Enpowering songs.
Camden: Yeah, nothing negative. You can get what you want from it, pretty much. I take from it: Do what you can do. Don't ever let anyone tell you that you can't do it, because you can. Work hard to do it. Just because we live in America, don't tell us we can't make it in power metal. Plain and simple.
Keith: Two years ago, Camden was always saying, "We're going to play with Blind Guardian". And I was like, "You're so fucked, Camden!" (everyone laughs). And two years later, here we are.
Sabrina: When Kevin got the phone call, I think he hung up on Camden.
Did he think Camden was just yanking his chain?
Camden: Of course! I have ridiculous scenarios that I work hard at to make happen and if it doesn't happen, the worst they could say is "no". If they say no, then I'll work on something else. I remember calling Kevin, and he said "I'm not believing it until I see the paperwork" and then he changed the subject. Alright, I can't argue with that.
Keith: I won't believe it until I am on stage with them.
Camden: We still don't believe it and are dishing out money to something that hasn't happened yet. I've got contracts for it and I've got itineraries for it. But it hasn't happened yet. I'm sure the first day we show up, it's going to be like "WHOA!!!!"
Blind Guardian is playing some BIG venues.
Camden: I think the biggest one on the road is a place in Canada that holds 2100 people.
Sabrina: Apparently, one of them looks like an opera house. It's BEAUTIFUL.
Camden: Yeah, it's gorgeous. There are some of these built in the early 1800s places … just massive.
Sabrina: If you go online and see the venue …
Keith: Perfect for power metal!
Camden: Perfect for Blind Guardian.They can't just play in a normal venue because they are BLIND GUARDIAN. If Hansi is listening, I heard they turned down the Lord of the Rings soundtrack. That would have made everything in this band a lot easier, because power metal would have been famous in the United States. And then we wouldn't have had to bust our necks to get there. Why did you do that, why?!?
Sabrina: They didn't have enough time.
Keith: But then, I wouldn't have it any other way.
We really appreciate Seven Kingdoms donating a song to the "Beauty and Brutality" charity compilation released by Femme Metal Records. Why did you pick "Somewhere Far Away" as your track?
Keith: That song, whenever we played it – at least from what I've seen – that seems to be everyone's favourite song. Everyone I've showed it to, it seemed to be their favourite.
Sabrina: It was between "Somewhere Far Away" and "Into the Darkness". Those are the two that everyone seems to respond to.
Camden: It's the opening track! It's heavy, fast, catchy, and power metal. Probably what you are going to hear on the next record is more stuff like "Somewhere Far Away" and more epic stuff like "The Bloody Meadow" from the first album or "Seven Kingdoms" from this one. Just basically take all the good parts from this record, add some spice of new stuff, and basically just improve over all. We have some new stuff we're already working on. Our goal is to completely blow the doors off of anyone that listens to it. We are going to try to make it ridiculous. Actually, "Into the Darkness" is on the ProgPower compilation that people will get at the show. I'm curious to hear the remaster because apparently they remastered it.
Keith: You learn something new every day.
You are starting with your first tour being with Blind Guardian. What is the next milestone for Seven Kingdoms?
Camden: Avantasia!
Keith: Edguy, Manowar!
Camden: Manowar? Yeah right, Joey DeMaio would probably charge us $100,000 to play one show with them.
Sabrina: Oh my gosh, if we could Edguy or Avantasia, I think we all would just faint on the floor.
Camden: I want to play Wacken in the next three years. That's my goal, to get us on Wacken in the next three years. Somehow, someway, I will figure it out. Maybe if we impress Hansi enough he will hook it up? I will buy Hansi as many Star Wars dolls for his Christmas tree as he wants, if that happens!
Sabrina, how about you … what is your ultimate, when you can just dream big?
Sabrina: Since I was three years old, the only thing I wanted to do was sing. And pretty much, if we can sing successfully and play successfully and be happy in what we do, that is all I care about. If people like our music and we go far, that is amazing to me. But as long as we love what we are doing, that's what I want for us. I have no idea how to comprehend what is going to happen. I'm not used to this at all … I'm used to being in karaoke bars, and that's it. People cheer at karaoke bars, but they're all drunk. So, it's like I go to a show and people are still drunk, but they actually LIKE the music. I just want people to like it, and I want us to go far. That's all I can ask for.
Kevin, in your wildest dreams, what would be your biggest goal?
Kevin: I guess the Blind Guardian tour. A huge European tour would be amazing. That would definitely be a dream come true. For a dream line-up? Blind Guardian, Avantasia, those are some of my favourite bands.
Sabrina: We kind of surpassed everything. That's what you do, you reach for the stars. And I guess we caught one with Blind Guardian.
Last, but certainly not least, Keith?
Keith: I've had these goals set since I started with the band. My first goal was to record an entire album at Morrisound, and it happens. Next, I wanted to go on tour with Blind Guardian, and it happens. So I'm trying to think of what I want next.
Have you ever thought that you might be the good luck charm for the band? Would you like to wish that I win the lottery? That would be REALLY nice, actually.
Sabrina: I wish we could get somewhere by somebody actually helping us. I got in a car accident and have no money and Camden got a pay cut.
Camden: We're strapped for cash. I don't even know what I would do, if one day we got a label to pay for our record or we were able to sell enough CDs to just go to Morrison and do what we like … for free.
Sabrina: We were so excited last night because we had a dressing room and it was like 3 metres square. But we were so excited because we had a DRESSING ROOM.
Camden: Oh my God, someone gave us a CASE OF WATER.
Keith: We got a Post-It Note on the door with our name on it too.
Sabrina: And then they brought in free beer. We were even more excited.
We are coming to the end of our time together. Do you have any final words for your fans at Femme Metal Webzine?
All: Thank you!
Sabrina: Please come support us.
Camden: Please buy a CD on the road because otherwise we're not going to get from point A to B.
Links
MySpace * ReverbNation * Facebook * Twitter * Site
Label : Native/Universal
Review by Tony Cannella
Hailing from the U.K., ReVerbed are a young band, very young, like in their teens young. They have just issued their debut album "Lies You Can Believe". Throughout the course of this 13-song, 50-minute debut, the band displays a straight-forward hard rocking, Punk-Rock like energy and exuberance that is quite dominant until the album reaches its conclusion. In its ranks, ReVerbed features two females and two males, with lead vocalist Zoe also contributes guitars. The pounding opener "What Went Wrong" showcases the bands Punk Rock leanings as this is just a straight-forward energetic opener and sets a good pace for what is to follow. The slower paced "Obsession" is next and features an effective, grinding riff and has a bit of a classic rock vibe going for it. The adrenalin fueled "Run" picks up the momentum and energy once again. Other highlights include: "You", "Scream", "Not Alone", "Shadow" and "Burn" which immediately became a huge favorite, thanks to its infectious chorus. On "Lies You Can Believe", ReVerbed offers something a little rawer than a lot of the female fronted metal that is out there these days. Despite their young age, and I am sure that many people will focus on their youthfulness; the band displays a musical maturity beyond their years. Whatever the case "Lies You Can Believe" is a good first effort at any age.
Rating – 70/100
Tracklist
What Went Wrong

Obsession (Radio Edit)

Run

You

Scream

Not Alone

Shadow

Through the Rain

Beautiful Lie

No Hero

Burn

Don't Look Back

Tomorrow
Line Up
Zoe Waugh – Vocals & Guitar

George Donoghue– Vocals & Guitar

Em – Bass & Vocals

Josh U. R.Collins – Drums
Links
6 color styles available:

Style switcher only on this demo version. Theme styles can be changed from Options page.