Browsing articles tagged with " georgia"
Label : Matador Records
Review by Davide Torresan
I have to confess that I have never heard of this band. From the name I was expecting a Spanish group, and definitely not a metal one. Searching around to find some informations, I discovered that Yo La Tengo (the abbreviation is YLT) is an alternative rock band and it's fairly well known. This American group is founded in 1989 and since 1992 the line-up has consisted of Ira Kaplan (guitar, piano, vocals), Georgia Hubley (drum, piano, vocals) and James McNew (bass, vocals). I was saying alternative rock…well, YLT is considered among the most important representatives of the American alternative rock scene of the 90s. In more than 10 years they have been able to blend many musical influences, from pop music to rock, with violin and sax inserts too.
This one is an unusual instrument in this genre, isn't it? "Fade" is their 13th album and its sound slightly differs from their previous work, "Popular Songs". In this one the electric guitar was present in each song, but in "Fade" it is almost gone. You feel strongly this absence. Indeed it seems like something is missing in these songs. There's a lack of rhythm though the album's atmospheres are soothing because of the beautiful voices of Ira and Georgia. There are no drum's accelerations, the classical guitar and bass strings are softly plucked. They call it dream pop. Continue reading »
Label : Lava/Universal Republic Records
Review by Tony Cannella
Just in time for holidays comes the new EP from the traveling Christmas extravaganza known as the Trans-Siberian Orchestra, entitled "Dreams of Fireflies (On a Christmas Night)". Two female singers (Erika Jerry and Georgia Napolitano) are used as well as the male vocalist Tim Hockenberry. It is not very long but this is the classic sound of TSO that the fans have come to know and love. "Dreams of Fireflies" opens with two instrumentals. The first being the piano and guitar driven "Winter Palace". This is a huge bombastic sound to it and it is definitely what people have come to expect from TSO. Next we have the second instrumental "Dreams of Fireflies (On a Christmas Night)". This track features a cool interplay between the heavy guitars and orchestration. Next is "I Had a Memory" featuring the vocals of Erika Jerry and a rich sounding choir as the song morphs into an up-tempo, bouncy hard rock number. Erika Jerry has a big sounding, impressive voice with a lot of soul and passion. "Someday" is next and is a heartfelt acoustic ballad sung by raspy voiced Tim Hockenberry. This is actually a pretty sentimental and relatable song about growing older and moving on. The EP is completed with the piano ballad "Time You Should Be Sleeping", sung by Georgia Napolitano. All three singers featured here represent a different style from each other. Georgia's is more classical than the other two. She's got such a hugely expressive voice as "Dreams of Fireflies (On a Christmas Night)" comes to its conclusion. At only 5-songs and a length of 15-minutes, "Dreams of Fireflies" is a pretty short listen. This really isn't a radical departure musically; it is simply the classic TSO sound. Listening to TSO will always put you in the holiday spirit and if you haven't done so already, be sure to check out their Christmas tour – it is quite a spectacular experience.
Rating – 80/100
Tracklist
Winter Palace

Dreams of Fireflies (On a Christmas Night)

I Had A Memory

Someday

Time You Should Be Sleeping
Line Up
Erika Jerry – Vocals (on "I Had A Memory")

Tim Hockenberry – Vocals (on "Someday")

Georgia Napolitano – Vocals (on "Time You Should Be Sleeping")

Paul O'Neill – Guitars

Jon Oliva – Keyboards

Al Pitrelli – Lead, Rhythm Guitars

Chris Caffery – Guitars

Roddy Chong – Violin

Angus Clark – Guitars

Joel Hoekstra – Guitars

Mee Eun Kim – Keyboards

Vitalij Kuprij – Keyboards

Jane Mangini – Keyboards

Johnny Lee Middleton – Bass

John O. Reilly – Drums

Jeff Plate – Drums

Derek Wieland – Keyboards

David Zablidowsky – Bass
Links
Facebook * Google Plus * Twitter * Site
Label : Season of Mist

Review by Davide Torresan

2012 sees the reappearance of Kylesa in the worldwide metal scene. After the album of 2010 "Spiral Shadow" and many live dates, the masters of stoner metal started to gather together their ideas to give birth to a new work. According to some rumors of the band, it will be out in 2013. In the meantime, between a concert and another, they found the time to pick up the material so far composed and propose it again in a new guise. Indeed there are many bands that lately try to do that. The first that comes in my mind is Anathema with "Hindsight" and the following "Falling Deeper", or My Dying Bride with "Evinta". Kylesa decided to travel a different path, redefining its original sound. They picked up some songs of their past giving them a fresher sound. The production has benefited of this restyling, so songs like "Between Silence And Sound" and "Bottom Line" live a second life. Hard and dry sounds, but sometimes they are enchanting and even soothing. The work on guitars of Phillip and Laura is accurate and well done. Psychedelic and progressive rock are fused in one soul, giving to the listener a sound experience to live at 360 grades. Their vocals are unique, as they switch from an aggressive style to another more melodic. In this album they have also included some previously unreleased songs, so you can pretty much say that this "From The Vaults Vol. I" is a new album. There is a new song too, "End Truth", which has a quiet pace compared to what they've reproposed so far. Kylesa realized also a couple of cover songs. The first is "Drained" of the American sludge metal band Buzzov-en. This song, like the original, has a doom rhythm, really oppressive and heavy. The second is "Set the Controls for the Heart of the Sun" of Pink Floyd. Kylesa proposed the pearl of the masters of English prog-rock in a overwhelming version thanks to the wall of sound of the guitars and the rhythm section. In conclusion, this album is really good for the neophytes of stoner/sludge metal like me, and the band fans. Today I can say to have discovered a new talented group. Give them a chance!
Rating – 77/100
Tracklist
Intro
Inverse
111 Degree Heat Index
Between Silence and Sound II
Paranoid Tempo
End Truth
Bottom Line II
Wavering
Bass Salts
Drained (Buzzov-en)
Set the Controls for the Heart of the Sun
Drum Jam
Line Up
Phillip Cope – Guitar & Vocals
Laura Pleasants – Guitar & Vocals
Eric Hernandez – Bass
Carl McGinley – Drums
Tyler Newberry – Drums
Links
MySpace * Facebook * Twitter * Site

Interview by Roberta Ilaria Rossi
Debut albums have the goal of introducing a band in the best way possible. Nowadays, music biz has a varied range of bands, who are constantly trying to spread their word around the globe, introducing theirselves to the big metal audience, trying not to make false steps. This is the case of the German act Beyond The Bridge, that recently released the debut album via Frontiers Records. We've got the chance to exchange a nice chat with the front-woman Dilenya, who kindly explained us some little thing…
Today our website welcomes Dilenya, the lead singer of the German band Beyond The Bridge. Hi Dilenya and welcome to Femme Metal

. How are you?
I am fine. Thank you. I am looking forward to an eventful time with Beyond the Bridge. Very exciting things to come!
Let's begin our chat introducing our fans a bit of your biography. Beyond the Bridge was born in a first moment in 1999 as Fallout, when the band members decided to start the band, formed then in 2005, year in which you have changed the band name in Beyond the Bridge. What can you say further? How have you manage to get in touch with your colleagues?
I have not been part of the band or the bands history since Peter met me in a Jazz bar in 2008. Yes, that is true it was already 2008! I think Peter, Christopher and Dominik started playing music together in a school band. They were called Fallout I guess. But Peter and the others were not too happy where the band was going so they decided to split apart from the others. When Peter asked me to join the band they still did not have a band name. It was in summer of 2010 when they came up with Beyond the Bridge. I think that the name fits perfectly to the music. Great choice in my opinion. When I first met Peter in 2008, he was introduced to me by a friend of mine. I was singing some Jazz tunes in a local Jazz club in Munich. Peter came to the concert and after the show he tried to convince me to sing in his band. I mean, he was kind of brave to ask a Jazz singer whether she would like to join a heavy metal band ; ) He tried his best to convince me that they have connections to a highly professional recording studio. He went one with all the great bands that recorded in the studio (Epica, Rhapsody, Edguy, Avantasia, etc…). Unfortunately back then I did not know any of these bands as I am more familiar with the Jazz and Soul business. To be honest I was just about to throw Peter's demo tape in the trash. But he had tried his very best to convince me that he is a professional composer and guitar player which I found quite charming. After all I gave his demo tape a try and was immediately blown away. The compositional design and the lyrical concept is something that in my opinion many jazz masters could learn from. I am glad I joined the band and Peter was right. We have a professional and awesome studio, a famous record label and great musicians. And Peter is still handsome, isn´t he? ; )
After so many sacrifices and efforts, finally you signed a deal record with Frontiers Records, an Italian label that promotes lots of new bands in the best way possible since years. Would you like to share a few details about the cooperation with this label?
Well, it is great. Frontiers has a large business basis, I guess. They are able to reach many people. We would never get this attention if Frontiers wasn't there. The working atmosphere is very friendly and respectful. I am glad to work with this great company and nice people.
Hhm, a deal that has allowed you to publish your debut album, "The Old man and the Spirit". For those who still don't know, this is a concept album. Could you please explain what is there behind this concept? What does it talk about?
Hhm, well. That is not so easy for me to answer. I asked Peter many times to explain the story to me in detail. I want to understand it perfectly as I am performing the part of "The Spirit". Now I understand it perfectly, but back then I remember that the first thing that Peter did is to put on his charming smile and explain the story to me as if I was a little child. He said: "My lovely Dilenya, once upon a time there was a young girl, Anna, just as pretty and innocent like you but very anxious to find out all the secrets about Santa Claus and his magical elves. Anna got really desperate that no one in her family and none of her friends could help her with this issue. Just right before she gave up, one of Santa Claus´ magical elves suddenly appeared and offered her a trade of. The elf said: "Anna you can just become like me and fly around the north pole as much as you like discovering everything you can imagine about Santa Clause and his magical elves. But you can not do this as the pretty little girl you are. You have to become an elf. I know a great magic spell which transforms you in me and me in you." Dilenya, you have to know that Elves do not get presents on Christmas. And they are not allowed to eat candy and chocolate. Our album, my lovely Dilenya, tells the tale of young Anna and how she decides about the elves offer. She will either become an elf or remain a girl happy and thankful for every present and for all candy she gets". You know, Peter is a bit crazy sometimes. But this helped me to get a good glimpse into the story. Of course over time he dropped this explanation for a more serious one. A short version can be found here. To dig deep into the story you have to read the lyrics and make your own thoughts. Good luck and have fun ; )
Actually, I've discovered that the tracks that compose this record were already written and drafted in 2005 and you've spent 7 years to create a very good work. What's the reason behind this choice? Why have you chosen to wait for so long to release your very first record? Was it due to the fact you were looking for a record label or was it something else behind?
Well, as I said I was not part of this long story from the beginning. Peter always says that they had to wait for Simon and Christopher to finish with their university studies. Here in Germany one is able to make a diploma degree in recording and producing music. This takes 5 years. In these 5 years they composed the music and wrote the lyrics. In the following years they found the other musicians including Herbie, Fabian and me. Then we recorded the album and found Frontiers. Here we are now promoting our album with an upcoming live show in Frankfurt, Germany, and on the amazing ProgPower festival in Atlanta, Georgia!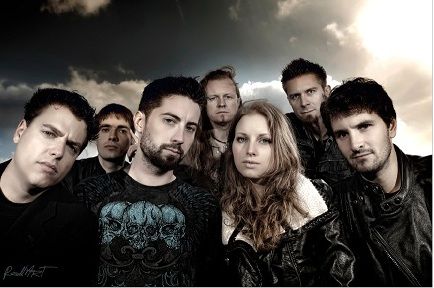 Beyond the Bridge is a German progressive metal band. Indeed, I've seen some recall from bands like Dream Theater, Circus Maximus and Vanden Plas in your sound. I assume you're fans of these bands… but what were your biggest influences?
Sorry, my influences are not in the metal business. But the others always talk about Pain of Salvation, Spocks Beard, Van Halen, Paul Gilbert and some more. Dream Theater and Vanden Plas are also mentioned in the rehearsals. From Circus Maximus I know that they are also signed with Frontiers. I think Peter said that we should check them out.
Recently, I've discovered that Simon Oberender, beyond being your keyboard player, has worked for Gate Studios. What could you tell about it?
Ohh, that is a huge misunderstanding. Simon is our producer more than our keyboarder. When I met him it was not even clear that he will support us on stage with keyboards or guitar work. He did not play anything on the record itself. But he recorded and mixed everything! The mastering was then done by Simon and Sascha Paeth together. I have never met someone with such an accurate ear and deep musical understanding. It felt as if Simon could bear the responsibility for all the musical decisions. That is all a band can hope for in a producer. I wish him a great career. He deserves it!
Your partner in music Herbie Langhans and you create a great vocal duo in the band. How do you manage to work together? Do you create the so called team work?
Yes, we try to complement one another on stage and on the record. We are two extremes which is great for the record and for our on-stage appearance. For me it's always a great experience to be on stage right beside this energy-charged man!
The International metal scene has lots of very effective bands in the most varied genres nowadays. As I mentioned before, you are in the progr metal scene. What does differ you the most compared to the other fronted female bands?
Well, at first sight the songs are written in a Progressive Rock/Metal style. They contain virtuosity in both the playing and the compositional design. So, people that like this kind of music will definitely like our album. With the two singers and especially with the way of arranging the songs and vocal lines we have created something which has been rarely heard before. I think that my voice and style of singing, for example, is very unusual in the Rock/Metal genre and it adds something to the music which is fresh and indeed progressive. The idea of a "concept album" is taken really seriously. It is not only that the lyrics tell a continuous story but you will also find musical connections between passages spread over the whole album. There are many melodic lines that appear intentionally at certain passages in different keys, tempi, time signatures and so on. The songs sound as if they describe the scenes. "The Struggle" sounds like a conflict between the two parties. "All a Man Can Do" composes the strength and pride but at the same time the limitations and imperfections of mankind. Overall the music and the lyrics merge and create one story. We feel that "The Old Man & The Spirit" really gives consideration to our ideal of a "concept album". But it is more important to say that the songs themselves will excite the listeners. Nothing is just made for showing off technical skills. The music is touching. It will even touch you in a different way each time you listen to it. Inspiring and ambiguous lyrics with combination of a large variety of musical styles will accompany the listeners through the story of the conceptual album.
Now you have your record released all over Europe. What will be your future goals?
We are working every day on arranging upcoming live shows. Overall we will focus on more live playing and a new album. We want to become a real studio and touring band with all the things a band like this has to do.
Is there any chance to see you on the road soon?
There is a show in Frankfurt, Germany, on the 19th of August 2012. And then we play together with Epica, Symphony X, Nightwish and many more at the ProgPower festival in Atlanta, Georgia. Hopefully we will come up with a few more live plans.
Ok, this was my last question. Thanks for your time Dilenya. Femme Metal gives you the chance to say something to our readers and to share some words with your fans!
Thanks to everybody for reading this interview. Thanks to Femme Metal for giving me this great opportunity. Keep on rocking and always go beyond the bridge…
Links
Label : Relapse Records
Review by Luisa Mercier
This record is not the usual Relapse record, it is an album that is quite far away from the styles which are usually proposed by this label: the debut by Royal Thunder is neither death metal nor sludge, but it is a mix of southern rock and doom with the vocals of Mlny Parsonz on top. The band deliver us a full-lenght that unites hard-rock, psychedelia, Southern rock and progressive. The powerful voice of Mlny is accompanied by dreamy atmospheres created by the guitar riffs, courtesy of guitarist Josh Weaver and drummer Jesse Stuber (who recorded the album). Doubtlesse, this is a record that catches the listener attention and the will to listen to it again after the last track is stronger than ever. What are the main highlights of "CVI"? It is hard to say since every track is really worthy on its own, but I will try to point out some that have impressed me the most: the opener "Parsonz Curse", "Whispering World", "Sleeping Witch" and the closing track "Black Water Vision". This album is a true cult for all the people who love the styles I listed above, but it can be suitable also for newbies since I find it not too difficult to listen to, and this is a good quality given the genres here involved.

Rating – 75/100
Tracklist
Parsonz Curse

Whispering World

Shake and Shift

No Good

Blue

Sleeping Witch

South of Somewhere

Drown

Minus

Black Water Vision
Line Up
Mlny Parsonz – Vocals & Bass

Josh Weaver – Guitar

Josh Coleman – Guitar

Lee Smith – Drums
Links
MySpace * ReverbNation * BandCamp * Facebook * Twitter
6 color styles available:

Style switcher only on this demo version. Theme styles can be changed from Options page.