Browsing articles tagged with " germany"
Label: Generation Prog Records
Review by Tony Cannella
Effloresce is a progressive metal band from Germany. Back in 2009 the band released their independent 3-song EP "Shades of Fate". Effloresce now presents their full-length debut entitled, "Coma Ghosts". Musically this band is a mix of several different genres – most notably prog – but there is also a classic metal influence to their sound. I would describe them as a cross between Dream Theater and early Fates Warning with a singer who is reminiscent (at times) of Cristina Scabbia from Lacuna Coil and then at certain points she unleashes this guttural, extreme black metal style – which is surprising, to say the least. She doesn't use this technique often, but when she does it is quite effective. Continue reading »
Label: Napalm Records
Review by Tony Cannella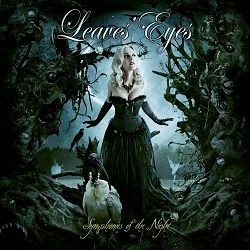 "Symphonies of the Night" is the title of the 4th full-length album from the German/Norwegian metal band Leaves' Eyes. The band – which is led by the duel vocals of Liv Kristine and her husband, Atrocity main man Alex Krull – has forged a pretty consistent and solid career for themselves based on an excellent body of work and "Symphonies of the Night" certainly rates right up there with their previous efforts.
The opening number "Hell to the Heavens" is simply awesome and my favorite track. What a great way to start things. Liv Kristine and Alexander Krull continue to be one of the most unique vocal tandems who use the "beauty and the beast" technique. Continue reading »
Label: Woodhouse Records/Feuerbaum Records
Review by Tony Cannella
For anyone who still hangs on to the notion that metal is a limiting art form than I would direct them to the female fronted German trio Via Obscura and their new album "Gedanken". Make no mistake about it, this is not uplifting head banging metal, instead Via Obscura are little bit more on the dark and melancholic side.
The songs on "Gedanken" are ethereal, eclectic and emotional. The band fuses heavy doom-metal like riffs with the wispy melancholic vocals of Anne S. Thinius to create an alternative blend of some unique metal music. The tempo is slower paced for the most part and the vibe is foreboding from the very beginning of the opening track "Moment". The eerie sounding organ intros the next track "Dreck" as some monstrously heavy riffs joins in. Continue reading »
Interview by Laura Medina
What do you get when you mix five female musicians, one male drummer, heavy guitar riffs, and enchanting, mesmerizing beautiful melodies, you get Arven! Arven is the female-fronted melodic-metal band from Frankfurt, Germany that just released their sophomore album, "Black is the Colour" that is out now via Massacre Records. I had the complete and absolute pleasure and honor to chat with Carina Hanselmann of Arven to discuss Arven's new album, her memorable moments on tour, her three wishes for Arven and much more.
Hi Carina and welcome to Femme Metal Webzine! Thank you so much for allowing us to interview you today! I hope you are doing well today.
Hi Laura, thanks a lot for this interview. I´m fine, thanks !
Would you mind telling our readers a little about yourself and your band, Arven?
Continue reading »
Label: Massacre Records
Review by Tony Cannella
The German symphonic power metal band Arven first came on the metal radar in 2008 with their self-titled demo – and this hinted at great promise. In 2011 the band pushed it up a notch with their full-length debut "Music of Light". Now the band returns with album number 3, "Black is the Colour".
On "Black is the Colour" Arven continues to combine elements of symphonic power metal and the inclusion of violin on a few songs gives it an added folk element. Getting started… the powerhouse duo of "Believe" and "Don't Look Back" are simply huge – majestically so. "Rainsong" is next and begins as a ballad before evolving into a mid-tempo track featuring some cool orchestration. Lead vocalist Carina Hanselmann provides her soprano style throughout the CD. Continue reading »
6 color styles available:

Style switcher only on this demo version. Theme styles can be changed from Options page.