Browsing articles tagged with " giacomo"
Interview by Miriam C.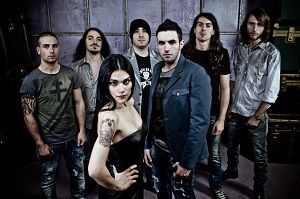 Commercial choices sometimes are a little pandering and they cannot and must not be discussed, as it's necessary for the success of a whole project. Pursuing The End from Italy is the perfect example of this, due to the change in the music sound, now based on the metalcore genre. We had the pleasure to exchange some chats with Giacomo and Chiara, the singers, that explained us the latest news about their band.
Hi Chiara, hi Giacomo, welcome to Femme Metal. Let's begin our chat talking about your debut album. It's called "Symmetry Of Scorn" and it'll be out soon. Would you mind sharing some details with us? Let's start from the album title… Continue reading »
Label: Bakerteam Records
Review by Tony Cannella
From Italy, the thrash/death metal band Pursuing the End formed in 2010 and released their debut EP "Dawn of Expiation" in 2011. In 2012 the band released the three song single "Withering". Following some key line-up changes including the addition of new female vocalist Chiara Manese (formerly of Astral Dive and Inside Mankind) Pursuing the End returns with their debut full-length "The Symmetry of Scorn". To put it simply, Pursuing the End is back with a vengeance.
The opener "The Last Truth" begins with a techno style intro before evolving into a chaotic thrash tune with chugging guitars and lightning fast riffs. Male vocalist Giacomo Benamati offers some mean sounding vocals whilst Chiara Manese puts her own angelic stamp to the songs. This is only the beginning and from there Pursuing the End maintains a high level of intensity throughout the disc. Continue reading »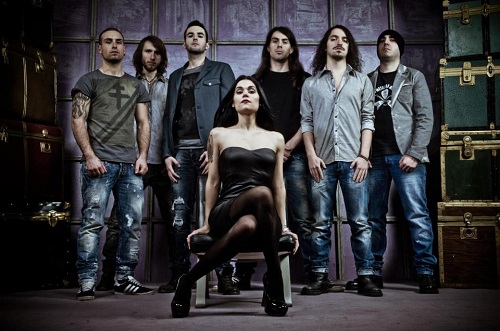 Italian symphonic metal band PURSUING THE END has been confirmed for ROMMELROCK 2013. The festival will take place in Maasmechelen (Belgium) on August 16-17 and they will have the pleasure to share the stage with THERION (special 25th anniversary tour), TOKYO BLADE and many others cool bands!  Continue reading »
Independent Release
Review by Tony Cannella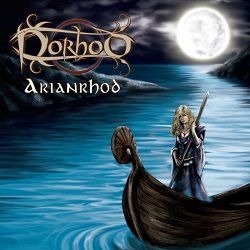 From Italy (a metal band from Italy? What a surprise) comes the conceptual symphonic death metal band Norhod. The band was born in the summer of 2009 with original members: Michele Tolomei (keyboards), Giacomo Casa (growls), Giacomo Vanucci (guitars) and Andrea Stefani (guitars). After solidifying their line-up with a few new members including female vocalist Clara Ceccarelli, Norhod has released their independently released EP "Arianrhod". "Arianrhod" is a concept EP based on the Homonymous Celtic goddess, but at its core the story is about the age old struggle between good and evil. Norhod utilizes beauty and the beast style vocals with Clara's clean, soaring vocals contrasting with Giacoma Casa's growls. The music performed by Norhod does lend itself very well for storytelling – as it does create a special atmosphere throughout the 22-minutes worth of playing time. The intro "Caer Arianrhod" sets the stage for the bombastic opener "Doomed to Ashes". The two vocal styles are split pretty evenly. For the most part, "Arianrhod" combines melancholic metal with folk metal influences and tempo changes; "Last Sundown" is a pretty solid indicator of what is good about the album. The album is completed with the pounding title song "Arianrhod". I can already tell that the vocals will be an acquired taste for many – they will either be loved or hated – especially Clara's high-pitched vocal delivery. The growler Giacoma Casa will definitely appeal to the death metal side of the metal spectrum. Norhod are far from being a mainstream band. The songs on "Arianrhod" are definitely going to appeal to a select audience, but fans who like a little bit of melancholy with their metal, should like what they find from this Italian band.
Rating – 73/100
Tracklist
Caer Arianrhod

Doomed to Oblivion

Lily's Ashes

Last Sundown

Arianrhod
Line Up
Clara Ceccarelli – Vocals

Giacomo Casa – Growls

Giacomo Vanucci – Guitars

Andrea Stefani – Guitars

Michele Tolomei – Keyboards

Matteo Giusti – Bass

Francesco Aytano – Drums
Links
MySpace * BandCamp * Facebook * Twitter
Label : Independent Release/Revalve Records
Review by Tony Cannella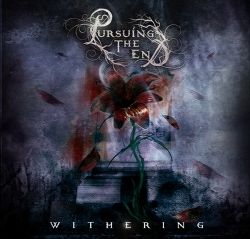 Pursuing the End is an interesting little band from Italy. In 2011 they released their 4-song 15 ½ minute EP, "Dawn of Expiation". Now the band returns with a new 3-song, 10 ½ minute single titled "Withering". There is actually a lot to like about this operatic, symphonic metal band as their debut EP hinted at. "Withering" is mostly a good effort. The male vocals by Giacomo Benamati are clean metal vocals, no screaming or grunt here, they are more along the lines of the male singer from Visions of Atlantis. The angelic sounding female vocals by Caterina Bonfanti are excellent as well. Unfortunately though, in my opinion the female operatic vocals are a little too over-the-top. Others may disagree and find this right up their alley, but I think Pursuing the End would be better served if they toned down the opera elements. That is not to say that there are not parts where it could definitely work."Overture" starts things off with its orchestral intro setting the stage for "Withering" which starts off with the ultra-operatic vocals when Giacomo takes over and the angelic female vocals come in, these definitely save the song for me. There are a hint of grunt vocals in the background but they are very low in the mix. Musically, "Withering" is a beautiful song that shows that this band is capable of so much more. "A Glimpse of Forbidden" closes out the trio of songs and once again has a lot going for it musically. Thankfully the band relies mostly on the clean male vocals and the angelic female vocals and strong choir-like background vocals. The operatic vocals are utilized but not as much as in the previous song. "Withering" is definitely a step forward from "Dawn of Expiation", but the operatic vocals are certainly going to be an acquired taste for some, but others may love them and others may be turned off by them. There is no accounting for taste, I guess. Pursuing the End is a good band, but in my opinion could be so much better.
Rating – 75/100
Tracklist
Overture
Withering
Glimpse of Forbidden
Line Up
Caterina Bonfanti – Vocals

Giacomo Benamati – Vocals

Davide Rinaldi – Guitars

Stefano Bottarelli – Keyboards

Giuseppe Sterlicchio – Bass

Alessio Massimo – Drums
Links
MySpace * ReverbNation * Facebook * Twitter * Site
6 color styles available:

Style switcher only on this demo version. Theme styles can be changed from Options page.