Browsing articles tagged with " giersbergen"

Questions by Ed MacLaren
Collected by Edoardo Fiumi
Dutch singer Anneke van Giersbergen is never one to rest on her musical laurels. Since leaving The Gathering in 2007, she has been tearing up recording studios on three continents releasing a string of successful albums with Agua de Annique and as a solo artist – not to mention the lengthy list of incredibly diverse musical collaborations. The constant recording and touring to an ever expanding audience around the world is great news for her fans, and thankfully it shows no signs of slowing down. One of the truly unique voices in music, van Giersbergen is looking to break out big with her new album, "Drive". A heavy power pop album brimming with hooks, riffs and stellar vocals, "Drive" achieves the perfect balance with her metal roots and her ever-expanding musical palette. Femme Metal got a chance to talk to the groundbreaking singer during sound check on her most recent swing through Italy.
Continue reading »
Label: PIAS/Inside Out Music/Agua Recordings
Review by Luisa Mercier
Our dear Anneke is back with her fourth solo record, one year and a half after "Everything Is Changing". Since I was quite disappointed with the path she had chosen in "In Your Room", I welcomed the rock/metalish style that she sang on in the previous release and hoped she went on that way.
She partially met my expectations in "Drive", since the record is very uptempo and fresh, perfect to fit the positive vibes that Anneke emanates. I would advice to listen the album while on a short trip since it is perfect to accompany driving a car or while walking or running. Listen for example the opener "We Live On" which is absolutely perfect for the purpose just like the following "Treat Me Like a Lady". A bit slower is "She", but the chorus will make it up for that, plus I absolutely love the meaningful lyrics.  Continue reading »

Interview by Grace Méridian, Kassandra Novell & Lindsay Schoolcraft
Video by Mary Zimmer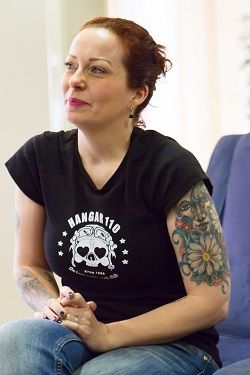 Here what we present you is a special interview done by the Eve's Apple (Don't you know what is? Just take a peek

here

!) members Grace Méridan (

Lifeaftergod

), Kassandra Novell, 

Lindsay Schoolcraft

 & Mary Zimmer (

Luna Mortis

). First of all I thank the girls for this awesome interview and if you wanna enjoy the video experience, please check out

here

but we must warn we that there's a little mistake that we cannot fix, we hope you like it the same.
Then we come to the special guest – we're talking about Anneke Van Giersbergen. The fantastic Dutch singer, after her departure from The Gathering, has slowly built a solo career with her 5 albums. The girls interviewed Anneke during her short trip in US, on March in Chicago. Beside the girls, I want to personally thank Mr.Rob Snijders for helping us setting this interview up. Well, after this short intro it's time to read the interview, so enjoy it!
Grace: I'm Grace Meridan and we're here interview Anneke van Giersbergen for Femme Metal and Eve's Apple. So, Hi Anneke, pleased to meet you. Continue reading »
Label : Pias/Agua Recordings
Review by Luisa Mercier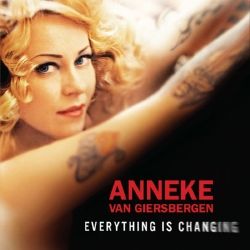 After releasing "In Your Room" I was a bit sceptic about Anneke's new record. Beware: I was not sceptic about her vocals (never been and never will, she is always amazing), but I did not like tracks like "Hey Ok!" or "Sunny Side Up" which I found way too much cheesy. On the other hand, I loved songs like "Wonder", so I had sort of mixed up feelings about her previous album. For "Everything Is Changing" she teamed up with the Portuguese producer Daniel Cardoso (also live musician for Anathema) and the result is very, very satisfying. She abandoned the easy pop atmospheres and embraced a rock sound which is explored in all of its nuances, but it is always present. The opening track is "I Feel Alive", the first single. Lively, happy, sweet, romantic, this song is the perfect tune to cheer you up. Guitars are heard, but they' re not overwhelming. A very nice pop-rock that can be enjoyed while walking or driving. In the same vein there is "You Want to Be Free", which is a little bit heavier, but always catchy and very positive. Of course, Anneke's vocals are the main focus, but the surrounding music context is equally interesting. The title-track is an atmospheric ballad with a soft electronic background, keyboards and quiet mood. Maybe not the highlight of the album, but it is worth more than a listening. "Take Me Home" starts with a dance beat that soon turns into a rock, up-tempo song. Guitars and electronics mix creating a modern, melodic track that all of you will love. Definetely electronic, but more ambient/world music sounding is "I Wake Up" which has a certain pathos, an uplifting feeling. One of my favourite off "Everything Is Changing". I had already listened to "Circles" in a live video and I appreciated the sweetness of the piano and voice arrangement. The voice of Anneke that brings everything to an upper level is the real treat of this song. "My Boy" is a nice mid-tempo that becomes faster in the chorus. Electronic again blends with rock tunes creating a track that maybe is little bit more melancholic than the others, but the real rock comes with "Stay". The beginning is almost metal but it becomes more melodic when vocals kick in. Definitely the heaviest and angry track on the album. Let's go back to pop-rock territories with "Hope, Pray, Dance, Play". The arrangement slightly recalled me Depeche Mode; maybe because of the 80′s sounding keyboards. Another up-tempo song is "Slow Me Down" which slows down only in the title, I believe. The song is very fast and it will be great to play live. Metal again with "Too Late", which is darker than the rest of the record but very enjoyable for me. I mean, I love positive atmospheres, but heavyness is also a pleasant surprise in Anneke solo record given the acoustic style of the first and the pop songs of the second album. "1000 Miles Away from You" is an interesting track that mixes a lot of genres: pop, rock, post-rock, electronics. A very beautiful way to end "Everything Is Changing". I have no doubt this is her best solo release: it contains a variety of music styles, you never get tired of it and of course there is Anneke. How can you get tired of her?
Rating – 85/100
Tracklist
Feel Alive

You Want to Be Free

Everything Is Changing

Take Me Home

I Wake Up

Circles

My Boy

Stay

Hope, Pray, Dance, Play

Slow Me Down

Too Late

1000 Miles Away From You
Line Up
Anneke Van Giersbergen – vocals

Daniel Cardoso – producer, composer, multi-instrumentalist
Links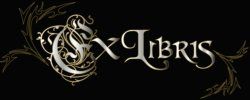 Interview by Erwin Van Dijk
I reviewed the debut album of Ex Libris some time ago and I thought this was a good album and it gave me a better impression of this band than the Ex Libris gig I attended more than a year ago at the A New Dawn album presentation. But the Baroeg is a very difficult place for a band to perform. This interview is with Dianne van Giersbergen, the singer of Ex Libris.
Before we start this question: are you related to Anneke van Giersbergen? (in case you did not know, Giersbergen is a small hamlet in the south of the Netherlands)
Many people ask me this question but no I am not related to her. We share the same surname but are very different in voice type and vocal techniques. I like her style though.
Did you always want to become a singer and did you follow any singing lessons?
Yes! As a child I listened to the popular female singers all the time (for example Whitney Houston) and I became fascinated by the versatility of the human voice. I often found myself dreaming of being on stage in a big concert hall performing all kinds of music. My parents noticed my interest in music at a very early age and arranged my first singing lesson as a present for my fourth birthday. At the age of 7 I sang my first solo with a brass band in a Christmas concert. Over time I was taught by several teachers and joined various choirs. When I was 17 I sang at a prom concert with a wind orchestra. It was here that I met conductor and vocal coach Sef Pijpers (sr.) who was very enthusiastic about my voice and offered to give me singing lessons, eartraining and theory lessons. With his help I entered the auditions for classical singing at the ArtEZ Institute of the Arts, School of Music in Arnhem where I was accepted in 2005. Last summer I graduated from the bachelor program and currently I am in my first year of the master programme.
What do you do to keep your voice in top condition?
You may think of my vocal chords as my instrument but without a healthy body to support good breathing techniques I cannot sing anything. For a singer is it very important to live healthily and to keep your body in good condition. The four things I always keep in mind are: eat healthy food (I make sure I am eating enough fruit, vegetables, nuts and seeds, proteins, vitamins and minerals). Sports (I take dance lessons and often go indoor climbing). Have enough sleep (I wake up at seven o'clock and go to sleep at ten thirty when I do not have a concert or gig). Listen to your body! Furthermore I always make sure to keep away from places where people smoke. To keep my voice flexible I practice a lot. Five to six days a week I start my day at eight thirty: I vocalize for a half hour, after that I study for two hours and take a short break. After this break I study for another hour and take a lunch break. In the afternoon I mostly have rehearsals with classical ensembles, lessons, concert meetings or I do my research. In the evening I sing concerts, teach, work out or study some more. On evenings off or Sundays I rehearse with Ex Libris or make time for friends and family.
To what kind of music do you listen? And who are your favourite bands and musicians?
When I have the time to really sit down and listen to music I prefer to listen to classical music, mostly choir pieces, songs and opera. My favorite composers are Wagner, Rachmaninov, Zemlinsky, Berg and Verdi. When I am travelling I often listen to Anathema, Muse, Skunk Anansie, Dream Theater and Unexpect. Unexpect in particular is one of my new-found favorite bands! It is really like modern classical music.
Did you have any other bands before Ex Libris and/or are you active in any other bands now besides Ex Libris?
No, Ex Libris is the only metal band I have ever been a member of. I did some projects with other bands but this was not in the metal genre. Though I would like to do some metal projects outside of Ex Libris I do not think that I could find the time and energy for another steady band next to Ex Libris, my classical study and career.
And how did you became a member of Ex Libris?
When I was 16 years old I had singing lessons at the local school of music. It was here that I met Joost van de Pas who was studying drums and classical percussion. He and I connected almost immediately and we decided to form a band together. We shared a great interest for both classical and metal music and we set out to find other musicians with the same interest. Over the years several musicians joined and left our band that was then called Erinyen. When Paul van de Broek and later Koen Stam joined the band we knew this was a formation that could really work and we decided to change the name of the band to Ex Libris.
Why did you guys choose the name Ex Libris as name for the band?
Joost came up with the name. He was looking through the portfolio of his brother in law, who is a graphic designer. In this portfolio he found a project called Ex Libris and he was immediately convinced that this was a name that really suited the band and its music. An Ex Libris is used to indicate ownership of products of a craft-guild and can come in different forms like a seal, stamp or a brand. You could say that by naming the band Ex Libris we would like to brand our products as our own.
How would you describe your music?

When people from the metal scene ask me what kind of music we make I always say that it is progressive metal with classical influences. When people from the classical scene ask me what kind of music we make I tell them that It is music inspired by late romantic music as well as modern classical music played on metal instruments. What it comes down to is that the music really sounds like progressive metal, surely everyone will recognize hints of Dream Theater in our music, but has the features of a classical work. Especially the new album, which will be about the epic tale of "Medea" from the Greek mythology, will be filled with classical techniques like for example Wagner's leitmotiv.
What makes Ex Libris unique compared to all the other female fronted metal bands in the world?
I think there are two important things about Ex Libris which makes us different from the other bands. First of all there is my voice. The female voice can be divided into three categories: alto, mezzo-soprano and soprano. Within these categories there are different types of voices named according to the colour of the voice: the Coloratura soprano is a very light voice which is very good at singing fast movements, the lyric soprano has a very bright voice and the dramatic soprano has a powerful and rich voice. Nowadays you see many metal bands with a (classical trained) soprano as their lead singer, almost all of them are lyric sopranos. I myself am a dramatic soprano. The way my voice harmonizes with metal music is totally different from the way for instance a lyric soprano's voice would do. The range of the dramatic soprano enables met to sing both low and high notes powerfully. This results in a fuller sound. Secondly I think that it is very important to note that within the music of Ex Libris my voice is one of the instruments and not the lead instrument which the music should be built around. I do not want to be a singer who is accompanied by her band and do not believe that that is the recipe for good music.
Can you introduce us to the other members of Ex Libris?
Sure! We have Paul van de Broek on lead guitar, Koen Stam on keys, Peter den Bakker on bass guitar and Joost van de Pas on drums. Each one of them brings a different aspect to the sound that is Ex Libris and all are very talented and driven musicians. Next to musicianship there is also friendship. Though Joost has been my best friend since I met him we are all very close to each other. We often go to concerts and festivals together and plan a band getaway (last year we went to Paris for the weekend) every year.
You are looking for a new guitarist. For what kind of person are you looking for?
We were looking for a new guitarist but we are not anymore. We listened to one of the recordings of a show we did with the five of us and to our surprise it still sounded very good. We then decided to merge the lines of the second guitar into the existing lines of the lead guitar and synthesiser.
Is song writing teamwork in Ex Libris?
Mostly it is. The guys get together and write the music to which Koen and I later put vocal lines. The lyrics are mostly mine.
Where do you get the inspiration for the lyrics and the music? And can you tell us something about the songs on the album?
For me the inspiration for the "Amygdala" album came from personal experience. The lyrics on the album are about problems I have been dealing with, thoughts I had and statements I wanted to make. In the first song on the album: "Dawn of Sugars", I talk about my frustrations with people who do not dare to be individuals. People who agree with everything their government or religion tells them and do not take a moment to think for themselves. The second song "Love Is Thy Sin" is about a relationship gone bad. In the song I try to explain to my former girlfriend that I wish she did not love me for then I did not have to hurt her by breaking up. "Breathe With Me", the third song on the album, is about the power and emotions you feel when someone is craving for your body and you are craving for theirs. The songs "Sail…", "…Out To Farewell" and "Death Becomes Us All" are combined into one epic. These songs tell the tale of a fisherman who sets out to sea and drowns. For me it resembles the end of my relationship with Joost van de Pas. We were together for 3/5 years and could not live with nor without each other. While I wrote my feelings into the lyrics of the epos, Joost wrote the lyrics to the song "Destined" about our breakup. The last song on the album "The Day Our Paths End" is about me becoming an atheist.
Which one is your favourite song on the album?
I cannot say that I prefer one song. They are all very different in style, lyrics and vocal techniques and I enjoy singing and listening to all of them.
Speaking of the songs, my copy of "Amygdala" had a rather confusing track list. Was this intended or went something wrong with the lay out?
Haha! No, nothing went wrong with the layout. The track list is the order in which we wrote the songs. So for example the first song on the album is the fourth song we wrote and the first song we wrote is the third song on the album. The number ½ stands for the twelfth song. The songs two, three, five and ten are not on the album because they did not suit our style anymore or because they will appear on our next album.
Why did you choose "Destined" vas song for the "Beauty and Brutality" album?
Peter chose the song "Destined" to be on the "Beauty and Brutality" album. The song has a very compact sound and a strong pulse and matched the time maximum of 7 minutes.
The album was released some time ago. How did the media reviewed the new album?
We were very happy to receive many good reviews for our "Amygdala" album from both fans and critics. The compositions of our songs, technical skills of our members and promise of new sound within progressive metal impressed many people.
And the last question, is there anything the reader should know that I have not asked?
Haha, good question! I think there is a lot to know about me and Ex Libris but it is up to you to dare and ask me.
Links
Ex Libris : MySpace * ReverbNation * Facebook * Twitter * Site
Dianne van Giersbergen : Facebook * Site
6 color styles available:

Style switcher only on this demo version. Theme styles can be changed from Options page.