Browsing articles tagged with " gig"
Video footage of new AMBERIAN DAWN singer, 40-year-old Päivi "Capri" Virkkunen, performing a cover version of SKID ROW's "18 And Life" this past December 31 at Jack The Rooster in Tampere, Finland can be seen below.
AMBERIAN DAWN's new lineup is re-recording the "best" songs from its first four albums — "Circus Black" (2012), "End Of Eden" (2010), "The Clouds Of Northland Thunder" (2009) and "River Of Tuoni" (2008) — for a compilation album, to be released in 2013.
Interview by Andy Axworthy
When you read that a band is by turns described as epic, symphonic, power, progressive and classic metal all in the space of a few paragraphs you might be left wondering whether such a broad approach could dilute the end result. Ivory Moon is one such band, however one listen to their latest album and it's easy to hear why in this case, the whole is greater than the sum of those descriptive parts. To find out more about this promising Italian band we caught up with new vocalist Gabriella Aleo to find out a little about her and about the rocking new release, "Dark Time".
Hi Gabriella and greetings from all of us at Femme Metal. How are you today?
Hello! Thanks for this interview, I welcome the opportunity to talk about me and the music I was involved from yesterday to today.
You've recently taken over female vocals for Ivory Moon. Can you tell us a bit about your background and of how you became a singer?
I have always supported my singing talent, heading for perfection in this art that is very complex today. I've been singing since I was a child but my serious studies began at age of 20. I studied opera singing at the Conservatory of Music and I have never stopped since then. I teach singing to children. Singing is an integral part of my life, I could not deny it.
You've come from the more classical side of singing. To us it seems like a world of difference between an aria like Habanera and full-on rock song like Apocalypse. How do you adapt to mixing up these vocal styles?
Opera and gothic are different, but they live parallel inside me. You have to know well the two musical paths from their technical point of view, and above all you'd be thinking wider than just those who sing only classical or rock. I have always been living with two musical souls. The mixing of the two genres should be done with care. I tried to be not too opera singer using a language more suitable for "Dark Time" and his genre.
You've also indulged your inner Electra, recording "Tutte nel cor si vento…" from Mozart's Idomeneo. How did that experience differ from working with Cristian Ice at Temple of Noise on the new album "Dark Time"?
There were two different experiences but both constructive. Music is what really matters, if it makes you feel good.
You share voice duties with Sandro Manicone. Do you both bring different ideas to the vocal parts or do you work together and adapt the style and harmony as the song writing and recording progresses?
Me and rocker Sandro Manicone are also friends in everyday life. We met even more by sharing this experience together. He is a great musician, composer, arranger and good singer. Along the way he helped me a lot on the side. In the past I had a brief stint with a heavy metal band: Zero Kelvin. I then absorbed part of the language back in this new project after so many years. We have given our voices to the songs of "Dark Time", we have not dealt with the processing of the texts. Sandro is a complete musician and also took part in the arrangements and musical choices.
We've mentioned Sandro. Could you also introduce is to the rest of the band and tell us a little bit more about each of them?
I've been knowing the band for a very short time, so I can say very little about them. What is sure is that I am sharing this experience with veterans for the fans of this genre. I am a newcomer, they instead go way back so they had plenty of time to design and create this music.
"Dark Time" had its digital release on the 1st October. How do you feel now it's out there and how do you feel it has been received by your fans?
I was very pleased and surprised by the performance of "Dark Time". "Dark Time" is my first record, so I'm glad to have left traces of me in music. The fans do not even know us, but they will be able to do it very soon.
The album itself is a blend of classic metal styles from power through to operatic yet it still has its delicate moments. It is consistently good throughout with tracks like "Soul Disguised" and "The Merchant of Venice" especially standing out. What was it like for you to go from recording and putting down your parts to actually hearing the finished songs? Was there a defining moment for you?
Certainly for me it was a challenge to face this genre. I loved this genre for a long time so I tried to absorb all possible shades. Recording for us means converting our ideas into music. The most important moment was when we heard all the mastering, and we listened to all of our work, all our dreams and our thoughts.
How about sing-writing duties? Do you all get a say in how the song ideas develop? How does a song like, for instance, "Out of Control" come together?
I'm just a performer who sings with passion and love for music, and then a popularizer. I never ventured to write texts. Everyone has their own role. Ivory Moon lyrics are written by the other members of the band.
Is there a story or theme to the song writing on the album? Where do you and the band draw your inspiration for the songs?
We took inspiration on actual topics of today's life: The crisis, rupture, rebirth. These were the pillars of "Dark Time".
The album launch gig is on the 7th December. How does it feel to get "Dark Time" out there in front of alive audience and what are you looking forward to the most on the night?
"Dark Time" will debut on Dec. 7 at the Jailbreak in Rome. We'll expect a good audience who can give us the right boost within this new work. I hope it could bring so much magic in everyone's hearts.
What about your own personal soundtrack? Who or what do you listen to when you've got some time to yourself?
My soundtrack is "Nemo" from Nightwish. I put this song as a ringtone in the phone : ) When I have time I use to listen to different musical Opera, Loreena McKennitt, Epica etc.
What would you be doing if you did not sing? What hobbies, passions or ambitions do you have when you are away from the microphone?
I can not see myself without music… I have several passions: I like to paint, I'm not an intellectual but I'm reading a literary work of Proust, sometimes I play games with Sandro Manicone and I love to walk my French Bulldog Morgana and take long walks in nature. I like to meet up with a few true friends and my family. I would love to travel every year….
Now you've taken this step from the light of opera to the dark side of metal what would you say are the main differences for you between the two styles of music? Does either genre have something that can be used and sits comfortably with the other?
The difference in the two genres is absolutely singing style. I think mainly you need to have a good voice, educated in classical singing and in the modern one, in order to obtain a good result. I always followed both the roads. In vocal symphonic rock you have to play a lot with the expression and sometimes the listener can be confused by a hybrid between an opera and a metal singer!
What can we look forward to beyond the launch gig? Are there any plans to tour with the new album? What next for you and Ivory Moon?
We're busy with this every single day. It is not an easy time for music here in Italy. We hope that we may get some specialized major label interested… it would be a dream.
Thanks for takin­e to chat with us Gabriella. Is there anything else you would like to say to the fans and readers to wind this up?
Ivory Moon strongly hope "Dark Time" can be appreciated both in Italy and abroad. Greetings to all!
Links
MySpace * Facebook * Twitter * Site
Latest Multimedia

Interview by Danny Robertson

Industrial quartet Lahannya are about to unleash their new album "Defiance" upon us. We spoke to frontwoman Lahannya to discuss the new material, and the future.
What initially inspired the story behind "Defiance" and last year's release, "Welcome to The Underground" ?
Well Danny… Like the prequel told on "Welcome to the Underground", our 2008 EP, "Defiance" is set in a future distopian Britain, which has evolved into a total surveillance society as a result of severe terror attacks. The protagonist of the story is a resistance fighter who is plagued by feelings of guilt and anger for having inadvertently contributed to the rise of this brave, new Britain. The setting of "Defiance" is mostly inspired by current political and technological developments as the UK is slowly turning from one of the most liberal countries in Europe into a surveillance state par excellence. With 5 million cameras CCTV is omnipresent and DNA details pertaining to over 5 per cent of the population are held in a national database as a tool in combating terrorism. Biometric ID cards are already being introduced and more and more government databases are being centralised resulting in our private lives becoming increasingly transparent. It might not be long before we are forced to make difficult choices affecting our principles and lifestyles. The storyline of "Defiance" imagines what those choices and their consequences might be?
How long did it take to put the whole album together?
Basically, although we wrote a couple of the songs from "Defiance" while still working on "Welcome to the Underground", the real song writing work for this album only started in September last year. All in all, it took around a year to put the new album together.
Was it a conscious decision to make this album more rockier?
The majority of songs on "Defiance" deal with betrayal, hatred, the consequences of difficult decisions and revenge and, when the lyrics deal with such strong emotions then the music has to follow suit! "Defiance" has become our darkest and most aggressive release to date because of it. I must say I very much like the direction it's taken and absolutely love performing the new songs live!
Will the story of the resistance fighter be continued on future releases?
Let's see? I've really enjoyed writing songs that follow a storyline, creating the right setting and putting every song into a context. For me the story is definitely not finished yet because it ends with a terrible betrayal and declaration of war…. so I am very much looking forward to working out the next instalment and finding out myself what happens next to my heroine and her companions…
Many labels have been applied to your music in the past, but how would you describe your sound?
I've given up describing our sound because it combines influences from quite a variety of genres and therefore doesn't neatly fit an obvious description. In the press, we've quite often been compared to Evanescence and Lacuna Coil, which is very flattering but quite misleading in my opinion. The best and certainly most innovative comparison to date came from "Heavy", the third biggest metal magazine in Germany, who said our sound was "a mixture of Zeromancer, Pain and Madonna"!
What influences you the most, musically and non-musically?
Lyrically, I take a lot of my influences from what is going on around me and from my own experiences and emotions. Since our last couple of releases were set in a futuristic Britain I've also done a lot of reading up on socio-political issues and took inspiration from science-fiction literature. Musically, I was probably subconsciously influenced by everything I like and have been listening to – whether I wanted to or not. Over the last couple of years I've been listening to a lot more metal, which I am sure has left its mark on my song writing and the overall, general feel of the album.
Which current acts do you admire most, or feel you have most in common with?
There are a lot of great bands out there – I have a ton of respect for System of a Down, Rammstein and The Prodigy for being incredible live bands and entertainers…. But, there are also lesser known bands that I really like – Sacred Mother Tongue I saw by pure chance on their first London show and I'm sure they'll be going places in the metal world and The LoveCrave from Italy are definitely the most fun band out of all the bands I've ever played with recently! Meeting other artists and bands is actually one of the most enjoyable aspects of what I do. For the upcoming German and UK tours I've personally selected 90 per cent of the support bands in each city, which involved sifting through a lot of MySpace profiles before contacting the bands I liked best. Now I am looking forward very much to seeing these bands live because I really love their music and hope our fans will enjoy my selections as well.
Are there any upcoming acts or releases you'd like to recommend to people?
Yes… Although it's not really a new release and the band is no longer a newcomer, I would very much recommend that people check out Mankind Is Obsolete's album "Trapped Inside". For me it's a great industrial rock album with a perfect balance of heavy guitars and electronics, with some amazing vocals and creative lyrics. It's such a shame that the band is not better known, they definitely deserve to have international success!
What have been your personal career highlights thus far?
Playing this year's Wave Gotik Treffen in Germany and Metal Female Voices Fest in Belgium; both were absolutely amazing experiences and career highlights for me personally. The other highlight was the release of our second album "Defiance". A lot of sweat, blood and tears went into it and holding it finally in my hands was an incredible feeling!
What are your current aims for the future?
Like all bands I suppose, I'd like to start playing larger venues in the UK and Germany where we perform regularly and then, extend our tours to the rest of Europe. I'd love to play live shows in Scandinavia, the Netherlands, Belgium, France, Spain and Italy, where I know we have fans… We keep getting asked to play in their countries, so I hope to be able to do it very soon!
What's next for the band? Whereabouts will you be touring in coming months?
Having played six festivals this year, we're finishing 2009 with a 15-date German and UK tour going to great places like Sheffield, Leeds, Glasgow, Nottingham and London as well as Frankfurt, Munich and Hamburg. All the dates are on www.lahannya.com. We haven't really started making concrete plans for next year yet because the current one has been keeping us so busy, but I'd definitely like to continue touring, playing festivals and start writing new songs too….
Any last messages for people?
Thanks to everyone who has supported us so far – see you on the current tour! Check www.lahannya.com for the dates!! – Cheers!!
Links
MySpace * Facebook * Twitter * Site
Interview by Danny Robertson, Marc Sels & Miriam C.
We spoke to Jessica from German folk metal act Lyriel to get the story behind the new album "Paranoid Circus" and more news about the band.
How did the band first get together?
Lyriel was formed in autumn of 2003. Oliver, Sven and Dani had been in a band called Sorrowsend. Oliver decided to found a side project with me and the other Sorrowsend-members joined the new project. We chose to add some other instruments and Lyriel was born.
Who are your main influences as a band?
Partially our music is inspired of the fantasy world and other musicians in this scene. It is sometimes not easy to find music that contains all our musical taste. We try to find a way and solution that is based on this concept. But we try also to develop our own kind of music and style. This is the idea behind Lyriel.
How long did it take to write and record "Paranoid Circus"?
The creative process just began after the release of "Autumntales". So we worked almost three years at this album. It sounds very long but a great attention to detail costs a lot of time and gives the album that certain something. We haven't got that possibility at the first two albums.
Are there any musicians that you admire?
There are a lot of good musicians in this world but I don't admire anyone special.
What are the album's main themes and concepts?
The main themes are several situations in life and its consequences and also personal experiences.
What inspired the album's title?
We thought that "Paranoid Circus" is the suitable title of the sometimes paranoid situations of life which we described in the songs.
What would you say are the main differences between the new album and previous releases?
"Paranoid Circus" sounds mellower. The first two albums were more an expedition of our own style and sound. Something what can be recognised with Lyriel. Our music gets more folk-influences and less of the Middle Ages. "Paranoid Circus" sounds modern and different as "Autumntales" or "Prisonworld".
Do you prefer to play live on stage or the studiowork (recording, writing new songs, rehearsals…)?
I, personally, prefer to play live on stage. I'm never satisfied when I'm singing in the studio. My voice is much better with a bit of adrenalin in it

.
On the first CD there was a song in Elvish. Are you a Tolkien-fan? If yes, did you like the Lord of the Rings-movies?
I think we all are little Tolkien-fans but not fanatic. It was just an idea and the speech sounds very interesting. I like the movies and they are in my personal collection.
You played with Sabine Dünser, and she was a guest on the first CD. How was she to tour and work with?
Sabine was one of the nicest persons I've ever met. She was so native and we had the luck, to meet such a person on our first tour. She liked our music. One evening on the toilet, I catched her, singing "The Crown of the Twilight". This was very funny. We were so delighted that she followed our invite to sing on the album. Although she was a little ill, she gave her best and brought her ideas into the melodies of the song. We miss her!
Are there any interesting young female fronted bands in Germany?
Oh – there are so many, like Xandria, Leaves Eyes, Jennifer Rostock etc.
Which current acts would you say you share the most common ground with?
Blackmore's Night, The Gathering, Loreena McKennitt, Xandria, Within Temptation.
What is the band's greatest aim/ambition?
We try to reach as many people all over the world with our music.
Where the fans can buy the "Live auf Burg Greifenstein 2005″ DVD and if it is sold out, as expected, shall is planned to publish out like a rerelease?
I'm sorry, it isn't planned at the moment, to re-release it but it is available at YouTube.
What's next for the band? Where can we next expect to see you perform?
We plan to produce a video of one of the songs. Anyway a tour to present "Paranoid Circus" is planned for this year and a few live dates are already fixed: 30.04.2010: Walpurgisnacht 2010, Bockwitz/Ger 02.-04.07.2010: 2. Bordun Rocknächte, Halle/Ger 11.-12.09.2010: Rollfeld Festival, Großhain Airport/Ger
Is music an escape from reality, or does it have to be critical concerning political and society?
Music is my passion. I just love to sing. Most of the lyrics are written by Linda and she described the critic on the society sometimes. I think one song of "Paranoid Circus" "Welcome" describes the whole feeling we have for music very well. ("Healing just as ruin – but it´s worth the fall it´s our last escape").
What is for you the cd, movie, book and live show of 2009?
More a book then a movie. Most of the lyrics base on personal experiences but not only of 2009.
Any last messages for people?
We like to greet and thank all our fans. We know that they had to wait more than three years for a follower of "Autumntales". Thank you for your patience! We hope "Paranoid Circus" can compensate this. Please visit our pages (below you can find the links). There you can listen to our music.
Links
MySpace * ReverbNation * Facebook * Site
Interview by Andy Axworthy
Everything eventually comes down to the individual. Whether it's the influences of the films you see, the books you read, the music you hear, or that of family, friends, colleagues it all colours our view of the world and defines our tastes. Now imagine all that filtered through the medium of a metal band – one with seven members – who are as comfortable being staid and grounded as they are running wild off the edge of the map – and who have a pressing desire to share that with you. Welcome to eclectic. Welcome to the world of A New Dawn. Femme Metal tracked down lead singers Jamila and Alysia, now back in Holland after their first UK gig at Beauty & Brutality, to talk about the show, current release "Finally…" and what lies ahead for the band.
Hi girls! A warm winter welcome from Femme Metal. How is the festive season treating you?
Jamila: Well, I can't say that I like winter, I like the summer – I want sun and beach. I really hate the rain, snow and hailstone. But I do like Christmas and New Years Eve. I always spend the holidays with my family and my closest friends.
You played your first UK gig with the Beauty & Brutality Halloween Party on October 31st in Birmingham. What was the experience like for you both? Any standout moments that you could share with us?
Alysia: I've had the best show ever. For me it was a double party because of Samhain. I'm amazed how everyone was cheering us on, and how enthusiastic people were. I had a blast! Meeting the other bands was really nice as well.
Jamila: It was the first time that we played in the UK. I really had a great time. I was pretty tired all the way, but that was because I didn't sleep at home that much, so I left tired and came home almost dead hahaha. We had great fun with all the band members the crew and the other bands. When we were on stage, everything just went like it's supposed to be. We gave a great show and they really enjoyed our show.
Although that was the first show on these shores, A New Dawn has been around in one form or another since 1997. As more recent members how has this depth of existing experience helped you, together and individually?
Alysia: The most important thing for me is that the way the band "works". We prepare and just "do" it: we put on a show and have fun. I always feel that we're in this all together and that the band is supporting each other fully. This makes us capable of putting on a show as we did in Birmingham.
Jamila: Well, I'm one of the oldest band members next to Elbert. I must say that I have the feeling that we finally found a group of people that "works". Of course you have your differences and you do not always agree but this group listens to each other and we work pretty well together. So naturally I feel that it's good right now.
You are both regularly described as opposites – light versus dark. Well they say blondes have more fun but they also say that the devil has all the best tunes, so who has the halo, who has the horns and do you ever get the urge to swap?
Alysia: Blondes do have more fun. I tell ye!

Yes, we have me as the light halo type of character in the band, where Jamila is more the strong nightcrawling woman.
If you are curious for the whole story behind the light vs. dark thing, keep an eye on our upcoming album. I won't spoil any details before the album is out! Jamila: You know, I wouldn't want to be anyone else then myself. Also on stage the "light versus dark" thing is a tiny bit true. And in that light I think we both want to switch sometimes, because we are not only what you see on stage. But that's to the fans and audience something that they just have to find out for themselves. Most of it is a stage act, but people like to put you in a box: she is blond and sweet, she has black hair and is a bitch … but you'll never know what the story of someone is. You need to talk to the person and ask questions instead of making your own stories about what you've heard. If you don't, you will never know the whole truth. There is a story behind all the "blond versus dark" and you will know when our second album is finished. How about the rest of the band? Can you introduce us and tell us about the current line up?
Jamila Ifzaren – Vocals

Alysia van Horik – Vocals

Mike v.d. Heuvel – Grunts/Growls

Michiel Glas – Guitar

Peter Groen – Bass

Elbert de Hoog – Guitar

Rik Bruineman – Drums

Elbert is the founder of AND (if you want to know more about how it all began, you can take a look at our website). In the first couple of years there were other people in the band. When one of the singers left the band, AND went searching for a new vocalist and they found Jamila. You can almost say that AND fell apart in the year 2008 but the ones who were still standing, kept on going. They found Rik and Michiel. In that time Michiel was the grunter. The year 2009 was an awful year for AND, especially on personal level (home situations and stuff). Finally in the year 2010 Elbert, Jamila, Michiel and Rik found the other 3 members (Mike, Alysia and Peter). Since then everything went smoothly – writing songs and getting ready to record our 2nd full-length album.
Your EP "Finally…" builds on the good work of 2008′s "Falling From Grace". With 3 tracks coming in at just over 18 minutes it has something for everyone and is your first release together as leading ladies. How does it feel to have now done that and how was the recording experience for you individually?


Alysia:
Recording the demo was a wonderful experience. New songs to make my own, and another voice to blend with. Jamila and I have found each other in our singing and we complimented each other. I had never been in a studio before, never had the chance to make a song with other people and to make the music my own. It was amazing.

Jamila:
I love being in the studio. I was pretty excited to record 3 new songs. We've had a radio-silence for quite a while and the time was there to record something new. So we did. Working with Alysia was very easy. She understood everything and did her homework. The songs were done in no time hahaha.
Musically, each release seems to be an evolution in the band's sound. With eclectic and varied tastes and influences amongst the members things must be pretty lively at times. How do you both help and contribute to the music and arrangements during the song writing process?
Alysia:
The best part about being a band with seven individuals is that everyone contributes to his best to the process of making a song. We all write music, Mike, Elbert, Jamila and I are working on lyrics, and all together we come up with ideas and themes.
Jamila:
Everyone is working really hard on the music and the arrangements but the song writing is more our part (and of course Mike's). Most of the time we all work together in the writing progress of a new song.
The cover of "Finally…" is intriguing. At first glance it looks like a normal mask/masque but take a closer look and you can see the seven deadly sins etched into its surface. Can you tell us the story behind the artwork?
We created the mask because everyone wears a mask every now and then. But we wanted the mask to have "lived a life full of emotions". So, looking at the lyrics of the songs of the EP, there were the seven deadly sins ("Final Verdict") and the name "Desire" in a Japanese Sign and of course the mask itself ("Masque of the Red Death"). We just thought it was funny but it also has something to do with the new story that can be found on our 2nd album.
As a band you ask your fans to share their experiences with you – to take inspiration from everyone, in everything and of everywhere. Is that something that you still look to build into the song writing? Also, what would you both say is your current favourite/inspirational AND song and why do you feel that way about it?
Alysia:
Definitely. My inspiration comes from other people's stories and things I see and experience in daily life. Also, showing the crowd what we, as AND, have been through is very important to all of us. It shows that we're human. My most inspirational song is on the new album. The music is awesome, there are nice guitar solos in it and the story behind it is really grabbing you by the throat. We call it "ToF". You'll hear it soon!
Jamila:
Everything I've ever written is about life. My life, the life of my family and friends, what I see on television and so on. So people in general are a big inspiration to me. You have sad, happy, evil, angry, disappointed, crazy, loving and caring people … and they all have their own stories. I'm really interested in what it is that moves people to do things or to never do that special thing. This is my big inspiration. Lately I've been having contact with a French fan and this person told me a beautiful story (with tears and happiness) about his life. It grabbed me by the throat and I just wrote like an idiot hahaha. My favourite song is "Final Verdict" because of the different styles of music in one song, but there's something really personal for me in one of our new songs. You will hear the story as soon as the album is finished.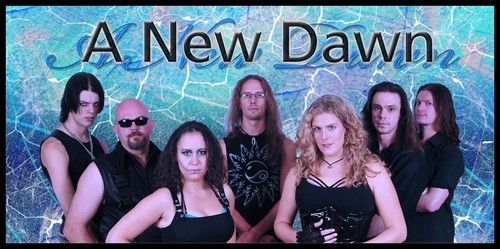 You have a strong fan base, two EP's and a full-length cd as a fully-fledged band and despite this you have stayed unsigned for now. What plans do you have in this area and would you say there are any advantages or drawbacks when balancing total freedom to do what you want against restrictions that might be placed on you if you were signed?

This is a difficult question. Because of course we want a label that wants to work with us (and we really have a lot to offer) but it's difficult these days. We are so ready to entertain a bigger crowd and that's what we also hear from a lot of people: "You belong on a bigger stage". And this is something we believe in. Sometimes you need a period of a few years to find your ideal partner (or band members in this case hahaha) and make it work. This new album is something we've all worked really hard on and are very proud of. Next to creating/writing the songs, we are also very busy to create a big show to look at. We like to put on a big show but sometimes we need a bigger stage. But believe you me … we will rock your socks off with this next album and especially on stage.

What is it like, living the metal dream? How do you both handle balancing the call of the wild with those moments when reality comes knocking?

Alysia: Sometimes it feels like my reality only starts when I'm playing with the band or performing. Work, obligations are dull things. It feels like I start "living" when I can make music. I need to get used to people speaking their appreciation about what I do, but it's wonderful. Jamila: Living the metal dream? I think it's just beginning. You're in a band and you make the 1st full-length album. Everything goes well, a lot of gigs, fans, autographs, pictures. But you need to keep on going. Sometimes that's very difficult if a lot of things happen in a band. But like I said a couple of questions ago, we've got a great group of people, who work together really well. We've got our 2nd full-length album coming on, this will still sound like AND but of course also very different. It's more progressive and louder, maybe even a bit heavier.
But reality did come knocking on my door a while ago (r.i.p. daddy) and I still have problems to cope with all that and still try to give the band my full attention. It's a constant learning progress but I'm doing better and better. Music is a great medium to express yourself and for me, singing is the best way for me to express my emotions when I just don't want to talk.

You have played the MACC (Metal Against Child Cancer) Fest. How does raising awareness with this type of show figure in AND's overall philosophy and are there any other similar events that you can or will support and which you can tell us about?

Alysia: Unfortunately our band has lost beloved ones to cancer. We wrote a song in that theme and we were more than happy to contribute to MACC. In December we did a show as a tribute to a deceased fan who died of leukaemia. Speaking on my behalf, I will always be up for charity. Jamila: It's just like Alysia already told you, unfortunately, our band already has lost loved ones to death (mostly because of cancer), so playing at a festival where they make people aware of cancer definitely fits in our overall philosophy.
What do you each do to relax and let off some steam when you are not actively involved with AND?
Alysia:
I play the piano and I love to play computer games. I also enjoy sports, although I haven't had much time to do so.
Jamila:
I read books, watch movies, talk and go places with my loved ones and take walks in the forest.
How about your alternative reality – what would each of you be doing if you were not singing with AND? Do you have any ideal jobs, burning ambitions or an itch you would just have to scratch that you can share with us?
Alysia: I'd be having my own practise (working with troubled children), stuck to my huge mansion somewhere on an abandoned piece of land behind a forest. I'd have an enormous kitchen where I could bake cookies and cakes all day and I'd have at least four dogs (and a pony!). Jamila: I'd probably have my own private practice in painting (ß in the biggest meaning of the word, face-painting, body-painting, mural painting and other types of painting) or I probably would have saved up all my money to go to the other side of the world to work as a volunteer helping out disadvantaged people.

How about your ideal gig? If money was no object and you could take the band, crew, rig and set up anywhere in the world to play, where would you go and why? Alysia: The Royal Albert Hall! Because it's enormous! And, and, and, yeah. Or Wacken Open Air! Or Pinkpop! … Lowlands! Oh dear, these dreams are getting ahead of me. Jamila: I don't really care where that is, but there has to be a beautiful big stage with a lot of lights and where everything is well arranged with lights and sound. A stage where we can do our show like it's meant to be (maybe even bigger hahaha) with a minimum of 5000 people who really enjoy the music and show of AND.
You teased us with a new track "Madness Within" at Beauty & Brutality and you are back in Rotterdam's Excess Studios at the end of January to continue work on the new album. Can AND fans expect any teasers or samples of the new material to help get them through the bleak midwinter?
We didn't want to say anything yet but of course we will show you teasers and let you hear and see new stuff.
Finally, when do you hope to release the new CD and do you have any touring plans that you can share with us?
The release of the new album will be before the summer. The presentation will be a blast. We've got a lot of great ideas for our album presentation – it will be a big show. We are all very excited and a bit nervous, because we just want it to be a great show.
Thank you both for talking with Femme Metal and best of luck recording the new album. Before you escape, any last words for the fans & readers? Alysia:
Hope to see you guys soon, stay up to date through Facebook, Twitter and our website! Stay metal!
Jamila:
As you've been reading, we have lots of plans for our new album and we will keep you posted on everything. Just keep checking our websites. We hope to see you all at one of our shows and thank you for reading this interview.
Photo Credit
Photos by Cristel Brower
Links
6 color styles available:

Style switcher only on this demo version. Theme styles can be changed from Options page.