Browsing articles tagged with " gothenburg"
Interview by Connie Bach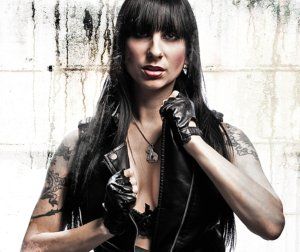 Rock with attitude. This is Sister Sin's personality. The "attitude" aspect is loud, edgy, and melodic. If you are furious with someone this is a great album for the situation. And if you are not in a rage, there is energy for entertainment, and plenty to spare.
Hi, Liv. What's going on with the band right now?
Hi! Right now we are playing lots of shows in Scandinavia and doin' some tours in Europe, we hope to be back in US early next year! The album is just released in Japan too so hopefully we will get the opportunity to do a tour over there next year too. This one's for the whole band. How did each of you get involved in rock music? What's your background?
Liv : Well, I started to get into rock in my early teens when I found Nirvana and Hole, and a Swedish metal band called Drain. Drain had Pantera as their favorite band and that got me into Pantera and the heavier stuff. I so wanted to become a rock star that I forced my to best girlfriends to start a band with me. After a while they got into it too ha, ha… We were called Sisters of Kali and we´re very, very dark and angry on everything. Jimmy : I got into rock music seriously when I was around eleven years old. I loved Metallica and Pantera at that time which friends introduced me with. Then I discovered more extreme music such as Slayer, Sodom, Entombed and later on bands like Morbid Angel, Deicide, Suffocation, Gorefest and also a lot black metal. I played in many bands in those days, mostly death and black metal bands. Then I had a break from playing and one day I heard from a friend that Sister Sin was looking for a new guitarist, knew nothing about who they were. But I gave it a shot since I always had a soft spot for classic hard rock and heavy metal. It turned out to be perfect! Dave : I stole all my brother's heavy metal vinyls after discovering Vanessa Warvick hosting "Headbangers Ball" in the early nineties. After that I got in to a lot of punk, hardcore and eventually black metal as well. Started playing guitar back then but moved on to drums for the usual reason that there weren't any drummers around. And here I am today, piss poor but happy with a Metal Heart, ha ha. It's been a few months since Benton, Sister Sin's bassist, unfortunately had to part ways with the three of you. Liv, how is the search for a new bassist going? What challenges does a change in line-up present, even with the qualifications you have in mind?
It's always very hard to find replacement for someone that you liked and that suited the band so well and we have been thru this before so we are pretty tired of this whole bassplayer thing. That's why this time we really need to find someone that has the passion for music and touring that we do and that could dedicate their life to this band. Even if you do find someone who is technically qualified the most important thing is always the social aspect. When spending so much time as we do in a van you can't have one guy you wanna choke to death every half hour. I think we´ve actually found the right man for job but he´s gonna do at least one tour before we make it official, for both parties sake.
Why does Sister Sin require that the new bassist have studio experience?
Do we? Ha ha… I didn't know that. No, but I guess it´s more of sorting out the serious ones, like we get so many e-mails from people who think that anyone can play bass and let me tell you; just because you can play guitar and get by doesn't mean you can play bass. What are you expecting with the tour with Grave Digger and Grand Magus?
I think that will be a blast! We haven't toured so much in Europe with all the focus that's been on U.S last two years so it´s gonna be cool for sure and we are hitting some very interesting countries as well, so I'm really looking forward to that.
What determines where a tour takes Sister Sin, or any other band? Why?
Since we haven't really sold shitloads of albums around the world we can't exactly pick and choose where and when we wanna tour and whom with. Many people ask why we go on tour with bands like Arch Enemy or OTEP and the reason is just that we got offered those tours and we need to be on the road all the time. Got nothing against any of the bands we´ve toured but yeah, if we could choose we would definitely tour with headliners that are more close to our genre and fan base. We´ve been over totimes and the reason for that is that our label has spent more promotion over there and we need to back that up.

Liv, you are featured as "Miss November" in Revolver's "Hottest Chicks in Metal" calendar. How do you feel about the award? Nice job. The reason I ask is that for some it is a source of pride, whereas some feel it mocks women in metal.
For me it's a pride!! I'm very, very glad to be one of the girls in that calendar, it's an honor. I truly can't believe it really, I'm just a working girl from Sweden and a big American rock magazine wants me in a calendar ? That's so cool! And I don't understand these people that think it's mocking women, if you are a beautiful woman with a talent, show it! Both your talent and your beauty, that calendar is a way to celebrate both in my opinion! "True Sound Of The Underground" did quite well on the charts. What does that mean for the band?
Of course it means a lot to know that people enjoy our work and that we hopefully can inspire others with our music. Not that you have to sell a lot of copies these days to end up on a chart but it´s a nice motivator for us that there is a growing market for the kind of music we play. Do each of you have a personal goal that you are fulfilling through being in Sister Sin?
Jimmy : Yes absolutely. I get to play guitar just they way I dreamed of when I first picked up a guitar and all the countless hours of practice finally pays off with releasing albums and touring, it certainly is a privilege and a dream come true.
Dave : Ever since first got in to heavy metal I always wanted to tour and see the world. And now I get to travel, see new places, new people and be on stage every night doing what I love to do. I've never dreamed of making lots of money (although it would be nice! ) and playing big arenas, I'm just glad that 3 nobodies like ourselves who have been stuck in a rehearsal studio for 5 years never gave up and it´s paying off the way I always wanted it to do. Liv : This is my personal goal, to be able to be in a great band and play live all over the world! One thing that would make it even better would to be able to live from the music one day, that's very much a goal for me. To just live 100% for the band, now I have to share my time with my job as a personal trainer.

Liv, Sweden (especially Gothenburg) has a huge metal scene, with many famous acts. Why does this scene influence Sister Sin?
I really don't think there are any Swedish bands that influences us really. There´s a lot of extreme metal coming out of here which obviously is what Sweden is mostly famous for in metal. A lot of those bands, like In Flames for example definitely inspire in another way though that you can make it if you just hang there, never quit and be true to what you love. Liv, Dave, and Jimmy, thanks a lot for your time. Your musical energy and commitment to Sister Sin is impressive. Hopefully we'll see you in the States again soon.
We will be back 4 sure!
Links
MySpace * Facebook * Twitter * Site
Latest Multimedia
Interview by Danny Robertson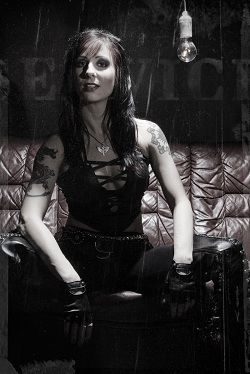 Check out Sister Sin – the Swedish rock'n' roll quartet hailing from Gothenburg, who recently supported their heroes Motorhead whilst on tour in the US. Here, singer Liv gives us an update.
How did the shows with Motorhead go? It must have been quite an experience to be supporting an act who've influenced you all for so long!
We had a blast!! It was a dream come true for all of us to support Motorhead. Both shows went very well and it was truly amazing to play in front of a full sold out show!
Did you win many new fans from the Motorhead crowd?
Absolutely! I think we got a good amount of new fans. People were standing in line waiting for photos and autographs after the show and we sold a lot of CD's, I think we did a really good job and people seemed to really enjoy our show.
Got any tour stories you'd like to share? Any strange or unusual experiences?
Hmm no not really, everything went very smooth during the shows with Motorhead. But on the tour we did before with Faster Pussycat, we had a lot of trouble! Our van broke down like 3 times during the tour and we nearly missed a show waiting at a truckstop for 7 hours for a new ride to the show that evening. When we finally got to the gig, we were 45 minutes too late and only got to play 3 songs.
Let's go back to the beginning – how did the band first get together?
Well, at the beginning we had another bass player and guitarist, and they and drummer Dave formed the band in 2002. I had put out an ad in a magazine looking for a rock band and one of them called me and told me they really wanted a male singer, but maybe I could try anyway. So I did and they didn't audition any other after that, so I guess I did make a good impression, haha! Since then, me and Dave have been looking for the right members and now it feels like we found them! Both Jimmy and Benton suit the band perfectly.
You hail from Gothenburg, a place normally associated with melodic death metal, thanks to bands like At the Gates, In Flames, etc. Given that yours is a very different sound, was it difficult for you to get shows and build a local fanbase in the early days?
Yes a little actually and still in Gothenburg that sound is dominant but the more hard rock/old school sound is beginning to come back.
You're described on your MySpace profile as being the new ambassadors of 'Street Metal' – who first came up with that term?
That is a good question, and I don't remember who first came up with that, haha. But I think it suits us very well. We are just true hardworking rock, very down to earth – very street, nothing fancy. We don't expect things to happen, we make them happen!
What would you say has been your biggest non-musical influence?
Just everyday life! From both close in our own lives and that very big, big unpredictable world.
The Motorhead shows aside, what do you feel have been the high points of your career thus far?
Well playing at Masters of Rock in the Czech Republic for 5000 people and with bands like Doro and Cradle of Filth was pretty amazing. And then playing at the Sweden Rock Festival last year was a dream come true too!
Who are your favourite current acts?
My personal favourites are Airbourne and Deathstars. We met the singer of Soilwork while in the US and they are working on a new album, and I am looking forward to that very much.
Are there any new bands back in Gothenburg that you'd recommend to people?
Maybe not Gothenburg, but I think people should check out Hysterica and Babylon Bombs, good Swedish bands!
What's next for the band? Any tours or future releases in the pipeline?
Yes hopefully both hahha! It's depending on if we are gonna do more tours this Autumn or not. We really want to tour as much as possible and we are right now working on finding new tours. But if we don't, the plan is to record a new album early next year. We are working on new songs right now and we are looking forward to giving the world some more kickass heavy metal!
Links
MySpace * Facebook * Twitter * Site
Latest Multimedia
Interview by Miriam C.
Transcription by Robin Stryker
This was my second phoner interview that I've made in my life, this time I was more calm and relaxed. Enjoy this funny interview (sometimes during the interview she has got line telephone problems and I was going to repeat the questions) with a kind and relaxed Jonsu, vocalist and violinist from rock all female band Indica.
Let's start, "A Way Away" is coming in the stores the 25th June on Nuclear Blast. Why choose this label? I mean Nuclear Blast isn't the typical label that sign rock melodic bands.
When we were touring with Nightwish, Nuclear Blast was the label that was interested to do the English album, and they had showed some passion towards our music. I loved the way they worked and how they put their whole soul and heart to it. So it made us be sure that it is the perfect label for us. Also I have to say that it was a good thing that Tuomas told me before – you know Tuomas [keyboardist] from Nightwish, they have been with Nuclear Blast for many many years – and he told me that "I have no bad words to say about that company". So it was a good recommendation.
Obvious question, how's born the collaboration between Nightwish mastermind Tuomas Holompainen?
It was great. The first thing I did with them was "Erämaan Viimeinen" (The Last of the Wilds), one of their songs. After one of our shows, Tuomas came to ask me if I would like to sing that song, and he said he has been a fan of our band since it started. And I said like "yeah, yeah, let's try it". It went well and then they asked later if we would come on the Scandinavian tour. I think Tuomas and the whole band is great. Tuomas is a really talented musician and composer, so it was great to work with him. And later, of course, to do albums with him. Also on "A Way Away", he wrote lyrics to one song, "Precious Dark".
I found a bit strange to publish an entire album with translated lyrics in English, when take for example such metal acts like Ensiferum, Korpiklaani,they publish without problems album in Finnish language. Why take this decision?
Why did we do an English album? When we started about nine years ago, we did songs in English and in Finnish, but then we had to choose one language. Finnish sounds more natural, but we knew that someday we probably will do anyway an English album. When we started touring abroad, the fans started to request if we could do some songs that they would understand too. There was only really crappy YouTube versions they could listen to. So that was the main reason why we did it now. I think it was a big challenge for us, too, because we have seen every single corner of Finland and every single club, and we have been working there and touring there and doing albums like "Ikuinen Virta" in 2004. So it was a big challenge for us, and also really interesting to see new places and meet new people. Also with the language, I would say that the English language is maybe, when sung, it sounds more beautiful and it's flowing totally differently. Maybe Finnish is more exotic, but anyway the music sounds totally different, so we found it really interesting.
Your last album was called "Valoissa", right? And if I'm not wrong the English translation is "light".
Yes, you can say "in the light". In the song, we are really talking about like traffic lights. It is a little bit ironic text about "what if I die in the traffic light" and you can't just mourn. Don't be sad.
Are "Valoissa" and "A Way Away" titles connected?
"Valoissa" and "A Way Away" … no, there are a couple of songs from the "Valoissa" album in "A Way Away", but otherwise those albums aren't alike. Those aren't connected anyhow.
If I ask you to define Indica's music style what do you reply?
It's a funny question because, as a composer, it's really hard for me to describe the music because somehow I think it's impossible to describe music in words. But, I can say what other people have told. So, some people – like all reporters in Finland – call it like mystic-romantic pop rock, and it was funny how it started. One reporter just said like, "oh, this sounds like mystic-romantic" and suddenly all the reporters were writing it's mystic-romantic. Yeah, one interviewer also said, "it sounds like Disney on acid." (laughs) I think it was a funny description. I'm sure there is some films, movie soundtracks and a lot of movie composers.
On 30th April you've published out the videoclip "In Passing", what is the story behind the video and how was work with Patric Ullaeus Team?
Yeah, in Sweden in Gothenburg. You are talking probably of the "In Passing" video. The story behind the song is that it is kind of a letter from an older sister who is dead to her little sister, and she is trying to encourage her and telling her that "you must go on with your life and move on". It was great to work with Revolver Team, and Patrick Ullaeus I think did a great job. We shot it two videos in Gothenburg. "Islands of Light" I think it isn't published yet, but it will come out soon I guess.
Watching your promo shoots I was astonished about your dresses. Who's the creator of it?
Sometimes we are using different kinds of designers, but there is one Finnish, Anne-Mari Pahkala, who has done many of our dresses. Some dresses we are found from our grandmas' closets or somewhere, like anywhere where we go. But Anne-Mari Pahkala is a girl with whom we have worked the most.
Before "In Passing" video there was another one video called "Snakes and Arrows", I've seen it, have you shooted it in Tokyo?
We had one. It was kind of, you know, zero budget. We deal with just one friend's photographer wanted to do one because he wanted to do some photo shootings there, and we had a show in Tokyo. We spent there a week, so we were shooting the video at the same time. But it was a great experience. I really liked Tokyo, but I couldn't believe that I would live there.
Which is your favourite song from "A Way Away" and why?
My favourite song from the album is, I guess, the ending track "Eerie Eden" … "As If" is also one of my favourite tracks. I always fell in love with the slow songs, so that is why maybe "Eerie Eden" and "Children of Frost" and "A Way Away" are one of my favourites. The girls are always angry to me because I always try to do a slow album where there is only slow songs on there like that. "You are killing the audience! They will fall asleep". (laughs) So, it's good that we have different opinions in our band too, because otherwise it would be only 10 slow songs on the album.
I know that's very very early to talk about that but are you working for the next album with brand new songs?
Composing is my lifestyle, and I'm all the time composing something. But we really haven't sat down yet with the band and talked about what we are going to do, what kind of direction we are going to go in. Maybe after this album comes out, we can sit down and talk about that with the people that we work with and do some planning.
What are the next band planes?
In the near future we are going … tomorrow [the interview was done on the 20 May 2010] we are in Italy doing something and going to Rome, then we go to Leipzig to do one gothic festival and then I go back to Finland to do some TV programmes. Then we are playing in Rock am Ring and Rock im Park (it's in Germany).
It's a very famous festival, with groups from every genre, and MTV is there.
It will be interesting and I think they said that they are shooting the show too. So we are doing some festivals in summer, but mainly touring will start in the autumn. Then the plan is to tour pretty much before Christmas and go around Europe. Let's see, I have a meeting with my gig agents next weekend, then they tell us some ideas.
Italy is in your plans?
Yeah, I'm sure Italy will be on the list. But really, I would love to, I'm waiting to come back to Italy. These days we are doing some acoustic performances in the radios but to do a real live show because I think Italian audiences are great. They are so free and open.
Greet our fans freely!! And thanks!
Thank you very much for the interview! It was really nice to talk with you, and I hope to see you somewhere.
Kiitos! [Finnish word for thanks]
Oh, you know it! Great.
Links
MySpace * Facebook * Twitter * Site
Latest Multimedia
Independent Release
Review by Tony Cannella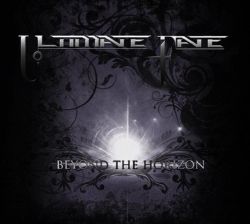 Okay, is it going too far to that I really, really loved this band! They are Ultimate Fate from Sweden and their debut EP is titled "Beyond the Horizon" and they play good melodic symphonic power metal, throughout this three song EP the band doesn't let up for one second, and as for vocalist Jennie Soderberg, her style is not flashy, she is not operatic and doesn't do vocal gymnastics, she's just a very good singer with a strong, powerhouse of a voice – with great melodic tendencies – that helps lead the music in the right direction. The other musicians must get their due credit as well, especially guitarist Jacob Hede. The 3-song 14-minute EP begins with the melodic "Horizon" and it is a great way to begin things. Right from the outset I was quite impressed with Ultimate Fate. Also impressive is the guitar work put down by Andreas Niemi – just check out his solo on "Horizon". "Retribution" starts off with a slower tempo, before getting heavier as the song progresses. The tempo soon speeds up and quickly becomes a favorite. Some great musicianship and melody helps to propel this song. The final song "Beyond Fear" is also the heaviest and provides a perfect ending. In addition to Jennie's phenomenal vocals some male grunt vocals can be heard in the background. I really can't find anything to dislike or criticize about Ultimate Fate and "Beyond the Horizon", except for the fact it is too short. For a relatively new band, they play their brand of power metal like seasoned pros. I love it when I come across a band that has the "it" factor to make a lot of noise in the Power Metal genre, and Ultimate Fate are certainly one of those bands. It's a shame that there are only three songs on "Beyond the Horizon". If these three songs are indicative of what Ultimate Fate are capable of than I will eagerly and impatiently await a full-length from this excellent young Swedish band.
Rating – 95/100
Tracklist
Horizon
Retribution
Beyond Fear
Line Up
Jennie "Nord" Soderberg – Vocals
Andreas Niemi – Lead Guitar

Jacob Hede – Guitar

Andreas "Lillis" Bergqvist – Keyboards

Niklas Fahlen – Bass

Ola Olsson – Drums & percussion
Links
MySpace * ReverbNation * Facebook *Site
Label : Candlelight Records
Review by Luisa Mercier
Back in 2006, when "The Butcher's Ballroom" was released, I truly felt it was something totally new, a breath of fresh air in the female fronted scene that started to show signs of lack of inspiration. They also were really underground, it was hard to find a copy of the album, but thanks to the very effective "word of mouth" on the web, soon their fame increased. And here we are, six years later, with a world tour incoming and albums sold all over the Internet and physical shops. In the meanwhile, they released another album "Sing Along Songs for the Damned & Delirious" which showcased their classy trademark avantgarde metal mixing Russian folk, Italian opera, metal and much more. After three years, a new record deal with Candlelight, D:S:O are again on the stage with "Pandora's Piñata". I have to admit that I did not expect a great surprise since, after the first album, the avantgarde scene got filled up with bands, and a lot of ideas were alreay taken. I am happy to say that Diablo Swing Orchestra changed my mind after a few listenings. "Pandora's Piñata" is a mix of metal of various kinds and folk from all over the world blended by D:S:O unique way of doing music. The opener "Voodoo Mon Amour" is a classic DSO tune that reminds me a bit of "Ballrog Boogie". Metal meets swing, while in the following "Guerrilla Laments", Diablo Swing Orchestra have created a new genre: samba metal. The usual jazz influences are not missing. Ann-Louice really is shining through the record with her opera vocals mixed with an atmosphere that seems coming out straight of Rio de Janeiro Carnival. "Kevlar Sweethearts" is one of my personal favourite and has a beautiful soft string arrangement, while Ann-Louice uses her non-opera vocals. They are beautiful, elegant showing how she can handle different styles. The song is a bit less fast than the previous ones, more guitar driven but the hook never misses his goal. "How to Organize a Lynch Mob" is just a string instrumental break. One of the craziest tracks is "Black Box Messiah" with its crazy kids chorus that reminded me of Pin-Up Went Down. Male vocals make their appearance and I can hear some folk influences from distant China. A nice contrast between chunking guitar riffs and strings in the intro of "Exit Strategy of a Wrecking Ball", finding its way through electronics, trumpets and drums. The way male vocals have been handled in the end, recalled me some of the more symphonic Muse stuff. A musical feeling is what you get from "Aurora", a track to let Ann-Louice show all her skills. It is a completely orchestral aria that would not make a poor impression on a Broadway stage. Middle-Eastern feelings is what you get from the beginning of "Mass Rapture", and all over it is a very symphonic piece, quite different from the rest. Another gem, for sure. "Honey Trap Aftermath" is not metal, it is very jazzy, swing oriented, while "Of Kali Ma Calibre" has almost black metal blast-beats. Another highlight of the record. Closing track "Justice for Saint Mary" was a bit of a let-down since til half of the track sounds the same. It is a ballad that slowly changed and turns into a stormy metal track and in the end into a dubstep track. We are at the end of this crazy trip and all I can say is that D:S:O again delivered a very good record. They are among the strongholds of avantgarde metal.

Rating – 75/100
Tracklist
Vodoo Mon Amour

Guerrilla Laments

Kevlan Sweethearts

How to Organize a Lynch Mob

Black Box Messiah

Exit Strategy of a Wrecking Ball

Aurora

Mass Rapture

Honey Trap Aftermath

Of Kali Me Kalibre

Justice for Saint Mary
Line Up
Annlouice Loegdlund – Vocals
Daniel Håkansson – Guitars & Vocals

Pontus Mantefors - Guitars & FX

Andy Johansson – Bass

Petter Karlsson – Drums

Johannes Bergion – Cello

Martin Isaksson – Trumpet

Daniel Hedin – Trombone
Links
6 color styles available:

Style switcher only on this demo version. Theme styles can be changed from Options page.