Browsing articles tagged with " greek"

Interview by Alessandra Cognetta
In this interview we get to know more about Chaostar with the help of their lovely vocalist Androniki Skoula. Trying to describe Chaostar's music is a demanding task, a bit like telling your friends about a really good book you've read without spoiling the sudden twists or surprises. When you approach their music you have to prepare for the unexpected, the wonder, the emotions and lots of talent. Their latest masterpiece is "Anomima" (which we reviewed here already, a recommended read if you want to get an idea of how it sounds), released through Season of Mist at the beginning of May. Androniki gave us an in-depth overview of the creation process behind the new album, her own path as a singer with Chaostar and as a person, Eve's Apple (I'm always more than happy to talk about it!) and the immortal women of Greek tragedies like Medea and Antigone, but also the Greek philosopher Hypatia of Alexandria, who some of you may remember from the 2009 film "Agora". But enough with the spoilers, scroll down and start reading! Continue reading »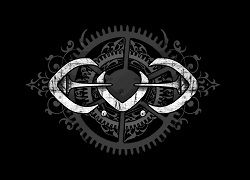 Interview by Matteo Bussotti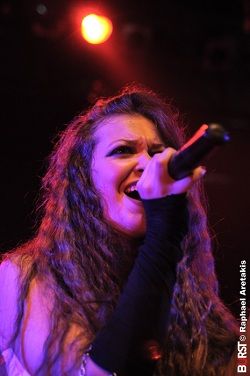 It is quite an unusual thing to have a band from Greece, but, let me say this: if all the bands from Greece are like E.V.E, I'll certainly listen to more Greek music from now on! E.V.E.'s lyrics are really deep and beautiful, and their sound is unique, special. Their goal is to share a message, a vision about contemporary world. We asked their singer and founder, Vicky, what's the idea at the base of this band, and what Greece has to offer to the world's musical landscape. Needless to say, her answers were complete, meaningful, and really interesting to read.
So, let's start this interview!
Hello Vicky, and welcome to Femme Metal! We are very proud of having you here! First of all: you started the E.V.E. project with the intention of speaking about modern society, people and their interactions, don't you? Why did you feel this need? Can you recall a moment, an event which triggered your determination to create E.V.E.?
Hello Matteo, thank you for the interview. I'm more than happy to answer your questions. The whole idea regarding the main concept of E.V.E. was something that progressed throughout the last 3-4 years. Why modern society and human interactions, you ask? Simply because the need to write about every intriguing event that I've witnessed is like an instinct to me. Especially, during the latest happenings in Greece, and many other countries as well. It's not easy to turn your back on them and pretend that we live in fairytale world.
I think that your band's name is a very peculiar one! Equations Vanquish Equality…what is the story behind that? Were there maybe some other names that you had to choose from?
Good question. To tell you the truth I was trying to find a proper name for the project for over a year. It's difficult to reflect your music's content in just 2-3 words. In the end, I decided that I'd prefer a one-word abbreviation as its name. So once the word EVE came to mind, almost instantly the 3 words "Equations Vanquish Equality" completed the puzzle.
As for what they stand for, it is indeed peculiar and complex. For me, the word "Equations" is connected to technological and scientific progress. Without mathematical equations none of these would have been achieved. The following words, "Vanquish Equality" describe the other side of the matter: even though progress is greatly valued the means in which it's acquired sometimes damage humanity itself, bringing an imbalance to the world. Overall though, I really think that it's a personal matter seeing that many people have given me their own valid interpretation. Continue reading »
Interview by Miriam C.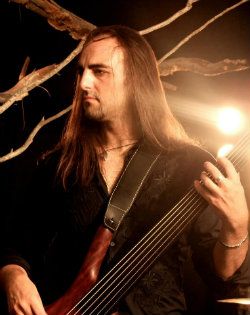 Soon I've have heard that Maltese Gothic Doom Metal Weeping Silence band have had a major line up change I've contacted the band and write down like hell this interview. I'm proud to offer the first exclusive interview the new singer Diane Camenzuli but beside this I've haven't forgotten to investigate more about the third album "For the Unsung" that sees the guest starring of Draconian singer Anders Jacobsson. To know more simply scroll down. Enjoy!
Hi Sean, first of all welcome to Femme Metal Webzine, how are you?
Thank you for the interview Miriam. I'm fine, hope the same for you and the reader of Femme Metal webzine.
Sean, would you mind giving me some biography infos for the users that don't know Weeping Silence?
Weeping Silence was formed in the late 90s and developed from a slow tempo doom female fronted band with the release of "End of an Era" (2008), then symphonic/gothic metal with the release of "Theatre of Life" to a present gothic/doom metal band with the latest full length album "For the Unsung".  As is expected with a band that has been around for some time, we have gone through some line-up changes, the latest being a vocal replacement. Weeping Silence is currently signed to Ravenheart Music Records and operates with Limelight Productions for non-exclusive concert booking in Europe.
So, your third album is out on Ravenheart Music and is called "For the Unsung". Can you tell us more its genesis?
The album is a reflection of the members' thirst to play gothic/doom with an aggressive edge. The insertion of male growling is an obvious indicator, but the riffs just sound heavier and more powerful, with several slow tempo passages. We wanted to do something that hits the core of the music we like and at the same time sounds modern.
"For the Unsung", it gives me an impression like something obscure and unfinished. What does the title mean for you, what did the band want to express?
The album is dedicated to all contemporary heroes that go unnoticed in the world. They do not have monuments erected in their honour or wear medals. They are the everyday people who comes to a cross roads and chooses the path they feel is right with courage. This idea can be transposed to many life situations, and the idea is for everyone to see it from their own perspective.
Also what infos can you reveal about the album cover? It's enigmatic…..
The artwork captures the theme of "For the Unsung" in the form of the Greek myth of the Coronides who in self-sacrifice saved the people from their doom. The Coronides are the two comets on the artwork, who are the daughters of the god Orion. They offered their lives in sacrifice to save their people from the plague. The gods were so touched with their humanity that they transformed them into comets to shed their eternal light. It is not a very popular myth when compared to others but it is a good representation of 'the unsung'. This artwork was done by Jan of Darkgrove, and we feel it looks very nice, especially on the digi-pack edition.
On "Love Lies Bleeding" Draconian's Anders Jacobsson participates as a guest star, when was the first contact with him and how's working with him?
Anders appears as guest singer on "Love Lies Bleeding" and "The Search Within". Joe knew him through Facebook, then I got to know him over the internet. He's a great guy really. To be honest, he could have easily said no to our request for him to feature, but he chose to do it even though we are not as famous as Draconian. This shows he loves the metal scene and is not a big-headed person. We respect him a lot. He did his vocal parts at Dead Dog Farm Studio in Sweden.
Also for "Love Lies Bleeding" you have shot your first videoclip, can you tell us more about it? How's was this experience?
This was a great experience. We did not have a great budget, and between us and the label we thought of shooting this video because we know how powerful YouTube has become. The experience was a blast! It was shot in summer, so you can imagine the heat. As a band, it really brought us together, and individually we realised how far we want to go in this scene. It was an eye-opener as well as a good experience.
Between "Theatre of Life" and "For the Unsung" passed only 1 year from the publication, do you notice (or better) are you able to notice any differences?
The difference is noticeable to anyone who has both albums. It is true that the release dates are close, but "Theatre of Life" was recorded in 2006 and released in 2011. So the music is much older than the release date. "For the Unsung" was composed between 2007 and 2011, and released in 2012. So the difference in composition time is more obvious to us!
Joseph and Rachel have recently left the band. And on Facebook you have already announced t
hat you have found a new female singer, mind you give the honours and present her?
We wish Rachel and Joe all the best with their future projects. The new female vocalist is Diane Camenzuli. She is 24 years old and ready for your questions!
Diane, welcome, I assume that this is your first interview that you ever made, how do you feel? Excited? Do you have any curiosity to share about yourself rather you prefer doing a detailed presentation of yourself?
Hi Miriam, thank you for the interview. Actually, I had some interviews about my music career in general, but this is my first interview regarding Weeping Silence. Yes, I am very excited about this new phase in my life. I have been into rock and metal for many years but never managed to settle down, the main reason being the difficulty to find musicians who are truly into the genre. Joining Weeping Silence is a challenge that has energized me like never before. All the band mates are on the same wavelength as I am, and I can feel a lot of positive energy between us – something I haven't felt for a very long time since my involvements in bands. The teamwork is fantastic and I can already sense the need & the will to create music & performing on stage with such great people.
How do you feel replacing Rachel after so many years that she was in the band? Do you feel any pressure?
I know how much Rachel is loved and have only respect for her achievements.  At first it was overwhelming and I cannot deny that it took me sometime to absorb what just happened to me. I had to make several adjustments to my new life such as cutting down on working hours. Having said all this, I can finally say that now, I have summoned the strength and courage to deliver at this new level of me.
A little bird told me that you have musical training, can you tell us more about your musical background?
To become a band member of a gothic metal band was a plan that had been in my mind for many years. Whilst awaiting the right opportunity to come my way, I used the time I had to learn more about music in general, to take piano and voice lessons, find my natural voice timbre and write a lot of lyrics. This was crucial and it is how I got to know myself better musically. It was the many rehearsals, auditions, live showcases, music courses and music lessons I attended, that helped me develop my voice & that thought me how to take care of it as much as possible.
How did you come across Weeping Silence? Did you know before someone from the band or did you simply apply for the position?
Being a fan of Weeping Silence myself, I saw their post on facebook and thus applied for the position.
For what the little bird  told me you're really enthusiastic and you are already doing rehearsals with the band: how hard is it to get started in a band that already has an "internal" equilibrium?
I am getting along extremely well with them. I had never experienced such teamwork. They are all committed, hard-working and open-minded. Their support has also been very encouraging.  I feel that my life is finally falling into place.
Instead let's talk about your personal tastes, what are your private passions?
I have always been interested in make-up and costumes. I love dark photography and gothic culture. Having said this, my greatest passion still remains that of being a singer-songwriter. It is a great way of expressing my feelings to the extent I want to, without harming anyone or anything.
Sean, what are the future project for Weeping Silence?
The future projects are definately composing a new album, that we hope will see the light of day in 2014. Between then and now, we will also be playing as many concerts and festivals as we can! All this should keep us busy!
So, Sean & Diane, we're at the end of the interview, please greet freely our user on Femme Metal Webzine and speak you soon!
We would like to thank the fans, Femme Metal Webzine and its readers who have always been behind the band giving us much support. We will be hitting the stage in 2013 and maybe we'll get the opportunity to meet some of you. Until then, visit our FB page, see what's brewing, and hit the like button: www.facebook.com/weepingsilence
The new album and earlier releases are available from the band's e-store on the website www.weepingsilence.com . Thank you for the support!Thank you very much Femme Metal readers, fans of female-fronted metal and metalheads in general all over the world! Keep it metal and hope to see you around someday! Thanks Miriam for this interview – Cheers to all!! Sean & Diane
Latest Multimedia
Links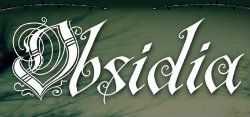 Interview by Marc "Peston" Sels
Obsidia is a five-piece metal band from Austria, with not one but two women in the group : Tajy on the keyboards and Lucrezia on vocals. They have just released a 5 track EP, "Back to Darkness". So this was a good reason to ask Lucrezia some questions.
How's the weather in Austria (February)? Can you ski over there? And do you do that?
Here in Austria the mountains are white and the weather is quite cold. Usually we have temperatures some degrees Celsius, below zero. There is enough snow on the mountains that skiing would be possible, but I go skiing seldom due to lack of time. You know, I prefer our warm cellar where I can play music.
I haven't heard your cd "Back to Darkness" yet, so can you describe it for me? (Lyrics, musicstyle…)
As the title might say we tried to go some years back in time. We aimed to merge the great atmospheric Gothic metal played at the end of the 90′s with our own style and we think that the result is quite presentable. The lyrics are considerable mixed – from the Greek Mythology via vampires to "simple" stories about life.
Is there a big Austrian Female fronted metal-scene? I only know you and Siegfried.
Oh, also very well known female fronted bands like Edenbridge and Darkwell are from Austria. Anyway, the scene in general isn't that big as in other countries. Especially in our area the metal-scene is very Death- and Thrash-dominated.
Austria has been in the worldnews lately with a few less items, Natascha Kampusch, and Hayder (extreme rightwing politician) getting killed in a car accident after leaving a gay bar. Does it has any influence on the music-scene? I can see punkbands jumping on this, but how do the metal bands react?
I have to grin 'cause for me it's quite amusing what Austria is famous for. I don't think that such happenings influence our scene. Punkbands often make their music as protest whereas Gothic Metal should be the kind of music which helps to get out of the daily routine – a way to relax – a way to forget all daily problems.
Okay, now the lighter version. Can you live of being a musician, or do you (and the other bandmembers) have jobs, like most of us (hopefully)?
At least we are not able to live from our music. We spend our freetime for our music because this is our hobby. To earn our money all of us have a profession. Beside some of us study on university.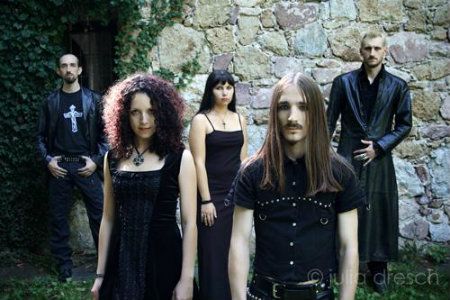 For as far as I know, this is your first CD. Have you got enough material to do a live performance?
Yes- as we're already into song-writing for an upcoming full-lenght-album, we're able to play live. We have played some headliner- and supportshows in Austria and Italy last year and will have our Germany-premiere in May this year.
Do you sing under the shower? If yes, what? What is your all time favourite cd? And what do you play on a sunday morning?
Oh, I sing more often than I know myself; like last week when I recognized that I sing while doing housework. Sometimes I sing totally unconscious – I think this is for me a way to relax. The songs I sing are totally different : sometimes songs of my favourite bands, of course Obsidia songs and sometimes ideas for new songs allthough Sir Iwain (guitar and vocals) is our creative head. All time favourite cd – difficult to say… I love gothic/symphonic metal in general, so albums from Tristania, Epica, Within Temptation, After Forever, Therion, Nightwish….change in my CD-player.
Best book, cd, comic, movie, concert of 2009? And what's your favourite pet, drink, food?
I can't say this is limited on 2009 but I can do it in general. Hopefully this is okay for you.
Best book : I love reading crime-stories like "Speak No Evil" (Rochelle Majer Krich) and I really love reading specialized books about nature, supernatural phenomenons and psychology.
Best CD : I'm really impressed by the "Live Gothic" of Therion.
Best comic : I'm not a big comic fan. Sometimes I watch The Simpsons on TV.
Best movie : Absolutely ungothic, but I love the film "Patch Adams" with Robin Williams.
Best concert : There are many concerts wich impressed me very much but I think the greatest gooseflash that I have got was the After Forever show at Wacken 2004.
Favourite pets : Cats. Because they have this mystical aura.
Favourite drink : Nonalcoholic drink : herbal tea. Alcoholic drink : white wine and gin.
Favourite food : International food from typical Austrian food to Indian cuisine. But I seldom eat fastfood like McDonalds because food has to contain a little bit of love.
What are the plans for 2010? Touring? A new cd ?
As already mentioned, we are hardly working on material for a full-lenght album but we actually aren't able to say anything about a release date. Of course we want to play live as much as possible but we don't know whether we can manage to play a full tour.
And here it is : Can you give us a short history of the band?
Obsidia was founded in the middle of the year 2006 by Sir Iwain and me. We started with writing some songs and then we searched for musicians, which is quite difficult in our area. First live concert was in May 2007, and now we released our first CD.
Especially for the fans, any "Famous last words"?
Obsidia would like to inspire their audience and we hope that we can bring all of our fans "Back to Darkness". In the meanwhile I have heard their first born, and I must say I liked it. Good heavy goth with musicians who know their instrument and a good, strong voice. I see a successful future for this young band, and I hope to be proven right.
Links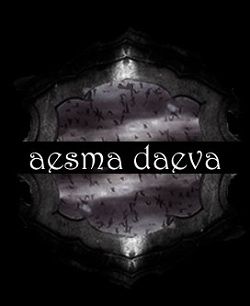 .
Interview by Erwin van Dijk
On June 1st the compilation double CD "Demonic and Divine" is released by Femme Metal. The CD is to support the Macmillan Cancer support and Cancer research UK. Aesma Daeva appears with the song "The Loon – Thalassa mix". This song originally appeared on the album "The Thalassa Mixes". Aesma Daeva is a symphonic metal band from the USA. Most people in Europe will know this band because former Visions of Atlantis singer Melissa Ferlaak was a member of this band and Therion singer Lori Lewis is the singer of Aesma Daeva. This interview is with John Prassas – Composer/Guitarist of the band.
Did you always wanted to become a guitar player?
Only for a short time did I want to be a guitar player – after that I started to see guitar as a compositional tool.
Where did you get the inspiration for the music?
Nature is a big influence for me. Sometimes life experiences – but I try to not focus on my own experiences as much as I try to focus on the experiences of others.
And to what kind of music do you listen yourself?
I listen to a lot of different music – I find it changes with the seasons. Lately I have been listening to Leo Kottke Blue Man group, Dan Swano, and S.U.P.. When fall hits I will probably start to something slower.
Did you have any other bands before Aesma Daeva?
No not really, I have a few things I am working on that will not be released under Aesma Daeva. They have yet to be completed though.
How do you work together with Michael Platzer, the lyricist of the band? Do you have a general idea about the lyrics before he starts writing or is Michael free to use his own imagination?
Both – "The Loon" – is adapted from a poem he had written. Where as "The Bluish Shade" was a song where I gave him just a few lines and phrases.
Aesma Daeva is an unusual name for a band. What does it means?
Shining One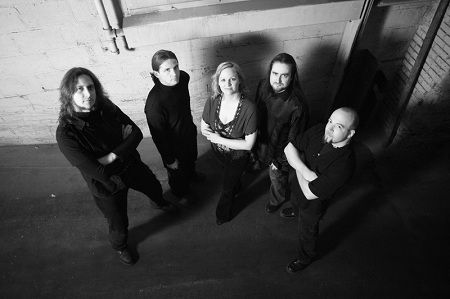 How would you describe Aesma Daeva's music? Because many bands describe themselves as Gothic – Metal – Progressive and the name of your website is "symphonicmetalband".
I think of it as Symphonic Metal – Mainly because I have so many classical and symphonic influences. Especially when it comes to colour and dynamics. We can debate all day as to what bands are symphonic and what ones are not.
Can you introduce us to the other members of the band?
Lori is the main vocalist, Chris plays bass, and that is about it for main members. I have been working with a lot of guest guitarists and musicians. At the moment I write 90% of the music, but they certainly are good at bringing it to life (which is not something that easy to do).
Aesma Daeva contributed a song to the "Demonic and Divine" double CD. This song was "The Loon". Why did you choose this song for the album?
It was the only new track I have under 5 minutes.

Thalassa is Greece for "sea" and the goddess Thalassa was the personification of the Mediterranean Sea. And another Greek connection is "The Garden I Long For" which is performed by classical guitarist Kostas Grigoreas. How did you get in touch with him and what are the differences between this version and the original version?
Kostas and I have been friends for a while. I suppose the main difference is that this version is played and recorded much better than the original. I also adapted it to have a bit more "water" influence.
What is the idea behind this EP and why did you choose these songs for it ?
I was in Greece visiting friends and family. I did not have much for musical ideas, but when I left I found I was thinking about the sea and all of the colour's within the sea. My original idea was to make a remix that would give the impression of the sea. Like "Le Mer".
Speaking of Greece again, does the band have something with this country because the album "Dawn of the New Athens" which was released in March 2007 has also a very Greek name. Or is it about New Athens in Ohio (USA)?
No, it is about the "New Athens Colony" in the book "Childhoods end" by Arthur C. Clarke. However to assume it had something to do with Greece is completely understandable since so many other things I have done are influenced by Greece. Arthur C. Clarke is the writer of "2001: A Space Oddyssee". Together with Isaac Asimov he is one of the most important SF writers of the 20th century.
When can we expect new Aesma Daeva music?
We are re-releasing our first album with a bunch of bonus material. However at the moment I am working hard at a new approach to music. Which means working with different singers and musicians. The new material probably will not be released under the band name Aesma Daeva.
And will it be different from your previous work?
Very much. I hope you can always stop by our web site symphonicmetalband.com. Their you can go to my personal web page where you can hear bits and pieces of new material. Thank you for the interview and support!
Credit Photos
Single photo by Jill Vansickle
Band photo by Debbie Stiller
Links
MySpace * Facebook * Twitter * Site
6 color styles available:

Style switcher only on this demo version. Theme styles can be changed from Options page.