Browsing articles tagged with " guest"
Label: Royal Noise Records
Review by Davide Torresan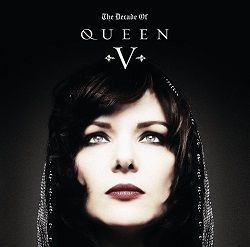 Queen V is an underground rock icon of New York. With a career of almost ten years, she has a rock style that draws fully from the bands that made history of this genre. Nothing new on the horizon if it wasn't that V's songs have an incredible energy. A rock voice, verve, charisma and the desire of kicking some ass are her main qualities. Besides you have to add the fact that she had the honor to open the concerts of Twisted Sisters and Billy Idol, so she really knows her stuff.
I said ten years, what better way to celebrate it than releasing a compilation? V seizes the moment with "The Decade Of Queen V" which sees the collaboration with some famous guitarists and of course her. Continue reading »
Label: Scarlet Records
Review by Tony Cannella
Remember when the Spanish symphonic metal band Dark Moor had a female singer? It seems like ages ago since the band released their last album "The Gates of Oblivion" with Elisa C. Martin on vocals. Actually it was 2002 and it was such a great album, as were the two that preceded it. Unfortunately Elisa departed soon after the release of "The Gates of Oblivion" and was replaced by the male vocalist Alfred Romero and he has remained a fixture in the band ever since. That is not to criticize the band. Alfred Romero has added his own unique style to the Dark Moor sound and he has been with them long enough to carve his own niche as their lead singer. Plus, he does a damn good job. Now the band returns with their 9th album "Ars Musica". On this album Dark Moor utilizes female singers on background vocals and it gives the material some richness and enhances the music and songs. Continue reading »
Label: ProgRock Records
Review by Tony Cannella
On their fourth album, "Some Kind of Poetic Destruction" the Portuguese/Swedish progressive rock duo Factory of Dreams returns with their biggest, most ambitious and grandiose release yet. With their previous albums, Factory of Dreams set a definite standard of being one of the best progressive rock/metal bands on the scene, now with their latest (70-minute) opus the band has raised the bar even higher.
For "Some Kind of Poetic Destruction", Hugo and Jessica have crafted a well written concept revolving around a girl named Kyra, who holds the key to the fate of mankind. This complex tale is the focal point of "Some Kind of Poetic Destruction" and for the album; Factory of Dreams has utilized some very talented musicians. Among the guests joining Hugo Flores and Jessica Lehto are: vocalists Magali Luyten (Beautiful Sin, Ayreon, Epysode) and Raquel Schuler from Hydria. Continue reading »

Interview by Tony Cannella
To put it quite simply, Huntress killed at this year's Mayhem festival. I'm sure it wasn't an easy proposition to take the stage so early in the day (around 1pm) in the blazing summer heat and even though they had a set time of only about 30 minutes the band made the most of it and I'm sure came away with many new fans. Not long after the band left the stage, I had the pleasure to sit down with lead vocalist Jill Janus to discuss their excellent new album "Starbound Beast", the mayhem fest and a variety of other topics.
You are currently out on the Rockstar Energy Drink Mayhem Festival. How has it been going so far?
Well man, it's just been a dream come true to be part of Mayhem fest. It's like a family, a great learning experience, like a circus that travels by night, I feel like a gypsy. It's a really, really interesting time for Huntress, especially being the second band to go on every day and just seeing the fan base growing and growing. It's pretty cool. Continue reading »
Label : Twilight Zone Records
Review by Tony Cannella
The Rain I Bleed is a fantastic symphonic power metal band hailing from Greece. Their debut album is called "Narcissist" and features guest appearances by Jeff Loomis from Nevermore and Jonas Kjellgrin from Scar Symmetry. But really, those guest appearances are just icing on the cake, the real star here is vocalist Mina and some seriously strong material.
The slow, grinding and heavy riff-age of the opening track "The Utter Me" begins this 39-minute disc. Lead vocalist Mina has an Amy Lee-esque vocal style that really drives home the melodicism of the songs on "Narcissist". "The Day After Tomorrow" is next and it picks up the tempo and the energy, before changing tempos a number of times throughout the song. Continue reading »
6 color styles available:

Style switcher only on this demo version. Theme styles can be changed from Options page.