Browsing articles tagged with " guitar"
Label: Sleaszy Rider Records
Review by Tony Cannella
Hand of God is a power metal outfit from Greece. The band is fronted by lead vocalist Marissia and guitarist Theodore Ziras. Their debut album, "The Hand of God" is out now.
"The Hand of God" features 11-songs and 38-minutes worth of soaring, melodic power metal. From the mid-tempo, majestic opener "Falling" the band treats us to well played sophisticated metal music. "Signs" is a great melodic track and one of my favorites – it features a pretty cool rapid-fire guitar riff. Lead vocalist Marissia has a strong vocal presence that works well with Theodore Ziras' guitar playing. Other noteworthy tracks include:"Start Again", "Collapse", "Endless Circle" and "Reach the Light". Looking at the entire album, I was impressed with the level of songwriting and musicianship that Hand of God displays. Continue reading »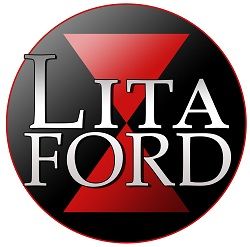 Interview by Tony Cannella
The Queen of Metal is back (again)! After her breakout LP "Living Like a Runaway", Lita comes back with a kick-ass live album called "The Bitch Is Back… Live" so we have took the occasion to get more updates about this fantastic live CD and her next projects! 
Hey Lita. I was just listening to the new live album, "The Bitch is Back… Live" and I think it's really awesome. Are you pleased with the way the live experience came through on the record?
Yeah, I am. You know, live albums are tricky. You can feel everything that goes on and hear everything that goes on, you really can't cover shit up on a live album, so it better damn well be real. This album has a lot of energy, it has true energy. We are truly happy to be playing and truly happy to be on that stage rocking and it shows. It's kind of a funny album; too, it has a little twist of humor to it. We're really happy with it.
Yeah, it definitely sounds like there is a lot of enjoyment. You left in a lot of the between song stage banter which is pretty cool. It does come across as an authentic live album.
Continue reading »
Label: SPV/Steamhammer
Review by Tony Cannella
When rock legend Lita Ford released her album "Living Like a Runaway" on an unsuspecting public, there was really no reason to expect greatness. I mean, she had been out of the limelight for many years and her previous album "Wicked Wonderland" did nothing to elicit any kind of excitement in the metal buying public at large. Then came "Living Like a Runaway" and not only was it the perfect "true" comeback album, but I would put it right up there with all of Lita's classics. So what's the next step? For Lita, it's releasing an equally exciting live album that captures the excitement and energy surrounding Lita's return to form on the "LLAR" tour. "The Bitch is Back… Live" is a continuation of "Living Like a Runaway" with Lita and her killer band in all their live glory. Continue reading »
Label: Esoteric Antenna/Cherry Red Records
Review by Tony Cannella
My introduction to the UK prog/folk rock outfit Panic Room came via the excellent, "Satellite" album which was released in 2010. I came away with a very positive impression of the band. Now with their 3rd album, "Skin", Panic Room have upped the ante and released a solid follow-up to "Satellite".
While they are primarily lumped into the Prog genre, Panic Room is so much more. In addition to their prog leanings, they also offer influences that range from folk to pop or just straight rock. "Skin" contains over an hour's worth of lush, atmospheric compositions and Anne-Marie Helder's classy vocals. Continue reading »
Label: Kscope
Review by Luisa Mercier
Last year in September, Anathema held a special event, a very special event: a concert with the Plovdiv Philarmonic Orchestra in the Roman theatre in Philippopolis, among ancient ruins. Now that event has been captured into "Universal", the DVD recently released.
Upon watching it, I feel compelled to say that was one f the most mystical experiences of my life and one of the best shows I have ever seen because of the feeling and of course, the Anathema music.
The setlist is mostly comprised of tracks from the last two masterpieces " We Are Here Because We Are Here" and "Weather Systems" plus some other songs from their recent past. Only "Fragile Dreams" is the witness of their past, coming from "Alternative 4". The set was divided into a main one with the orchestral part, while the final 30 minutes are devoted to rock only with four pieces played in the usual way. Continue reading »
6 color styles available:

Style switcher only on this demo version. Theme styles can be changed from Options page.