Browsing articles tagged with " guitars"
Label : Fastball Music
Review by Tony Cannella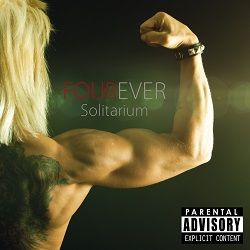 From Sweden, Fourever is an all female powerhouse metal trio. Their debut album "Solitarium" is an impressive, powerful and energetic heavy metal release that should put these girls on the Femme Metal map.
So it says on their web site, and I quote: "Fourever is not a girl band. Fourever is a kick-ass hard rock band." That about sums it up; from the opening strains of "Shout! Shout My Name" it is clear that Fourever are here to kick ass and have fun doing it. For a trio, Fourever has a huge sound with Mia Moilanen doubling on vocals and guitar and she is joined by the killer rhythm section of Nina Moilanen on drums and bassist Josefine Lindell to complete the band. Continue reading »
Independent Release
Review by Luisa Mercier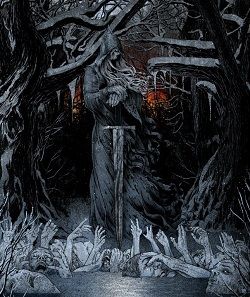 Angist come from Iceland and play extreme metal, a mix of death and black. They are one of the most promising acts in the genre and it is not by chance that they come from that far island. Even though small Iceland has a real musical treasure, just think of the stars Bjork or Sigur Ros or smaller realities like Kontinuum or Solstafir. The music they play is not really that original, but it's well played and conveys the imagery of cold, distant lands covered in ice. Vocalist/guitarist Edda Tegeder Óskarsdóttir is a nice, blond girl that belts out harsh, deep growls, you will never say it is a female voice. Continue reading »
Label : Mute Records
Review by Luisa Mercier
Big Deal is an indie duo born in 2010 and this is their debut album. The members of the band have a big age gap since they met when the mother of Alice Costelloe asked KC Underwood to teach her to play guitar.
So now Alice sings and both of them play guitar. The music they deliver us is quite ambiguous in content. Even though the arrangements are mostly simple acoustic pop, the focus in on the sensual voice of Alice.
And the lyrics leave no space for doubt: ""Wanna be your lover/ Trying hard to be your friend/ You're so sweet and you keep me that way/ Mess with my head". The overall sound is quite up-tempo, listen to "Chair", for example or "Visions". Summing up; this record is very fresh, erotic, sweet, melancholic sometimes. Continue reading »
Label: Mazzar Records
Review by Luisa Mercier
Voiceless Void come from Russia and "Song of Black Roses" is their fourth full-length. They offer to the audience a gothic-doom metal played in a rather classic way. Plenty of growling vocals, female vocals, guitars tuned down and lots of keyboards and synth. The opener "Be My Faith" is completely sung by male vocalist and I have to say that I don't like them at all. Way too raw for my ears and they lack violence and despair. The title track follows and we get to hear Olga, the female vocalist. She's got a pleasant dark half-operatic voice that is well suited to contrast Roman, the guitar player and growler. Something different is "Queen of The Lakes" which has an acoustic intro and some nice melodic parts mostly supported by synth and guitars. Listening through the album I have to make a great effort to find something really original, honestly the album is well produced, nicely played but something is missing. That idea that makes you say: "this is actually very good!". It stays an average gothic metal album that lovers of this genre may enjoy but not the others. Continue reading »
Label : Massacre Records
Review by Tony Cannella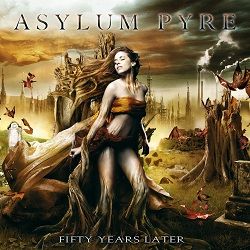 From France, the melodic metal band Asylum Pyre already made one hell of a first impression with their 2009 debut, "Natural Instinct?", now they have returned with their follow-up album "Fifty Years Later". Since their debut, Asylum Pyre has changed female vocals with Chaos Heidi stepping in and proving to be a great choice.
Everything about Asylum Pyre screams class, from the song writing to the musicianship and overall presentation, "Fifty Years Later" has really kicked it up several notches from their debut. The band does a great job in mixing songs with epic arrangements with shorter songs while still maintaining a melodic base – everything is just so solid. Lead vocalist Chaos Heidi has a strong and diverse voice. She is equally adept at straight forward metal singing as she is at singing the more epic stuff. Guitarist Johann Cadot helps out with male vocals, but the majority of the singing is handled by Heidi. The opener "Will You Believe Me?" is a nice, peaceful and pretty opener as that leads into the bombastic "Dead in Copenhagen". The riffs come hard and fast and this song definitely gets the blood pumping. It was at this moment that I realized "Fifty Years Later" could be something special and I was not disappointed. "The Frozen Will" keeps the power and momentum going. "The Fisherman's Day" reminded me a bit of "The Islander" by Nightwish and is a nice change of pace. Other highlights include: "These Trees", the 9 ½ minute "Any Hypothesis" and the closing 7 ½ minute "Fifty Years Later" which is ends things on a beautiful note.
The Femme Metal scene has never looked brighter, but it has become increasingly difficult to stand out from the pack, Asylum Pyre has managed to do just that with "Fifty Years Later". Asylum Pyre should become one of the top bands in the melodic power metal genre. I wrestled with whether or not I should give "Fifty Years Later" a perfect score, but after listening, how could I not? Continue reading »
6 color styles available:

Style switcher only on this demo version. Theme styles can be changed from Options page.