Browsing articles tagged with " haggard"
Interview by Ary G.& Anna Fortini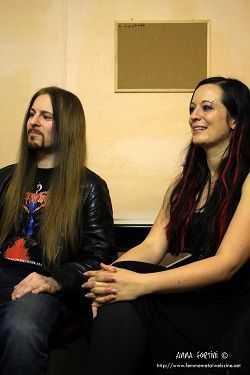 On the occasion of the two new italian dates that see Xandria as the opener act for the new Epica tour, Femme Metal had the pleasure to have a great chat with Manuela and Marco in Milan, that kindly talked about the new record, "Neverworld's End", about the influence they've taken from Nightwish, the life on the road with the colleagues Epica and Stream of Passion and a possible of a new music direction.
Ok. We are here with Xandria, with Marco and Manu. Welcome to Femme Metal.net!
Marco: Hello!
Manuela: Hello!
How are you doing guys?
Marco: Oh great!
Manuela: I'm fine, grazie!
So, yesterday you've been in Rome for the very first time. How was to visit a city that you've never seen before?
Manuela: Well, actually we didn't visit the city, but I could tell you about the concert: it was really amazing! The people were really great and we really had fun on stage, so it was great to be there, really…
Marco: The location was about 40 km far from the city center of Rome, so unfortunately we had no chance to see all the famous things in Rome…
What about the weather?
Marco: April weather! Ehehe! Rain, shine, rain, shine…
What could you tell about the lyrics, instead? Today you are here in Milan again, after having been here for Out of the Dark Fest. How is going? How do you feel like coming here again in Italy, for the second time this year?
Manuela: I like it very much

because concerts in Italy have always been great, also for me in the past I've been here with Haggard already, so I know we can expect a big concert.
This tour is the first one that doesn't see Nils unfortunately, because he had been injured after some dates you had with Epica and now you have a replacement, that is Fabio D'Amore from Serenity. What did cause this choice and how have you decided to take Fabio in your crew?
Marco: We have joined Out of the Dark Fest with Serenity, the main band with Fabio, it was one of the five bands we have been on tour, we were in the same tour bus, we were friends, so he was the first one we thought of when we were searching for a replacement.
Manuela: He is a very good bass player and he has a great personality, we like him very much. Nils is recovering, but he will be with us as soon as possible…
We want to wish Nils a good recovery, we wish him to get well soon!
Marco & Manuela: Oh, thank you

So, as I said, you'll be in Milan tonight. So, will we expect some surprises tonight from you guys?
Marco: We'll play the songs from our new album, some songs because we have only 35 minutes, as we're the opening act, but it's the first time we'll play some of the new songs of the album for this tour, it's a great thing for us because we're also fond of the new material, all the years we've been really looking forward to play that stuff, because we knew that it would have been working, it would be great fun to play live, as we've seen in these last 2 days it's really the case and so I think it will be great tonight.
This tour sees you with Epica and Stream of Passion. It started a week ago or so, but I discovered that some dates were already sold out, so what's the feeling of discovering that "your dates" are sold out?
Marco & Manuela: Ehehe!
Marco: Of course, it's Epica sold out shows, but we are amazed of possibility to get new fans, we hope to get new fans on this tour

Last month you've released "Neverworld's End", after five years of silence. How've been the feedbacks so far from the media and the fans? Are you happy about the result?
Manuela: Well, until now it has been really positive and we got very good reactions and responses to the album. Of course there is someone that says "We want Lisa back!", but it's always like that when singer is changed, but most of the people accepted me as the singer now, so I'm really happy about this…
I see that daily you receive lots of compliments on your Facebook profile and Facebook page, so are you happy to be so accepted in the band from all the foreign and European fans of course?
Manuela: Yes, of course I am! I am really thankful for it. It puts me a big smile on my face when I see all the comments on Facebook, this gives me strength to go on, I know that I am on the right path, that we are on the right path with what we do, so it's very nice to have such good fans!
Marco: It's the best choice we could ever do with Manuela, really…
Manuela: Oh, thanks you 😀
Marco: I think all those five years of silence you've mentioned it was all good worth, we followed ourselves again for the future, a new musical path, we wanted to do more heavy, more symphonic, more bombastic. The new album is the more ambitious we've ever done and we also have the best singer we could ever find for this album, I think it's the strongest incarnation of Xandria.
Yeah, I agree 😀
Marco: We really feel like that. We feel like being reborn, it's a really good feeling!
What about you? Are you happy about what you wrote in this album? Because I know that you write and wrote most of the lyrics for Xandria, so what about this result?
Marco: Yeah! It really turned all the way I wanted from the beginning, I wanted this symphonic, this more epic style for the very beginning, when we were thinking about the album, we wanted to be like that from the very beginning.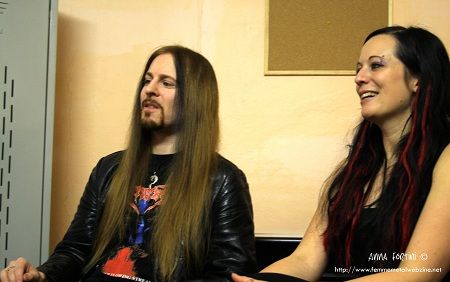 Now Xandria is more metal-oriented than before. In the last album called "Salomé", if I'm right, it was more gothic-oriented, it was less metal than this one. This is more symphonic. What do you feel like writing some new stuff? Do you feel yourselves more mature in this new record?
Marco:Yeah, definitely! As a songwriter, I've been able to do things that I've never been able to do before, and I've always been fan of more complex, more heavy stuff, because also the new songs are a bit more sophisticated and complex and this was a challenge for me as a songwriter, I always need new challenges, something that pushes me forward.
Where do you get the inspiration when you write something for Xandria?
Marco: It comes every day from somewhere 😀 While driving the car from my home to the studio, where we recorded the vocals in Munich with Manuela… or on long travels or even here on tour and that comes the inspiration…
So you're definitely happy of having written this new record, that fans really appreciate for what I've seen but my attention was catched up by a song called "A Thousand Letters". What can you tell us about this song?
Manuela: For me it's a very personal song, because I wrote the lyrics for it. The lyrics are about my grandparents, it's inspired by what my grandfather and my grandmother told about the War and about their love. I've read a diary of my grandfather and it touches me very deeply and after their death, it was easily for me to overcome this sadness about their death and I wanted to write something for them and about their love. It's about their love and the 2nd World War and it has a positive end, because they meet again after the end of the war. In reality, it was the same so… It made me very happy that this song has finally made it on the album.
Concerning "Neverworld's End", I've read some reviews on the web and I've seen that so many reviewers told that you are a "clone" of old Nightwish. How do you react to this statement?
Marco: Well, I think that they think this album reminds something of the old Nightwish but I really don't like the word "cloneW because most of the people see that it's not about doing the same stuff again, but understanding what they did and appreciate it, taking it as an "influence" and making your own stuff with that.
Was you inspired maybe by from old Nightwish era somehow?
Marco: Honestly, I am a real fan of Nightwish, yeah… that's right! I love all their material, even the last two albums! Yeah.
What do you think about "Imaginaerum"? Random question…
Marco: It's different from what I expected! When they told all the people that it would have been a real soundtrack thing, I expected more soundtrack and not so much rock songs, it was a bit surprising for me but I like it

Usually when you get some criticism, from the media or fans, even if they are positive or negative, how do you react? Do you feel yourselves offended or do you think "Ok, it's a constructive sentence, it's a constructive critique, so I have to accept it"?
Manuela: Well, I try to take the good things out of the comments, I separate the critique, I mean I take the rights ones and I put away the bad ones, what I mean is: there are some comments that are sometimes very mean. I don't care about those! I just try to take the good things

Marco: You have to push them away, sometimes it's just a matter of tastes, you know! If someone say "Oh it's too much bombastic!", it's more cheesy, sometimes for some people, I just say "OK, this is not the music you like, it's ok for us". We can't include everything that comes from somewhere, because it would be something that doesn't please everyone. We want to make music we feel, it's all from our heart, it the people like it, it's ok, if the people don't like it, it's ok also!
Manuela: Yeah! Everybody has different tastes! That's okay

When a band changes her own vocalist, every single fan always dares to compare the single member, the female singer and so on. So has it never happened to hear maybe some fans saying "We want Lisa back" or "We want Kerstin" back or some evil things like that?
Manuela: Yes, of course, but that's okay for me, because you know, we have very different voices and some like Lisa's voice better, some like mine better, so it's ok. I was prepared for that, because of the things I saw going on in Nightwish, for what concerned Anette and Tarja and so on and so I've thought "ok, it might be some people say that", but it really didn't touch me, I just focus on people that really like me and love me and appreciate me.
As you said, you're on tour with Epica and Stream of Passion. Have you had the chance to get in touch with the girls or the boys?
Manuela: Well, of course we had the chance to get in touch a lot with Stream of Passion because they are in the same bus with us, so it's really great, they're really great guys and a great girl and we had lots of fun together…
What about Epica?
Manuela: Well, not so much but we still have some talks here and there and had fun of course.
Marco: We're just not in the same bus, so we always meet occasionally. We have different date schedules on the show dates, so sometimes we meet and they are great people too!
What do you think of Simone Simons as a vocalist or as a person?
Manuela: I think she's a very, very great vocalist, I adore her voice very much, and well she is a very beautiful person.
Marco: And she knows how to handle a metal audience, it's really cool.
What about Marcela?
Manuela: She is a really ground to Earth person! I love her personality a lot, she's a very interesting person! I like her very much!
Okay. Tonight you will play here at Alcatraz venue and I assume you'll play also some old songs. What could we expect?
Marco: We will play "Ravenheart", eheheh. You know, we have only 6 songs, we're the opening act so it's a short time for us to play . We really want to present our new album to the people, because it's the new Xandria! We want to leave the past behind because of course it still belongs to us, there are still some songs we like to play, but the time is very short on stage on this tour. We chose just one of the old song and the rest is new, in order to know the new Xandria.
Ok. This question is for Manuela only. I've seen some videos on Youtube from Marcela practicing some famous opera by Puccini and some other famous composer. The same did once Simone Simons from Epica so what about you? Will we ever hear you singing and playing something from any famous composer?
Manuela: Perhaps. I don't know yet. I focus now on my metal things but next I'm going into a Celtic project, so I don't know what to expect now, but this is going on. Perhaps you will hear some classical stuff in the future, but nothing is planned yet.
Ok. Thank you for the interview. Would you like to say something to our readers and your fans of course?
Marco: Thanks for your support, Femme Metal! It's really great. Thanks to all of your visitors for supporting us and coming for the show, it would be great to meet you in our shows.
Manuela: Thank you very much for accepting the new album so much and for accepting me, as the new singer. I'm very happy about the new response, so thank you for your support!
Credit Photos
Photos by Anna Fortini
Links
MySpace * Facebook * Twitter * Site
Latest Multimedia
Interview by Roberta Ilaria Rossi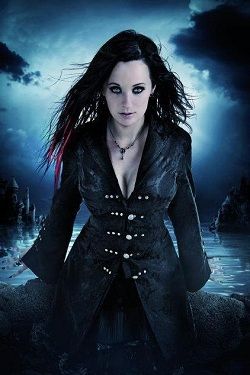 After so many years of silence, Xandria comes back in the metal scene with a masterpiece album, "Neverworld's End", showing the power and the new direction the band is going through. I had the chance to talk with the new singer, Manuela Kraller, which brought me into a magic world, explaining what is this new album for the band and for helself as well.
Hi Manuela, welcome to Femme Metal! New Xandria's album, "Neverworld's End" was released a few days ago, would you like to share something with us?
I was very excited before the release and about the reaction of the people. But all went well and until now we got a lot of good feedback from the fans, what shows us that we are on the right path 😉
The record was released by Napalm Records and I know that it took long time to produce it and to create it. What can you tell about it? How long did the recording last?
The recording itself took a few months all in all. The recording has taken less time than creating and producing the album of course: The production and songwriting from beginning till the end took a few years… ….it was a lot of work, but it was worth the passion and time we put in it.
Last Xandria album, "Salomé – The Seventh Veil", has been released in 2007. What prompted you to "delay" the release and the creation of this new album? I know that some changes have been made: Lisa left the band, then Kerstin left as well… What can you tell us about it?
Of course there has been a delay because of the front woman changes and the searching for a new singer. For the Xandria boys it was hard to find a new singer after Kerstin has left, but finally they found me 😉
You have a sort of opera singing and listening to the album, I've found so many references to Tarja Turunen. Some fans that had the chance to listen to "Valentine" have thought the same thing. Do you agree with this statement? Do you see yourself like the heir of the great Tarja?
No, I don't see myself as a heir of Tarja and I don´t want to be a second Tarja. I am Manuela and I am an individual woman with my own voice. Of course people compare us, because we both sing classical and have a dark timbre, but everything else is different. And everybody who listens closely will recognize this. Some people also think I want to sound like Tarja, but that´s not correct. My voice sounded like this already before I have ever listened to Tarja. My voice is like this, not because of Tarja, but because of myself. Well, don´t understand me wrong: It is not a bad thing being compared with Tarja, but I really hope that once people will stop this comparison and say: "This is Manuela's voice" and not saying "She sounds like Tarja". That´s my aim, to develop my voice more and more and get my own unique voice.
I think that this album will finally make the history for Xandria and it will bring you lots of great surprises. Now Xandria is a symphonic band, to all intents and purposes. What do you expect from yourself and from the band?
With "Neverworld´s End" we laid down the basis for a new beginning. And now it is time to go forward and upwards, step by step. I expect a lot from Xandria and from myself. I am a kind of perfectionist concerning singing, so I will always try to make my voice grow and to give my best on stage. My wish for Xandria is that we will make music that enthuses people, give as many concerts as possible and perhaps once make a world tour, I think this must be amazing! 😉
Listening to the record, I've found similarities that recall albums like "Once", "Century Child" and, why not, "Wishmaster" by Nightwish as well. What is your thought about this? Have you ever thought of proposing yourself as the new Nightwish singer?
Many don't know it, but I really applied in 2006 as new Nightwish singer!;) But at this time I didn´t have any possibilities to make a demo, so I just send some live recordings of me when I sang in church, not a very good way to make an application 😉 But I tried and that´s the most important thing for me, even if they didn´t take me as new singer. But Xandria did and now I can make real symphonic metal, yeahh! Many people compare us with Nightwish, we expected this, because we make symphonic metal with opera voice and if you do this it is normal that people make this comparison, because Nightwish is the most known band in this genre and people always compare with something that they know. The comparison is ok for me, but I think that Xandria nevertheless has its own style! For example do we have much more progressive style in our music than Nightwish had in further times, we have our own catchy melodies and I use my voice in a much more different way than Tarja does. I also use rock voice sometimes (f.e. in "Soulcrusher") or a very fragile not very classical voice in the verses of "A 1000 letters…"
Personally, I think that now Xandria can consider itself as "Old Nightwish at the Age of Tarja". Many similitaries have been found and I think that you've "stolen" something from Nightwish, in order to explore some new "lands". Do you agree with this statement?
We surely wanted to explore new lands, but don't want to "steal" anything from anyone, though I know you don't mean this in a way of plagiarism but of spirit in the music. Yes, we share a lot of this spirit with Nightwish, I think we have some similar visions and it's great to realize that people enjoy our music because of this vision. But we would not reduce this to a certain era of another band, we surely want to originate much of a similar spirit but create our own music with it.
Talking about the sound, a change is so evident, a sort of an evolution, as if the band wanted to experiment a new sound. You are more metal-oriented, more symphonic metal and you've "left" the gothic genre, as experienced in the first albums. What did cause such choice?
With "Salome" you can say the music of Xandria hasn't had a real development anymore, they went in a kind of blind alley in my opinion. It was time to decide in which direction Xandria wanted to go and Marco and the others found their consent in focus on the symphonic and metal elements. Marco also wanted a coherent sound for Xandria and the music and this was the way for a new beginning.
We can say that Xandria has been brought to life again: after a possible split in the years, Xandria found a new singer, worthy of this role, a new sound, a metal-oriented one. It will be a successful year for you. What are you expectations for this news adventure?
As I said before: We expect that our way leads now upwards step by step and we are working for this with passion. What the future will bring for us nobody can tell, but hopefully it will bring only good things to us 😉
How do you see yourself in 10 years?
I'll see myself in my red wooden house on a lake, with a golden record on my wall

and as someone that made a living from singing (it´s not about the money, but about the opportunity making music everyday and everytime ;), someone who still tours around the world and gives concerts…
What does it represent "Neverworld's End" for you?
It's my fantasy world. The world that I loved as a child and when I sing the songs, I have the feeling I am reviving my childish dreams again…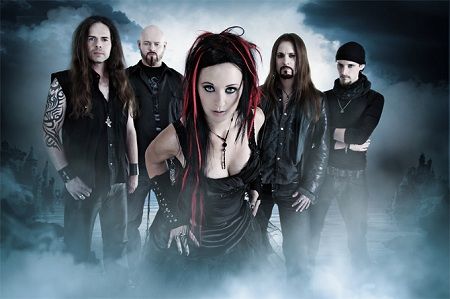 What is Xandria for you,for your personal and artistic growth?
Since I am in Xandria I learned a lot, also personally. I grow with every step on our way and I have the feeling I find more and more myself as a person. Artistically it gives me the possibility to develop my voice and to make the music I always wanted to make…
We've talked about bands, I know that you've worked with Haggard. What is the most beautiful memory related to this experience?
We had a concert in front of 100.000 people in Colombia, that was quite amazing! I also made wonderful experiences on tour, got to know many great people and countries and learned a lot. But the most beautiful memory stays the very first concert with Haggard. It was the first time that I sang in front of a few thousand people at the Masters of Rock festival. It was an amazing feeling to stand there on stage, because in this moment I knew that I want to be a singer and that this is the right profession for me.
Had you worked with some other bands before?
Before Haggard I have never worked with any band before. Haggard was my first band, second band was Nagor Mar (now Forty Shades) of switzerland.
Now you've joined Xandria and you're the female singer, replacing that role that once was Lisa's. how do you feel to be in her shoes, now? I know that you and Lisa have a beautiful friendship. Will we ever see the both of you in a duet, someday?
Well, I think I brought my own shoes with me 😉 I don´t want to step in somebody's footsteps, I want to leave my own on Xandria's way. To be honest, I don´t know Lisa very much, we've met only twice in life…I don´t know if there'll be a duet one day, we'll see 😉
Ritual question: what do you think was the impact of the fans when they heard about your entrance in Xandria?
From the first moment on the reaction of the fans was very positive. They supported me from the very beginning. Of course some fans will always say: "We want Lisa back!", but that´s ok. Everybody has its own opinion and own taste concerning voices. I try to concentrate on the positive critics and feedback, that´s what counts for me

At the first public event, Classic Meets Pop, where the band officially introduced you to fans, you've performed live the song called "Ravenheart", as you have sung several famous songs at Out of the Dark Fest, like "Now and forever", "India", "Save My Life". In my opinion, your voice makes perfectly what the song wants to convey to the listener. How did you prepare yourself to sing these songs?
I tried not to copy Lisa, but do give in my own voice into the songs. I thought a lot about the meaning of the lyrics and tried to express the content of the songs with my voice. It wasn't very hard to sing the songs. For the new songs I had to practise a lot more, cause they are much more complex.
Is there a song, among the ones I've named, or among the most famous Xandria songs, that you like the most or you feel more connected to? If so, why?
I can almost not choose just one song of the new album, every song fascinates me and I love to sing everyone of them! Of the older songs I like "India" and "End of Every Story" a lot…
A videoclip for "Valentine" will be out very soon, in particular it will be released for St Valentine's Day. Would you like to share something with us? From a small taste, I was under the impression that it seems a very particular videoclip…
Well, it is not about love 😉 It´s about an artist that sells his soul and heart to a higher instance. Outside he laughs, but inside he is very sad. The harlequin represents the artist….
Talkin' about live experience: after a long time, Xandria embarked on a short tour in Europe, and as I was saying earlier, you've been the long- awaited protagonist for Out of the Dark Fest, along with Serenity, Amberian Dawn, Van Canto and Tristania. What was it like for you to scale back on stage with your new band, feeling the chills down your spine given by fans that were there, all the emotions, giving the people what they wanted to convey? I guess it was a truly remarkable experience for you…
It was a great feeling to stand finally with Xandria on stage and sing a full set with them! The fans were amazing and we really had a great time on tour also with the other bands! It was a wonderful time!
The audience has witnessed the power of your voice and how much drama, energy and versatility you will be able to give. How do you train your voice? How do you prepare yourself before a show or a particular event?
I make some voice practices every day, 2 times a week I go into a rehearsal room near my home, where I practice the Xandria songs and sing to the instrumentals. Because it is not possible to practice every week with Xandria: We are living about 800 kilometers away from each other, so I have to practice also on my own. Next to that I do sports: Swimming, jogging and I also go to fitness (Pilates, Zumba). My body is my instrument so I try to take care of it as much as I can 😉
According to what you wrote in your "biography", you've been introduced in the music scene at 23. What could you tell about it? What has been your Art Education?
That's right, I started singing very late. In my family no one made music, so it lasted a long time until I found music on my own. In a choir in Finland I discovered classical singing for me and back home I started to take singing lessons. I have never studied singing, I had 6 years of private classical singing lessons. Now I practise on my own….
How did you discover your own passion for metal music? Is there any band that has inspired your way of singing or that you like to listen to/to sing of?
When I started taking singing lessons, I haven't been inspired by female fronted metal bands or Tarja. After two years of singing I started to listen to Nightwish's "Once" and that was the point when I recognized by myself in which direction I wanted to go as a singer. Tarja was for sure an inspiration when I started singing.
2012, as I was saying, will be very rich and full of surprises. We've seen you around Europe last year. What will happen this year? Are you going to plan a new tour? I know that you will support Epica for a few dates…
Yes, we'll support Epica in March and in April! I am really looking forward to this! And we want to play as many festivals as possible. There is not another tour planned yet, but there'll be one for sure this year…
Which is the most beautiful memory related to the band and to the music itself? Maybe I realize that it's too early to ask for this question…
That's difficult, because there have been so many wonderful moments. For example at concerts. But when I saw our CD "Neverworld's End" in a record store between all the other Metal CD´s, I was very proud:) It was like a kind of present for all the hard work we've done. It was a wonderful feeling…and of course every single concert, when I see in the people's face that they love our music and that we bring joy to them with what we do. That´s the biggest present of all

Thanks so much Manuela for having allowed us this interview. Waiting for the release of new Xandria album, the editorial staff wishes you lots of happiness and we wish you all the best. Is there something you would like to tell Xandria's fans and to our readers as well?
Thank you! It was a pleasure for me:) To all the fans: Thank you sooooo much for the support and for the positive reactions and comments related to our new CD!! It makes me very happy to see that you love our music…Love you!! Kisses, Manuela.
Links
MySpace * Facebook * Twitter * Site
Latest Multimedia
Interview by Erwin Van Dijk
An interview with Ally from Ally The Fiddle. A fiddle in a metal band? Twenty years ago this would have been a ridiculous idea. But today there are many bands with a violin player. Think of Heidevolk and Stream of Passion. And Haggard of course. Ally, or Almut Storch – Hukriede is the violin player of the German Medieval Classical Deathmetal Band Haggard. She is also known for her work with Die Apokalyptischen Reiter or ASP although I doubt that there is anyone outside Germany who have ever heard of ASP. Ally The Fiddle is her solo band. Tony Cannella did a review of the album Red Unicorn and now it is time for an interview.
Did you have classical training or were you taught to play by ear like many violin players in the folk genre?
Well, in fact I studied violin at the academy in Rostock (North Germany) and have the diploma to work as a professional (classical) violinist. But to play Folk-Fiddle I took two or three lessons with the German Fiddler Bernd Lüthke ("Midnight Court" / Berlin) to come into it.
I did an interview with Maaike Peterse, who plays the cello in Kingfisher Sky and she started with the violin before switching to the Cello. Can you play other instruments besides the Fiddle & E Violin?
To study violin means you also have to play the piano. It is a really beautiful instrument and I started to practice a little bit more And I play a very little bit guitar. That helps me to compose and to understand Rock and Metal Music, because of its difference to the piano.
The violin seems to be an instrument typical for the folk & pagan metal these days (like Eluveitie, Korpiklaani etc). What type of violin/fiddle do you use?
I play an old classical instrument from the 19th century, combined with a pickup system (based on a capaciter microphone). I love that violin because of its warmth and tenderness. My E-Violin is a white Fender V8. Not even the best choice, because it is heavy.
For some reason most women in rock & metal bands (especially folk oriented bands) play the violin. (Marcela Bovio from Stream of Passion, Klaartje from Myrkvar etc). Do you think this means that the violin has become an instrument for women?
No, of course not! There are enough bands, who show us that this is not completely a ladies instrument: Koorpiklaani, Letzte Instanz, Haggard but maybe it is a way for women to take part in Metal Music. There are not many feminine rock singers or guitar- and bass players. On the other hand I personally feel the violin is a rather feminine instrument: intense and powerful but not rough.
To what kind of music do you listen yourself and who are your favourite bands and musicians?
My very favourite is the Canadian band The Tea Party; especially the oriental sounding songs combined with that deep sonorous voice of singer Jeff. And I am influenced by the Fusion violinist Jerry Goodman (formerly Mahavishnu Orchestra). He inspires me a lot and always puts me in a good mood! My favourite metal bands are: Killswitch Engage (my newest exploration – what a singer!!!), Symphony X, Iron Maiden, Opeth, Knorkator (a very funny German band) and Haggard (I love the new album "Tales of Ithiria"!). And of course ASP as my favourite Gothic band. There are very well known in Germany and you really MUST listen to them!!
Ally The Fiddle is an instrumental band and instrumental bands are quite rare. Record companies might this even consider a risk. Have you ever considered to use vocals on "Red Unicorn"?
Yes, that is a big issue for us! The record companies don't like to take the risk and we have to discuss a lot with those companies and booking agencies. So I can't exclude, that we would never use some vocals, but I'd love to try it first without! We made a compromise by using a speaker for one song – but for the companies and agencies it seems not to be enough….
And what made you decide to start a solo band?
I am working with many bands in many different styles and in many different studios. So I think it is natural, that you wish to make your own music. On the one hand you always have to make musical compromises; on the other hand your instrument rarely gets the chance to be shown in its full beauty. So at least I wanted to know, how I sound.
Where do you get the inspiration for the songs, and can you tell us something about the songs on the EP?
"Catharsis":
I was playing that tune with different folk bands. But I always thought, that sounds like a real metal song! So I will rerecord that tune in a harder and faster version on our following album – on "Red Unicorn" I added a second melody to make a rocky but poetic version. By the way: the tune was composed by the American fiddler Amy Cann and brought to fame by the great American fiddler Natalie McMaster.
"Glenglass":
I always listened to that tune while I was in the gym. It was written by the guys from Wolfstone(Ireland) and grew to a really unforgettable! So I created my own epical version with hard guitars on one side and the soft violin, viola and harp on the other side.
"The Mason's Apron":
That's a well known traditional tune, that I heard in a similar but traditional version by the brothers Skirm and Dezi Donnelly. To record that song I thought to myself, which components I would want to hear on a violinist's solo album. And one of them is of course some the virtous stuff in that piece. So, that's it!
"Days of Thunder":
These lines have been in my ear for a long time. When I met my guitarist Rob I could make the song complete. Especially with his marvellous solos at the battle part between guitar and violin. Days of Thunder tells about a "final day", the "judgement day". So is the medieval "Dies Irae" – a sacred musical theme – the red line of the whole song.
"Red Unicorn":
Now we are in the mystical Ireland. I'm sure, there is no saga about a Red Unicorn, but such a powerful and divine animal seemed for me to be the best creature to transport that story. It's the only song with lyrics and speaker. Here I used two Irish Tunes: Paddy Ryan's Dream and A Bunch of Keys. I really love that "gothic" song and it tells much about my view of human beings….
The EP was released in 2008, almost a year ago. Are you working on a full length album?
Of course we are! But we are in a need of a record company to finance and to promote it.
And what can we expect from Ally The Fiddle in the future?
We hope to inspire you on many festivals and to spoil you with many beautiful albums!
And the last question, is there anything the reader should know that I have not asked?
Not at all. But if there are any questions more, please ask us: mail@ally-fiddle.de
Links
ReverbNation * Facebook * Twitter * Site
Interview by Matteo Bussotti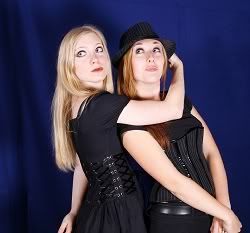 We have listened to their latest album, "Terra Incognita", and we liked it. Now we are ready and pleased to interview Coronatus' two singers: Ada and Mareike. Maybe not everyone of you knows Coronatus, but they are "on the road" from a very long time, and they surely have a lot to say, even after 11 years of making music! So, let's hear from Ada and Mareike how the band sees their latest album, their fans, and their career!
Hello Ada and Mareike, and welcome to Femme Metal! You are currently on tour promoting your latest album, "Terra Incognita". We know also this album came out after some difficult times and some line-up changes. How do you feel now that you've finally reached some stability? Are you satisfied with your album?
We feel good about having some stability, so you can rely on each other, so you can make future plans. Stability is also the reason why especially this album is our best so far. We're very satisfied with it as it shows how we have developed over the years.
"Terra Incognita" stands as a turning point in your production, due to the aforementioned changes of line-up. What was your attitude towards this album? In which ways you wanted to impress your fans? What you'd like to improve even more, or what, among the things you have accomplished, surprised you in a very positive way?
We wanted to present our fans a new kind of music, which had been affected by the introduction of our new band members and their musical background and interests. It's always interesting to see how our different styles merge. We're pretty sure that our next album will be different again, as we constantly develop.
Ada, you are the "newest" member of Coronatus. How do you feel? Do you feel you have changed (in a positive way, of course) the band's style in some way, with your personal way of singing?
I'm actually not the newest member, as I had been a part of the band before, recording "Porta Obscura", having the part of the rock voice. Of course I have changed our style, as I don't sing as "classic" as Carmen did. Above, I feel like our two voices fit together perfectly.
Also you Mareike, you entered in Coronatus in 2010, after 11 eleven years from its foundation. In the beginning, did you feel any kind of "weight" on your shoulders, being in such an important band?
In the beginning it wasn't easy. I knew I had a very important part and that other great singers have had the part before. But I also felt very welcome from the beginning, so it didn't take me long to feel "home" with Coronatus.
Who usually writes the lyrics in the band, and how do you part them? I mean, when do you decide who'll sing what? Is it decided when you're writing the lyrics, or do you decide it later?
There is no one in particular writing our lyrics, every one of us is free to write some. Often there are two roles to be taken on anyway and while writing the songs, we already have an idea of who might sing what part.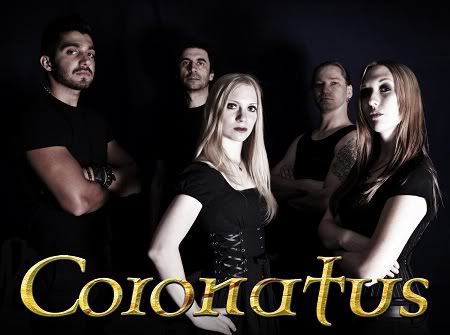 How do you find singing in latin? Why choosing also this language?
Latin, of course, is a lot harder for us to sing and it's difficult to remember the lyrics on stage, as none of us really speaks latin. Still, we find it sounds great. Singing in Latin sounds sublime, and we think it as well represents our songs' character.
What influenced you the most in your way of singing?
I think we both were influenced by lots of different artists, adding diversity to the way we sing. However, it was always important to us to create our own style of singing without imitating other singers. Mareike sang a lot of Jazz music, so you should never limit yourself to only one style of music.
Moreover, do you work well together? How do you influence and improve each other?
I think we make up a pretty good team, as we had to work on a lot of songs in a very short time and found a way to complement each other. It's actually fascinating how well our voices work together as we have a similar way of phrasing.
Talking about your musical style, which reunites metal, gothic, symphonic and also folk (in a very beautiful way, I have to say), as in "Fernes Land": how did you come up with this style? Is the "folk part" there to celebrate the roots of your land, its past?
That's pretty much what it was meant to stand for. In addition to that this kind of music is just great fun to play on stage.
What do you think about the others band members?
They're all idiots. Haha. Just joking. We're all very different kinds of persons but on the other hand we have gone through so much while touring and recording, so we have grown together a lot.
How was touring with Haggard? What have you learned from this experience, which confirmed you as one of the most interesting bands in Germany's music scenario?
Touring with Haggard was great fun and it was amazing to be on stage with them. Sure, it was exhausting, touring is really tough. You get no sleep, you're always on the road, so it's not always easy to be a musician. But alltogether we really appreciated the opportunity to be on tour with such a great band and also our fans were a great support.
You have an active Facebook page and all of you have your own Facebook profile. What do you think about social networks? In what ways they improve the relationship between musicians and their fans, and in what ways, instead, do they make it worse?
Nowadays, social networks are more than an essential part for musicians and it's the easiest way to communicate with our fans all over the world. Our fans can really take a part in our private lives, which had not been the case before. They know what we're doing and are able to directly contact us. We also get a lot more feedback concerning our album, video or concerts, so we can also respond to that much faster. Sure, it's a lot of work, we didn't have to face before, because the page has to be updated a lot.
Links
Label : Artoffact Records
Review by Tony Cannella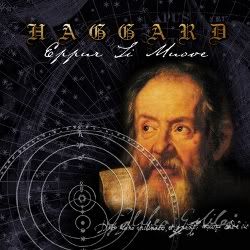 The German band Haggard recently had two of their CDs re-issued by Artoffact Records. Good thing too, because otherwise I would never have gotten the chance to check out this seminal band. "Eppur Si Muove" originally was released in 2004 and it was the bands third release. It is a concept album based around the life of Italian Astronomer Galileo. Of course, one thing you'll notice is that Haggard is a huge band, maybe not in terms of success but the band/orchestra features about 20-members. The impressive thing is that frontman and band visionary Asis Nasseri really makes it all come together to create a sterling piece of art. The total playing is 50-minutes and 10-songs. The opening "All'Inizio è La Morte" is a strong orchestral/symphonic opener that features male extreme vocals along with female operatic vocals. The band utilize many different instruments that are often associated with with a symphony or orchestra and different vocal styles (male and female) are present throughout this recording as well. There are plenty of complex songs featured including "Minuetto In Fa-Minore", "Of a Might Divine" and one of the many highlights "Herr Mannelig" which is also included as 'shorter version'. The songs on "Eppur Si Muove" are all quite beautifully arranged and performed, but this CD is also not without it's metal moments (a perfect example of this is "Per Aspera Ad Astra", which is just brilliant) that help to make it a truly unique piece of art from Asis Nasseri and the gang. Kudos to Artoffact for re-issuing these great albums and hopefully getting them out to a new fan base. Haggard are a band that require attention while listening – in other words, you can't just put these CDs on as background music (well okay, maybe you can) but it is fun to see what is coming around the next corner, musically. I would love to see how Haggard pulls all of this off live and on stage. "Eppur Si Muove" is a great album that is difficult to put into words – suffice it to say, "Eppur Si Muove" features some of the highest caliber of Symphonic Metal and so much more. A true musical journey.
Rating – 90/100
Tracklist
All'Inizio è La Morte

Minuetto in Fa-Minore

Per Aspera ad Astra

Of a Might Divine

Gavotta in Si-Minore

Herr Mannelig

The Observer

Eppur Si Muove

Larghetto / Epilogo Adagio

Herr Mannelig (Short Version)
Line Up
Asis Nasseri – Vocals, Guitars

Luz Marsen – Drums, Kettledrums

Fiffi Fuhrmann – Tenor, Crumhorn, Bassoon

Hans Wolf – Piano, Harpsichord, Keyboards, Organ

Steffi Hertz – Viola

Michael Stapf – Violin, Piccolo

Claudio Quarta – Guitars

Veronika Kramheller – Soprano

Gaby Koss – Soprano

Johannes Schleiermacher – Cello

Ivica Kramheller – Contrabass

Michael Schumm – Timpani, Bells, Classical Percussion

Giacomo – Bass

Ingrid – Piano, Harpsichord, Keyboards, Organ

Nicolo – Bass Baritone

Manu – Soprano

Ally Storch-Hukriede – Violin

Patricia King – Cello

Andreas Peschke – Flute

Linda – Oboe

Andreas Fuchs – French Horn, Percussion

Andi Hemberger – Vocals

Mark Pendry – Clarinet
Links
MySpace * ReverbNation * Facebook * Twitter * Site
6 color styles available:

Style switcher only on this demo version. Theme styles can be changed from Options page.